5 Best Psychiatrists in Winnipeg
Mental health is just as important as our physical health—that's why it's important to get wellness checks from mental health care providers especially if we're dealing with hardships in our life.
Psychiatrists are medical doctors who assess the mental and physical symptoms a person is experiencing. They diagnose and treat mental health conditions by prescribing medication and collaborating with psychologists and therapists to guide patients to recovery.
It might be an intimidating task to look for a psychiatrist, especially for first timers. To help you with that, we've created this list of some of the best psychiatrists in Winnipeg.

How Much Do Psychiatrists Cost in Winnipeg
Before we give you our top choices for psychiatrists in Winnipeg, let's discuss how much it costs to see a psychiatrist. It still depends on your personal needs and concerns, but it's best to have an idea how much you need to spend for their services.
It may be possible to get your consultation fees covered by public health insurance if the doctor is working in a government-funded hospital or clinic. If they're doing a private practice, then you might have to shed out cash.
One thing to remember before booking for consultation is to ask your preferred psychiatrist of their pricing since they may vary per doctor or clinic. The fee can also change depending on how many sessions you will be needing.
The table below shows the average price of the best psychiatrists in Winnipeg:
| Length of Session | Price |
| --- | --- |
| 50-minute session | $75-$80 |
| More than 1-hour session | $100-$200 |
Best Psychiatrists in Winnipeg
We'd like to make sure that our entries are reliable and relevant so we matched them against these criterias:
Now, let's dive deep into the list of best psychiatrists in Winnipeg! Take note, this list is not presented in any particular order.
1. Dr. Brent Armstrong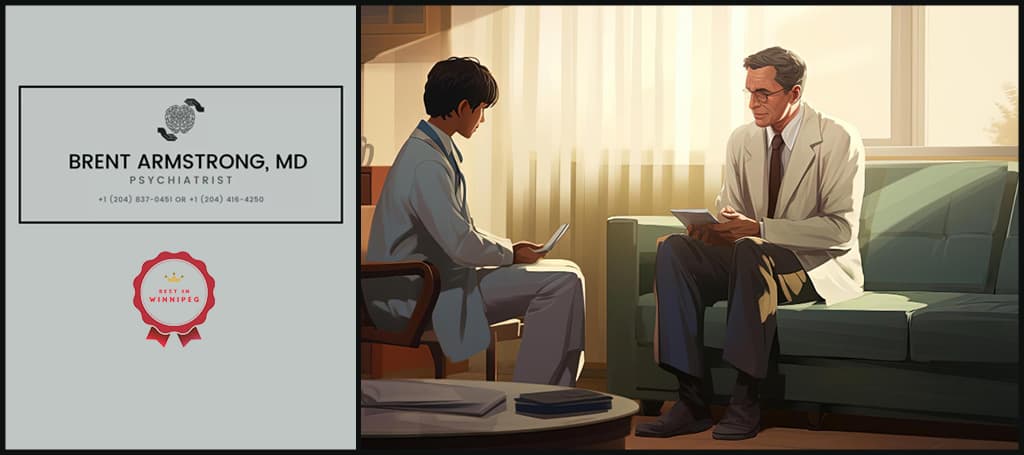 SPECIALIZATION
Bipolar Disorder, Eating Disorder, Schizophrenia, Anxiety, Depression, Stress Management, PTSD
WEBSITE
www.crestviewclinic.com
ADDRESS

Sturgeon Point Medical

3004 Portage Ave. Winnipeg, MB R3K 0X8




Crestview Medical Clinic—St. James B103-2080 Ness Ave., Winnipeg, MB, R3J 0Z3

CONTACT DETAILS
Phone: +1 (204) 837-0451

Phone: +1 (204) 416-4250

OPERATING HOURS
Sturgeon Point Medical Clinic

Monday to Friday: 9:00am—4:00pm

Saturday to Sunday: Closed




Crestview Medical Clinic

Monday, Tuesday, Wednesday, Friday: 8:30am—5:00pm

Thursday: 8:30am—8:30pm

Saturday: 9:00am—4:00pm

Sunday: Closed
| | |
| --- | --- |
| Criteria | Ratings |
| Experience and credentials | ★★★★☆ (4/5) |
| Availability | ★★★★★ (5/5) |
| Treatment | ★★★★★ (5/5) |


Dr. Brent Armstrong offers help for people suffering with anxiety, stress, and depression among many others. Aside from prescription medication, he specializes in treating his patients through Cognitive Behavioral Therapy—a helpful approach in changing a patient's thought patterns.
His approach to treating his patients is straightforward: he listens to and addresses your concerns directly, with him making sure that you understand your diagnosis. This is a good factor to consider since you'll be able to participate yourself in recovery through self-assessment.
Another noteworthy detail about Dr. Armstrong is that he provides a wide array of services ranging from medical assessment to counseling. He also offers his services to adults of all ages.
At present, Dr. Armstrong is affiliated with two medical clinics in Winnipeg: in Sturgeon Medical Clinic and in Crestview Medical Clinic. It's best to get in touch with him to book your appointment.
Works with people of all age groups
Wide range of services
No online presence
Some conditions need referrals
Customer Reviews
Dr. Brent Armstrong's former patients said:
"Dr Armstrong took me on after seeing me at my worst. I owe a lot of gratitude to him. He has made a difference in my life. He challenges me and I feel comfortable being brutally honest if I need too, He's give me the stability I truly needed. He may be harsh at times but it's for the better. He truly cares." — Anonymous, RateMDs
"Caring, compassionate, kind and knows what he's doing. Punctual and good listener. Spends time providing you with therapy and counseling and not just pushing pills. Would highly recommend this psychiatrist." — Anonymous, RateMDs
2. Dr. Jose Stelzer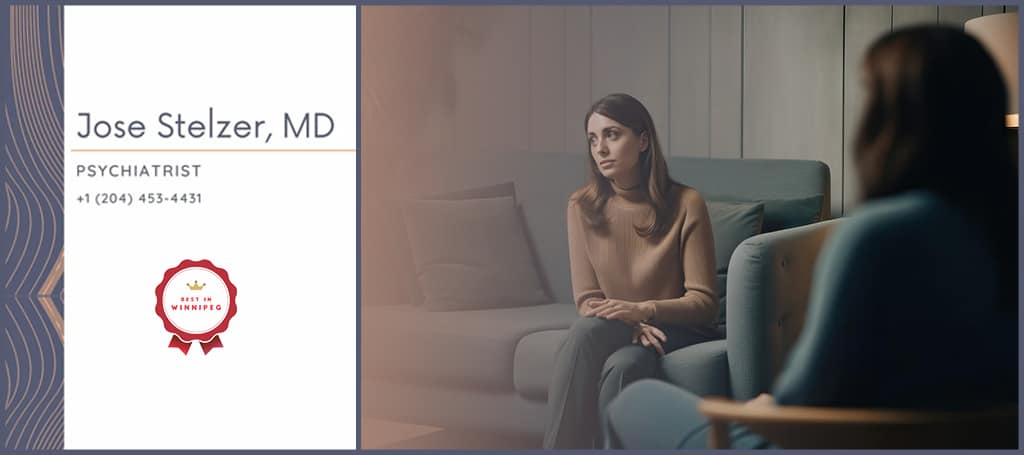 | | |
| --- | --- |
| SPECIALIZATION | Sleep Disorder, Manic Depressive, Mood Change, Anxiety, Depression, Obsessive Compulsive Disorder |
| ADDRESS | 603-555 River Ave, Winnipeg, MB R3L0E3 |
| CONTACT DETAILS | Phone: +1 (204) 453-4431 |
| OPERATING HOURS | By Appointment |
| | |
| --- | --- |
| Criteria | Ratings |
| Experience and credentials | ★★★★★ (5/5) |
| Availability | ★★★★☆ (4/5) |
| Treatment | ★★★★★ (5/5) |

Hailing from Buenos Aires, Dr. Jose Stelzer is a well-known psychiatrist serving in Winnipeg. He's experienced in attending to patients with anxiety and depression, and takes people of all ages into his professional care.
What's commendable with Dr. Stelzer is he's known for working with his patients with support and care. He has also helped them recover and slowly get off with medications—which is an advantage especially if you're looking for a treatment without too many prescribed medicines.
Dr. Stelzer is appreciated by his patients because of his common sense approach. It's also notable to his clients that he can be easily contacted and he does follow up on them even if they're abroad.
As of the moment, Dr. Stelzer accepts both virtual and in-person consultations. However, the only way to book an appointment with him is through a phone call.
Wide array of service
Works with people of all age groups
Doesn't limit treatment to prescription medicine
Offers virtual and in-person consultation 
No online booking
Specializes more on forensic psychiatry
Customer Reviews
Here are testimonials of Dr. Stelzer's former patients:
"A very caring doctor. Tries to work with you to encourage you to grow as a person. I would recommend Dr. Stelzer." — Anonymous, RateMDs
"Dr Stelzer one of best doctors I ever met. He is very passionate about what he does and for his patients. He has a solid educational foundation and years of experience. He is always available, through appointments, phone or email. I know him for 4 years as very kind, competent and thorough person." — Anonymous, RateMDs
3. Dr. Stewart Wakeman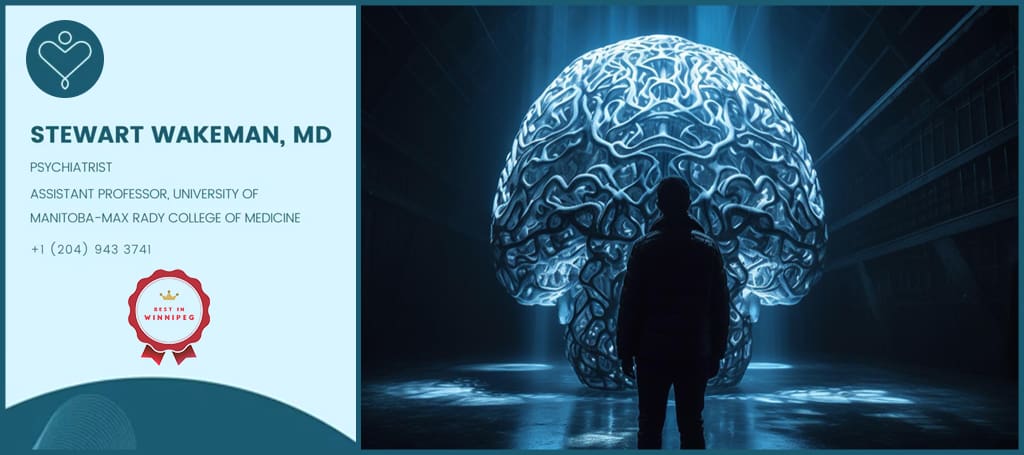 | | |
| --- | --- |
| SPECIALIZATION | Addiction Psychiatry, Post-Traumatic Disorder, Psychiatric Rehabilitation, Drug Addiction, Stress, Depression |
| ADDRESS | 102-900 Harrow Street East, Winnipeg, MB, R3M 3Y7 |
| CONTACT DETAILS | Phone: +1 (204) 943 3741 |
| OPERATING HOURS | Contact for Inquiries |
| | |
| --- | --- |
| Criteria | Ratings |
| Experience and credentials | ★★★★★ (5/5) |
| Availability | ★★★★☆ (4/5) |
| Treatment | ★★★★☆ (4/5) |


With more than 28 years of providing medical care and service, Dr. Stewart Wakeman is one of the leading psychiatrists in Winnipeg.
He specializes in psychiatric rehabilitation, addiction psychiatry among many others. One of his published papers is the topic on psychiatric rehabilitation with people who dissociate.
If you are looking for a psychiatrist that is deeply connected to his spiritual roots, you might want to take Dr. Wakeman into consideration since he is a devout Christian. He is knowledgeable in his field which makes his patients comfortable and open during consultations. While he works mostly with adults, he also accepts children as his patients.
Dr. Wakeman has a long working history with his patients since most of them have been seeing him for more than 10 years. That might be considered as a strong point—being trusted and having a good relationship with people.
The drawback for this entry is there may be no online appointments. With that being said, virtual consultations may not be available as well. You can contact Dr. Wakeman to book and confirm a consultation.
Christian psychiatrist
Accepts children and adults as patients
Accessible address
Doesn't offer online consultation 
Customer Reviews
Here's what previous patients said about Dr. Wakeman's service:
"Dr. Wakeman has really helped me in diagnosing and treating me. He is highly knowledgeable and very approachable and open during out appts. I appreciate everything he has done for me. I would recommend him to anybody who needed a psychiatrist!" — Anonymous, RateMDs
"Dr. Wakeman is remarkable. He has literally saved my life. He is so easy to talk to and very compassionate. I love the spiritual side of him. He always has a way to bring back to reality when go in all over the map. He is very soft spoken and reassuring. He is the best!" — Anonymous, RateMDs
4. Dr. Taghreed Hassan
SPECIALIZATION
Clinical Psychiatry, Psychopathology, Depression, Panic Attacks, Bipolar Disorder, Schizophrenia, Psychotherapy, Family Therapy
WEBSITE
www.umanitoba.ca
ADDRESS
Edgeland Clinic 218-2025 Corydon Ave, Winnipeg, MB R3P 0N5
CONTACT DETAILS
Phone: +1 (204) 787-7949
OPERATING HOURS
Monday-Thursday: 9:00AM—4:30PM

Friday: 9:00AM—2:00PM

Saturday-Sunday: Closed
| | |
| --- | --- |
| Criteria | Ratings |
| Experience and credentials | ★★★★★ (5/5) |
| Availability | ★★★★☆ (4/5) |
| Treatment | ★★★★☆ (4/5) |

Dr. Taghreed Hassan is a licensed and experienced psychiatrist in Winnipeg. She is known for her research "Attitudes of Psychiatry Residents in Canadian Universities Toward Neuroscience and Its Implication in Psychiatric Practice". She is also a part of the Department of Psychiatry in Health Sciences Center.
One of Dr. Hassan's best qualities is being patient with her clients. Aside from that, it is a known fact for her patients that she takes time to make sure that they're well cared for by checking up on them and being available to their needs.
She offers her service via in-person and virtual consultations, which makes her a convenient option. Dr. Hassan also speaks Arabic so it's a plus point if you speak the same language.
Dr. Hassan works with children and adults. But note that because of the demand, it might be hard to get an appointment with her.
Offers video-chat service
Wide array of service
Ideal for Arab speakers
Accessible location
Thick accent that might cause language barrier
Customer Reviews
Patients of Dr. Hassan were delighted with her psychiatry service. Here's what they experienced:
"First time I meet a psychiatrist I was so nervous in the beginning as I didnt know what should I expect but after they first meeting she become my safety blanket !! A source to make me feel secure and safe.so patient and kind.she let you express how you feel and seems to be already able to understand and feel for you.not someone just doing a job you can see clearly how much passion she has toward her job. So recommending her"
— Anonymous, RateMDs
"Great Psychiatrist. Very kind and thoughtful. She saved my life. Always available when I need her." — Anonymous, RateMDs
5. Dr. Natalie Husarewycz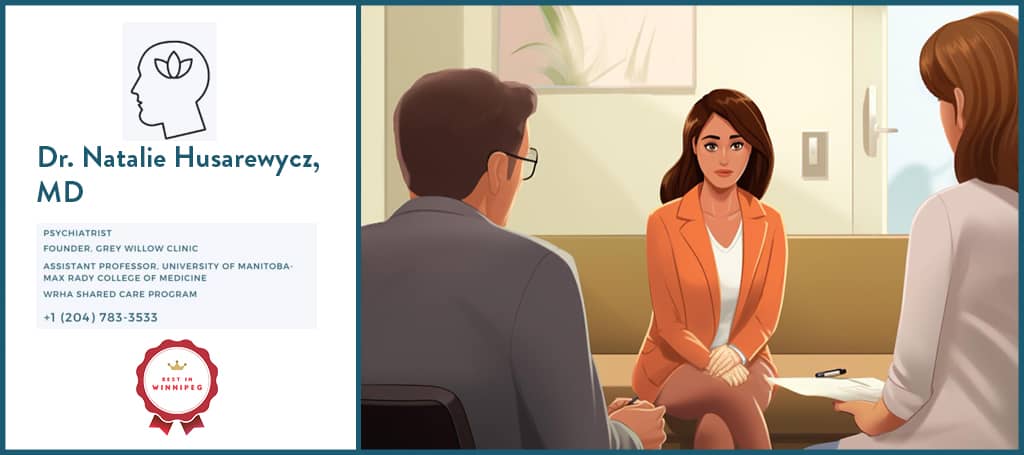 | | |
| --- | --- |
| SPECIALIZATION | Dialectical Behavior Therapy, Cognitive Behavioral Therapy, Occupational Psychiatry, PTSD, Anxiety Disorder, Depression |
| WEBSITE | www.greywillow.ca |
| ADDRESS | Grey Willow Clinic 202-1555 St. James Street, Winnipeg, MB R3H 1B5 |
| CONTACT DETAILS | Phone: +1 (204) 783-3533 |
| OPERATING HOURS | Contact for Inquiries |
| | |
| --- | --- |
| Criteria | Ratings |
| Experience and credentials | ★★★★★ (5/5) |
| Availability | ★★★★☆ (4/5) |
| Treatment | ★★★★☆ (4/5) |
Dr. Natalie Husarewycz founded the Grey Willow Clinic in 2015, a community clinic dedicated to improving mental health. She is also an Assistant Professor at the University of Manitoba, Max Rady College of Medicine, Department of Psychiatry.
Her specialization includes Dialectical Behavior Therapy and treating mental health issues relating to trauma. She takes children, adolescents, and adults as her patients.
Her clinic's services have a wide variety of offerings for individuals, couples, families, or even in groups. Online appointments are integrated in her clinic due to COVID-19's safety restrictions, and this makes it easier for clients to book their consultations at the comfort of their homes.
She also offers psychiatric consultation—however, they're not accepting new referrals for this service as of this writing.
Dr. Husarewycz technique in treating her patients include training groups that usually last for 24 sessions. This consists of modules covering core mindfulness, emotion regulation among others. But note that their training groups are on hold until further notice, so if you're eyeing this service, it's best to keep posted for the opening.
Has different type of service offerings
Works with people of all age groups
Offers online appointment 
Long waiting time to get booked
Customer Review
One of the Grey Willow Clinic's patients left this review via Google:
"Dr Husarewycz is one of the most caring, empathetic, non-judgment and professional doctors I have ever met. I've had ongoing treatments with Dr. H with both personal one on one sessions and DBT skills group. Dr H is very knowledgeable and has been able to help me learn important life skills that I can use daily to enable me to choose healthier life choices and ultimately meaningful lasting relationships. Thank you Dr. H for your continued guidance. I am very lucky to have you as my doctor and part of my health care team." — Cristal C., Google Reviews
FAQs about Psychiatrists in Winnipeg
And that completes our list of best psychiatrists in Winnipeg. We hope that you're now able to create an informed decision when choosing the right psychiatrists for you.
In any case we missed out on other great psychiatrists in Winnipeg, reach out to us & let us know!
If you're on the lookout for a reputable psychologist, we've also created a list of the best psychologists in Winnipeg.