7 Best Tree Removal Services in Winnipeg
If a tree is already dead or dying, it could fall or break its branches at any moment. God forbid they land on something or someone, so it's really best to cut the problem at the root (literally).
To help you with that, we're naming the best tree removal services in Winnipeg. We'll also grind through how much this service costs in the city, along with some queries concerning tree removal.
How Much Does Tree Removal Cost in Winnipeg?
To remove a tree, the right person for the job is an arborist―essentially a tree surgeon. As such, the person you're hiring has a deep knowledge of trees and how to deal with problematic ones properly.
Speaking of problematic trees, this could also refer to ones that are diseased or ecologically bad for surrounding flora and fauna. The service you're paying for knows how to dispose of them accordingly.
Now that you know who you're dealing with, here's how much they charge on average:
| | |
| --- | --- |
| SERVICE | ESTIMATED COST |
| Tree Removal | $650 – $1000 |
| Stump Removal | $80 – $140 |
| Tree Maintenance | $330 – $475 |
The cost can vary quite a bit, especially for whole tree removal. That's since the cost of tree removal depends on the size and species of the tree and how it's positioned relative to surrounding structures.
Best Tree Removal Services in Winnipeg
Now that we've broken down the costs, these are the guys who can break down your unwanted tree.
1. TNT Tree Service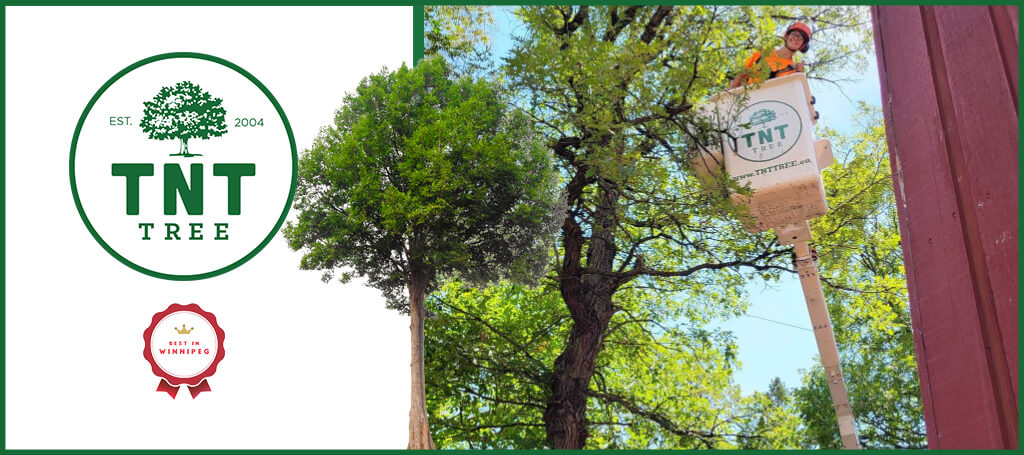 SERVICES
Tree Removal, Stump Removal, Tree Pruning, Emergency Tree Care, Fertilization Program, Planting, Pest Control
WEBSITE
www.tnttree.ca
ADDRESS
81 Linacre Road, Winnipeg, MB, R3T 3G7, Canada
CONTACT DETAILS
Phone: 204-510-8514
Email:

[email protected]

AVAILABILITY
Monday to Friday, 8:30 AM – 4:30 PM
TNT Tree Service has been promoting tree health in the city for 16 years and counting. From tree removal to pest control, they have the knowledge and equipment for the job.
The company started out as a pest control agency before one of the workers, Chris Olson, acquired it in 2004. To this day, he employs his passion and know-how as a biologist and ISA-certified arborist to care for the local tree population.
The company's service covers Winnipeg and surrounding areas. It seems they have no problem getting around either, as customers praise their prompt response times.
They're also well-versed in removing trees that are plagued by the emerald ash borer. If you suspect infestation, you can call them up for a free no-obligation estimate.
That goes for all their services, too. Chris and his team are a not-for-profit business with a cause, and locals love that about them.
Tracked aerial lift
Fast response times
Free mulch
Unavailable on weekends
No calendar booking
Customer Reviews
Here's what some satisfied members of the community have to say about TNT Tree Service:
"I was extremely happy with the quality of the work and attention to detail by TNT Tree Service. Their price was great, they had lots of workers on site (8) and the job was done quickly. They showed great respect for my yard and cleaned up extremely well. They placed mats on my driveway and grass to drive their equipment on and were very concerned that I was happy with the job. They deserve a 10 out of 10 for their work and I wouldn't hesitate for a second to recommend them to anybody needing a tree removed. Great job!"―Rob Crang
"I am very pleased with the work that TNT did for me. I have never seen a 50 ft. spruce tree removed, so it was quite interesting. The work was done quickly and efficiently and the clean up was complete. They also had the best prices I could find in the city. They will be my first call when I have other work to be done. Thanks to everyone at TNT."―Linda Cameron
2. Tree Ninjas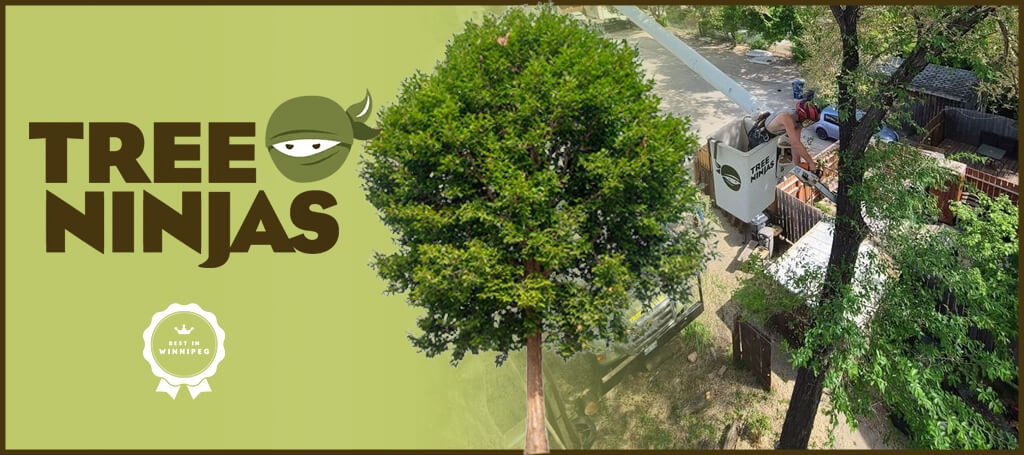 SERVICES
Tree Removal, Tree Care, Stump Grinding, Wood Chipping, Tree Health Assessment and Treatment
WEBSITE
www.treeninjas.ca
ADDRESS
Unit 1 – 7349 Wilkes Ave, Winnipeg, MB R3X 1Z4, Canada
CONTACT DETAILS
Phone: 431-800-3339
Email:

[email protected]

AVAILABILITY
24/7
Also acquired from its original owners, Tree Ninjas used to be a tree decoration service for the holidays. Since its conversion to arboriculture in 2017, Tree Ninjas has been providing tree care to Winnipeg and select areas outside its borders.
Unlike most of its competitors, Tree Ninja offers 24/7 availability. It's quite a generous feat considering other tree specialists usually take the weekend off.
To quell the spread of Dutch Elm Disease, it's only legal to prune or remove elm trees in Winnipeg between August and March. So, if you're pressed for time to have a tree removed before late spring, Tree Ninjas can fit your busy schedule better than most.
They also give you their starting prices upfront in their contact form. On top of that, you can make your payments online, which most people prefer in this day and age.
The online payment scheme enables another feature: you don't really need to be at the site during the removal process. You can book the appointment online, pay, go to work, and come back with the tree gone and the lawn clean.
It's as if they were never there―like ninjas.
Available 24/7
Free mulch
Online payment available
Minimal to no supervision needed
Two complaints of poor communication
No calendar booking
Customer Reviews
In awe of their swift work, these people have good things to say about Tree Ninjas:
"Phoned before they came! Showed up when they said! Did exactly what they said they would. Cleaned up the grounds like they had never been there!"―Ross Campbell
"They were in and out in less than an hour… like a ninja. Super happy with them. Great customer service and online payment is available. I'd give them 10 stars out of 5 if possible. Thanks guys! We will definitely be using your services again."―Mike Keller
3. Stevens Tree Specialists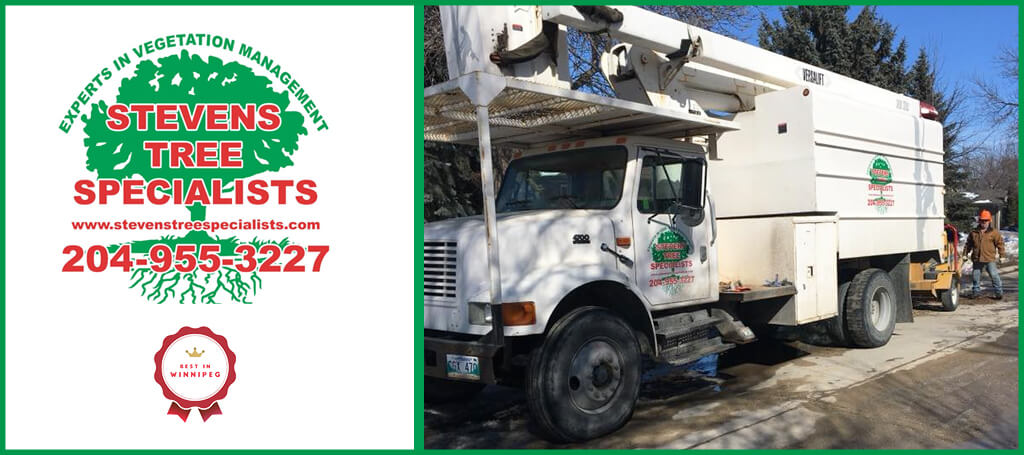 SERVICES
Tree Removal & Pruning, Pest Control & Prevention, Disease & Healthcare Treatments
WEBSITE
www.stevenstreespecialists.com
ADDRESS
#36 Berwyn Bay, Winnipeg, MB R2C 2W2, Canada
CONTACT DETAILS
Phone: 204-955-3227
Email:

[email protected]

OPERATING HOURS
Monday to Friday, 8:00 AM – 5:30 PM
Saturdays, 9:00 AM – 4:00 PM
Sundays, 9:00 AM – 12:00 PM
Stevens Tree Specialist with decades of combined experience in arboriculture, forestry, and agriculture. They have a vast knowledge of trees and provide quality tree care to wooded areas of the city.
If you're not too sure what to look out for, they've compiled guides on how to identify pests and diseases common to the area. These include Emerald Ash Borers, Dutch Elm Disease, Cankerworms and more.
They also work with public safety in mind, based on testimonials. They're proficient in safety protocols and can do intricate removals with the help of their 60-foot articulating bucket truck.
In terms of scale, they also do commercial tree removal. This often involves contracts with real estate developers and the city government.
So if you're a business owner approved with a sizable construction project, Stevens is a good choice for clearance operations. They also do really good clean-ups in time for other operations to take place.
If you do choose them for a week-long project, though, just note their shortened weekend hours. Those may get in the way of your plans.
Minimal supervision needed
Free mulch and firewood
Open on weekends
Shorter hours on weekends
No calendar booking
Customer Reviews
These people recommend Stevens Tree Specialist for their work ethic and professionalism:
"Thank you Brian. You were very professional, punctual and honest. Your rates are very reasonable. You kept in contact. Your work was done safely and quickly. Clean up was very well done. Thank you again for your professionalism, honesty and integrity. Job well done."―Dana Carson
"Brian, Brent and Rick did an exceptional job of removing our unwanted tree, cleaning up the area and doing it all professionally and efficiently! We would highly recommend this company to take care of your tree removals! Thank you for a job well done!! Super friendly too! Great customer service for a great price!"―Rhoda Neufeld
4. Pine to Palm Tree Service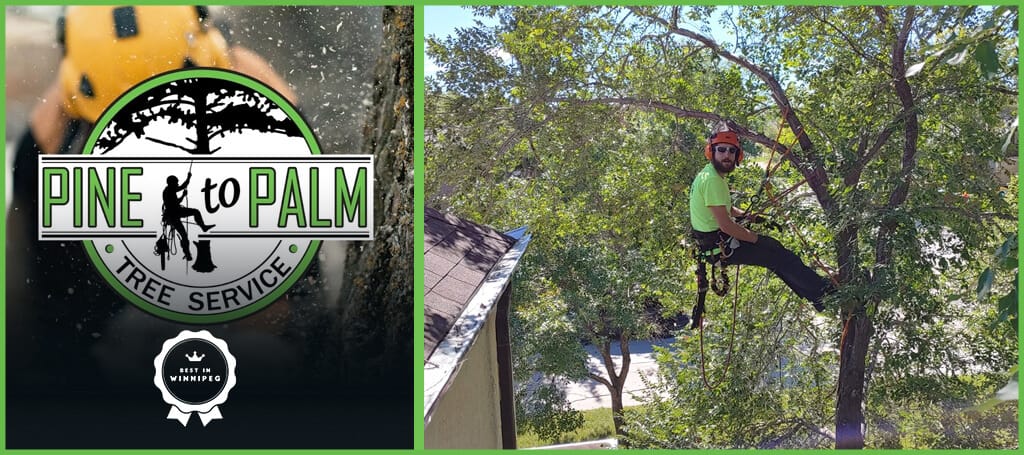 | | |
| --- | --- |
| SERVICES | Tree Removal, Tree Pruning, Stump Grinding, Consultations, Plant Health Care, Tree Planting, Fertilization, Urban Lights – Christmas & Event Lighting/ Decor, Animal Rescue |
| WEBSITE | www.pinetopalm.org |
| ADDRESS | 77 Riley Crescent, Winnipeg, MB R3T 0J3, Canada |
| CONTACT DETAILS | Phone: 431-998-8733 |
| OPERATING HOURS | Monday to Friday, 8:30 PM – 5:00 PM |
Pine to Palm is a team of arborists that do both climbing and aerial lift operations on local tree life. They use a combination of equipment and physical skill to conduct controlled tree care around existing structures.
They even have a 74-foot spider lift, which is the tallest of its kind in the province. It's enough to easily hack away at a dying 100-ft Morden tree in small, saf increments.
Pine to Palm is also the only arborist service in the city that offers Air Miles® rewards. It takes about 4 months to credit though… but since it's a bonus, it's appreciated nonetheless.
There is one thing to note about their Air Miles® reward and it's the timing. Pine to Palm offers a 5x bonus to your reward if you book tree services by July 30.
Remember, because of Manitoba's Forest Protection Act, elm tree handling is banned by the province from around April to the end of July. So just take note that you won't get that extra bonus for elm tree services, like, ever.
We get it though―a large reward bonus like that is more practical to offer during a certain off-season. They'll just have to get used to turning down people who aren't aware of the act but are incentivised by the bonus.
That said, they still offer extra services like evening tree decors at Christmas and animal rescue. And that's lovely, we think.
Tall aerial lifts
Rewards with Air Miles®
Does Christmas decors and animal rescue
Closed on weekends
No 5x Air Miles® rewards for elm trees
No calendar booking
Customer Reviews
These are the kinds of tree jobs that Pine to Palm handle regularly:
"After contacting several companies, I hired Pine to Palm to take down a 60′ poplar tree. The saying goes that when it comes to speed, affordability, and quality, you can only get two. But Pine to Palm delivered all three, and exceeded my expectations.The owner first did a site inspection and gave excellent advice for our treed lot. And when the crew came out, they were friendly and efficient. They negotiated with me how the job would be done so it met my goals while staying within budget. They also worked carefully and protected the surrounding environment. Six stars."―D Hiebert
"Amazing job Pine to Palm! Wonderful Team of people. We had a big tree (60 ft Poplar) in a very difficult area (beside the garage, hanging over houses) We appreciate the extra care to ensure no one was injured and no damage occurred. The clean up was incredible, You wouldn't even know you cut down a huge tree! We'll see you next year for one more tree."―Peter Boileau
5. Mitchel's All Season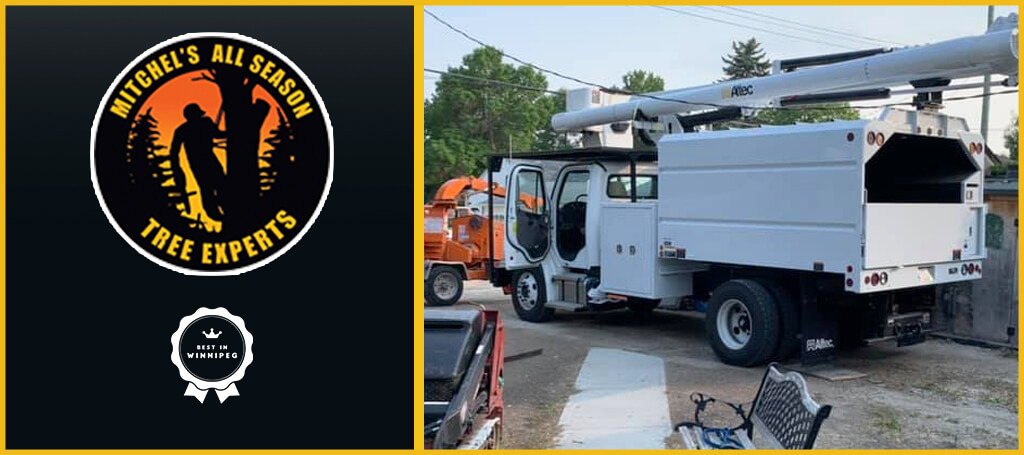 SERVICES
Tree Removal, Tree Pruning, Tree Care Consultations
WEBSITE
www.mitchelsallseason.com
ADDRESS
1059 Pembina Hwy Winnipeg, MB R3T-1Z6, Canada
CONTACT DETAILS
Phone: 204-990-8070
Email:

[email protected]

OPERATING HOURS
Monday to Friday, 8:00 AM – 7:00 PM

Customer phone support:
Monday to Friday, 9:00 AM – 7:00 PM
Weekends, 12:00 PM – 6:00 PM
Mitchel's All Season is a family-owned and operated tree service, specialising in pruning and removal. They're often described as fun, outgoing, and extremely passionate about what they do.
Their main arborist, Mitch, climbs trees like a mad man―and we mean that in the best way possible. He's one of the best climbers we've seen on this list.
They barely even use a lift, if not at all. It's old-school and we can respect that.
Most importantly, they're huge on safety. They make sure to keep the area secure and double up on precautions before starting on any operation.
Once they do start, they really go for it.There are time lapse videos of him hacking away at 50-ft trees like it's easy.
They have a pretty wide service coverage too, extending to 250 km outside of Winnipeg. They've also opened up weekends for aftercare and general support over the phone.
For your peace of mind, they're insured for $2,000,000 in liabilities. Still, that doesn't stop them from being as careful as they can to respect your property, and people can vouch for that.
Admittedly, they're not the cheapest. But if you want to witness a tree being pruned right the old-fashioned way, you're in for a treat.
Wide service coverage
Free mulch
Long hours
Customer phone support
Closed on weekends
Slightly pricey
No calendar booking
Customer Reviews
Here are some people who got great help from Mitchel's All Season:
"Mitchel's All Season removed a gigantic Maple tree that was rotten and endangering my home. They gave a quick, thorough and fair quote and removed the tree without incident. Their concern for safety and attention to detail make them the best tree removal company in Winnipeg. Mitch treated me with respect and concern during each step of the process. I couldn't be happier!"―Marlene Meaden
"Mitchel's did a fantastic job removing our 5 Aspen trees. They were fast and efficient and safety was always first. Mitch was great to deal with and is passionate about his work. He also took the time to explain things to us and give great advice for future issues to watch for. You can't even tell they were here other than the trees are gone. I almost wish I had more trees to cut!! Great job!"―Rebecca Schleicher
6. Leaf It To Us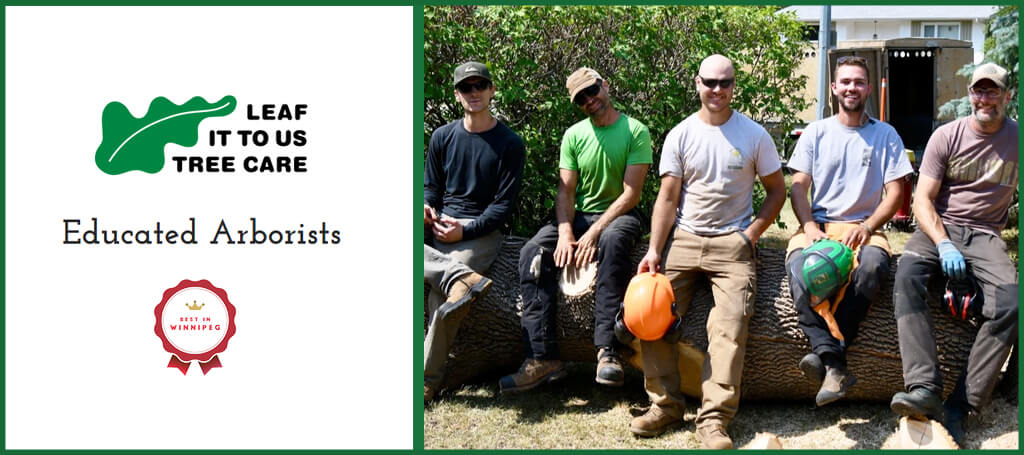 SERVICES
Tree Removal, Tree Climbing and Technical Rigging, Tree Pruning, Stump Grinding, Wood Chipping, Mulch Delivery and Spreading, Tree Planting, Tree Risk Assessment, Tree Preservation Report
WEBSITE
https://www.leafittous.ca
ADDRESS
Winnipeg, MB
CONTACT DETAILS
204-588-0551


[email protected]

AVAILABILITY
By appointment
Next on our list is Leaf It To Us Tree Care.
Leaf It To Us Tree Care is headed by Liam Gibson, who is a certified arborist in Manitoba and with the ISA. Liam has been working in the field for twelve years now, endeavouring to provide quality arborist service to the people of Winnipeg.
With his expert team of arborists, Liam and Leaf It To Us offer a wide array of tree care services, including but not limited to tree removal, tree climbing, tree pruning, stump grinding, wood chipping, and mulch delivery and spreading.
Not only that, but they also offer tree planting services as well.
Aside from the extensiveness of the service list, Leaf It To Us is also particularly known for the quality of service it provides. This is because the team works to be authentic, upfront, honest and approachable at all times.
Moreover, they are precise, skilled and hard-working, and will make sure your experience working with them was amazing.
ISA Certified Arborist
Manitoba Certified Arborist
Offers free estimates
Excellent customer service
Extensive service list
Services limited to Winnipeg
7. Oak, Ash and Thorn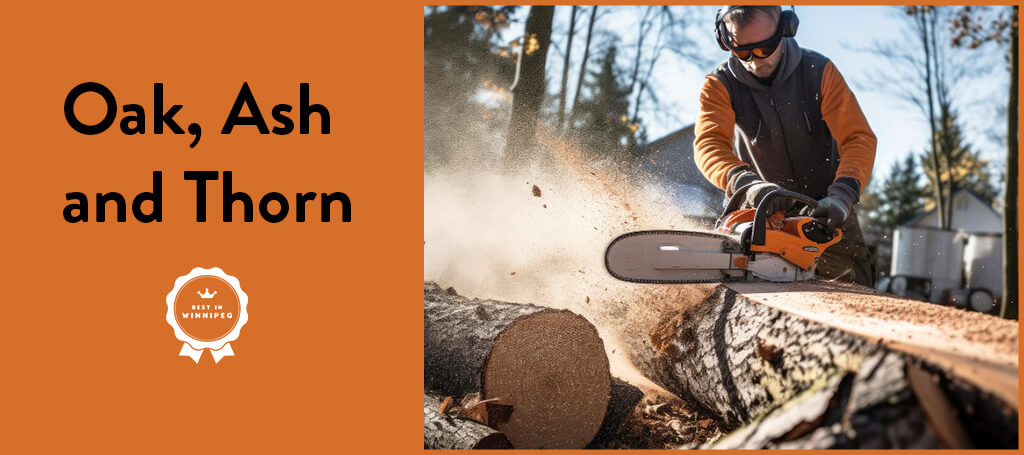 | | |
| --- | --- |
| SERVICES | Tree Care and Pruning, Tree Removal and Stump Grinding, Pet Rescue, Drone Retrieval, Commercial Services |
| WEBSITE | https://oakashandthorn.ca/ |
| ADDRESS | 293 Beverley Street, Winnipeg, Manitoba R3G 1T6 |
| CONTACT DETAILS | (204) 330-3319 |
| AVAILABILITY | By appointment |
If we're talking about quality arborist services, then there is no forgetting Oak, Ash and Thorn.
Oak, Ash and Thorn has been working in the field for several years now, slowly building up a reputation for the excellence it has to offer to its clients, which of course begins with the list of services it can provide to the area.
See, Oak, Ash and Thorn has one of the most extensive service list on this list, including the standard tree care and pruning services alongside utility line and building clearance, tree removal, stump grinding, pet rescue, drone retrieval, clearance pruning, hazard pruning, and industrial work access.
Each and every service is delivered by highly skilled professionals, all of whom have numerous years of experience under their belts. They're always polite, on time, and work to follow Covid-19 protocols.
For further inquiries, Oak, Ash and Thorn can be reached through phone. Booking their services can also be done through the same manner.
Operates on weekends and holidays
Offers residential and commercial services
Trained, highly qualified staff
Services limited to Winnipeg
FAQs About Tree Removal
---
Did we miss any good tree specialists you know? Shoot us a message about it and we'll get back to you shortly.
Also, if you're having any more conundrums of the garden variety, we've also written a review of the best landscapers in Winnipeg.