Top 5 Firms with Mechanical Engineering Services in Winnipeg
Many industries in the world rely on engineers to innovate new products and technology. These creations lead to the devices and items that enable us to work efficiently and live every day.
Now, suppose you plan to put up a business and are in need of professionals to install safety and health devices. Or, let's say you want to build a home with smart and eco-friendly technology features.
In that case, you'll need to hire the most competent mechanical engineers – and in this article, we'll be covering the best firms in Winnipeg that offer mechanical engineering services..
How much does it cost to hire mechanical engineers?
Depending on the skill level and prominence of the mechanical engineer, their hourly rates range from $100 to $120.
Besides the hourly rate of the engineer, you'll also have to pay for the services they'll do and the materials they'll use.
Take a look at these tables below to get a rough estimate of how much you'll pay for hiring mechanical engineers and their teams.
1: Average Hourly Rate by Industry
| INDUSTRY | AVERAGE HOURLY RATE |
| --- | --- |
| Automotive | $43.22 |
| Manufacturing | $33 |
| Heating, ventilation, and air conditioning (HVAC) | $29 |
| Robotics | $25.37 |
2: Average Hourly Rate for Specific Services
| INDUSTRY | AVERAGE HOURLY RATE |
| --- | --- |
| 3D Rendering | $18 |
| Computer-Aided Engineering (CAE) | $40 |
| Computational Fluid Dynamics | $34 |
| Finite Element Analysis (FEA) | $29 |
| Material Science | $32 |
| Reliability Planning | $40 |
| System Integration | $32 |
| Technical Analysis | $27 |
| Thermal Modeling | $29 |
How did we select the best mechanical engineering firms in Winnipeg?
We chose mechanical engineering firms that we think are the best in Winnipeg based on the following factors:
1. KGS Group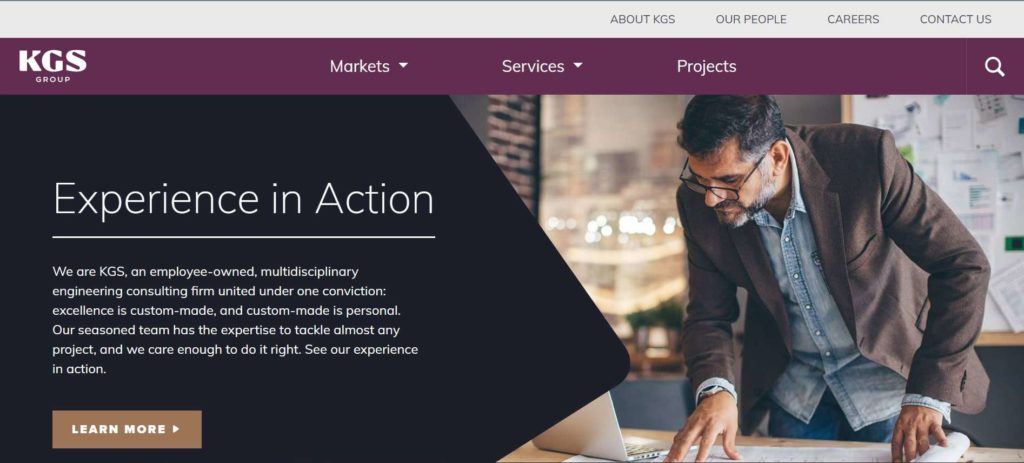 Test
Info
MECHANICAL ENGINEERING SERVICES OFFERED
Water control structures

piping systems

fire protection

HVAC

refrigeration

wastewater treatment

green building design

WEBSITE
https://kgsgroup.com/
CONTACT DETAILS
Phone: +1 (204) 896-1209

Fax: +1 (204) 896-0754

ADDRESS
865 Waverley St., Winnipeg, MB R3T 5P4, Canada
| | |
| --- | --- |
| CRITERIA | RATING |
| COMMERCIAL AWARENESS | ★★★★★ 5/5 |
| ENGINEERS' SKILLS | ★★★★☆ 4/5 |
| ⮕Innovative | ★★★★★ 5/5 |
| ⮕Solutions-oriented | ★★★★☆ 4/5 |
| WORK QUALITY | ★★★★☆ 4/5 |
| RESPONSIVENESS | ★★★★★ 5/5 |
| ⮕Accommodating | ★★★★★ 5/5 |
| ⮕Punctual | ★★★★★ 5/5 |
The KGS Group is one of the prime engineering consulting firms in North America. It has worked with several project managers in building several structures and systems for various markets.
In terms of mechanical engineering services, the company has worked on electrical plants, water and waste management systems, aviation engine testing sites, heating and cooling systems, and water resources management.
Some of its notable projects include the Cockburn and Calrossie Sewer Relief Works and the geothermal heating and cooling system for IKEA Winnipeg.
From what we've heard, most of their partners have had pleasant working experiences with KGS. They even recommend them to other firms looking for experts designing and developing all sorts of machinery.
While most of this firm's projects are large-scale engagements, we appreciate the KGS Group for also accommodating smaller projects.
In fact, a handful of schools and offices in Winnipeg have hired KGS' mechanical engineers to develop fire protection systems, heating features, and sustainable tech devices.
As of now, KGS' mechanical engineers may not be accommodating residential requests just yet, which is regrettable.
We've also received feedback that some engineers might not be thorough in their work sometimes. Some clients in the home-building sector weren't happy with the mediocre quality of their water drainage systems and turbulent transitions from the asphalt surface.
Of course, these could be quickly repaired and reinforced. However, if this level of carelessness continues, it may lead to irreversible damage.
It would help if the company would improve its quality control measures to prevent these issues from reoccurring.
Competent in developing various systems for different market segments
Some reports on needing to improve service quality
Doesn't accommodate residential projects yet
Customer Reviews
Knowledgeable about electrical and industrial aspects
"Very strong electrical team. They are known for industrial but have done a lot of great commercial work lately. The whole team is a pleasure to work with." – Mark Tully
2. SMS Engineering, Ltd.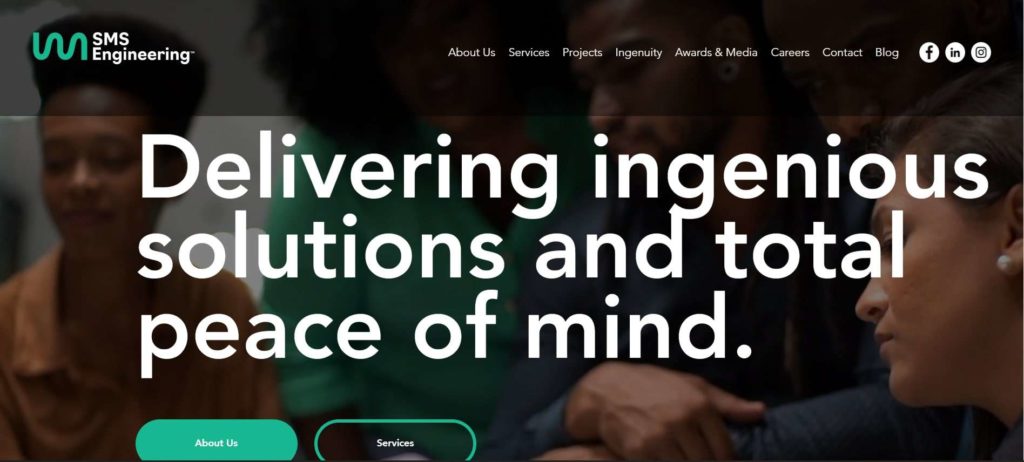 Test
Info
MECHANICAL ENGINEERING SERVICES OFFERED
Energy- and carbon-reduction systems

power systems

mechanical engineering consulting

security design

architectural lighting systems

WEBSITE
https://www.smseng.com/
CONTACT DETAILS
Phone: +1 (204) 775-0291

Email: [email protected]

ADDRESS
770 Bradford Street, Winnipeg, MB R3H 0N3, Canada
| | |
| --- | --- |
| CRITERIA | RATING |
| COMMERCIAL AWARENESS | ★★★★★ 5/5 |
| ENGINEERS' SKILLS | ★★★★★ 5/5 |
| ⮕Innovative | ★★★★★ 5/5 |
| ⮕Solutions-oriented | ★★★★★ 5/5 |
| WORK QUALITY | ★★★★★ 5/5 |
| RESPONSIVENESS | ★★★★★ 5/5 |
| ⮕Accommodating | ★★★★★ 5/5 |
| ⮕Punctual | ★★★★★ 5/5 |
SMS Engineering is another firm that boasts of innovative and top-tier design and development skills. Most of its projects gear towards sustainability, which we like as it entails a greener, cleaner, and more sustainable future for many.
In terms of its mechanical engineering services, we've learned that SMS has helped develop machines and high-tech features for hospitals, airports, health centres, educational institutions, and residential developments.
Upon checking their portfolio, we see that they've been involved in building power source towers, architectural lighting, and energy-and-carbon-reduction structures spanning all over Winnipeg.
In a way, SMS Engineering has fostered a more liveable and eco-conscious environment for the city's locals and future generations.
We've also received feedback that SMS' engineers are pleasant to work with as they are highly knowledgeable about everything related to mechanical and electrical engineering.
They're also reportedly easy to work with as they were open to suggestions and solutions that may make the projects' results better.
That said, it is no wonder SMS Engineering has been acknowledged by over six awarding bodies as an excellent engineering firm and consultancy in Canada.
One minor downside we found is that specific mechanical engineering services aren't displayed on its website. We wish they would be more detailed about their services so that clients won't have to call them up to ask for more information.
Specialises in environmentally-conscious systems
Limited information on specific services
Customer Reviews
Exemplary engineers and services
"Excellent mechanical and electrical engineering expertise. Appreciate the company's great staff. Also a wonderful company to work for as they have marvelous retirees." – Dennis Sigurdson
Does top-quality installation services
"As much as 90% of the electrical installation was pre-fabricated on our project, we worked closely with the contractor in a design assist role. The installation quality is really good as a result." – chrisjhewitt of Red River College Polytechnic's Innovation Centre
3. DGH Engineering
Test
Info
MECHANICAL ENGINEERING SERVICES OFFERED
HVAC systems

boilers

ire protection

sprinkler systems

geothermal systems,

compressed air piping

restaurant kitchen ventilation

natural gas and propane piping

WEBSITE
https://www.dghengineering.com/
CONTACT DETAILS
Phone: +1 (877) 334-8846

Email: [email protected]

ADDRESS
12 Aviation Boulevard, St. Andrews, Manitoba R1A 3N5, Canada
| | |
| --- | --- |
| CRITERIA | RATING |
| COMMERCIAL AWARENESS | ★★★★★ 5/5 |
| ENGINEERS' SKILLS | ★★★★★ 5/5 |
| ⮕Innovative | ★★★★★ 5/5 |
| ⮕Solutions-oriented | ★★★★★ 5/5 |
| WORK QUALITY | ★★★★★ 5/5 |
| RESPONSIVENESS | ★★★★☆ 4/5 |
| ⮕Accommodating | ★★★☆☆ 3/5 |
| ⮕Punctual | ★★★★★ 5/5 |
DGH Engineering offers a wide range of engineering services to various types of segments within Canada.
While located on the northeastern fringes of Winnipeg, its on-site office is still accessible as it lies between Main Street and McPhillips Street, two roads linking the city to other parts of Manitoba.
We love how the firm caters to a diverse range of businesses, from restaurants to apartment complexes, corporate centres, community halls, and recreational developments.
If you're thinking of getting this firm's mechanical engineers, you'll be glad to know that they are known to be thorough in assessing whether spaces are suitable for different installation projects.
They even conduct and use feasibility studies to see whether a system will be energy-efficient and overall sustainable in the long run. This speaks of thoroughness and excellent due diligence.
DGH Engineering is also reportedly precise and careful when it comes to developing plans before executing work. This goes a long way with discerning clients who aren't rushing to execute, as well as clients who need to be educated on the value of proper planning.
One drawback, however, is hearing reports of some staff in the customer service departments displaying unprofessionalism in their dealings with clients. We're hoping management can address these specific complaints with the specific staff involved.
Does feasible studies to assess if systems and structures are energy-efficient and sustainable in the long run
Known for building excellent ventilation systems 
Some feedback on some staff displaying unprofessionalism
Customer Reviews
A company that is adaptable and great to work with
"I have worked for DGH engineering for 4 years. They are a good company to work for that is flexible & can adapt to demands from a diverse range of industries." – Gary Edwards
Pleasant experience working with them
"We just finished a project with DGH and the staff are wonderful! We would certainly work with them again!" – Chris Hall
4. Iris Construction Management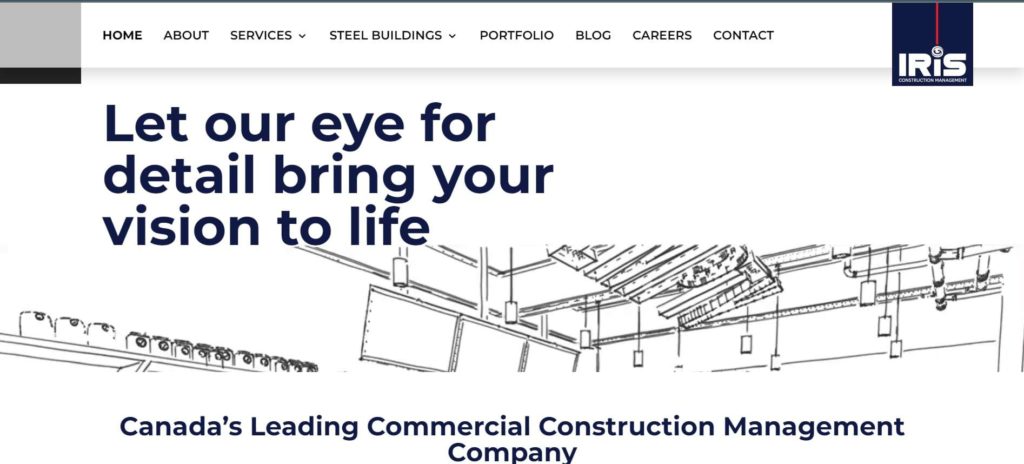 Test
Info
MECHANICAL ENGINEERING SERVICES OFFERED
Construction management

Design services

HVAC and UPS (uninterruptible power supply) systems

WEBSITE
https://irisconstruction.ca/
CONTACT DETAILS
Phone: +1 (204) 809-1177

Email: [email protected]

ADDRESS
3111 Portage Ave Winnipeg, MB, R3K 0W4, Canada
| | |
| --- | --- |
| CRITERIA | RATING |
| COMMERCIAL AWARENESS | ★★★★★ 5/5 |
| ENGINEERS' SKILLS | ★★★★★ 5/5 |
| ⮕Innovative | ★★★★★ 5/5 |
| ⮕Solutions-oriented | ★★★★★ 5/5 |
| WORK QUALITY | ★★★★★ 5/5 |
| RESPONSIVENESS | ★★★★☆ 4/5 |
| ⮕Accommodating | ★★★★☆ 4/5 |
| ⮕Punctual | ★★★★☆ 4/5 |
Iris Construction Management is primarily known for structural engineering services, but it also employs highly-skilled mechanical engineers to complete its projects.
We explored its mechanical engineering projects and found that most of its notable works involve aesthetic clinics, dental clinics, restaurants, coffee shops, wellness centres, and office spaces.
From a design perspective, we love how Iris utilises mixes of industrial, contemporary, classic and nature-inspired styles.
We've also heard feedback that Iris' mechanical engineers are quite competent in designing plans and features for various projects.
Clients highlighted how the team they worked with was quite hands-on in ensuring every phase of the project was treated with high attention to detail, ensuring that the execution was practically flawless.
In case there were hiccups, the engineers were quick to find solutions to address any issues, which tells us they're quick on their feet. They also do a great project review, where they suggest other possible steps to further build on what the project has already accomplished.
However, we've received feedback that some engineers and contractors were a bit stubborn and difficult to work with, resulting in slightly delayed project completions.
Hopefully, management has dealt with these complaints accordingly to ensure that projects aren't affected by the team's unprofessionalism.
Offers mechanical engineering with electrical and construction engineering services
A handful of reports on some engineers and contractors not being easy to work with
Customer Reviews
Team of engineers are professional and great to work with
"Iris Construction is great team of professionals. They did a great job with floor plans, 3D rendered models, and interior design services. Excellent results for a great price. Pleasure to deal with." – Daniel Brown
Highly recommend for design and construction services
"We recently remodeled our business, it was a big project. Our experience working with Iris Construction was amazing. Their designers worked with us to find the perfect design for our remodel and kept us informed all throughout the project. Our project manager was great and easy to work with. Highly recommended!" – Micheal Feedel
5: AECOM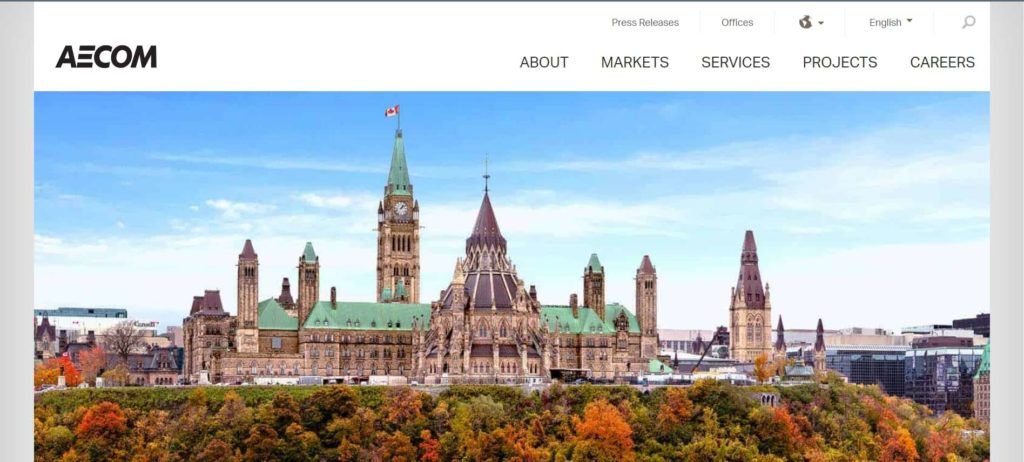 Test
Info
MECHANICAL ENGINEERING SERVICES OFFERED
Fire protection

Water resources

Plumbing

WEBSITE
https://aecom.com/ca/
CONTACT DETAILS
Phone: +1 (204) 477-5381

Facebook: AECOM

Instagram: @aecom

ADDRESS
99 Commerce Drive, Winnipeg, MB R3P 0Y7, Canada
| | |
| --- | --- |
| CRITERIA | RATING |
| COMMERCIAL AWARENESS | ★★★☆☆ 3/5 |
| ENGINEERS' SKILLS | ★★★★★ 5/5 |
| ⮕Innovative | ★★★★★ 5/5 |
| ⮕Solutions-oriented | ★★★★★ 5/5 |
| WORK QUALITY | ★★★★★ 5/5 |
| RESPONSIVENESS | ★★★★☆ 4/5 |
| ⮕Accommodating | ★★★☆☆ 3/5 |
| ⮕Punctual | ★★★★★ 5/5 |
AECOM is another engineering firm that has done several projects spanning North America. To date, it has done two projects in and near Winnipeg, namely the Manitoba Hydro Place and the Winnipeg Transit Bus Maintenance Garage Expansion Project.
AECOM offers an impressive list of services related to building and developing structures for various markets. Most of its projects are also large-scale engagements that promote better living and working conditions for many people in Winnipeg.
In terms of mechanical engineering, we found that they offer this service together with electric and plumbing services. This is convenient for businesses that need professionals who are competent and knowledgeable with building machines and power sources.
The engineers are also said to be friendly, sociable, and team-minded, which is great. It makes a big difference when there is observable synergy and teamwork among the team members.
While AECOM has yet to accommodate smaller-scale projects, we think they are a great choice for real estate developers and industrial builders.
One major downside we've heard of is that some of AECOM's staff can be unprofessional. In fact, there have apparently been some incidents of racism, which is quite troubling.
We hope that AECOM's management investigates these incidents and implement the appropriate measures to make sure these don't happen again.
Known for developing power plant systems in and out of Winnipeg
Reports on rude and racist staff
FAQs About Mechanical Engineers
---
And there you have it – our unbiased take on the top firms that offer mechanical engineering services in Winnipeg!
We recommend you to look into these companies' websites and portfolios to see which one is the best fit for your needs.
In the meantime, we also suggest you check out the best construction companies and best HVAC systems contractors in Winnipeg for additional supplier information on developing structures and spaces.