The Top 5 Internet Service Providers in Winnipeg
The Internet is essential for work, school, business, and home. Given this, many Internet service providers offer all sorts of connection plans that suit various people's needs.
In this article, we review some of the Internet service providers we found to be the best and most trusted in Winnipeg. A FAQ section is also available below to give your more helpful information related to choosing the best provider for you.
How much do Internet services cost on average?
The total price of your Internet services will depend on your chosen provider, speed, and the type of connection.
You may also incur additional costs if you've selected bundled connections. According to a 2018 report, the current average price of bundled Internet plans in Canada ranges from $137.67 to $142 a month.
But if you're wondering how much you'll potentially spend for your Internet service, here is a table of the different connection types and their corresponding speeds and prices.
1: Average Price of Broadband Connections
| LEVEL AND SPEED | PRICE/MONTH |
| --- | --- |
| Level 1 (3-9 Mbps) | $40.67 |
| Level 2 (10-15 Mbps) | $57.36 |
| Level 3 (16-40 Mbps) | $70.70 |
| Level 4 (41-100Mbps) | $87.00 |
| Level 5 (100-249 Mbps) | $102.76 |
| Level 6 (250-400 Mbps) | $123.87 |
2: Average Price of Wireless Connections
| LEVEL AND INCLUSIONS | PRICE/MONTH |
| --- | --- |
| Level 1 (Talk) | $25.73 |
| Level 2 (Talk and Text) | $39.43 |
| Level 3 (1 GB data) | $70.99 |
| Level 4 (2 GB data) | $75.44 |
| Level 5 (5 GB data) | $87.32 |
| Level 6 (10-49 GB data) | $227.87 |
3: Average Price of Mobile Internet Services
| LEVEL AND SPEED | PRICE/MONTH |
| --- | --- |
| Level 1 (2-5 GB) | $38.28 |
| Level 2 (5-10 GB) | $61.90 |
| Level 3 (10+ GB) | $83.35 |
Which Internet service provider should I get?
We've chosen who we think are the best Internet service providers based on these factors:
1: Voyageur Internet, Inc.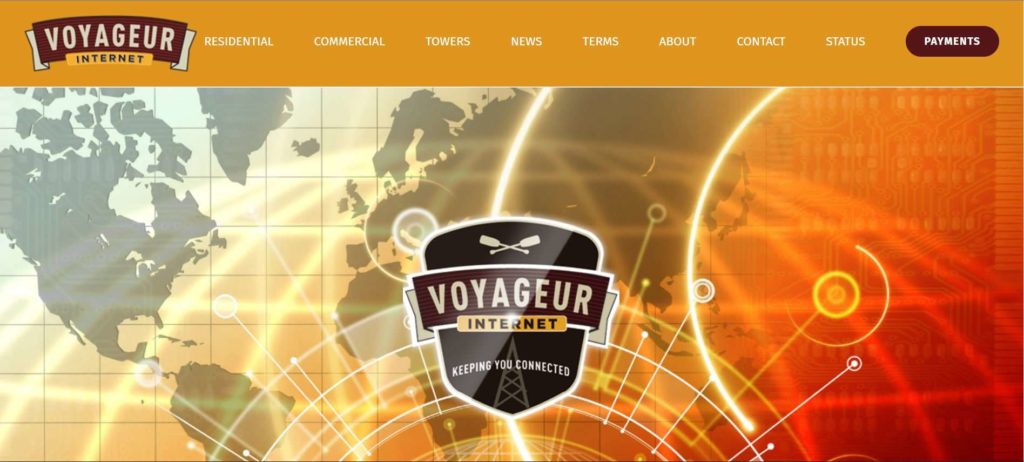 WEBSITE
https://voyageurinternet.ca/
CONTACT DETAILS
Phone: +1 (204) 233-5555

Email: [email protected]

ADDRESS
323 Edwin Street, Winnipeg, MB, R3B 0Y7, Canada
OPERATING HOURS
Monday to Friday: 8:30 AM – 4:30 PM

Saturday and Sunday: Closed
| | |
| --- | --- |
| CRITERIA | RATING |
| PRICE | ★★★★★ 5/5 |
| SPEED | ★★★★☆ 4/5 |
| ⮕Consistency | ★★★★☆ 4/5 |
| ⮕Fast | ★★★☆☆ 3/5 |
| PLAN | ★★★★☆ 4/5 |
| ⮕Versatility | ★★★★☆ 4/5 |
| ⮕Inclusions | ★★★★★ 5/5 |
| OVERALL SERVICE | ★★★☆☆ 3/5 |
We are happy that Voyageur Internet exists to serve those who need stable Internet connections, despite living in the more remote parts of Winnipeg.
Upon checking, Voyageur currently offers residential plans that cost $99 to $199 a month, and commercial plans that are priced at least $199 a month. At first glance, these prices may seem expensive compared to the standard prices we've discussed in the table earlier.
But with speeds of 25 Mbps up to 100 Mbps, we think these are investment-worthy as you'll get speedy connections for browsing, streaming, working, and maybe even gaming.
And from what other users said, the speed of their plans remained stable, even during peak hours and even though they've reached their data cap.
We've caught wind of some incidents where clients living in more remote areas experienced unstable connections. A client even shared about struggling with slower Internet speeds after just one month of usage.
Because location is an important consideration in determining signal strength, it would be good for Voyageur to do a location assessment for potential clients before selling their Internet plans.
In terms of customer service, we like that most of the staff were said to be quite helpful and informative about the different plans and the perks they come with.
On the other hand, there have been a handful of reports of unprofessionalism by some staff, resulting in disgruntled customers who did not feel helped at all. It may be time for management to improve its customer service training to ensure some level of consistency in service.
Offers great connections for rural areas
Reports on inconsistent customer service and speeds in certain areas
Customer Reviews
Excellent customer service
"Very easy to reach via email/phone and super helpful with troubleshooting! We required quite a few visits from the technician, so we were very appreciative of how patient and informative he was! It's been about 6 months and we haven't had any issues. Great company!" – Carmie Peralta
Great choice for stable Internet for rural areas
"Absolutely thrilled with the performance I received with this internet company and the technician was amazing and went above and beyond explaining to me in great detail the technology and how great the customer service and overall quality of the network was. I paid for the plan b and got exactly what I paid for 13mbs download and 3mbs upload and hasn't changed even during peak hours. I would definitely recommend this company to those seeking internet in rural areas." – Matty T
2: Full Throttle Networks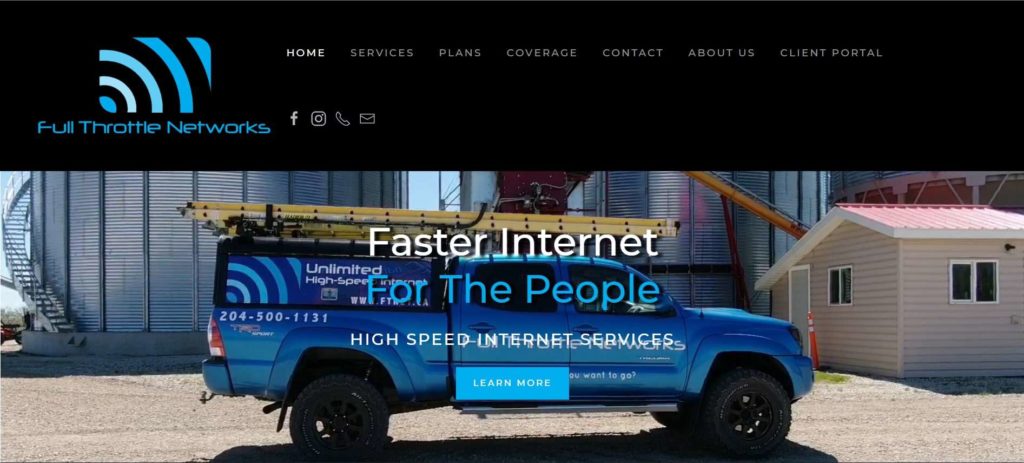 WEBSITE
https://www.ftnet.ca/
CONTACT DETAILS
Phone: +1 (204) 500-1131

Email: [email protected]

ADDRESS
180-235 Vermillion Rd Suite 406 Winnipeg, MB, R2J 3M7, Canada
OPERATING HOURS
Monday to Friday: 8:00 AM – 4:00 PM

Saturday and Sunday: Closed
| | |
| --- | --- |
| CRITERIA | RATING |
| PRICE | ★★★★★ 5/5 |
| SPEED | ★★★★☆ 4/5 |
| ⮕Consistency | ★★★★☆ 4/5 |
| ⮕Stability | ★★★★☆ 4/5 |
| PLAN | ★★★★★ 5/5 |
| ⮕Versatility | ★★★★★ 5/5 |
| ⮕Inclusions | ★★★★★ 5/5 |
| OVERALL SERVICE | ★★★★☆ 4/5 |
If you need faster Internet speeds for you to work at home more efficiently, then Full Throttle Networks might be the right service provider for you.
From what we found, this Internet service provider does deliver the quality connections it advertises – true to its name, indeed.
For example, most of its users reported stable connections and rare outages during harsh weather conditions. We think this is excellent as users will still have access to news platforms and their loved ones via social media.
To date, Full Throttle Networks offers residential plans with speeds of 15/3 Mbps to 50/10 Mbps, with monthly rates of $69 to $129. Upon checking, these rates are slightly pricier than the standard rates most Internet service providers in Canada offer.
However, these rates don't have data usage limits and overage fees, which means users can stream, browse, play, and work as much as they want!
What makes us slightly iffy about this Internet service provider are reports on declining speeds after just a few months of usage.
In this regard, the company mentioned that the users who complained may have trees or other structures that block the transmission of their Internet connection, which is why speeds are unstable or declining,
And while some clients received fixes and upgrades that made their connections consistent and fast again, others said they were just brushed off and didn't end up getting the troubleshooting services they were requesting.
Another downside is that others have repeatedly asked for repairs due to fluctuating speeds and constant outages but didn't get the fixes they asked for. We've heard reports of technicians coming in a month after the request was made or not showing up at all!
We're in high hopes that management is already taking steps to correct this issue. Perhaps a retraining of key staff and a reevaluation of operations policies are in order.
Likewise, Full Throttle Network's management may also need to investigate the potential causes of unstable and declining speeds.
Excellent Internet speed upgrade services
Punctual staff
Some feedback on declining speeds after months of usage
Some reports on delayed repairs and maintenance
Customer Reviews
Prompt services and courteous staff
"The installers came out right on time, they were professional and courteous. Spencer explained the entire process with me, very informative. The service has been excellent, very fast and reliable. Edit: Almost a full year using Full Throttle, the service has been great, very reliable connection, the Wi-Fi router is small but mighty, I am usually able to stay connected 200′ away from my house. Unfortunately they are now owned by Xplornet, so we will see what happens in the next few months." – John Stephen
Efficient staff and great Internet speeds
"I made the switch to Full Throttle early in 2022 after leaving a larger company with horrendous network speeds in my area of Winnipeg. Due to some weather delays for the mast installation, I was a bit of a grump in the process, but in the end I could not be more satisfied with their speeds and service. Any disruptions to the network are communicated immediately, with detailed descriptions of the causes and the resolution. Also, they guaranteed their network speeds as advertised, and have lived up to the promise." – TrickyE
3: Trans Canada Internet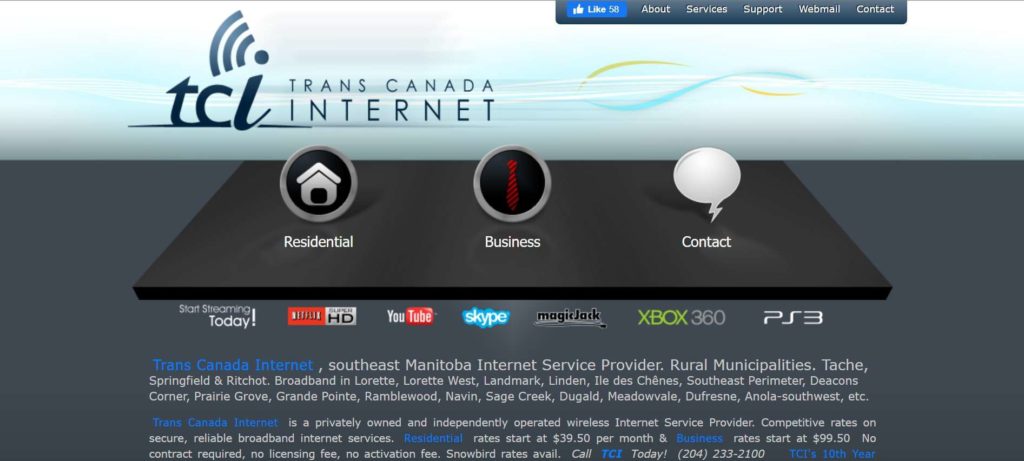 WEBSITE
http://www.transcan.net/
CONTACT DETAILS
Phone: +1 (204) 233-2100

Facebook: Trans Canada Internet

ADDRESS
306-690 Rue St Joseph, Winnipeg, MB R2H 3E2, Canada
OPERATING HOURS
Monday to Friday: 8:00 AM – 6:00 PM

Saturday and Sunday: 8:00 AM – 5:00 PM
| | |
| --- | --- |
| CRITERIA | RATING |
| PRICE | ★★★★★ 5/5 |
| SPEED | ★★★★★ 5/5 |
| ⮕Consistency | ★★★★★ 5/5 |
| ⮕Stability | ★★★★★ 5/5 |
| PLAN | ★★★★★ 5/5 |
| ⮕Versatility | ★★★★★ 5/5 |
| ⮕Inclusions | ★★★★★ 5/5 |
| OVERALL SERVICE | ★★★★☆ 4/5 |
For ten years, Trans Canada Internet (TCI) has provided one of the fastest Internet connection plans all over the country. They offer high-speed broadband and wireless Internet services, connections we believe are suitable for residential and business use.
In terms of price, we found that this internet service provider also offers lower prices compared to the other entries on this list. You may avail of broadband services priced at $40 to $120 and with speeds starting at 14 Mbps up to 60 Mbps.
The company currently offers seven different plans, each suitable for different users ranging from video streamers to gamers and, perhaps, content creators.
We think TCI should update its website details as it still advertises game platforms that launched more than ten years ago. That way, customers will know that the gaming connection plans are up-to-date and suitable for current consoles.
When it comes to customer service, many satisfied users mentioned that the staff and technicians were accommodating and ready to address issues in their Internet service.
On the downside, we checked and saw that other users weren't entirely happy with this provider's services. Some said that the services they asked for, such as troubleshooting and upgrading, were delayed, or didn't come at all.
Whatever the cause of these issues, it would be good for TCI to identify and implement a workaround for these delayed services.
Excellent speeds for residential and business use
Smooth gaming and streaming experiences with user-specific plans
Some reports on delayed maintenance services
Customer Reviews
Great service, fair prices, and excellent speeds
"Excellent service for the price. They really stand behind their service and provide assistance whenever needed. The internet is fast with no downtime yet." – Amanda Lind
Appreciate its top-notch services
"Service is always top notch with TCI. If they service your area then they are the internet provider to go with! I get exactly the speed I pay for and am amazed at the quality of video when streaming or video chats. Staff go the extra mile to ensure you are satisfied." – Blair Walkin
4: 4L Communications, Inc.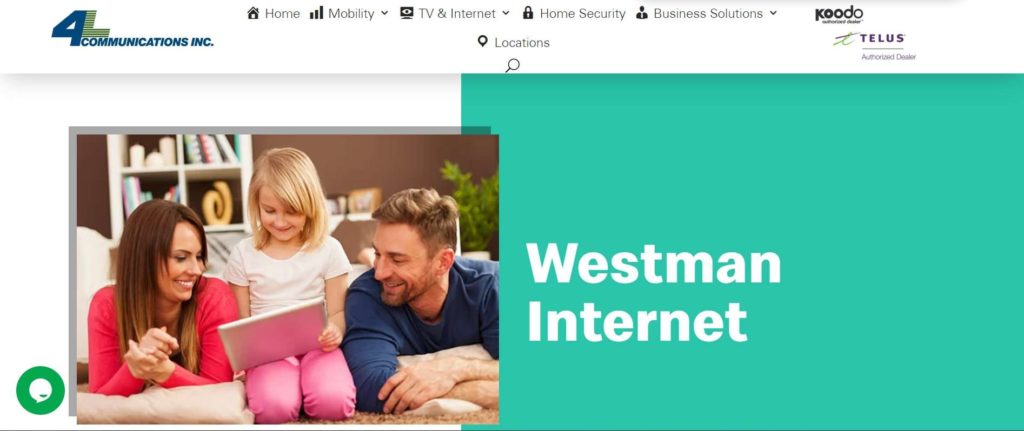 | | |
| --- | --- |
| CRITERIA | RATING |
| PRICE | ★★★★★ 5/5 |
| SPEED | ★★★★★ 5/5 |
| ⮕Consistency | ★★★★★ 5/5 |
| ⮕Stability | ★★★★★ 5/5 |
| PLAN | ★★★★★ 5/5 |
| ⮕Versatility | ★★★★★ 5/5 |
| ⮕Inclusions | ★★★★★ 5/5 |
| OVERALL SERVICE | ★★★★☆ 4/5 |
If you're looking for fast and reliable mobile Internet, then you might want to contact 4L Communications. Upon checking, it is a dealer of some of Canada's most-trusted Internet services, namely TELUS and Westman.
While it is an authorised dealer, we hear Internet speeds are stable and consistent.
Another thing we love about 4L Communications is that it offers different plans, ranging from the most affordable to the pricier but worth-paying-for subscriptions.
From what we've learned, it seems most customers prefer its XSTREAM 50, 80, and 160 plans. These mobile plans have speeds of 5 to 20 Mbps and unlimited data usage, and can cover at least three devices.
They seem to sometimes have discounted deals on these plans, so we would recommend heading over to their website to see what they currently have to offer new customers.
On the downside, we were told that upgrading mobile devices and plans may not always be reliable and efficient.
We've heard feedback from a handful of clients that the staff they spoke with didn't seem to want to accommodate them or help them upgrade their mobile plan.
Others noted how they didn't get the information they needed about the different Internet plans, prompting them to go to another provider.
We think now is a good time as any for management to look into these staff issues and update their product and sales training modules. This may help their team get reoriented on their newest offerings, as well as the best way to introduce them to customers.
Excellent choice for mobile Internet plans
Offers discounts for pricier bundles
Some feedback on unprofessional in-store staff
Customer Reviews
Efficient services for upgrading phones and mobile Internet
"Had a great experience with Jordan at the Telus Mobility kiosk at Grant Park. He was very knowledgeable, personable and walked us through all the steps of upgrading our phones. Would not hesitate to recommend him. He made it easy." – Bev Forzley
Staff were patient, knowledgeable, and friendly!
"I won't bore you with all the details, but I ended up switching from one phone to another and back again over two days. I dealt with Diego at this location both days and he was a real hero to me. A lot of technology stuff is overwhelming and confusing for me. I really appreciated Diego's patience and calm demeanour during the process." – Andrea McLaren
5: Bell MTS
WEBSITE
https://www.bell.ca/
CONTACT DETAILS
Email: [email protected]

Facebook: Bell Canada

Instagram: @bell

ADDRESS
Portage Avenue:

1300 Portage Ave, Winnipeg, MB R3G 0V1, Canada

1485 Portage Ave L176, Winnipeg, MB R3G 0W4, Canada

Plessis Road:

1750 Plessis Rd #304, Winnipeg, MB R3W 0H5, Canada

St. Mary's Road:

1225 St Mary's Rd Level 1-45, Winnipeg, MB R2M 5E5, Canada

OPERATING HOURS
Portage Avenue branches:

1300 Portage Ave.:

Monday to Saturday: 10:00 AM – 6:00 PM

Sunday: Closed

1485 Portage Ave.:

Monday to Thursday: 10:00 AM – 9:00 PM

Friday and Sunday: 11:00 AM – 6:00 PM

Saturday: 10:00 AM – 7:00 PM

Plessis Road branch:

Monday to Friday: 10:00 AM – 6:00 PM

Saturday: 10:00 AM – 5:00 PM

Sunday: Closed

St. Mary's Road branch:

Monday to Friday: 10:00 AM – 8:00 PM

Saturday: 10:00 AM – 6:00 PM

Sunday: 11:00 AM – 6:00 PM
| | |
| --- | --- |
| CRITERIA | RATING |
| PRICE | ★★★★☆ 4/5 |
| SPEED | ★★★★★ 5/5 |
| ⮕Consistency | ★★★★★ 5/5 |
| ⮕Stability | ★★★★☆ 4/5 |
| PLAN | ★★★★☆ 4/5 |
| ⮕Versatility | ★★★★☆ 4/5 |
| ⮕Inclusions | ★★★★☆ 4/5 |
| OVERALL SERVICE | ★★★☆☆ 3/5 |
Another well-known Internet and telecommunications services provider in Canada is Bell MTS. It has several branches across Winnipeg, so we recommend checking its top-rated branches on the table above.
From what we've heard, this Internet service provider is another excellent choice for mobile plans, specifically, the Ultimate 45 and Ultimate 50 plans which cost $85 and $95 a month.
These prices may seem intimidating, but we think these are worth paying for. You'll get 5G network access, speeds of at least 45 Mbps, stable hotspot connections, and unlimited texts and calls internationally!
What we love about these plans is that you can add packages that allow you to stream your favorite shows on various platforms in HD quality and for an unlimited time.
Availing of Bell MTS' mobile plans may also be the perfect opportunity to upgrade your mobile device. We like that its different stores carry flagship phone models from different plans, so you'll have the chance to get your dream phone.
We were just a tad disappointed by stories of users being overcharged for their mobile plans, considering the monthly rates are similar to the most affordable broadband bundle ($94/month).
From what we're told, some have been charged double or triple for sending photos and voice messages. We hope that these issues have been resolved with the specific customers, as no one wants to pay extra for a service they didn't get.
In terms of customer service, we've heard mixed feedback about the competence and friendliness of the staff. While many commend the team for their professionalism, some had a more disappointing experience, such as technicians not showing up for a scheduled repair.
However, we appreciate Bell's staff for apologising and offering to make up for their mistake. It takes a humble team to take responsibility for mistakes made along the way.
Excellent provider of mobile and broadband Internet plans
Multiple branches 
Some reports on overcharging
Needs to be more conscientious in taking appointments and delivering the right services
Customer Reviews
Very helpful and informative staff
"Bik helped us to set up our daughter's new phone and upgraded our plan which would be more suitable for us. He assisted us with his knowledge and caring. He provided excellent customer service and we appreciate his assistance very much!" – E Kim
Excellent provider of mobile plans
"We looked for mobile plans at Polo Park Mall and the best plan we got was at Bell. Bik was extremely helpful, we are new to Canada and it was very pleasant to meet somebody so friendly. He did an excellent job. Thank you again, Bik!" – Oksana Lozovsky
FAQs about Winnipeg's Internet service providers
---
And that ends our impartial review of Winnipeg's best Internet service providers! Take your time discovering which of these services you think will give the most bang for your buck.
If you're a business owner, having a stable Internet connection is only the beginning. You might want to boost your business at home by building a website and partnering with SEO experts to maximise your digital presence.
In that case, we'd recommend looking into the best web design firms and best SEO agencies in Winnipeg.