The 5 Most Trusted Tile Installers in Winnipeg
When it comes to any property building project, tiles are perhaps the most common material used. They come in different styles and shapes and are perfect for both indoors and outdoors.
If you're planning to upgrade your walls and floors, then this review of the most trusted tile installers in Winnipeg might help you find the right providers!
How much do tile installation services cost?
The total cost of hiring tile installers depends on the kind of tiles you're getting, the area of the space you want to be covered, and labourers' fees.
Note that prices may also increase due to the complexity of the space you want to be covered and if the area needs to have old tiles removed.
Take a look at this table below to get an idea of how much you'll likely spend for your tile installation projects:
| AREA SIZE | AVERAGE PRICE RANGE W/ LABOUR |
| --- | --- |
| 10 sq. ft. | $71 – $934 |
| 15 sq. ft. | $106 – $1,545 |
| 30 sq. ft. | $212 – $3,089 |
| 36 sq. ft. | $254 – $3,707 |
| 60 sq. ft. | $452 – $6169 |
| 72 sq. ft | $509 – $12,745 |
| 120 sq. ft | $849 – $12,358 |
How We Picked The Best Tile Installers in Winnipeg
There are many well-known tile installers in Winnipeg, but we named our top picks based on the following factors:
1. Carrara Tile & Marble, Ltd.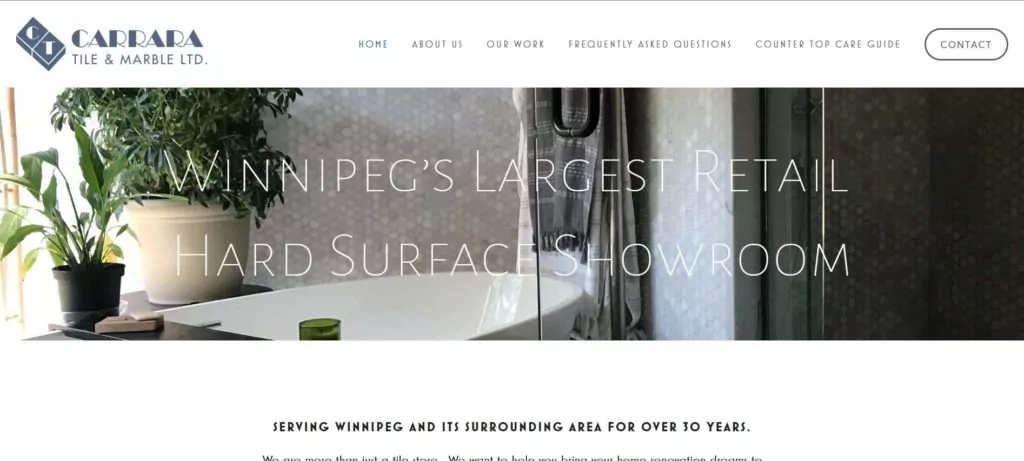 WEBSITE
https://www.carraratile.ca/
CONTACT DETAILS
Phone: +1 (204) 453-8014

Email: [email protected]

ADDRESS
491 Warsaw Avenue, Winnipeg, MB, R3L 0R2, Canada
OPERATING HOURS
Monday to Friday: 9:00 AM – 5:00 PM

Saturday: 10:00 AM – 4:00 PM

Sunday: Closed
| | |
| --- | --- |
| CRITERIA | RATING |
| PRICE | ★★★★★ 5/5 |
| TILE SELECTION | ★★★★★ 5/5 |
| PROJECT RESULTS | ★★★★★ 5/5 |
| ⮕Clean and Beautiful | ★★★★★ 5/5 |
| ⮕Long-lasting | ★★★★★ 5/5 |
| STAFF | ★★★★☆ 4/5 |
| ⮕Competent | ★★★★☆ 4/5 |
| ⮕Accountable | ★★★★☆ 4/5 |
Ceramic and porcelain are two of the most popular tiles for various home or commercial building projects. They're affordable and durable, which is why they're widely used by many.
With Carrara Tile & Marble, you can have ceramic- or porcelain-tiled surfaces that look as elegant and beautiful as those in five-star hotels and luxurious homes, for more affordable prices.
With over 30 years of experience, we believe that this tile contractor is excellent in its craft. Many satisfied clients mentioned that they were open to hiring them again for future projects.
This installer's current portfolio features beautiful tile countertops, bathroom floors, marble tables, and kitchen backsplashes, which we think will come in handy for interested clients who want to check out their work first.
We hear that their output is consistently polished, appealing, and long-lasting. It is no wonder that many praise Carrara Tile & Marble for excellent service that requires zero to minimum maintenance services.
We also appreciate them for hiring team members that are accommodating and patient. From what we were told, they are open to adjusting plans when clients make special requests – as long as they are doable, of course.
On the downside, we found that some of the staff can apparently be a little slow in attending to customer concerns. Fortunately, there are plenty of ways that management can address this issue, such as adjustments in operations and retraining of staff.
Excellent tile work for bathrooms and kitchens
Also sells various tile types, with ceramic and porcelain as its bestsellers
Some criticisms on subpar customer service
Customer Reviews

Love the results of my tiled kitchen backsplash
"I met with Matt and he helped me pick the tile for my backsplash. I was going to put it in myself but the pricing was awesome so I went with the installation too. The installer was so nice to deal with and did an amazing job. (so much better than I would have been able to) Thanks so much for an amazing-looking kitchen." – Kyle Picard
Staff accommodated our additional tile requests
"Matt and the team at Carrara were exceptional to deal with. We changed our mind after ordering our tile and wanted to extend the installation into our foyer. Matt ordered more tile for us, got it in immediately for our installer, and even made sure to match the dye lot as our initial order. I also needed a tiny amount of a different grout colour for our niche inlay. Matt let us fill up a cup of grout from an open bag. Above and beyond service. Thank you!" – Colin Ward
2: Floor Country Canada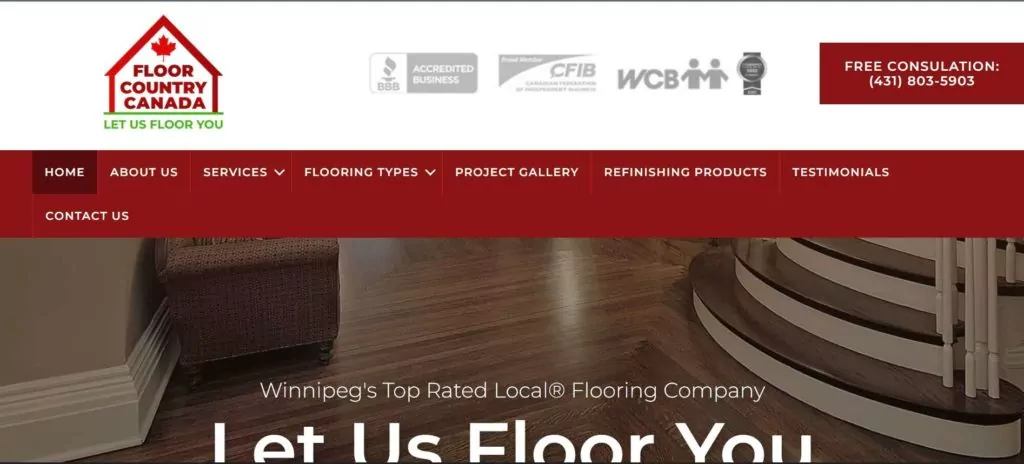 WEBSITE
https://www.carraratile.ca/
CONTACT DETAILS
Phone: +1 (204) 235-6678

Email: [email protected]

ADDRESS
360 Keewatin St Unit #2, Winnipeg, MB R2X 2R9, Canada
OPERATING HOURS
Monday to Friday: 9:00 AM – 5:00 PM

Saturday: 10:00 AM – 3:00 PM

Sunday: Closed
| | |
| --- | --- |
| CRITERIA | RATING |
| PRICE | ★★★★☆ 4/5 |
| TILE SELECTION | ★★★★★ 5/5 |
| PROJECT RESULTS | ★★★★☆ 4/5 |
| ⮕Clean and Beautiful | ★★★★☆ 4/5 |
| ⮕Long-lasting | ★★★★★ 5/5 |
| STAFF | ★★★★☆ 4/5 |
| ⮕Competent | ★★★★★ 5/5 |
| ⮕Friendly | ★★★☆☆ 3/5 |
Tile flooring isn't limited to ceramic and porcelain. In fact, you can find more flexible yet affordable and durable tile flooring options at Floor Country Canada.
We checked their flooring portfolio and were pleased with their impressive array of floor tiles ranging from travertine, marble, slate, mosaic, and wood-like.
Now, while Floor Country Canada specialises in flooring, we found that they are also excellent to hire for putting up tile walls and countertops.
We love its wide selection of tiles, which we think can probably fit a variety of aesthetics – eclectic, rustic, Renaissance-inspired, even Mediterrenean-style.
We also hear that this tile installer's staff members are highly competent and knowledgeable about anything related to flooring, which is reassuring to clients who need a lot more handholding or are not as familiar with tile work.
However, we've received a few reports about clients whose requests for fixes or upgrades were not accommodated.
Apparently, there have been some incidents when some tile work lifted and warped a few days after installation. It also didn't help that the worker responsible did not display professionalism on the job.
Additionally, some clients reportedly find it difficult to get assistance for repair services as some of the staff were said to be unresponsive to customer concerns.
We think these are more the exception rather than the norm – but we do hope that management has already made steps to appease the affected clients.
Offers a good selection of tiles other than porcelain and ceramic
Also does countertops, walls, and tables
Some reports of unprofessionalism 
Customer Reviews
Professional staff and top-notch services
"We first heard about Floor Country at the local home show a couple of years back when we first started our renovations. We liked them then because of the "no pressure" service they provided. More recently, we went back to them for our bathroom and kitchen tile purchase along with a quartz countertop in the kitchen. They really know their stuff. Their design sense and experience gave us confidence and took the stress out of making this large purchase. This week we had our countertop installed and we are beyond thrilled. This is our first luxury counter top so it was a big deal for us. I also want to mention the great work their countertop provider did. Truly professional service and quality products. Highly recommended." – Anthony Kauenhowen
Excellent flooring quality for fair prices
"I am so pleased with Floor Country Canada for my carpet installation. I do not normally post anything online. However, I decided if I do not post anything many customers will be missing a great flooring company experience. The staff and installers are absolutely fantastic!!! The quality of flooring products is very unique and priced right. All in all, start your search at Floor Country Canada and you will save money, time, and lots of headaches. Try them I am sure glad I did. Evon and his whole team will treat you right. You will enjoy the experience and the savings!!" – John M. B.
3: National Interiors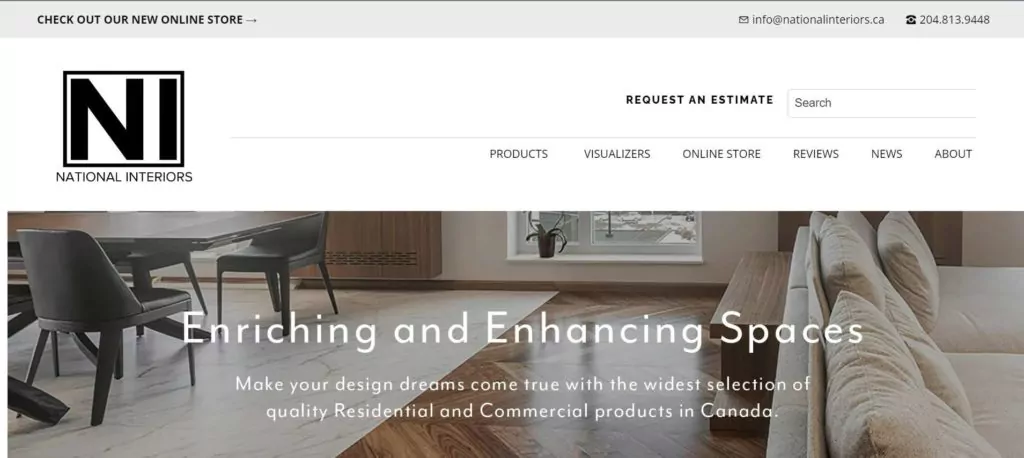 | | |
| --- | --- |
| CRITERIA | RATING |
| PRICE | ★★★★★ 5/5 |
| TILE SELECTION | ★★★★★ 5/5 |
| PROJECT RESULTS | ★★★★☆ 4/5 |
| ⮕Clean and Beautiful | ★★★★☆ 4/5 |
| ⮕Long-lasting | ★★★☆☆ 3/5 |
| STAFF | ★★★★☆ 4/5 |
| ⮕Competent | ★★★☆☆ 3/5 |
| ⮕Friendly | ★★★★★ 5/5 |
What we love about National Interiors is that it installs tiles on various surfaces, as well as sells furniture and decor elements.
So, if you're planning to renovate parts of your home, then we think this contractor is the right choice for you. This company currently offers tiles made of natural stone and materials with wood-like appearances.
We also love that the staff members are quite knowledgeable about tile installation.
We're also big fans of their beautiful showroom, where they feature samples of their selection of tiled floors, countertops, and tables, as well as various tiles that suit these surfaces.
Now, when it comes to staff service, we found that this tile contractor has kind and accommodating staff.
Clients appreciate that staff members listen to what they need and want in terms of design, and give offer practical solutions that don't compromise their vision and budget.
We're just a bit concerned that some staff are reportedly turning up late and delivering mediocre work.
A handful of clients didn't appreciate having to wait for their assigned installer, who arrived hours later than the scheduled time. Some said they had to postpone some plans due to the delays.
Others also felt shortchanged as they paid for full prices, but didn't get the calibre of service they were promised.
We hope that National Interiors takes a long, thorough look at their staff roster and determine what kind of training or actions are needed to improve the skillset of their people.
A great place to shop for various tile types
Also does tables, walls, and countertops
Some reports on needing to hire more competent staff
Customer Reviews
Love my perfect hardwood tile floors
"National provided the engineered hardwood for our new condo. We removed the carpeting from the bedrooms and changed them to engineered hardwood as well. The floor was well beyond our expectations. The boards line up perfectly. The transition is flawless and flows smoothly from living room to bedroom, walk-in closet to the bathroom and from the hallway into the second bedroom and bathroom. All boards line up perfectly. A horizontal board meets the heated tile in the master bathroom, all very pleasing to the eye." – Sid Chapnick
Great service and excellent staff
"Ordered this vinyl tile flooring from Russ at National Interiors and am very pleased with the results. Great service, lots of products to choose from, found what we wanted to match our décor there with no problem." – David Price
4: FloForm Countertops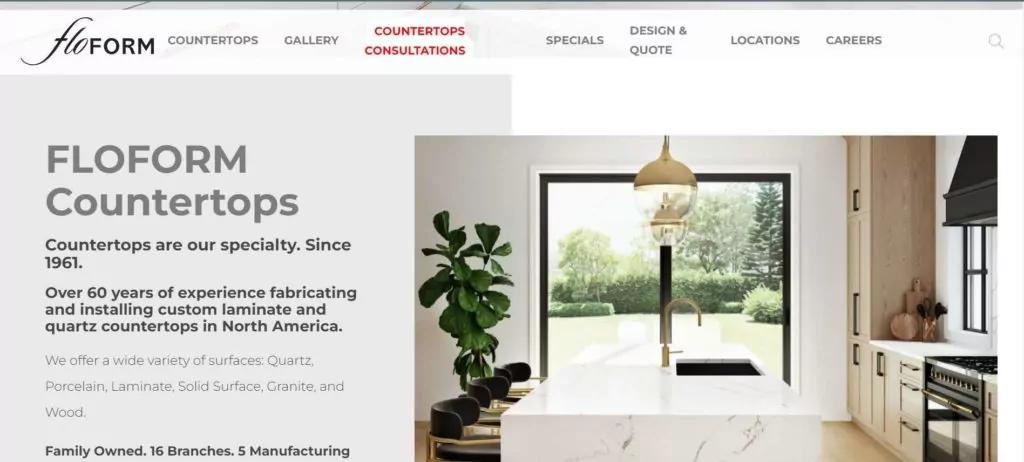 WEBSITE
https://floform.com/
CONTACT DETAILS
Phone: +1 (204) 474-2334

Email: [email protected]

ADDRESS
125 Hamelin St, Winnipeg, MB, R3T 3Z1, Canada
OPERATING HOURS
Monday to Friday: 8:00 AM – 4:30 PM

Saturday and Sunday: Closed
| | |
| --- | --- |
| CRITERIA | RATING |
| PRICE | ★★★★☆ 4/5 |
| TILE SELECTION | ★★★★★ 5/5 |
| PROJECT RESULTS | ★★★★☆ 4/5 |
| ⮕Clean and Beautiful | ★★★★☆ 4/5 |
| ⮕Long-lasting | ★★★★☆ 4/5 |
| STAFF | ★★★★☆ 4/5 |
| ⮕Competent | ★★★☆☆ 3/5 |
| ⮕Friendly | ★★★★★ 5/5 |
With over ten years of experience, FloForm takes pride in the many quality countertops it has built. Upon checking, it currently does tile work with porcelain, ceramic, quartz, glass, and granite.
We've also checked their portfolio and saw that their work with kitchen and bathroom countertops is stunning and seamless. Hiring them will get you hotel-like home features that will elevate your space.
Besides countertops, we found that FloForm also does kitchen tables with large slabs made of porcelain, marble, or quartz!
If you want to upgrade your kitchen to look more modern and clean, you might want to also avail of their table upgrade services. That way, you'll have matching floors, walls, countertops, and tables!
Now, one downside we found to this tile installer is that it apparently doesn't measure target areas accurately.
A few previous clients said that a few weeks after installation, some of the tiles warped which led to wonky-looking surfaces.
We were told that this was due to wrong tile measurements, and perhaps, a subpar application of mortar, adhesive, or grout.
And while we appreciate the staff for apologising and asking what they can do to make up for mediocre work, we still think it's best for the company to upskill their team members.
Offers various tile types for different interior designs
Also does tables with large stone slabs
Some reports on mediocre tile work 
Customer Reviews
Highly recommend its pro craftsman
"I couldn't be happier with the installation of our new countertops. Gino is a true pro. He's a real craftsman in the way he approaches his work, and a great guy to deal with. Top marks all around from me." – Gord Trann
Love the results of my new countertops
"Installer arrived as scheduled. They were very courteous and friendly. They worked fast and efficiently. They did a beautiful job on the installation of our Cambria countertops. I would highly recommend this company." – Robert Franzmann
5: Bill Knight Flooring & Carpets, Ltd.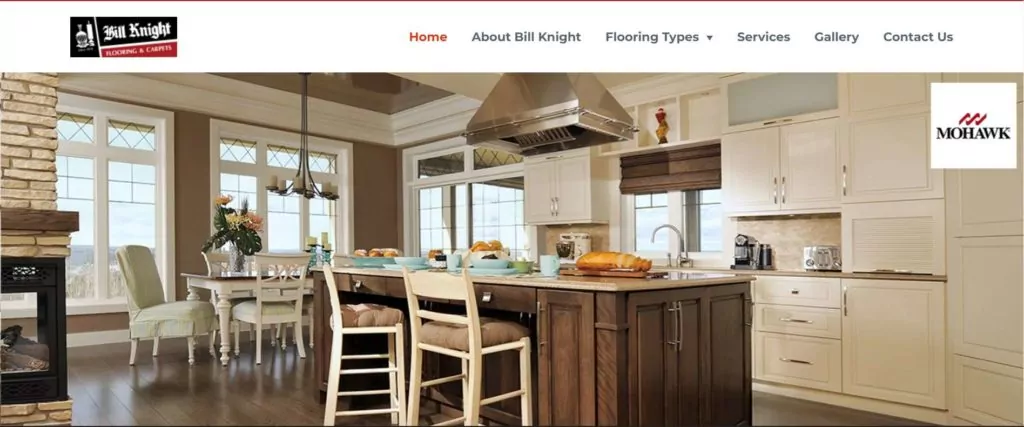 WEBSITE
https://billknight.com/
CONTACT DETAILS
Phone: +1 (204) 783-9600

Email: [email protected]

ADDRESS
895 Century St, Winnipeg, MB, R3H 0M3, Canada
OPERATING HOURS
Monday to Friday: 9:00 AM – 5:00 PM

Saturday: 10:00 AM – 4:00 PM

Sunday: Closed
| | |
| --- | --- |
| CRITERIA | RATING |
| PRICE | ★★★★☆ 4/5 |
| TILE SELECTION | ★★★★☆ 4/5 |
| PROJECT RESULTS | ★★★★☆ 4/5 |
| ⮕Clean and Beautiful | ★★★★★ 5/5 |
| ⮕Long-lasting | ★★★★☆ 4/5 |
| STAFF | ★★★★☆ 4/5 |
| ⮕Competent | ★★★☆☆ 3/5 |
| ⮕Friendly | ★★★★☆ 4/5 |
Bill Knight Flooring & Carpet is a great choice for those wanting to do tile work in their entire home. Using mostly vinyl, porcelain, and ceramic tiles, they are said to deliver beautiful tile work results that are unique to each home and client.
That tells us that the company is indeed innovative and skilled in installing tiles, not just to look functional, but also to elevate people's homes with the client's vision in mind.
We appreciate that Bill Knight Flooring has experts that can help you select which tiles complement each other.
In terms of staff quality, we've received mixed feedback.
On one hand, we hear that Bill Knight's staff are excellent at customer service, from initial enquiry to the installation of tiles. It seems that the overall process of getting this company's services is convenient and reliable.
Additionally, most of their tile works are said to be excellent and might not require any adjustments for several years.
On the other hand, a few former clients shared their disappointment regarding the inconsistency of the service they experienced.
Apparently, these clients requested repair services, but it's either their assigned installers arrived incredibly late (up to 6 months after the request!) or didn't arrive at all.
We hope that Bill Knight can smoothen out the kinks in its operations and HR departments.
Known for its creative and innovative approach to tile work
Some reports on staff inconsistencies when it comes to customer service
Customer Reviews
Excellent staff and tile work
"Heather was wonderful to deal with. She was very helpful and she was great at sharing her knowledge with us. The flooring for our entire home came exclusively from Bill Knight." – Pam Brajczuk
Terrific customer service
"The store is organized and easy to find what you are looking for, and the staff was courteous and helpful. Special thanks to Mariana that guided us through the process of choosing the right floor tiles. I highly recommend them!" – Igor Lafaeff
FAQs About Tile Installation Services
---
And that sums up our unbiased review of the best and most trusted tile installers in Winnipeg.
Tiles are great building materials for beautifying and strengthening your property. Choose which of these contractors you think is the best and contact them for their quotes and services!
While you're at it, you may want to take a look at these other articles tackling home upgrades: