6 Best Dog Boarding Services in Winnipeg
Leaving your beloved dog at home unattended can feel awful. Even if they are safe at your house, dogs, by nature, want companionship, interaction, and care from their two-legged buddies.
So if you want your little dog taken care of while you are away, you'll need the right dog boarding service in Winnipeg. Lucky for you, we have the list right here!
But before we check out our top picks for dog boarding services in the city, here's something you might want to know about how much they'll cost.
Average Cost of Digital Marketing Agencies in Winnipeg
Here is the average costs of digital marketing agencies in Winnipeg.
How much does a dog boarding service cost?
Each pet care business charges differently for its dog boarding services. Factors such as facilities, equipment, availability, and additional care provided may affect the pricing.
With that in mind, the table below only shows you the average range of dog boarding services in the city.
| 1 Dog | |
| --- | --- |
| 1-2 consecutive nights | $45 - $60/night |
| 3-6 consecutive overnight stays | $40 - $55/night |
| 7+ consecutive overnights | $35 - $50/night |
| Discount for 2 dogs and more | |
| --- | --- |
| 1-2 consecutive nights | $90 - $110/night |
| 3-6 consecutive nights | $80 - $100/night |
| 7+ consecutive nights | $70 -$ 90/night |
Best Dog Boarding Services Winnipeg
Now that you know how much to prepare for boarding your furbaby, here are the criteria we used to rate the pet care businesses on this list.
Now that everything's clear, let's dive into our top picks for the best dog boarding services in Winnipeg!
1. Happy Tails Pet Resort & Spa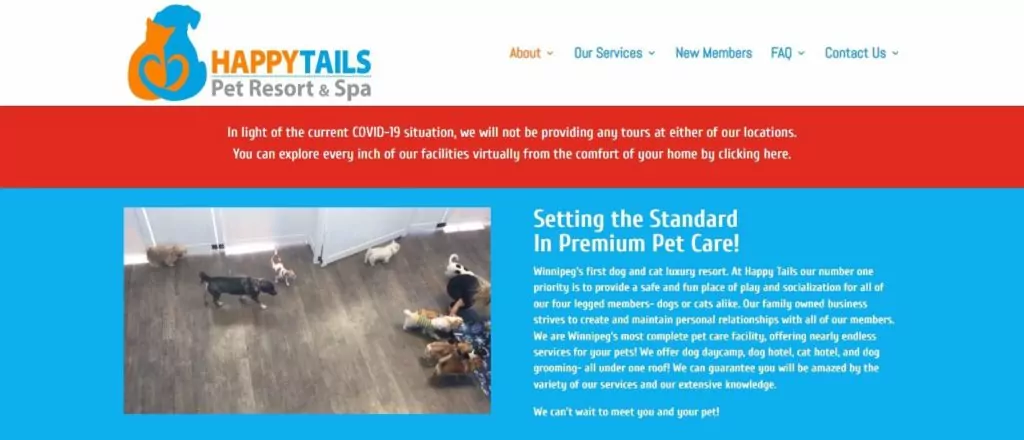 SERVICES
Dog Day Camp

Dog Hotel

Cat Hotel

Pet Spa

WEBSITE
https://happytailspetresort.ca/
ADDRESS
596 St Anne's Rd, Winnipeg, MB R2M 3G7, Canada
CONTACT DETAILS
Phone: 204-416-7387
OPERATING HOURS
Open 24 hours
| | |
| --- | --- |
| Price | ★★★★☆ (4/5) |
| Expertise | ★★★★★ (5/5) |
| Service scope | ★★★★☆ (4/5) |
| Customer feedback | ★★★★☆ (4/5) |
Happy Tails Pet Resort & Spa is a family-owned and operated business with over 5 years of experience in the industry. And though that may sound like a short track record, the business has now grown to 3 locations in Winnipeg!
Happy Tails specializes in being a dog and cat luxury resort. It provides a variety of pet services such as a pet day camp, dog and cat hotel, and dog grooming services.
What we like about the company is that its team is a bonafide pet lover. Not only do they have their own furbabies, but the family also has over forty years of extensive experience in training, breeding, and showing dogs!
We also like how the provider takes care of your little canine baby when you leave it at Happy Tail's Dog Hotel. It makes an effort to limit your dog's kennel time to meals and bedtime and let them play with their other four-legged buddies in day camp.
Dogs with special needs are also welcome in the hotel. The company is happy to accommodate pets on medication and even those who aren't used to kennels by placing them in special condos.
On the other hand, Happy Tails Pet Resort & Spa's services are for members only. And although it is open 24/hours a day, it only accepts new members on Mondays to Thursdays, so keep that in mind.
Another caveat for dog owners is that the hotel stay does not include your dog's food. So if you're planning to leave your furbaby, be sure to pack enough food and treats for the entire stay.
Still, with its 6,000 sq. ft. facility, 24-hour monitoring staff, and pet-friendly services, HappyTails Pet Resort & Spa is a strong contender for all your dog boarding needs!
Large and clean facility
Competitive pricing
24-hour monitoring
Services limited to members only
Extra charge for dropping at night
Customer Reviews
Friendly and accommodating
We have been bringing our girls since the day they opened. HT has been amazing. Their staff is knowledgeable, very friendly and has always accommodated our requests. Our dogs love the facility and staff and always come home happy and tired. We appreciate their strict rules on safety, behaviors, illness, and vaccinations. These policies assure the safety of all. We happily recommend them regularly and look forward to checking out the second location once complete! Keep up the great work HT team!! – Jen A, Google Reviews
Knowledgeable staff
We had an amazing experience at the Samborski location. We took our 16month pup for a sleepover while visiting Winnipeg. Upon our drop-off, our pup was very reactive and timid of the staff and the unfamiliar space, which isn't uncommon behaviour for her, and we were warned that she might not be able to stay due to safety reasons. However, the manager and staff took their time with approaching our pup and ultimately were able to calm her. Honey had a great time at Happy Tails, loved playing with the other dogs, and became comfortable with the staff very quickly. The staff showed excellent knowledge when handling a large reactive dog, and didn't resort to muzzling or isolating her. They provided updates when asked, were always friendly, professional, and honest! Thanks for the great service! – Shannon Nadeau, Google Reviews
2. The Dog Loft Inc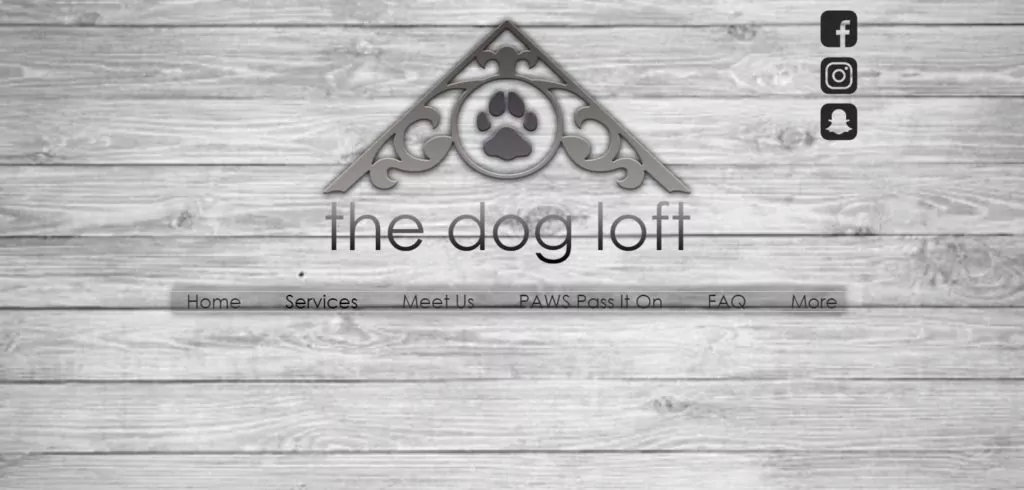 SERVICES
Dog Daycamp

Hotel

Grooming

Training

WEBSITE
https://www.thedogloft.net
ADDRESS
245 Marion St, Winnipeg, MB R2H 0T8, Canada
CONTACT DETAILS
Phone: 204-233-3828

Email: [email protected]

OPERATING HOURS
Open 24 hours
| | |
| --- | --- |
| Price | ★★★☆☆ (3/5) |
| Expertise | ★★★★★ (5/5) |
| Service scope | ★★★★☆ (4/5) |
| Customer feedback | ★★★★☆ (4/5) |
Located at Marion Street, The Dog Loft has been in the pet care industry for more than 7 years now. And though it is more known for its day camp services, it also offers a hotel, grooming, and even dog training.
What we like about The Dog Loft is that its owner is a verified dog lover who's well-trained in dog care as well. In fact, Katie Heinrichs is certified in Pet First Aid and has attended the Canine Collaboration Club's Seminar on dogs who are a little more jumpy and aggressive.
The Dog Loft is also open 24 hours a day and offers round-the-clock care for your pooch. Its dog boarding service includes day camp in the morning and a complimentary bath when your pet stays for more than 3 days.
Although it is conveniently located close to downtown Winnipeg, the facility isn't as spacious as you'd want to accommodate all of its services, clients, and dogs in its care.
Because of The Dog Loft's strict non-aggression policy, it conducts an introductory evaluation that includes a temperament evaluation. So other than an up-to-date vaccination, your canine must also be well-behaved to be able to board.
And though we think that it's a fairly reasonable request, paying an extra $20 just to be evaluated is less than encouraging.
On the other hand, other than kennels, there are no upgrade options for your dogs to sleep at. So if you're furbaby is uncomfortable in the kennel at night, it will be placed on a bed in the small dog area.
All told, The Dog Loft's 24-hour, expert care and cute photo updates will really have you coming back for more!
24-hour drop-off/pick-up
Complete pet care services
Highly-trained staff
Introductory evaluation required
Priced a little higher than others
Kennel-only sleeping spaces
Customer Reviews
Great place
I love taking my dogs here they always come in looking a mess. When I pick them up I question if there even mine they look sooo good. – Kathrina Enns, Google Reviews
Amazing service
These people are like family to me and my wife because they take such good care of our dog Toby. We both work shift work and we both work 24 hours shifts so this is an amazing doggy daycare and we rely heavily on it as they are 24 hours. Absolutely love these people can't say enough good things about them truly a great part of the Saint B community. – Andrew, Google Reviews
3. Bark Lodge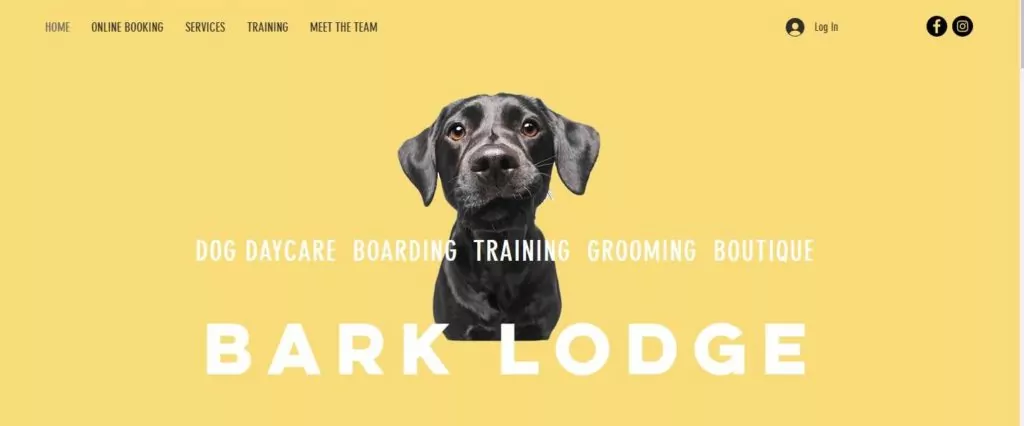 SERVICES
Dog Daycare, Boarding, Grooming, Training, Boutique
WEBSITE
https://www.barklodge.ca/
ADDRESS
4-931 Redonda St, Winnipeg Manitoba R5R 0J7
CONTACT DETAILS
Phone: 204-777-1657

Email: [email protected]

OPERATING HOURS
Tuesday - Friday: 6:30 AM - 6:30 PM

Saturday: 9 AM - 5 PM

Sunday - Monday: Closed
| | |
| --- | --- |
| Price | ★★★★☆ (4/5) |
| Expertise | ★★★★★ (5/5) |
| Service scope | ★★★☆☆ (3/5) |
| Customer feedback | ★★★★★ (5/5) |
Going a little further away from the busy bustling of the downtown area, The Bark Lodge is located at Redonda Street and is a newer pet care business compared to our aforementioned picks.
However, it's nonetheless one of the most visited places for dog-lovers who want their fur babies to have a fun day with other canines in the area.
The Bark Lodge offers daycare, grooming, boarding, and training services for dog owners. It also has a service called "Puppy Playtime" for tiny pooches who can't be left with bigger dogs.
We also like the fact that Bark Lodge's staff are not only long-time dog owners but also have significant experience in animal care. In fact, its 2 owners, Raeann and Amanda, have been volunteers at CAARE Rescue Winnipeg for 4 years in the running.
So when we say that its staff is trained in first-aid and CPR, you know why!
We also like that the provider has a cage-free boarding environment. Instead, your pooch will be sleeping in its own bedroom with an attendant close by in case it needs a belly rub after a nightmare.
On the other hand, Bark Lodge does not board puppies who are less than 16 weeks old. So if you are looking for hotel services for younger pups, this may not be the place for you.
Bark Lodge does not operate 24 hours a day. However, it has a staff who works on the night shift to watch over dogs who are boarded at its facility, so don't worry about your dogs being left unattended.
Bark lodge may be more expensive than others, but its expert care and fun pool parties in day camp make it one of the best dog boarding services in the city.
Highly trained staff
Cage-free boarding
Highly rated daycare service
No 24-hour drop-off/pick-up
Closed on Sundays
Can be a little expensive
Customer Reviews
Amazing service
We have been taking our dog here for almost a year now. The staff/owners are amazing and love dogs. Great little shop there as well, with a wide variety of unique treats,toys, and clothing for all sizes of dogs. They also post pictures and videos of the dogs on some social media platforms throughout the day,so you can see how much fun your dog(s) are having. I also must add there is a fantastic grooming service at the shop as well, for nail trims and hair cuts. – Cryptic Versus, Google Reviews
Great care
My dog loves Bark Lodge. She has great time socializing with other dogs. Recently she had to stay in doggy hotel ( overnight boarding) and she did great and had good care, so I had peace of mind that she is okay. Also, I love the boutique inside in building. I always spend $$$ there lol good place for your dogs – highly recommended. Joanna Ozga, Google Reviews
4. Central Bark Inc.
SERVICES
Grooming

Dog Daycare

Boarding

Training

Photography

WEBSITE
https://centralbark.ca/
ADDRESS
1333 Portage Ave, Winnipeg, MB R3G 0V7, Canada
CONTACT DETAILS
Phone: 204-777-2275
OPERATING HOURS
Monday - Friday: 7 AM - 6:30 PM

Saturday- Sunday - 9 AM - 5 PM
| | |
| --- | --- |
| Price | ★★★★☆ (4/5) |
| Expertise | ★★★☆☆ (3/5) |
| Service scope | ★★★★☆ (4/5) |
| Customer feedback | ★★★★☆ (4/5) |
Central Bark is another family-run pet care business with 2 locations in Winnipeg — one in Portage Avenue, and a new one in East St Paul.
It offers grooming, daycare, and boarding services under one roof. And for dog moms and dads who like to have an awesome photo of their furbaby, Central Bark also has photography services you can take advantage of.
Its boarding services feature a private suite with its own bed, which is great if you have a pup who feels anxious with the other dogs in the facility. We also like how its staff takes an evening walk with your pooch before putting them to bed.
Moreover, Central Bark is happy to supply all bowls, beds, and blankets for your dog. And in case you forgot to bring them, it also provides food and medication when necessary, at an extra cost, of course.
Central Bark is open 7 days a week but not for 24 hours. However, it has round-the-clock camera footage to monitor dogs.
Since its staff lives on-site, they are close enough to provide comfort when needed.
Still, this means that you can only drop off and pick up your dogs during official business hours. Early drop-offs and late pick-ups may be accommodated, but there may be an extra charge.
Nonetheless, Central Bank's competitive pricing, structured training, and photo updates have earned the company a spot on this list.
Private suite for boarding
Fair pricing on services
Structured daily routine
No 24-hour drop-off/pick-up service
Relatively smaller area in Portage location
Customer Reviews
Very accommodating
I live in a remote community with a team of pet/sled dogs that I use in a school dog-sled program. This winter I wanted to run my dogs with friends in Birds Hill Park, and then spend the night in Winnipeg. I boarded my team with Central Bark. Their East St. Paul location couldn't be any more conveniently located, their price was fair, and they accommodated my unpredictable schedule. I trust them100% with my team and will look forward to more dog sledding in Birds Hill par next winter, now that I know I can spend the night, and my dogs will be well cared for. Thanks, Central Bark! – Sidney Klassen, Google Reviews
Friendly service
My dog loves this place. Helped with his socialization too! Staff is very friendly and willing to accommodate. I've boarded my dog here and done daycare and he does wonderfully. The photo updates are much appreciated as well. – Becca Betker, Google Reviews
5. The Pawsh Dog Inc.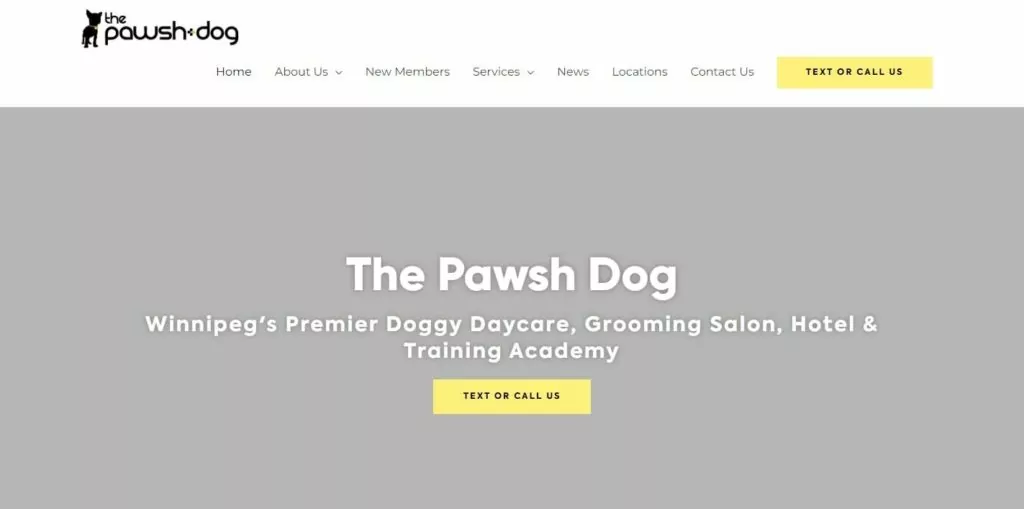 SERVICES
Dog Daycamp

Salon

Hotel

Academy

Boutique

Wellness

WEBSITE
https://thepawshdog.com/
ADDRESS
133 Marion St, Winnipeg, MB R2H 0T3, Canada
CONTACT DETAILS
Phone: 204-813-8982

Email: [email protected]

OPERATING HOURS
Monday to Saturday: 6 AM - 7 PM Sunday: By Appointment Only
| | |
| --- | --- |
| Price | ★★★☆☆ (3/5) |
| Expertise | ★★★★☆ (4/5) |
| Service scope | ★★★★★ (5/5) |
| Customer feedback | ★★★☆☆ (3/5) |
The Pawsh Dog is not only the longest-running pet care business on this list, but it is also one of Winnipeg's biggest. After opening its doors in 2009, it expanded its business to 6 different locations in the city.
It offers day camp, salon, boarding, and training services mainly for canine pets. However, it takes it up a notch further by also offering a dog wellness center equipped with a state-of-the-art hydrotherapy facility.
What we like the most about The Pawsh Dog is that it has a variety of boarding services other than the traditional hotel-type stay you know. In fact, the service is divided based on the specific needs of your puppy.
First, The Pawsh Dog has a Serenity Hotel designed for canines who are not very much suited to be in a group and requires overnight care and supervision.
Then, you have the Boarding School service which is great for new puppies who require a little more training in digging, barking, growling, and leash work.
Last, of course, is your traditional group play hotel. Boarded pets here are given their own suites, blankets, and pillows at bedtime and a free camp experience with other pooches during the day.
The Pawsh Dog is a bit more pricey than other boarding services on this list. Its services are also on a membership basis, so be sure to sign up first or ask questions before visiting any of its facilities.
All in all, The Pawsh Dog went above and beyond its services to make sure that your furbaby has the time of its life at its facility.
Complete pet care services
Pet boarding for dogs with special needs
Clean and sizeable facility
Can be quite expensive
No 24-hour drop-off/pick-up service
Customer Reviews
Excellent experience
My dog loves it here. We have used the hotel, daycare, and training and all have been wonderful experiences. – Terri Fordham, Google Reviews
Understanding staff
Been taking my dog Gracie there for just over 2 years now. They treat her so incredibly well, and are super understanding when I need to pick her up after close. They also accommodated her in the Doggy Hotel super last minute when my sitter plans fell through. Pawsh Dog has gone above and beyond to ensure Gracie is happy and that I have ease of mind that she is taken care of. Thanks for being the best to my fur baby! – Megan Steele Lowdon, Google Reviews
6. Fido & Friends Pet Care
SERVICES
Day Stays
Overnight Stays
Puppy Visits
Training
WEBSITE
fidoandfriends.ca
ADDRESS
Winnipeg, Manitoba
CONTACT DETAILS
Tel: 204-880-1471 
Email: [email protected] 
OPERATING HOURS
Monday – Sunday, 24 hours
| | |
| --- | --- |
| Price | ★★★★☆ (4/5) |
| Expertise | ★★★★★ (5/5) |
| Service scope | ★★★★☆ (4/5) |
| Customer feedback | ★★★★☆ (4/5) |
Fido & Friends Pet Care is one of Winnipeg's premier dog boarding facilities. They take pleasure in delivering safe and inexpensive pet care services that are tailored to the specific needs of each pet. They are ideally located in the St. James neighborhood, just 15 minutes from Winnipeg's James Armstrong Richardson International Airport. Day stays, overnight stays, puppy visits, and personalized training are all available. 
Are you going on a vacation or a business trip and require a home away from home for your dog? They are glad to provide small dog boarding at Ashley's house (up to 30 lbs). Your dog will live in an adult-only home with a fully fenced backyard that they will enjoy exploring.
Please keep in mind that they only take a limited number of dogs at a time for overnight boarding. This guarantees that each dog receives personalized care in a stress-free setting comparable to home. While your dog stays at Fido and Friends, he or she will be treated like a member of the family.
Dogs must be social with other dogs, housebroken, spayed or neutered, and immunized (including bordetella). Dogs must be kennel trained for normal boarding. Before your dog's stay, a meet and greet will be organized. At the meet and greet, a behavior assessment will be performed to establish your dog's readiness for their in-home boarding program. The assessment is free of charge.
Strict boarding rules for maximum safety
High-end facilities
Available seven days a week
Customer Reviews
We would 100% trust our dog in her care
"We had Ashley at our home to help us improve our loose leash walking in our back yard. She was incredibly friendly, helpful and encouraging. We learned lots of new skills to practice all summer in just 1 training session. We would highly recommend her for training and we are hoping to see about her boarding services in the near future. We would 100% trust our dog in her care. Thanks Ashley!" – Jessica Braemer
We absolutely recommend her to anyone looking for boarding.
"Our pup adores Ashley and we trust her with caring for him like a family pet. We get photo and video updates of their walks, playtime and snuggles. Ashley is also very professional with documents, scheduling and making sure she know everything she needs to know about the pets she cares for. We absolutely recommend her to anyone looking for boarding." – Ian Koslowsky
FAQs About Dog Boarding
---
Choosing the right boarding service for your little furry member of the family is an important decision to make. So choose a business that doesn't simply guarantee safety but also top-notch care and limitless fun!
Did you find what you're looking for on our list? Let us know what you think!
---