5 Best Cat Grooming Services in Winnipeg
Cats are popular for being able to clean themselves. Still, a little help from you would go a long way in keeping your feline bundle of joy glowing and of course, healthy.
Cat grooming is more than just making your cat look adorable, it also has several health benefits. It helps reduce the amount of hair swallowed, relieve the pain from fur matting and knots, comfort from heat stress, and more.
And now that you know why your cat needs the extra love from you, here's something you might want to know about how much the service may cost.
How much do cat grooming services cost?
Cat grooming prices are affected by factors such as the length of your cat's hair, the size of your cat, and the type of hairstyle you want to avail.
And since pet groomers charge differently based on the factors mentioned, this table only shows the average price of the service.
| Cat Grooming Service | Cost |
| --- | --- |
| Bath | $25 - $35 |
| Brush | $25 - $35 |
| Lion trim | $75 - $85 |
| Nails | $12 - $18 |
| Sanitary trim (genitals) | $15 - $25 |
| Shave | $60 - $70 |
| Stencilling | $10 - $15 |
Best Cat Grooming Services in Winnipeg
To make sure that our entries stay relevant to you and your cat's needs, here are the criteria we used to rate the groomers we have on this list.
And with that out of the way, let's dive into our top picks of cat grooming services in Winnipeg!
1. Oliver Professional Dog and Cat Grooming Spa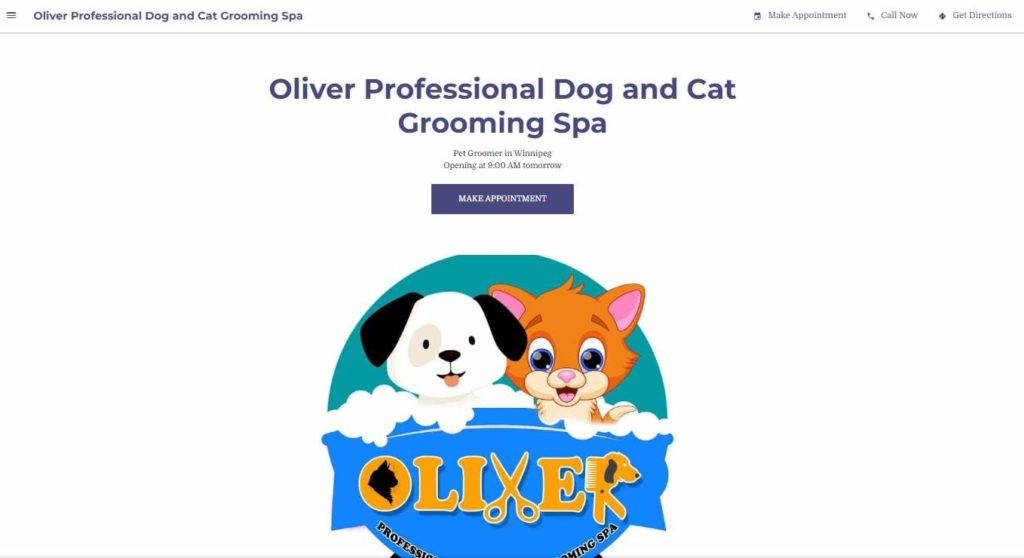 | | |
| --- | --- |
| Price | ★★★★☆ (4/5) |
| Expertise | ★★★★★ (5/5) |
| Service scope | ★★★☆☆ (3/5) |
| Customer feedback | ★★★★★ (5/5) |
Oliver's is a small, locally-owned pet grooming business, operated and run by one man — Oliver. As the name suggests, it specializes in both dog and cat grooming services.
Though comparatively small to other companies, Oliver is a highly-sought pet groomer in Winnipeg because of his undeniable skill and animal-friendly approach to grooming.
In fact, one of the things we like about him is the way he handled our pet. His gentle and calm demeanor helps even the sassiest of cats feel at ease when being taken care of.
Oliver's cat grooming service includes nail-trimming, brushing, shaving, and bathing. And if you want your furbaby to look like a bigger feline, he can also do a lion cut at your request.
Oliver is also skilled at trimming matted fur in sensitive areas of the cat. And we just love how he returns your baby smelling incredibly amazing.
While the provider is clearly a pro in what it does, it lacks the other services that bigger pet grooming companies offer.
Since it's a one-man shop, appointments have to be made to receive the service. So if you're a walk-in visitor, you may have to wait a while until a spot opens.
The shop also doesn't offer boarding services for pets. This means that in order to cater to other customers, you will have to pick up your cat as soon as the grooming is finished.
Still, Oliver's fast, affordable, and top-notch service will have you coming back for more. This is probably why we have yet to see a negative review about him!
Professional and friendly approach
Competitive rate
Highly reviewed customer service
Limited to one customer at a time
No boarding services
Customer Reviews
Will be back
Oliver deserves 10 stars! 🌟 I was nervous to take my cat to any groomer. She can be a bit sassy, hates getting shaved, brushed or nails trimmed. Oliver was calm and assured me that she would be okay! He did a fabulous job and she LOVES her new haircut! And the reviews are correct – she smelled amazing too! Without a doubt, we will be back! – K C, Google Reviews
Incredible service
So amazing! Oliver is such a pro! He is so chill (calm) and made my nervous wife feel very at ease about letting her cat get her nails trimmed and proper trim of the sensitive area where fur was matting. Oliver was so fast and did such a great job! He only requested ⅔ of what he quoted for a price. We left a 30%tip because he was so incredible! Highly recommend taking your precious fur babies to this magic man! – Richie Jones, Google Reviews
2. Pride & Groom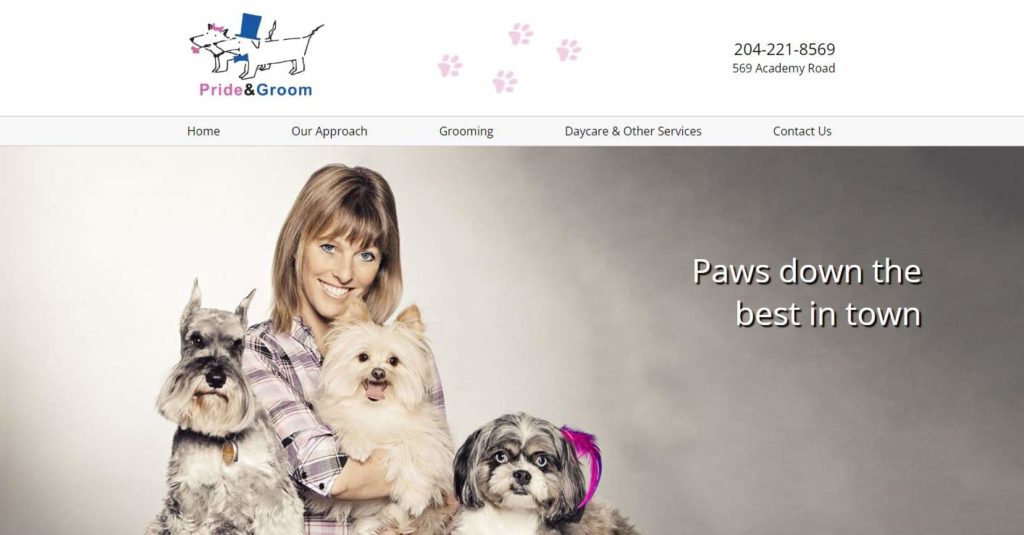 | | |
| --- | --- |
| SERVICES | Dog and Cat Grooming, Pet Hotel, Cat Boarding |
| WEBSITE | https://prideandgroom.ca/ |
| ADDRESS | 569 Academy Rd, Winnipeg, MB R3N 0E4, Canada |
| CONTACT DETAILS | Phone: 204-221-8569 |
| OPERATING HOURS | Tuesday- Saturday: 8:30 AM- 5 PM |
| | |
| --- | --- |
| Price | ★★★★★ (5/5) |
| Expertise | ★★★★☆ (4/5) |
| Service scope | ★★★★★ (5/5) |
| Customer feedback | ★★★★☆ (4/5) |
Pride and Groom is owned by certified pet groomer, Dawn Fitelovitch. The company started as a mobile pet grooming service in 2003 and has grown into a full-service pet care business over the years.
It offers complete cat grooming services, including brushing, shaving, sanitary trim, stenciling, lion cut, nail trimming, and bathing. It also uses premium natural, non-toxic, shampoos, which is a plus.
Pride and Groom offers daycare and boarding services for your pets as well. So if you're not immediately available to pick up your pet after grooming, no worries, they have a safe place to stay.
One of the things we like about the shop is that it has a clean, welcoming ambiance as you come in. You are greeted with the smell of lavender and soothing music, which calms both you and your furbaby.
However since the shop welcomes several walk-in clients at the same time, you may also catch them overwhelmed, especially on busy days. And with the pet hotel to take care of, waiting times may be longer.
Pride and Groom is also unavailable on Sundays and Mondays. So to avoid competing for a
spot with other clients, it's best to call ahead before walking into the shop.
One other caveat to take note of is that it has built its portfolio around grooming dogs rather than cats. Still, the few cats it has serviced seem to have had a great experience.
All in all, Pride and Groom's reasonably priced service and beautiful facility have earned its spot on this list!
Full cat grooming service
Complete facility
10 years of grooming experience 
Long wait times
Unavailable on Mondays and Sundays
Customer Reviews
Great experience
Lil' Emma, our small cat, can be very hesitant and cautious due to her size. About 2/3 size of average cat. When I take her there for an annual lion cut, she is a bit stressed, but when I pick her up she is relaxed and happy. Must be a good experience for her! She is very confident with her new cut. – Leona Horobin, Google Reviews
Excellent care
Our geriatric cat has special needs – autoimmune disease, chronic upper respiratory congestion, and greasy, curly fur that gets matted. Pride and Groom take excellent care of him with a handsome lion cut – he is so happy after and struts around like a kitten. I trust them completely. – Melanie Brohm, Google Reviews
3. Golden Pet Home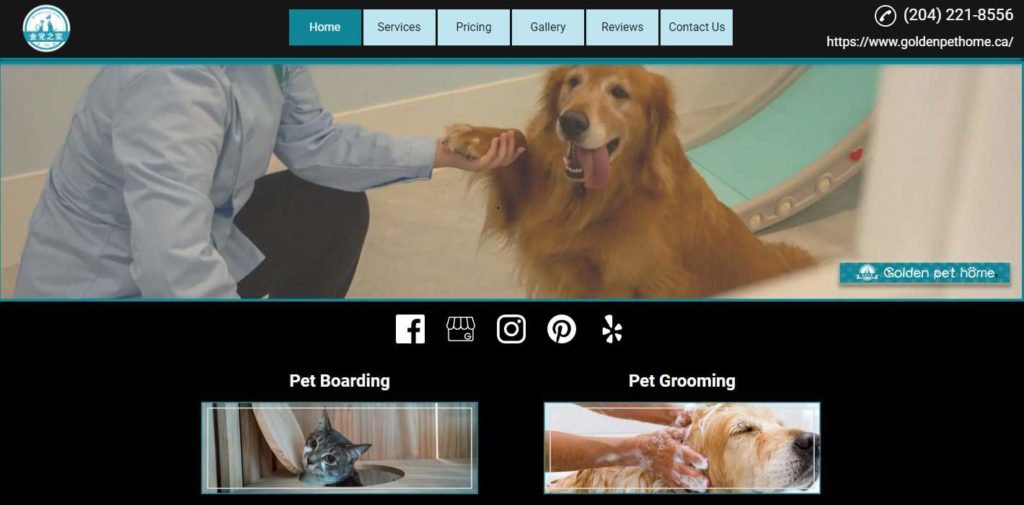 SERVICES
Dog and Cat Grooming

Pet Daycare

Pet Boarding

WEBSITE
https://winnipegpetdaycare.com/
ADDRESS
3560 Pembina, Winnipeg, MB R3V 1A7
CONTACT DETAILS
Phone: 204-221-8556
OPERATING HOURS
Monday - Friday: 7:30 AM - 6 PM

Saturday - Sunday: 8:30 AM- 5:30 PM
| | |
| --- | --- |
| Price | ★★★★☆ (4/5) |
| Expertise | ★★★☆☆ (3/5) |
| Service scope | ★★★★☆ (4/5) |
| Customer feedback | ★★★★☆ (4/5) |
With only 3 years on its name, Golden Pet Home is relatively new in the business. However, its complete pet care services make this company simply hard to dismiss.
Golden Pet Home specializes in pet boarding services, but that's not all it offers. It also has full-service grooming for dogs and cats of different breeds and sizes.
Its cat grooming services include brushing, nail trimming, bathing, trimming for long-haired breeds, styling, and when necessary, tackling matted fur and knots as well.
And if you're leaving your pet cat well after grooming to work or run an errand, Golden Pet Home's daycare service is at your service. Just make sure to secure a spot ahead of time and your feline baby is good to go.
Its friendly staff also makes your experience better. Not only do they clearly love animals, but they go above and beyond to make sure that your pet is comfortable and happy inside their facilities.
Golden Pet Home caters to walk-in visitors and clients with appointments. However, since it can be busy, the latter would be better if you want to secure a spot.
On the other hand, it seems like the shop runs a tight schedule because of its many clients. It charges you an extra fee if you arrive later than the appointed time.
Still, the shop is available 7 days a week so booking a spot at your convenience should not be much of a worry.
Golden Pet Home, with its full grooming service and stress-free environment, is a strong contender for your cat grooming needs, so definitely check them out!
Clean pet facility
Available 7 days a week
Complete grooming and boarding services
Charges an extra fee for being late
Relatively new to the industry
Small grooming portfolio
Customer Reviews
Great price
I recently took my daughter's cat to be groomed at Golden Pet Home. They did a fantastic job for a very fair price. We will definitely return for future grooming needs and I highly recommend them. – Laura Mikuska, Google Reviews
Friendly with pets
All the staffs in golden pet home are very friendly and nice to my pets. After grooming,I can see our pets look great, cute, and happy. Because of their kindly and friendly. My pets love to stay with them. Thank you so much! – Vivian Yeung, Google Reviews
4. The Pretty Kitty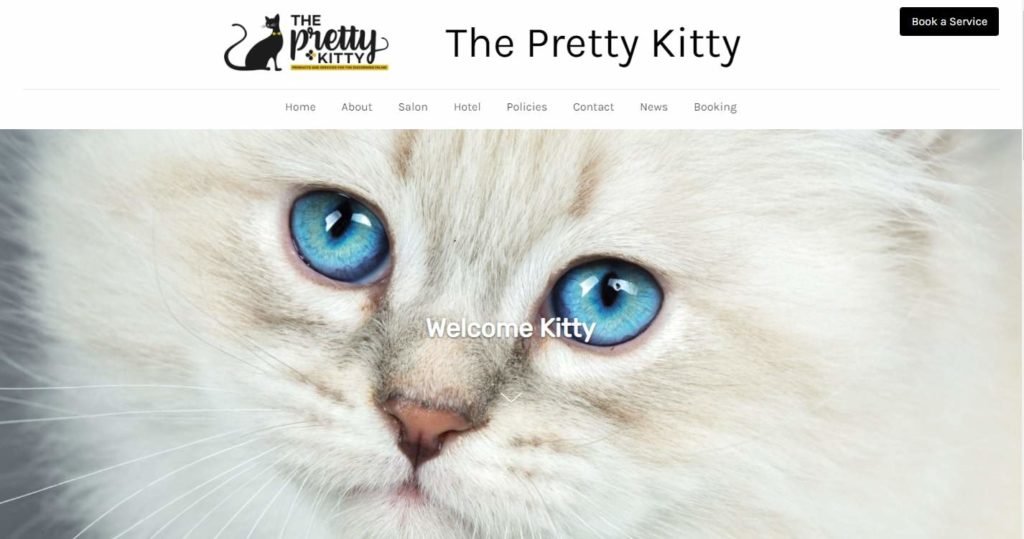 | | |
| --- | --- |
| Price | ★★★★☆ (4/5) |
| Expertise | ★★★★★ (5/5) |
| Service scope | ★★★★☆ (4/5) |
| Customer feedback | ★★★☆☆ (3/5) |
Located within The Pawsh Dog at Portage Avenue, The Pretty Kitty is the company's cat department that offers pet care services exclusively to kitties.
It has complete cat grooming services, including nail clipping, ear cleaning, wet and dry bath, brushing, de-shedding, and lion cut trimming, just to name a few.
And if you're cat is the scratchy type, the shop also has soft claw nail caps that can be placed on your pet's nails after clipping. This is perfect if you and your furniture are constant victims of being your furbaby's scratching post.
The Pretty Kitty also has hotel services for your little feline baby. So if you want your pet to enjoy more than just grooming, the shop boasts a fun hotel with climbing walls, scratching posts, skylights, street views, and even a view of the dog day camp next door.
But what we really like about the shop is that it has a very skilled groomer in its ranks. Drake Baker, its Master Groomer & Director, has years of experience in taking care of cats.
In fact, Drake started his career at a local cat shelter, medicating and grooming both feral and adoptable cats. And with over 10 years of experience, he has complete mastery in giving your tiny family member the best care and grooming style you dream of.
On the other hand, The Pretty Kitty is pretty strict about its policies. Other than its vaccination requirements for boarding, the shop also has an aggression policy for stressed-out felines.
This means that if your pet becomes aggressive during the grooming process, the groomer may stop the services completely. And though that seems reasonable, paying the full price for an unfinished service isn't very appealing to us.
Also, keep in mind that de-matting your cat's fur isn't part of the package. So if the service becomes necessary, expect to pay the extra cost.
Still, with Pretty Kitty's highly specialized cat care, great facility, and high availability, it's definitely worth giving a spot among our best picks!
Highly qualified groomer
Available 7 days a week
Complete cat care facility and grooming service
Extra cost for de-matting
Strict aggression policy
Small team
Customer Reviews
Careful and calm
What could I not say! He carefully and calmly clipped my dad's cat's nails ( she was tad old and crazy ) but nothing phased him ever. ❤️ Truly amazing!!! – Carolyne, Online Review
Great location
Drake is one of the most caring and compassionate groomers I have met. He is so patient with even the most anxious and feisty little kitties. His grooming skills are on another level. The locale is beautiful and well maintained. – Megan, Online Review
5. Centennial Animal Hospital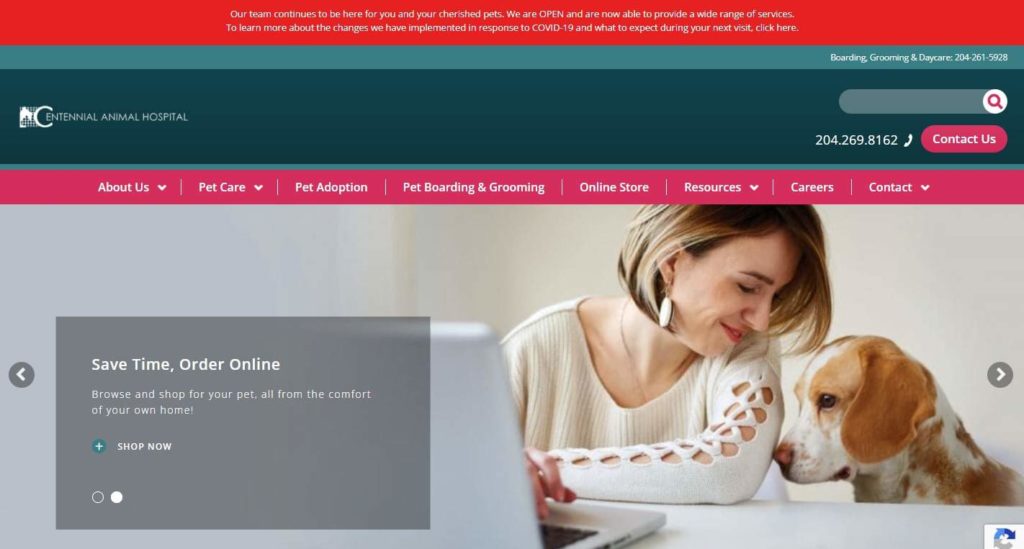 SERVICES
Pet Care, Pet Adoption, Pet Boarding, Pet Grooming
WEBSITE
https://www.centennialanimalhospital.com/
ADDRESS
2747 Pembina Hwy, Winnipeg, Manitoba R3T 2H5
CONTACT DETAILS
Phone: 204-269-8162

Email: [email protected]

OPERATING HOURS
Monday - Friday: 7:30 AM - 7 PM

Saturday - 8 AM - 5 PM

Sunday: Closed
| | |
| --- | --- |
| Price | ★★★★☆ (4/5) |
| Expertise | ★★★★★ (5/5) |
| Service scope | ★★★★☆ (4/5) |
| Customer feedback | ★★★★☆ (4/5) |
Yes, Centennial Animal Hospital isn't your usual cat groomer in the city. It's a veterinary hospital that has adopted grooming services in its repertoire.
With over 10 years of animal care experience and highly certified vets, the Hospital is undeniably an expert in caring for your little furbaby.
In fact, it has unmatched cat services ranging from a simple grooming and boarding service to a cat surgery and weight control program. So if your definition of grooming involves your cat slimming down a little bit and donning sparkly white teeth, this is the place for you.
However, on the more traditional meaning of the word, Centennial's cat grooming service includes nail and fur trimming, brushing, de-matting, bathing, and styling.
We also like its staff's friendly and gentle approach. They are clearly knowledgeable in handling your cat with care and make sure that your beloved cat isn't stressed during the entire process.
That being said, unlike other cat groomers on this list who have specialized in grooming jobs, the quality of Centennial's grooming service can be a little bit inconsistent.
Although there are a few who are somewhat dissatisfied, they are easily outnumbered by happy cat owners who have tried the hospital's grooming service.
All told, Centennial Animal Hospital does its best to accommodate and care for cats even those with special needs — and that gives them a spot on this list!
Complete cat care and grooming service
Friendly and knowledgeable staff
Accessible medical care when needed
Unspecialized in grooming services
Quality of service can be inconsistent
Customer Reviews
Quick appointment
Good professional and friendly service. Usually very quick to get an appointment. The grooming center behind does a very good job as well. We switched from another vet in the area and have been very happy since. – Garrett Krieg, Google Reviews
Amazing job
We only did grooming for our cat here and they did a super job. Our cat is a long hair and had a few pretty bad mats but we didn't want to get him a lion haircut. So at Centennial Animal Hospital, they were able to keep most of his coat on and get rid of all mats. They did only a gentle haircut as I asked that turned out really amazing. The cat wasn't stressed and seems to feel good about his new look. Don't know what shampoo they use there for bathing but nice smell stayed for a few days! Great experience, definitely will come back again. – Vitaly E., Google Reviews
FAQs About Cat Grooming
---
Cat grooming is useful for staying on top of your cat's health. But it is also one of the best ways to strengthen your relationship as pet and owner.
Did this list help you find what you're looking for? Tell us your thoughts!