Top 6 Clinics Offering Chemical Peels in Winnipeg
Various skin care products currently on the market are designed to target different skin problems, such as scarring, acne, dryness, and aging.
But for issues that these products can't "fix," facial treatments are suitable solutions to achieve healthier and better-looking skin.
If you're looking for a facial that deals with your blemishes, chemical peels are worth exploring. And so in this article, we're doing a deep dive into the best clinics that offer chemical peels in Winnipeg!
For starters, a chemical peel is a type of treatment where a chemical solution is applied to the skin to eliminate dead skin cells. After the old skin layers have peeled, newer and smoother skin is revealed.
This procedure is excellent for exfoliating your skin and getting rid of scars, acne marks, dark spots, and even wrinkles!
If you need more helpful information about chemical peels, head over to the FAQ section below this list.
What is the average price of getting a chemical peel treatment?
On average, a chemical peel may cost around $521 to $719. These rates include professional fees, anesthesia, prescriptions of after-care medications, and the cost of the facilities to be used.
The price of your chemical peel may still change depending on the type of peel you'll get and its intensity.
To know more about how much you'll have to pay for your skin treatment, below is a table of the rates of different types of chemical peels you can get in Winnipeg:
| TYPE OF CHEMICAL PEEL | AVERAGE PRICE PER TREATMENT |
| --- | --- |
| Superficial facial peel | $145 |
| Glycolic acid peel | $140 |
| Salicylic acid peel | $174 |
| Jessner cocktail peel | $174 |
| Trichloroacetic acid (TCA) peel | $280 |
| Deep chemical peel | $4,800 |
How do we choose the best clinics for chemical peel treatments?
For this list, we selected clinics based on the following criteria:
1: The Derm Centre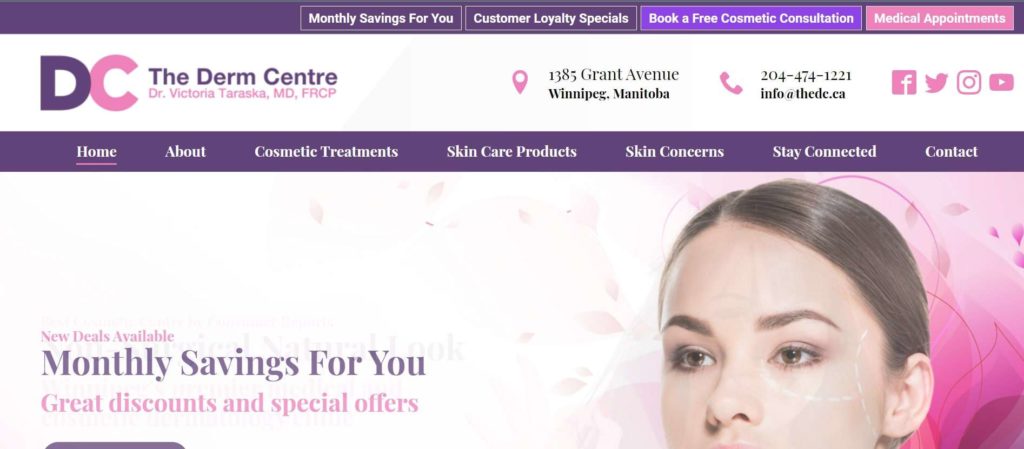 WEBSITE
https://www.thedc.ca/
CONTACT DETAILS
Phone: +1 (204) 474-1221

Email: [email protected]

ADDRESS
1385 Grant Ave, Winnipeg, MB R3M 1Z9, Canada
OPERATING HOURS
Monday, Wednesday, and Friday: 9:00 AM – 5:00 PM

Tuesday and Thursday: 9:00 AM – 5:30 PM

Saturday: 10:00 AM – 2:00 PM

Sunday: Closed
| | |
| --- | --- |
| CRITERIA | RATING |
| CHEMICAL PEEL QUALITY | ★★★★★ 5/5 |
| CLINIC AMBIANCE | ★★★★★ 5/5 |
| ⮕Cleanliness | ★★★★★ 5/5 |
| ⮕Look and feel | ★★★★★ 5/5 |
| DERMATOLOGIST/ESTHETICIAN | ★★★★★ 5/5 |
| ⮕Competency and expertise | ★★★★★ 5/5 |
| ⮕Kind and reassuring | ★★★★★ 5/5 |
| CUSTOMER SERVICE | ★★★★☆ 4/5 |
The Derm Centre is one of the most well-known skin clinics in Winnipeg, perhaps due to having the renowned Dr. Victoria Taraska on their team.
From what we were told, this clinic does excellent services, whether they're facials or medical skin treatments.
In terms of chemical peels, they can do superficial and deep peels. Previous clients mentioned that their skin felt healthier, smoother, and younger-looking after the treatment, thanks to the clinic's skilled aestheticians.
Besides the knowledgable and experienced professionals, The Derm Centre is also said to offer a clean, quiet, and soothing environment, which is always a plus for extra-anxious patients.
We think that their well-maintained clinic, both inside and outside, is a great indicator of their commitment to quality. Plus, patients will be more likely to return for check-ups or avail of other treatments that complement chemical peels.
Now, while booking an appointment at this clinic is reportedly convenient, we've heard some concerning stories of clients having difficulty rescheduling their appointments.
We think this is an issue that needs to be addressed, as the need to reschedule is sometimes due to the unique healing timeline of each person.
For example, if your skin hasn't fully healed in time for you to get your next chemical peel or aftercare treatments, you might need to reschedule until your skin can handle new procedures again.
Specialises in superficial and deep peels
Highly-skilled team 
Soothing ambiance
A handful of reports on the difficulty in rescheduling appointments
Customer Reviews
Great place for cosmetic and medical treatments
I was extremely impressed by their friendly service and professionalism. Michelle is highly skilled at what she does and made the service quick and painless! Highly recommend this place to anyone looking for cosmetic and medical skin conditions. – Pamela Gallinger
Loved how this clinic helped me with my bad skin
I've been challenged with bad skin my whole life and it wasn't until I went to The Derm Centre that I finally got a proper consultation and treatment. I noticed progress within days! I've been so happy with how The Derm Centre has treated me. They will be the first place I go to for any further skin care or cosmetic treatments! – -Danielle Stiles
2: The Face Bar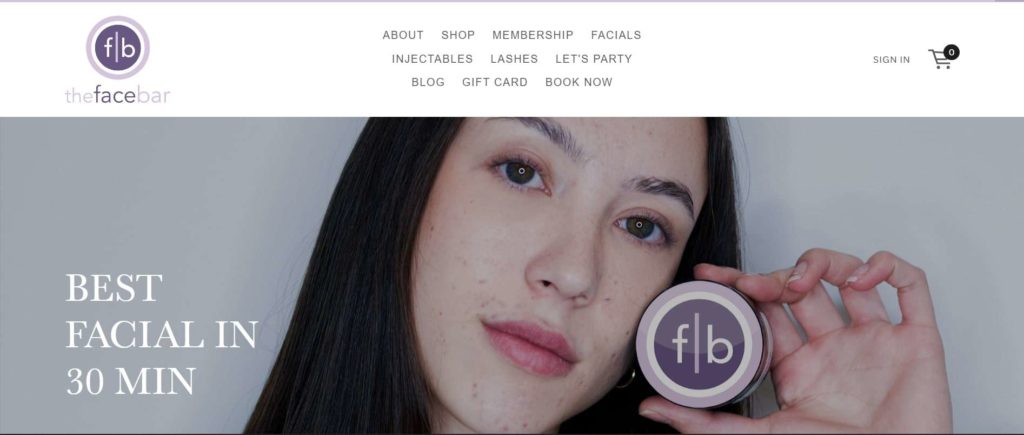 WEBSITE
https://thefacebar.ca/
CONTACT DETAILS
Phone: +1 (204) 504-2227

Email: [email protected]

ADDRESS
280 Fort St., Winnipeg, MB R3C 1E5, Canada
OPERATING HOURS
Tuesday to Friday: 11:00 AM – 7:00 PM

Saturday: 10:00 AM – 6:00 PM

Monday and Sunday: Closed
| | |
| --- | --- |
| CRITERIA | RATING |
| CHEMICAL PEEL QUALITY | ★★★★★ 5/5 |
| CLINIC AMBIANCE | ★★★★☆ 4/5 |
| ⮕Cleanliness | ★★★★★ 5/5 |
| ⮕Look and feel | ★★★☆☆ 3/5 |
| DERMATOLOGIST/ESTHETICIAN | ★★★★★ 5/5 |
| ⮕Competency and expertise | ★★★★★ 5/5 |
| ⮕Kind and reassuring | ★★★★★ 5/5 |
| CUSTOMER SERVICE | ★★★☆☆ 3/5 |
Chemical peels will require after-care products that boost your skin's recovery. So if you're looking for great skin care products to help your skin heal better, we would highly recommend The Face Bar.
Upon checking, it seems that this clinic currently only offers superficial chemical peels. Still, we think that is a great treatment for anyone who wants to reduce fine lines, dark spots, and acne scars.
Satisfied clients also mentioned that The Face Bar's skin care products are reasonably priced and effective in reducing blemishes and revealing younger-looking and more radiant skin. This tells us that the clinic is excellent in the curation of its product line.
In terms of professionalism, we're pretty sure you'll be in good and caring hands. The Face Bar has aestheticians trained and skilled in doing any facial treatment, which speaks of their high level of experience.
They're also said to be friendly and reassuring, which means you'll have someone to help you protect your peace before you undergo your chemical peel!
On the downside, this clinic can get a little noisy as there are no sound-proof cubicles to buffer ongoing conversations. Perhaps management can consider implementing a "keep silent" protocol to keep more private clients comfortable.
Another downside is that this clinic has run into some issues with record-keeping. We're hoping this has already been addressed so that it can offer the best-personalized service to its clients.
All treatments come with after-care skin care products
Staff are highly knowledgeable about the clinic's different treatments
Some issues on ambiance
Some reports on needing to improve record-keeping protocols
Customer Reviews
Great skin care products with great prices
Came here today for a purge facial and it was awesome! My skin is so soft and clear from all the gunk in my pores, they really know what they're doing. Awesome place, very beautiful inside. They also have an array of skin products you can purchase for decent prices. The ladies working were extremely friendly as well, I'll definitely be returning and recommending it to all my friends! – Hayley's Comet
Staff are friendly and knowledgeable
I personally cannot say enough about The Face Bar. The ladies are all extremely knowledgeable and friendly, the space is always spotless and relaxing and the products are incredible. The way my skin has evolved from my first visit baffles me, I went from a face full of acne to now skipping foundation. Was hesitant about buying products at first, but I have tried a large majority of them and they are all spectacular and very reasonable compared to some others. 12/10 recommend The Face Bar to anyone looking to show some love to their skin! – Quintana White
3: Strada Personal Medi Spa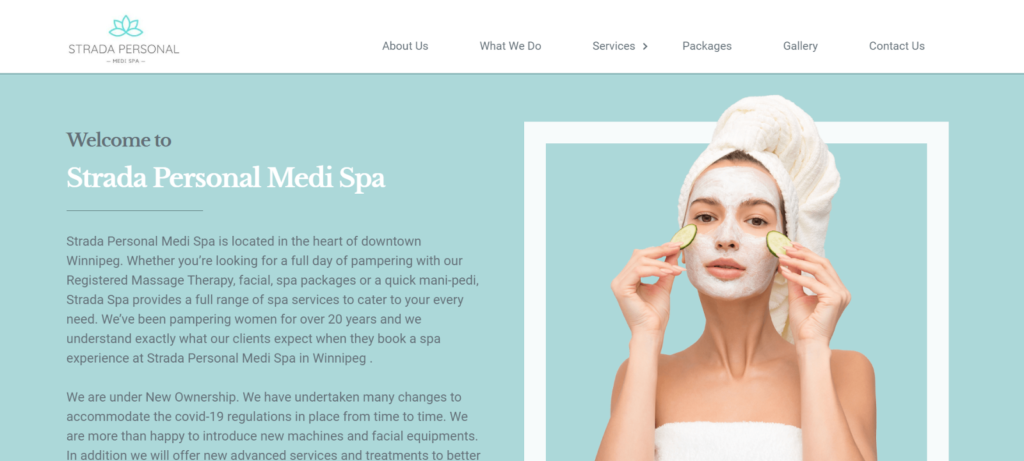 | | |
| --- | --- |
| CRITERIA | RATING |
| CHEMICAL PEEL QUALITY | ★★★★★ 5/5 |
| CLINIC AMBIANCE | ★★★★☆ 4/5 |
| ⮕Cleanliness | ★★★★★ 5/5 |
| ⮕Look and feel | ★★★★☆ 4/5 |
| DERMATOLOGIST/ESTHETICIAN | ★★★★☆ 4/5 |
| ⮕Competency and expertise | ★★★★☆ 4/5 |
| ⮕Kind and reassuring | ★★★★★ 5/5 |
| CUSTOMER SERVICE | ★★★☆☆ 3/5 |
Should you feel like doing some whole-day pampering for your face and body, Strada Personal Medi Spa is an excellent place for chemical peels and body massages.
From what we've learned, the clinic's chemical peels don't just exfoliate old and dead skin layers; they also detoxify, brighten, energise, and help reduce aging.
It also seems to offer its own line of after-care products, which reflect great post-treatment care. This comes with recommended skin care products and routines that will aid healing and maximise results, which is a thoughtful gesture on the clinic's part.
We also learned that the professionals working on the facial treatments are highly skilled and well-trained, which is always essential to great service.
Previous clients mentioned that they loved how their skin felt and looked after their treatments, proving that the clinic can deliver commendable results.
One considerable setback is that the clinic can be noisy when it has a lot of clients. And while some customers are fine or tolerant towards a bustling clinic, others might not appreciate the slightest noise or interruption.
And since this clinic is also a spa, we think it is crucial for its management to have protocols in place to minimize distractions and services. That way, all clients will enjoy a quiet, calming, and relaxing environment while they indulge in a little self-care.
Offers three signature chemical peels to target different skin problems
Also has a spa, which is great for a head-to-toe pampering experience
Some reports of poor ambiance due to noise
Customer Reviews
Face feels amazing after my facial treatment
I had a facial at Strada and it was so amazing. Allysa was so kind, very thorough with her work, and very educated. Glad I booked with her she made my face feel amazing! Will definitely come back! – Francesca Magahis
Clean premises and relaxing atmosphere
I arrived a bit early for my chocolate scrub and Alexis immediately assisted me and asked me to wait in the lounge. I was then moved to the room where my treatment took place. The atmosphere was perfect. ALEXIS you did amazing. Very professional, clean premises and followed all protocols necessary. Would recommend to anyone who's been wanting that perfect place to relax. – Mirian Montoya
4: Aesthetic Solutions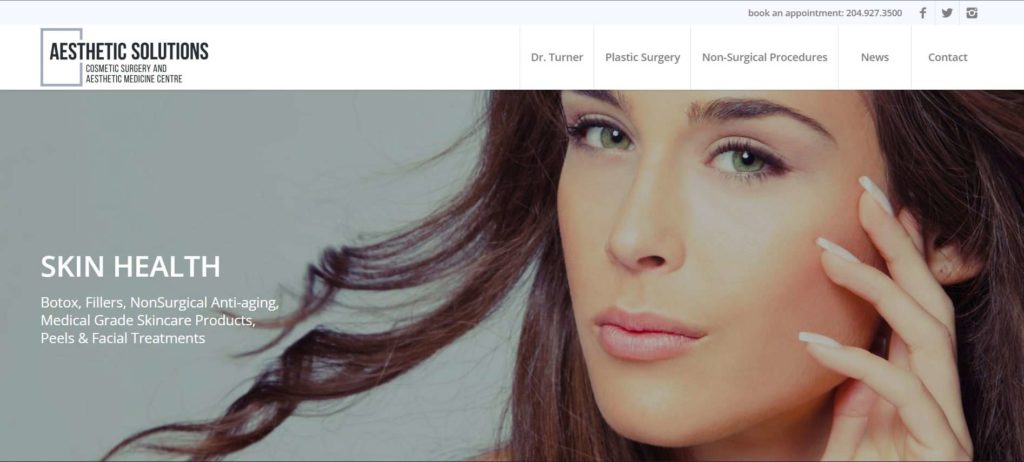 | | |
| --- | --- |
| CRITERIA | RATING |
| CHEMICAL PEEL QUALITY | ★★★★★ 5/5 |
| CLINIC AMBIANCE | ★★★★★ 5/5 |
| ⮕Cleanliness | ★★★★★ 5/5 |
| ⮕Look and feel | ★★★★★ 5/5 |
| DERMATOLOGIST/ESTHETICIAN | ★★★★★ 5/5 |
| ⮕Competency and expertise | ★★★★★ 5/5 |
| ⮕Kind and reassuring | ★★★★★ 5/5 |
| CUSTOMER SERVICE | ★★★☆☆ 3/5 |
Aesthetic Solutions is a cosmetic surgery and beauty medicine centre known for doing breast implants and body contouring. However, we also found it to be an excellent place to get superficial and deep chemical peels.
In fact, part of the clinic's excellent team is Dr. Robert Turner, one of Canada's most adept plastic surgeons. This alone is reason enough to head over to this clinic for your treatments.
Besides medically-safe procedures, you'll also get professional after-care that helps you heal faster and more effectively. We think that this is a wonderful reflection of the clinic's commitment to supporting its clients in their skin care journey, even outside treatments.
We're just a bit iffy as we've heard some comments of sub-par customer service. Several clients have commented on certain staff acting unprofessionally, especially when it comes to receiving feedback on service quality and requests for refunds in light of this.
This can be a real cause of concern for clients who only wish to help improve the quality of the clinic's services, in hopes of returning and having a better experience.
We wish that the clinic would consider facilitating some retraining sessions with select staff (particularly front-of-house personnel), so that they would be properly equipped with commendable ways to respond to these situations.
Has a certified cosmetic surgeon on its team
Some reports on sub-par customer service
Customer Reviews
Loved the results of my non-surgical procedure
The staff was great, I felt listened to and not rushed at all like other places I've had consults at. All of my questions and concerns were answered happily. I had great results as well on my non-surgical procedure. I am very glad I chose this center. – Hannah H
Had a positive experience overall
I had a very positive experience here! I saw Darcy and my appointment went well. I will definitely be referring and have recommended the clinic to three people, two of which have already booked consultations. This is a great clinic. – Deeyana Valentina
5: Visage Clinical Beauty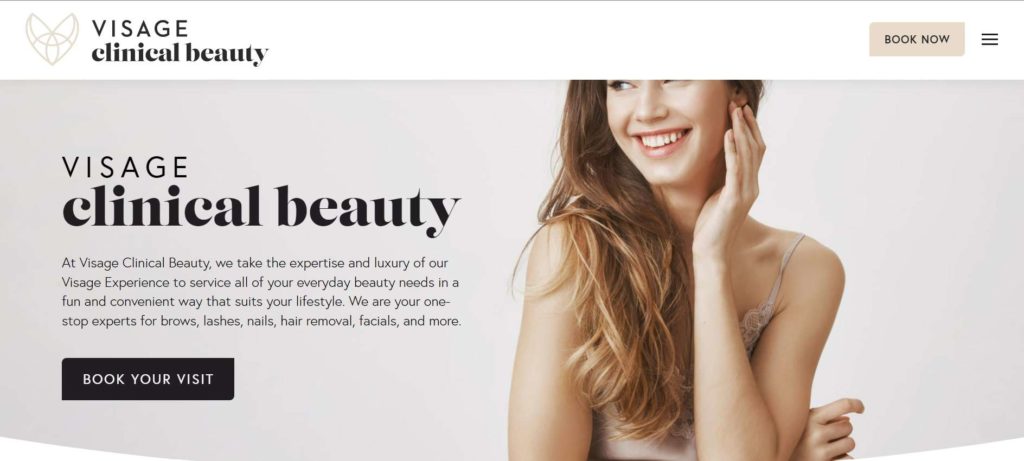 WEBSITE
https://visagebeauty.ca/
CONTACT DETAILS
Phone: +1 (431) 441-0201

Email: [email protected]

ADDRESS
160 Provencher Boulevard, Winnipeg, MB R2H 0H3, Canada
OPERATING HOURS
Monday to Saturday: 9:00 AM – 5:00 PM

Sunday: Closed
| | |
| --- | --- |
| CRITERIA | RATING |
| CHEMICAL PEEL QUALITY | ★★★★★ 5/5 |
| CLINIC AMBIANCE | ★★★★★ 5/5 |
| ⮕Cleanliness | ★★★★★ 5/5 |
| ⮕Look and feel | ★★★★★ 5/5 |
| DERMATOLOGIST/ESTHETICIAN | ★★★★★ 5/5 |
| ⮕Competency and expertise | ★★★★★ 5/5 |
| ⮕Kind and reassuring | ★★★★★ 5/5 |
| CUSTOMER SERVICE | ★★★★☆ 4/5 |
Visage Cosmetic Clinic is well-known for delivering top-tier cosmetic surgeries throughout Canada. Its non-surgical clinic, which we are featuring here, is Visage Clinical Beauty along Provencher Boulevard.
Like the main Visage clinic, this place is praised and well-loved for its exceptional beauty treatments for the face, body, hands, and feet.
Based on client feedback, it's apparently a great clinic to undergo chemical peels. To date, it offers regular peel, clay peel, and Vivier peel treatments.
This may seem like a limited range of peel treatments, but from what we've learned, the ones offered are suitable for all skin types. To us, this is a great way to offer a focused lineup of services while still catering to a large group of individuals.
With the clinic's team of highly-skilled dermatologists, injector nurses, and licensed aestheticians, you're bound to have a reassuring experience that offers proven and lasting results.
In terms of the clinic environment, clients describe the facilities as clean, well-maintained, and quiet. This allows them to enjoy a relaxing experience that can put anxious clients at ease as they wait for their turn.
The only thing that makes us think twice is the clinic's limited manpower. We're told that there are days when they are extremely understaffed, leaving some clients underserved.
That said, we think it's best to book appointments in advance via the clinic's website. That way, you'll get a guaranteed slot for your chemical treatment and avoid long queues.
Offers professional and medically-safe facial treatments
Online booking is easy and efficient
Some reports of understaffing 
Customer Reviews
Happy with the nurse who helped me with my skin issues
Coralee is an amazing nurse who has helped me with skin issues. She is honest and sincere when explaining your needs. Her experience shines through! I have never felt more like myself than after a skin session with Coralee! I went to a skin care professional and got more than I could have imagined. Thank you visage! – Hail K
Fantastic service for my sensitive skin
My experience at Visage was fantastic from the booking to the service provided. Coralee was very professional and honest in informing me about what would work best for me and my sensitive skin to what wouldn't. I felt I was in great hands and her technique is unparalleled which is why I will only go to her for my skin care needs. – Dallice Beam
6. Urban Retreat Derma Spa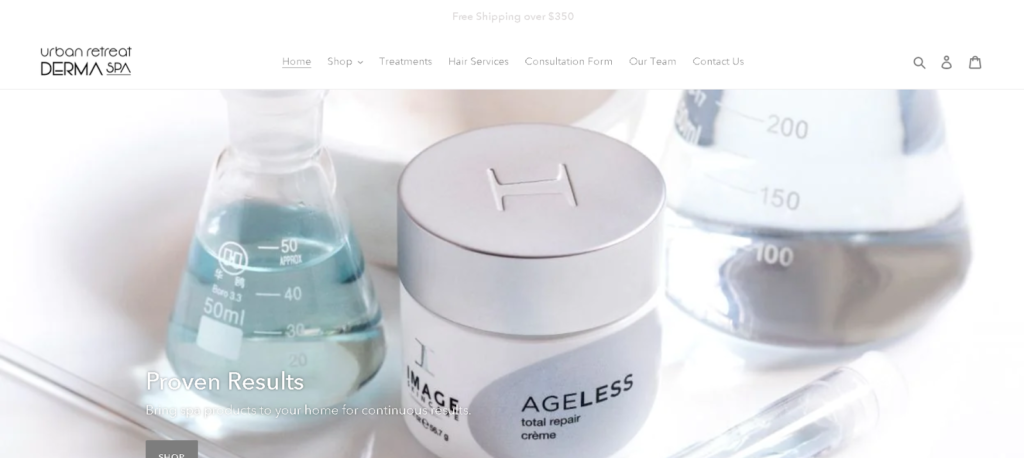 SERVICES
Advanced skincare treatments
Facials & hydrafacials
Aerolace
Hair removal
IPL Hair removal
Brow & Lash
WEBSITE
urbanretreatdermaspa.ca
ADDRESS
444 St Anne's Road
Winnipeg, MB R2M 3C8
CONTACT DETAILS
204-257-7600
https://www.instagram.com/urbanretreatdermaspa/
OPERATING HOURS
Tuesday, 10:00 AM – 7 PM
Wednesday, 10:00 AM – 6 PM
Thursday, 10:00 AM – 7 PM
Friday, 9:00 AM – 5 PM
Saturday, 9:00 AM – 4 PM
| | |
| --- | --- |
| CRITERIA | RATING |
| CHEMICAL PEEL QUALITY | ★★★★★ 5/5 |
| CLINIC AMBIANCE | ★★★★★ 5/5 |
| ⮕Cleanliness | ★★★★★ 5/5 |
| ⮕Look and feel | ★★★★★ 5/5 |
| DERMATOLOGIST/ESTHETICIAN | ★★★★★ 5/5 |
| ⮕Competency and expertise | ★★★★★ 5/5 |
| ⮕Kind and reassuring | ★★★★★ 5/5 |
| CUSTOMER SERVICE | ★★★★☆ 4/5 |
Urban Retreat Derma Spa offers a wide range of advanced and result-oriented treatments, including their chemical peel. With a focus on non-invasive and therapeutic procedures, Urban Retreat Derma Spa aims to provide immediate and noticeable results in a friendly and comfortable environment.
The chemical peel at Urban Retreat Derma Spa is a custom peel that is tailored to individual needs and concerns. This personalized approach ensures that each client receives the most effective treatment for their specific skin type and condition. The peel works to address various skin concerns such as fine lines, wrinkles, acne, hyperpigmentation, and uneven skin tone.
One of the standout features of Urban Retreat Derma Spa's chemical peel is its use of high-quality products from medical-grade brands. This ensures maximum results and minimizes the risk of adverse effects. The experienced and highly trained medical estheticians at the spa provide thorough consultations and deliver the peel with attention to detail, ensuring a safe and effective treatment.
Clients can expect to see immediate results with the chemical peel, although some mild sunburned look and peeling may occur in the following week. The overall experience at Urban Retreat Derma Spa is enhanced by their clean and comfortable environment, where clients can feel at ease throughout the treatment process.
In conclusion, Urban Retreat Derma Spa's chemical peel offers a personalized and effective solution for various skin concerns. With their focus on immediate and noticeable results, attention to detail, and use of high-quality products, clients can trust that they are in the hands of experienced professionals.
Personalized chemical peel for immediate, noticeable results.
High-quality products ensure safety and effectiveness.
Attention to detail in a friendly, comfortable environment.
Customer Reviews
Very personalized experience
"I've been going to Urban Retreat for close to 15 years now and I continue to be amazed at the quality of service I receive at each appointment. While the business has grown quite a bit over the years, Michelle and her staff still offer a very personalized experience and I wouldn't trust my skin with anyone else. One aspect that I truly appreciate is how I could see any staff member at Urban Retreat and know that I'm in good hands. I recently started to see Elis and her passion for skin care is admirable – she is so educated/knowledgeable in advanced treatment options that I feel completely comfortable letting her do whatever she thinks I need at each appointment. Urban Retreat is without a doubt a 5-star business – outstanding customer service, high-quality treatment options, and excellent product selection. The bonus are the staff who are all genuinely passionate about skin care. Love this place!" – Amanda M
Cassandra made the experience 10x better.
"I'm 26, I've never been for a facial ever and I'm terrible with skincare routines. My sisters got me a gift certificate for Urban Retreat Derma Spa for my birthday and I got a HydraFacial treatment. I have sensitive skin and a few white/black heads but no acne in general. I booked with Cassandra who did an amazing job!! Not only did the facial leave me cleansed, refreshed and very moisturized but Cassandra made the experience 10x better. Her uplifting personality and humour made the experience one to remember. The facial really extracted everything from my pores and made my skin so smooth. I really enjoyed my time at the spa 🙂 Thank you so much Cassandra!! I'll be booking again with you!" – Danika Vandale
FAQs About Chemical Peels
---
And that sums up our review of the best clinics with chemical peels in Winnipeg! We hope this unbiased review helps trim down your options.
Meanwhile, if you're looking for other beautifying and pampering services in Winnipeg, check out the best clinics for teeth whitening and the best naturopathic clinics.