6 Top Kitchen Cabinet Manufacturers in Winnipeg
You are one step away from building your dream house with a functional kitchen. If you are looking for the best kitchen cabinets in Winnipeg, we got you covered!
We've rounded up the best kitchen cabinet providers in Winnipeg here for you. These companies are among the top options to build that dream kitchen.
But before we proceed with our list, let's talk about the things you should consider in finding a good manufacturer and the average cost of kitchen cabinets in Winnipeg.
Average Cost of Kitchen Cabinets in Winnipeg
Before proceeding to the price list for kitchen cabinets, it's essential to consider the overall cost of kitchen renovations to adjust your budget. Below are the typical prices for various kitchen sizes.
| Size (Square Feet) | Average Cost |
| --- | --- |
| Small ( | $6,500-$26,000 |
| Medium (100-150) | $19,500-$52,000 |
| Large (200+) | $40,000-$78,000+ |
Cabinetry and hardware usually make up 28-30% of the total renovation cost. The pricing below shows the renovation cost for cabinetry renovation, including repainting, refacing with wood veneers or laminate, refinishing with vinyl film, and replacing.
| Renovation type | Small | Mid-range | Major |
| --- | --- | --- | --- |
| Repainting | | 4800 - 5900 CAD | > 5700 CAD |
| Refacing | | 4900 - 5900 CAD | > 6000 CAD |
| Refinishing | | 2500 - 3500 CAD | > 3500 CAD |
| Replacing | | 9800 - 11800 CAD | > 11800 CAD |
There are three (3) common types of cabinets such as stock cabinets, semi-custom, and custom cabinets.
Stock cabinets are usually sold as-is in stores, while semi-custom cabinets can be slightly customized. Designers make custom cabinets by hand to fit the customer's requests.
The pricing below includes the price per linear foot for different types of kitchen cabinets.
| Cabinet type | Price range (CAD per linear foot) |
| --- | --- |
| Stock | 60 - 200 |
| Semi-custom | 100 - 650 |
| Custom | 500 -1200 |
The Best Kitchen Cabinets in Winnipeg
We have rounded up our top picks to give you the best guide for kitchen cabinets in Winnipeg. Here are the factors we considered:
So, with that in mind, here is a rundown of the best kitchen cabinets in Winnipeg.
1. Harms' Kitchen Design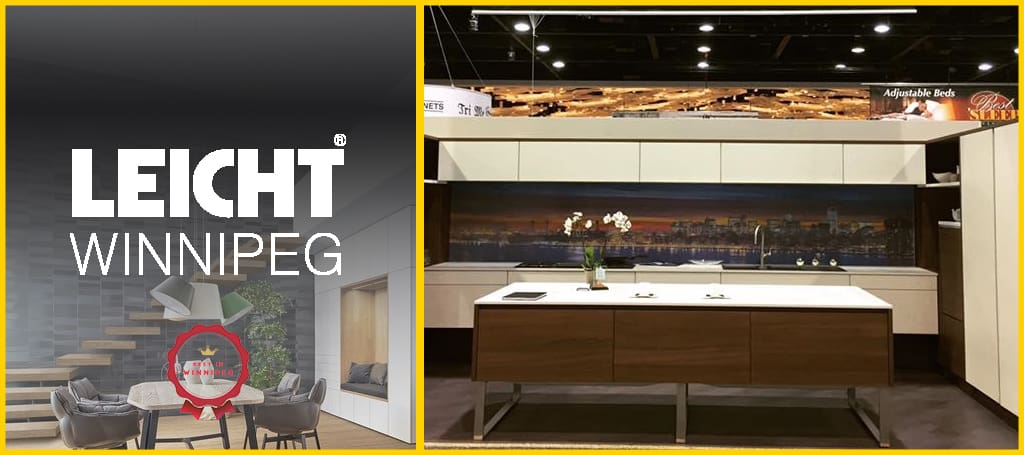 | | |
| --- | --- |
| SERVICES | In-home Kitchens, Tall Pullout Unit, Grip Rail Profiles, Niche Shelving, and Wall Cladding |
| LOCATION | Harms' Kitchen Design 3 – 1 Penner Rd Navin, Manitoba R5T 0H5, Canada |
| WEBSITE | http://leichtwinnipeg.com/ |
| OPERATING HOURS | Monday to Friday: 9:00 AM to 5:00 PM; Saturday: By appointment basis only; Sunday: Closed |
| WARRANTY | Lifetime Limited |
| | |
| --- | --- |
| Criteria | Rating |
| Quality of Materials | ★★★★★(5/5) |
| Design | ★★★★★(5/5) |
| Warranty | ★★★★★(5/5) |
Picture this: you stroll into Harms' Kitchen's showroom, and before you can say "stainless steel," their team of design wizards sweeps you off your feet. They listen to your wildest kitchen dreams and transform them into a jaw-dropping reality.
From sleek and modern to cozy and rustic, these folks have an eye for creating the perfect cabinet oasis for any culinary adventurer.
We all know how chaotic life can get, but Harms' Kitchen knows the art of making things easy-peasy.
Their experts take care of every nitty-gritty detail, leaving us with more time to whip up our culinary masterpieces. They deliver our cabinets at our doorsteps quicker than we can say "Bon Appétit!"
We love that Harms' Kitchen has been setting tongues wagging and ovens sizzling with their top-notch craftsmanship. Their cabinets are more than just pieces of wood — they're works of art.
We can trust they only use the finest materials and pay meticulous attention to detail. No wonder Harm's Kitchen has become the go-to name in the industry.
Moreover, Harms' Kitchen manages to strike the perfect balance between superior quality and affordability, which we admire. They offer a range of options to suit various budgets, ensuring we can enjoy a Harms' masterpiece.
However, Harms' Kitchen isn't open 24/7. We advise paying them a visit or a call on a weekday when booking your appointment.
Superior craftsmanship and attention to detail
Wide range of design options to suit every style
Fast and convenient delivery service
Affordable pricing options for various budgets
No promos or discounts yet
Customer Reviews
"We had a very difficult retrofit of an old island that needed a new cook top and oven. A couple companies were not interested, a couple more would only do parts of the job, and I had no idea what I was going to do. I called Harms and they said they would do it all from ordering appliances to install. They were awesome. The job was more complex than we had even thought and they just worked at it and made it work. They are true professionals and they take care of everything and they make sure that you are happy. They were fixing drawers that were not even part of the job.It might cost a little more, but 100% worth it for the peace of mind and professionalism.' — Darryl Conrad
"Harms Kitchen is a very professional and pleasant company to work with and we are look forward to doing more business with them in the near future." — Danielle Lopes
2. Rosehill Woodcrafters Ltd.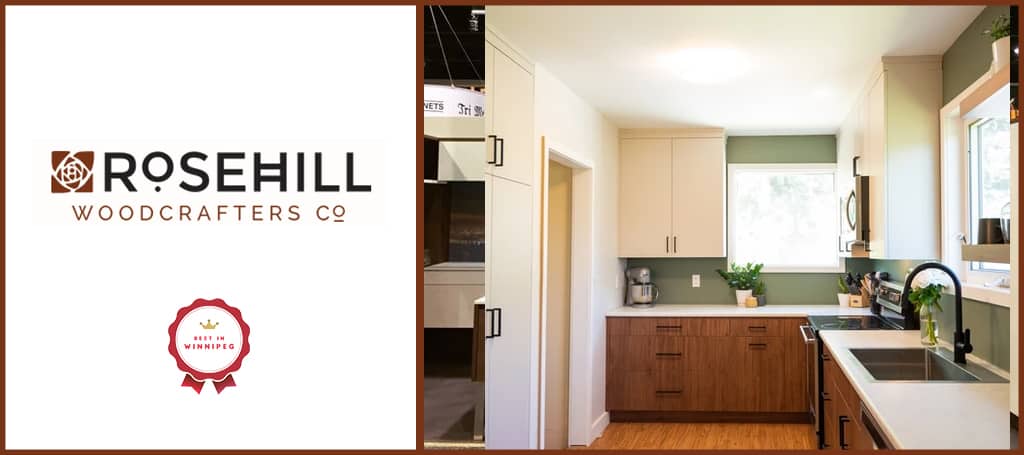 SERVICES
Initial in-home consultation Sourcing of materials Materials Presentation Additional revisions
LOCATION
1504 St Mary's Rd Unit #5, Winnipeg, MB R2M 3V7, Canada
WEBSITE
https://www.rosehillwoodcrafters.ca/
OPERATING HOURS
Monday-Saturday

9:00 AM - 5:00 PM

*except for holidays*

WARRANTY
Lifetime Limited
| | |
| --- | --- |
| Criteria | Rating |
| Quality of Materials | ★★★★★(5/5) |
| Design | ★★★★★(5/5) |
| Warranty | ★★★★★(5/5) |
Rosehill Woodcrafters, founded in 1993 by President Harvey Boehlig, is one of Manitoba's most well-known kitchen cabinet suppliers. It started as a one-person shop and has grown to more than 20 employees and services in Manitoba, Saskatchewan, and Western Ontario.
Rosehill Woodcrafters provides high-quality kitchen cabinets sold at a fair price. Rosehill also has a team of dedicated professionals that prioritizes their customer's interest in their home renovations.
From what we've learned, the design and materials used in the kitchen cabinets installed are functional and serve the needs of the homeowners. Customers attest that Rosehill uses only quality materials that surpass other Winnipeg companies.
We also like Rosehill's hands-on staff with the customers down to the detail of their customer's preferred designs.
They also utilize quality materials that complement the design. For instance, a customer shared that the solid wood cabinets they designed for their kitchen looked modern and of high quality.
However, several customers complain about the slow installation process and the lack of communication with clients during these delays. The virtual showroom, which is under construction, doesn't display any other products besides handles.
On a lighter note, Rosehill Woodcrafters offers a lifetime warranty. Although, it is limited and may not cover other damages such as water-damaged cabinets.
Free quote
Online portfolio available
Has a referral program
Lifetime limited warranty
Virtual showroom is under construction
Limited warranty 
Complaints about the slow installation process
Complaints about lack of communication with customers
Customer Reviews
Hands-on and Professional Staff
" We are so pleased to have chosen Rosehill to handle the remodel of our kitchen. The quality of their cabinets and their fit and finish surpassed all other companies that we had considered.
Jade was the designer whose amazing attention to detail created a kitchen we love and is workable. She provided the ideas and design, supervised the entire project, worked closely with us to understand our needs, and gave us reassurance the entire time.
Derek was the one who completed the installation with absolute precision to detail and finishing. We were without a kitchen for approximately two weeks which is amazing in this industry.
Rosehill, Jade, and Derek could not do enough to ensure everything was perfect and we were satisfied. " – Barney Bars
Quality Materials and Functional Design
" Dustin was extremely patient and creative to find a solution for our (smaller) kitchen that has afforded us a great deal of counter space and storage. Wilf is an exceptional installer who minimized the effects of the sloping floor of our 1950's bungalow very well.
We were delighted with the under-mount sink Rosehill was able to provide even though we chose not to have stone countertops. Our solid wood cabinets look and feel of high quality. Overall, we are pleased with the look and function of our kitchen. " – Gord Gooding, Google Reviews
" This was one of the most pleasant experiences we have had when dealing with a third-party supplier. They were professional, extremely helpful, accommodating, and very hands-on throughout the whole process.
You know a company cares when the President and owner personally get involved. Thank you Harvey and Taylor for making this a most pleasant experience.
The quality of the product was definitely superior and exceeded our expectations. Would definitely deal with Rosehill again. " – Peter Glockner, Google Reviews
3. Hawthorne Kitchens
SERVICES
Custom cabinets Complete design Complete renovation Custom Cabinetry Quartz, Granite, and Laminate countertops Custom colour development Interior colour selections Bathroom vanities Entertainment / bar units Home offices Commercial cabinets and millwork
LOCATION
465 Edison Avenue, Winnipeg, MB, R2G 0M2
WEBSITE
https://www.hawthornekitchenscanada.com/
OPERATING HOURS
Mon-Thurs (8:00 am – 5:00 pm)

Friday (8:00am – 4:00PM)

Evenings & Saturdays by Appointment Only

WARRANTY
Limited Lifetime Warranty
| | |
| --- | --- |
| Criteria | Rating |
| Quality of Materials | ★★★★☆(4/5) |
| Design | ★★★★☆(4/5) |
| Warranty | ★★★★★(5/5) |
Hawthorne Kitchens is one of the top kitchen cabinet companies specializing in custom cabinetry in Winnipeg. They've been in the industry for over six decades providing exclusive products and excellent customer service.
Hawthorne Kitchens use the latest most cutting-edge technology in kitchen designing and manufacturing. Customers attest that Rosehill has been transparent with them from designing, manufacturing, and installation.
We love Hawthorne Kitchens' free in-home consultation that lets your sales representative and design team work the design with you. You can be hands-on in making that dream kitchen a reality.
From what we've learned, Hawthorne designers take time to design the kitchen cabinets that their clients want. Customers also attest that remodeling kitchen cabinets with them was a good experience.
However, there are some complaints about the delay in installation and the lack of proper communication with the customers. On a lighter note, another team resolved these complaints afterward.
Finally, note that they offer a limited lifetime warranty for kitchen cabinets. Items supplied by Hawthorne Kitchen but manufactured by others such as handles, countertops, cabinet accessories, flooring, etc., have varying contracts as per the manufacturer.
You should note that Hawthorne Kitchen will solely decide on repairing or replacing defective products during the warranty period. Warranty applies to the repair or replacement of faulty parts and may not cover expenses incurred during shipment, removal, or product installation.
Moreover, you should ensure that the cabinets are inspected upon receipt. You must make warranty claims for damaged goods within five (5) days of receiving items or before installation.
In addition, the warranty doesn't cover service calls in case of adjustments for moving parts such as doors and drawers. Adjusting cabinet accessories such as lift-down stands or pantry pullouts are also not covered under warranty.
Most importantly, you should pay all the products in full to process warranty claims.
Free in-home consultation
Services residential and commercial projects
Online portfolio available
Specializes in kitchen cabinets
Can provide 3D computerized designs
Lifetime warranty
Complaints about delays in installation
Complaints about communication with clients
Customer Reviews
Impressive Remodelling Services
" I hired Hawthorne to design and install a new kitchen in my home and was extremely satisfied! From the superb designer (Cindy) to the expertly managed installation process (AJ), their attention to detail and superior customer service was impressive.
Every single Hawthorne employee who came into my home was polite, professional and a true pleasure to work with. My new kitchen is stunning.
Great job! I would highly recommend Hawthorne. – Deanna Green, Google Reviews
Professional and Punctual
Hawthorne Kitchens did a remodel of my kitchen this past year. Cindy was so generous with her time and designed the most beautiful kitchen.
She is very experienced and was very receptive to input. She always responded quickly to any questions that I had. The product created was incredible.
The quality of the cabinets was exceptional. The install team was amazing. Andrew was such a perfectionist and took his time to ensure the kitchen was perfect.
Adam did an incredible job on the quartz countertop. The entire team was professional, friendly, and experienced. I cannot say enough positive things about this company. I would recommend their services to anyone! " – Nadia Bernabei, Google Reviews
" Our kitchen ended up beautiful. However, to get it to that point was one of the most stressful experiences we have endured as homeowners…I would like to point out that I understand how the pandemic has been difficult for businesses and backorders on the material.
Our kitchen being delayed regarding Covid is totally understandable, it's the lack of communication and how we were literally ghosted that is upsetting. Blatantly ignoring your clients is not a great way to run a business.
With that being said, AJ and his team came to the rescue. AJ has wonderful communication skills, he is kind and always kept us in the loop.
The installer Andrew is a great guy and worked quickly and efficiently. Thank you to the employees of Hawthorne for restoring our faith and giving us a gorgeous kitchen! " – April P, Google Reviews
4. JJ Cabinet Warehouse Ltd.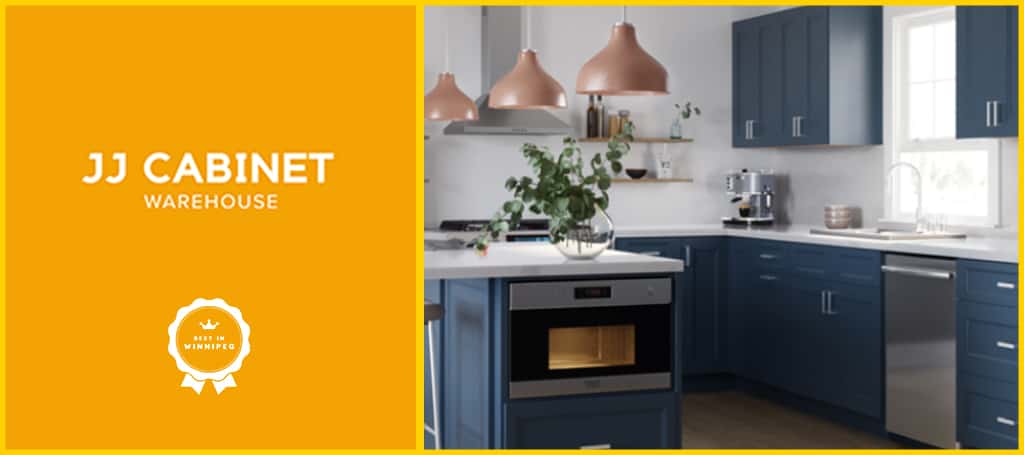 SERVICES
Retail and Wholesale of Kitchen Cabinets and Countertops Kitchen Renovation Free Cabinet Design Commercial Professional Program
LOCATION
406 Pacific Ave, Winnipeg, MB R3A 0M5, Canada
WEBSITE
https://jjcabinetwarehouse.ca/
OPERATING HOURS
Monday to Friday (9:30 a.m. – 5:00 p.m.)

Evenings & Weekends (By Appointment Only)

WARRANTY
All components including cabinet boxes, cabinet doors, and accessories are warranted for 1 year from the date of purchase against any manufacturing defects in materials or workmanship.
| | |
| --- | --- |
| Criteria | Rating |
| Quality of Materials | ★★★★★(5/5) |
| Design | ★★★★☆(4/5) |
| Warranty | ★★★☆☆(3/5) |
JJ Cabinet Warehouse Ltd. has provided affordable kitchen cabinets in Winnipeg for 30 years. Common praise about this manufacturer is the quick delivery and inexpensive kitchen cabinet styles.
Customers attest that they were able to buy kitchen cabinets at reasonable prices. They also told us that JJ Cabinet Warehouse Ltd. had been their go-to store when they wanted renovations at a tight budget.
This manufacturer is like a one-stop-shop convenient for customers from what we're told. They also share their network of contacts for other products so that customers can access them.
They also provide free kitchen design that allows customers to work with their design team for all customers. The design team will guide the customers from measurement, design, purchase, and installation.
We also love that they use environment-friendly CARB-2-compliant products and are certified to be safe for your family and the environment.
Aside from pre-made cabinets, they also have a design service, including a free service for kitchen cabinet design. They offer price matching as well, which is a good deal.
Their staff also provides plans and pricing for the clients, which is A+ in our books.
However, there are several complaints about rescheduled deliveries. Another downside is that they only have a short-term warranty of one (1) year for cabinet boxes, cabinet doors, and accessories.
Reasonable prices
One-stop-shop
Quick delivery 
Complete design and installation package
Free kitchen design
Environment-friendly materials
Short-term warranty
Complaints about rescheduled deliveries
Customer Reviews
Excellent Customer Service
" Working with JJ's was a key part in making my basement renovation a breeze. I was treated like a person and not another opportunity to make money.
The quality of the materials used is second to none. My basement bar and bathroom cabinets will be there long after I am gone." – Michael Hance, Google Reviews
" The service was excellent. We received 5-star customer service. Their attention to detail and the follow-up communication was very appreciated.
They were patient and understanding and the products were delivered quickly. The price was very reasonable and the quality excellent we love our kitchen. We will recommend JJ Cabinet to all our friends." – Arnold Parke, Google Reviews
" JJ Cabinet Warehouse is a definite go-to for all your kitchen needs including design suggestions. James is great at finding solutions to fit your budget and makes creative suggestions as he has an ample supply of quality choices to pick from.
A solid business with a reputation for follow-through and meeting or exceeding customers' needs. Competitive pricing makes them a great first choice but when you see their operation and witness the professionalism from supply to install you know you've made the right choice " – Troy MacDonald, Google Reviews
5. Nu-life Kitchens Inc.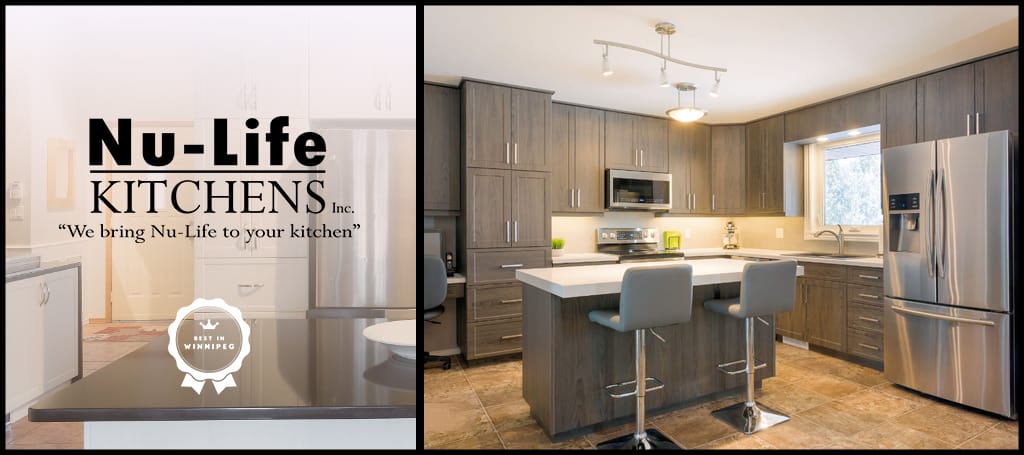 | | |
| --- | --- |
| SERVICES | Thermofoil Doors Prestige Doors Countertops Tile Backsplash |
| LOCATION | 851 Lagimodiere Blvd #14, Winnipeg, MB R2J 3K4, Canada |
| WEBSITE | https://nulifekitchens.com/ |
| OPERATING HOURS | Office & Showroom (By Appointment Only) |
| WARRANTY | All doors carry a 5-year manufacturer's warranty. |
| | |
| --- | --- |
| Criteria | Rating |
| Quality of Materials | ★★★★☆(4/5) |
| Design | ★★★★☆(4/5) |
| Warranty | ★★★★☆(4/5) |
Nu-Life Kitchens provides services for cabinet refacing projects in Winnipeg. Cabinet refacing is an alternative for you to save time and money.
Customers can save up to 50% in cabinet refacing compared to installing a new kitchen. It also has a shorter installation time, and an average installation takes only 3 or 4 days.
We love Nu-Life's cabinet refacing projects because it's an environmentally-friendly option as you can save the existing cabinet boxes. You can modernize your kitchen without replacing countertops, flooring, or paint.
Customers attest that the team handles projects with utmost efficiency. What's impressive is that they don't usually upsell their customers, and they try to stick to the homeowner's budget.
There is also constant communication from the office to keep them updated whether there are changes in schedules.
From what we've learned in our survey, the crew is always on time and keeps everything tidy. This is especially important for some homeowners who live in condominiums close to public spaces.
Testimonials from clients also reported that the staff could finish the whole process on time. Most of the renovations only last for a week.
In terms of warranty, they offer a five-year warranty for all kitchen cabinet doors. Although there were several issues when some drawers didn't work correctly, they resolved them afterward.
Budget-friendly materials used
Environment-friendly refacing projects
Efficient refacing and installation
No lifetime warranty
Complaints on product defects
Customer Reviews
Quality Remodeling Service
" We are extremely happy with our kitchen and bathroom remodel with Nu-Life Kitchens. This company was a pleasure to work with from start to finish.
We were impressed by the professionalism of the team as well as the quality of refacing/products used. We loved that they had a showroom and made great suggestions for upgrading and modernizing our living spaces.
It was all coordinated so it is done together (cabinets, countertops, tile, sinks, etc.) We had the work done exactly a year ago (2020) and are happy to recommend this company to anyone!
– Sharon Kozak, Google Reviews
Excellent Craftmanship
" Didn't need to get much done this time. Just visit the showroom to get ideas for styles and colors. But 6 years ago, we got an estimate from Marc to have our kitchen cupboards and the vanities and shelf storages in the two bathrooms resurfaced.
Also added crown moldings and valences, and 3 drawers added to the pantry instead of doors and shelves at the bottom. All the was done within 2 days.
WOW !! So completely impressed with the style, color, and expert workmanship from the installers. Never would have anticipated the final result.
Recommended them a few times since then and know of a few couples who have used their services. I recommend anyone to give them the pleasure of their 1st visit and estimate !!👍👍🤗🤗 " – Gilles Desrosiers, Google Reviews
" This is my second time working with Nu-Life Kitchens. Working with Sheri and Mark is a real pleasure. Their high standard of customer service, quality products, and craftsmanship is rooted in a genuine passion for what they do.
Our Kitchen turned out so much better than we imagined and has stood the test of time. We are grateful, happy customers and highly recommend Nu-Life to everyone.
Thanks again Mark and Sheri!" – Heather Berthelette, Google Reviews
6. Gateway Cabinets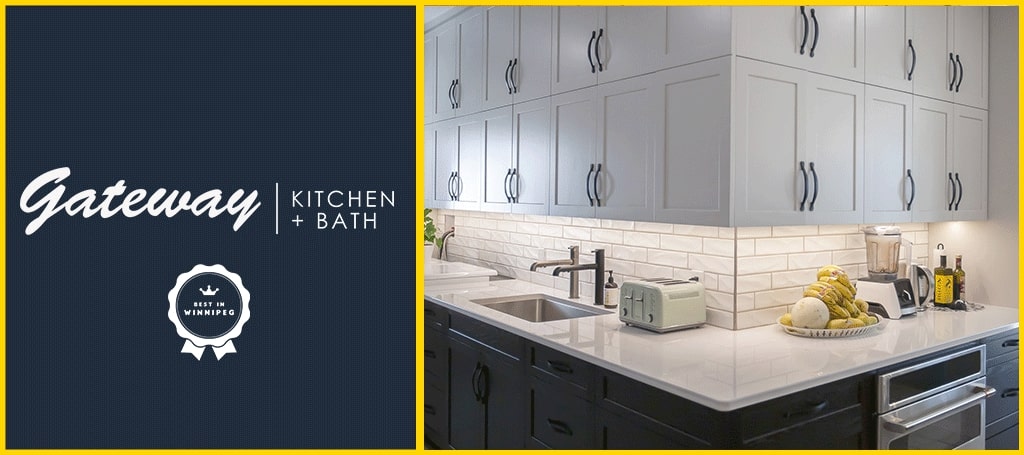 | | |
| --- | --- |
| SERVICES | Custom kitchen cabinets Interior design Project management Renovations Kitchen renovations |
| LOCATION | 893 Gateway Road Winnipeg, MB R2K 3L1 |
| WEBSITE | https://gatewaycabinets.com/ |
| OPERATING HOURS | Monday to Friday (10:00 am – 5:00 pm) |
| WARRANTY | Lifetime warranty on all Gateway products |
| | |
| --- | --- |
| Criteria | Rating |
| Quality of Materials | ★★★★★(5/5) |
| Design | ★★★★☆(4/5) |
| Warranty | ★★★★★(5/5) |
Gateway Kitchen + Bath has been a family-based company in southern Manitoba for 30 years. They have a sizable team of full-service interior designers that create aesthetically interior kitchens and bathrooms.
We've learned from customers' testimonials that Gateway is considerate to their client's needs. The team works collaboratively to achieve their client's dream kitchen.
Customers attest designers themselves have regular onsite visits. They also attend to the client's queries responsively.
Moreover, their organization is also in our books. From what we've surveyed, Gateway's team is very organized and even gives printed schedules to customers to update them with the daily schedule.
However, several customers complain about their responsiveness to customers' queries and concerns. There are also complaints about the staff's punctuality during the installation of kitchen cabinets.
There are also delays in the installation because of supply chain disruptions, including current calamities in British Columbia. There are also transportation stoppages that can further add delays to the installation process.
Lastly, what we like the most about Gateway is the lifetime warranty they offer for all their products. A manufacturer's warranty says a lot about their trust in their products, which is definitely in our books!
Free one-hour consultation
Online portfolio available
Offers interior design services
Online scheduling tool available
A sizable team of full-service interior designers
Lifetime warranty on all products
Delays due to supply chain disruption
Complaints on responsiveness
Complaints on staff's punctuality
Customer Reviews
Hands-on Staff
" We purchased a gateway kitchen now about 4 years ago. It is hard to believe how time flies when you have such a nice kitchen. My wife and I were just talking the other day again about how great the whole experience was.
Working with the staff from the design stage to the finishing touches at the end. I really liked how organized they were with the customer getting a printed schedule on what was happening every day.
I have also been an employee with them for about 28 years. It is a really great family-run business. I would definitely recommend Gateway Kitchen to anyone. " – Walter W, Google Reviews
" We absolutely love our new kitchen, custom-built by Gateway. They took everything we talked about wanting in our home and built our dream kitchen.
This is the second home that we have had a kitchen designed by Gateway and if we had to do it again we would choose them. Great ideas from the designer, no stress, always available to answer any questions or concerns, on time, meticulous attention to detail, skilled installer, and worth every penny. Highly recommended!" – Rene Sutyla, Google Reviews
" We were happy with Gateway from start to finish. Our designer took the reigns and handled every detail of our renovation with professionalism and ease, leaving nothing but the fun parts for us (colors, tile, etc.).
Before the project started, they estimated that our kitchen project would take about 6 weeks to complete and they were bang on. We are left with a beautiful custom kitchen that we are so happy with! Would definitely hire them again." – Nicole Carriere, Google Reviews
FAQs About Kitchen Cabinets in Winnipeg
And that concludes our rundown of the best kitchen cabinets in Winnipeg. If you have availed of their service, tell us your experience!