From Classics to Rarities: Winnipeg's Premier Record Shops
You know that the hunt for the perfect record can be an exhilarating journey filled with surprises and nostalgia.
And what better place to begin this sonic adventure than right here in Winnipeg, our city that has always had a harmonious relationship with music?
Winnipeg, a city known for its rich cultural tapestry, isn't just about frigid winters and passionate hockey fans.
It's also a haven for those who crave the soulful crackle of vinyl and the joy of flipping through rows of album covers, each one holding a piece of musical history.
In this journey, we'll delve into the city's music scene, uncovering the unique stories and sonic treasures that lie within these record shops.
Argy's Records & Entertainment Shop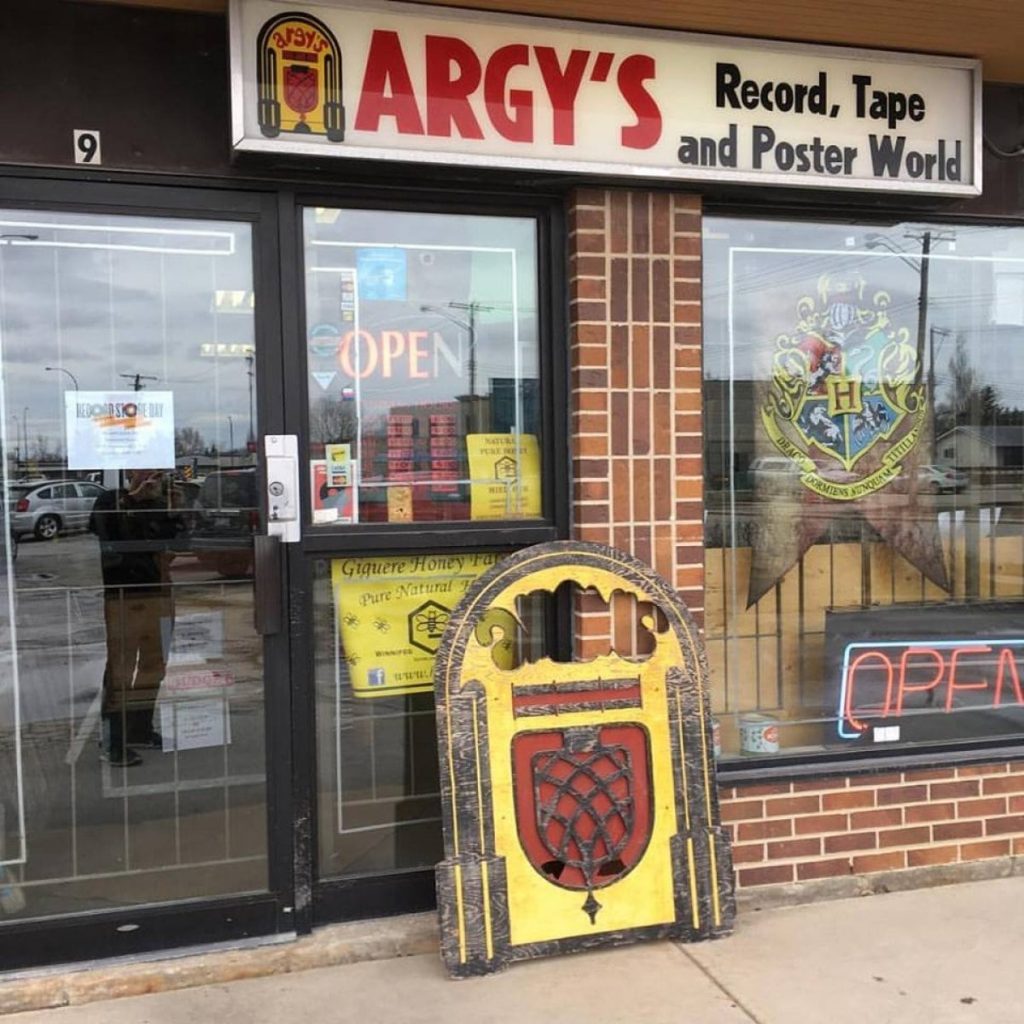 Address: 1604 St Mary's Rd Unit 9, Winnipeg, MB R2M 3W5, Canada
Website: http://www.argy.ca
Contact number: 204 253 8452 
Operating hours: Monday to Friday: 11 am to 6 pm; Saturday: 10 am to 5 pm; Sunday: 12 pm to 5 pm
While other shops may prioritize quantity, Argy's focuses on quality, carefully selecting each record that graces its shelves.
This meticulous approach means you won't find stacks of random, forgotten records here, but rather a thoughtfully curated collection that spans a wide range of genres and eras.
One of the most appealing aspects of Argy's Records is the personalized touch it offers to its clients.
The friendly and knowledgeable staff are always ready to chat about music, help you find that elusive album you've been searching for, or introduce you to new artists and sounds.
It's not just a transactional experience, but a chance to connect with fellow music lovers who are as passionate about the medium as you are.
Argy's Records & Entertainment Shop doesn't stop at vinyl either. It caters to all sorts of music-related needs, from vintage turntables and high-quality speakers to essential accessories like stylus replacements and cleaning kits.
It has also become a hub for hosting live performances by local musicians, creating a vibrant and welcoming space for the community to come together and celebrate the magic of music.
One valuable nugget of information for first-time visitors: Argy's occasionally offers exclusive limited-edition releases and rare vinyl finds that collectors covet.
Keep an eye on its social media channels to stay in the loop about these special gems.
Old Gold Vintage Vinyl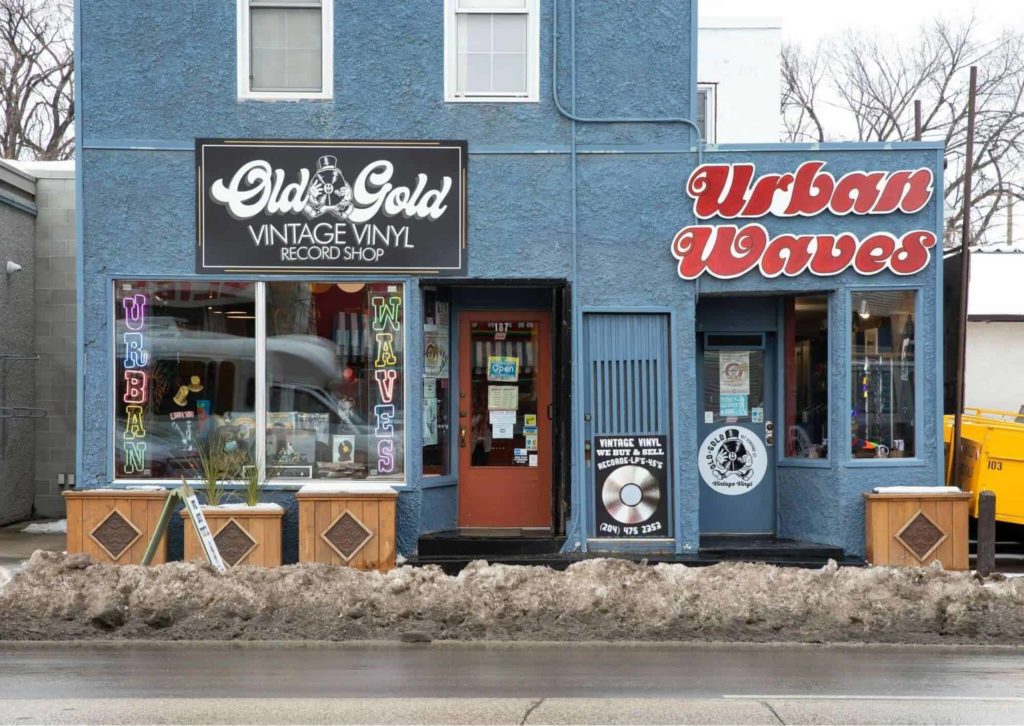 Address: 187 Osborne St, Winnipeg, MB R3L 1Z2, Canada
Website: https://www.oldgoldvintagevinyl.com/
Contact number: 204 294 7784 
Operating hours: Monday: 12 pm to 6 pm; Tuesday to Friday: 12 pm to 7 pm; Saturday: 12 pm to 5 pm; Sunday: 1 pm to 5 pm 
Other shops have embraced the digital age, but Old Gold has remained steadfast in its dedication to the analog format.
As a result, it's become a sanctuary for those who crave the tactile experience of browsing through rows of vinyl and carefully selecting the next addition to their collection.
Old Gold Vintage Vinyl offers more than just nostalgia; it also offers a journey through music history. Stepping through the shop's door feels like stepping back in time.
The carefully curated collection spans decades, housing rare and classic records from artists across genres. If you're hunting for a Beatles masterpiece, a jazz legend's live recording, or a punk rock gem, Old Gold has something for everyone.
The Old Gold's personalized touch it offers to its clients is truly commendable. The knowledgeable staff members are not just store clerks; they're music enthusiasts who share your passion.
They're more than willing to engage in conversation, recommend hidden gems, and even spin a record or two to give you a taste of what you might take home.
And speaking of value, Old Gold Vintage Vinyl is known for its fair pricing. You won't find exorbitant price tags here.
The shop believes in making music accessible to everyone, ensuring that collectors and newbies alike can explore and expand their vinyl collections without breaking the bank.
The Winnipeg Records & Tape Co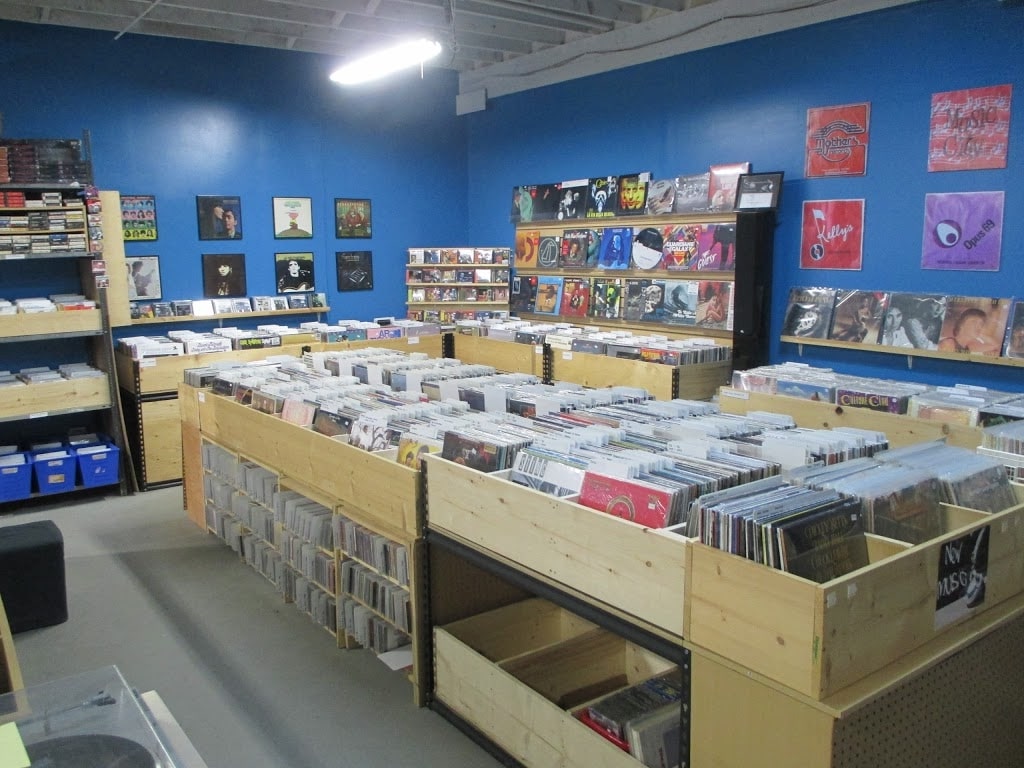 Address: 1079 Wellington Ave #109, Winnipeg, MB R3E 3E8, Canada
Website: http://www.winnipegrecordandtape.com/
Contact number: 204 783 7835 
Operating hours: Tuesday and Wednesday: 3 pm to 9 pm; Thursday to Saturday: 11 am to 6 pm; Sunday: 10 am to 5 pm 
Unlike many modern record shops that focus solely on the latest releases, this establishment is a haven for both seasoned collectors and curious newcomers.
The shop proudly boasts a diverse selection, spanning from classic rock legends to obscure indie artists, providing something for every musical palate.
But it's not just about the music here; it's about the experience. The warm and welcoming atmosphere is a testament to the owner's love for vinyl.
It's not uncommon to strike up a conversation with fellow music aficionados or get lost in discussions about the intricate details of album artwork.
Winnipeg Records & Tape Co. is committed to supporting local artists. It offers a dedicated section for up-and-coming bands and solo artists from the Winnipeg area, helping to shine a spotlight on the city's vibrant music scene.
This dedication to local talent creates a strong sense of community within the store, fostering connections between musicians and their fans.
Moreover, the shop regularly hosts live performances and album release parties, turning the space into a hub for music events in the city.
Planet of Sound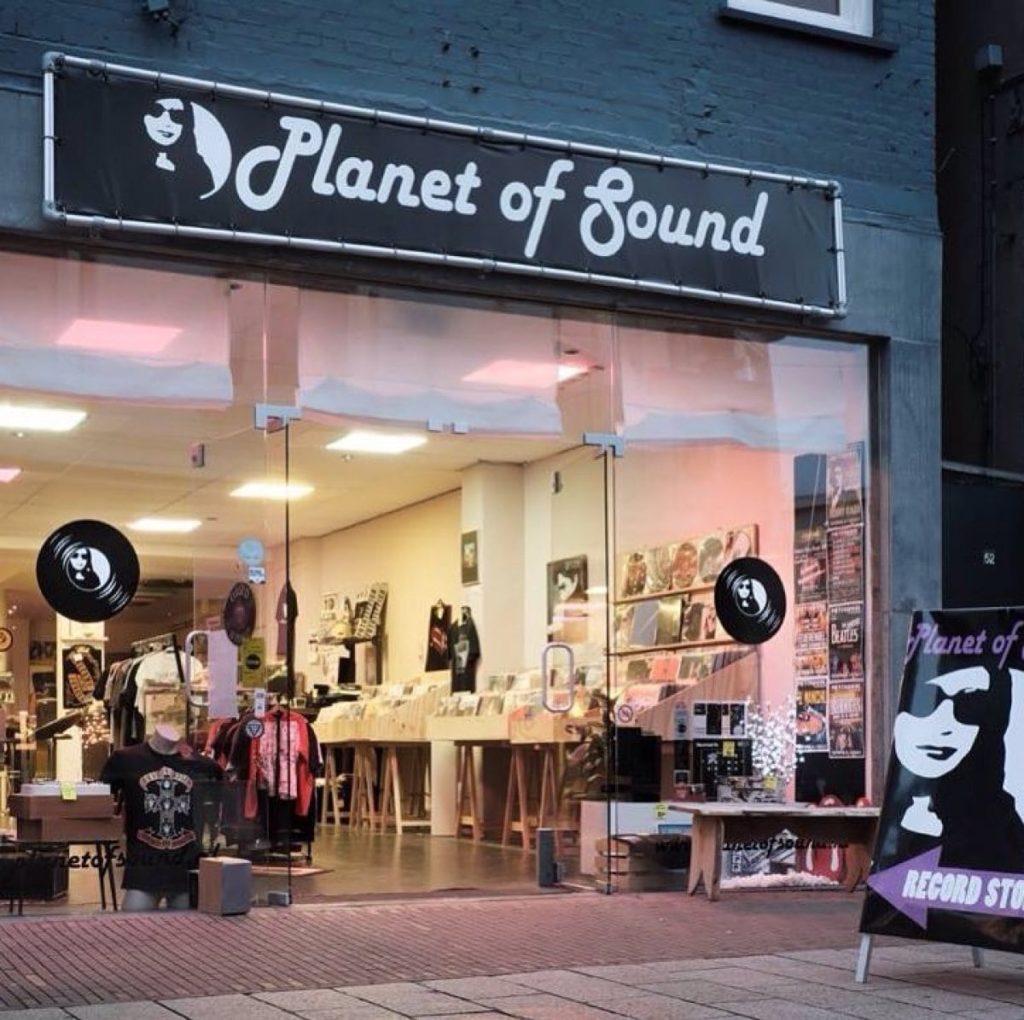 Address: 1109 Henderson Hwy #201, Winnipeg, MB R2G 1L4, Canada
Website: http://planetofsound.ca/
Contact number: 204 667 6863 
Operating hours: Tuesday and Wednesday: 12 pm to 6 pm; Thursday and Friday: 12 pm to 7 pm; Saturday: 11 am to 6 pm 
Stepping onto the Planet of Sound is like embarking on a sonic journey through time. The shop's charm lies in its carefully curated selection of vinyl records spanning across genres, from classic rock and jazz to indie and electronic.
What makes it even more remarkable is its unwavering commitment to supporting local artists.
In a city teeming with musical talent, Planet of Sound offers a platform for emerging artists to showcase their work, with a dedicated section reserved for homegrown talent.
The knowledgeable and friendly staff at Planet of Sound are always eager to strike up a conversation about your musical tastes, helping you discover hidden gems or recommending new releases.
This personalized touch sets it apart from the larger, more impersonal chain stores.
Beyond just selling records, the shop offers repair services for turntables and provides a platform for vinyl enthusiasts to exchange ideas and knowledge.
Regular events, like vinyl swap meets and listening parties, foster a sense of community among music lovers.
Sunrise Records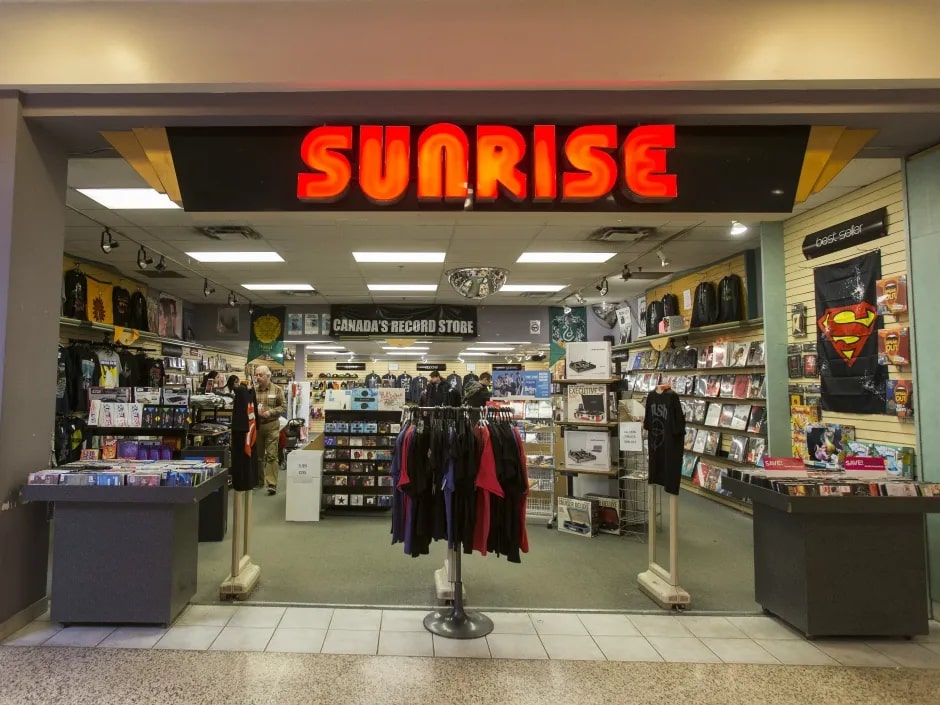 Address: Kildonan Place, 1555 Regent Ave W, Winnipeg, MB R2C 3B3, Canada
Website: https://www.sunriserecords.com/
Contact number: 204 421 6220 
Operating hours: Monday to Friday: 10 am to 8 pm; Saturday: 10 am to 6 pm; Sunday: 11 am to 6 pm 
Sunrise Records offers an extensive and diverse selection of music that caters to a wide range of tastes.
If you're into classic rock, indie gems, or the latest chart-toppers, you're sure to find something that resonates with you on its well-organized shelves.
Its staff members are more than happy to assist you in your musical journey, offering recommendations and insights that can't be found elsewhere.
It also frequently hosts in-store events, from live performances by local artists to vinyl listening parties that create a space for like-minded individuals to connect and share their passion for music.
Sunrise Records has embraced the digital age without losing sight of its roots. In addition to vinyl records, it offers a wide range of music formats, including CDs, cassettes, and even a selection of DVDs and Blu-rays.
This diversity ensures that it can cater to music collectors of all generations, from those who remember the days of vinyl's heyday to the digital natives of today.
For collectors seeking something truly unique, Sunrise Records stocks an impressive assortment of limited-edition releases and exclusive vinyl variants.
Lastly, Sunrise Records takes pride in its commitment to sustainability.
It actively promotes eco-friendly practices, including the use of recycled materials in its packaging and a focus on local and independent artists, supporting both the environment and the local music scene.