5 Best Asbestos Removal Services in Winnipeg
Several pre-1990 homes in Winnipeg contain materials with degrading asbestos. If you think yours is one of them, it's important to call an expert to run tests and remove the material properly.
To help keep you and your family safe, we're going over the best asbestos removal services in Winnipeg. We'll also guide you through the cost of this service and answer some questions about asbestos removal.
How Much Does Asbestos Removal Cost in Winnipeg?
Asbestos removal is a specialised job that requires meticulous handling. Because of the occupational hazard linked to it, you'll need a professional who's trained and equipped for the job.
The cost of having asbestos-containing materials (ACM) removed depends on the material type and the size of your space. Here are typical ACMs and their average cost of removal from small rooms to warehouses.
| | |
| --- | --- |
| ASBESTOS-CONTAINING MATERIAL (ACM) | ESTIMATED COST |
| Duct tape and fiberboard in vents | $150 – $3,000 |
| Asbestos Pipe Insulation | Starts at $300 |
| Drywall | $500 – $15,000 |
| Vinyl Floor Tile | $500 – $2,000 per room |
| Sheet Vinyl Flooring | $2,000 – $5,000 per room |
| Plaster and Stucco | $500 – $15,000 |
| Transite Siding | $5,000 – $20,000 |
Also note that removal services take your ACMs along with them. This entails extra labour and disposal fees already included in the estimation above.
Best Asbestos Removal Services in Winnipeg
Now that we've cleared the air with the costs, here's whom you can call to safely remove asbestos from your home or workspace.
1. Winnipeg Asbestos Removal Pros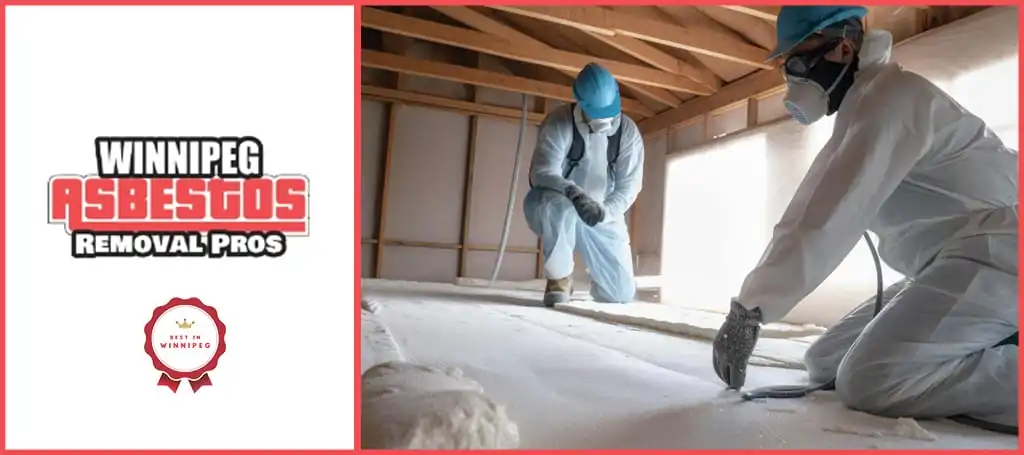 | | |
| --- | --- |
| BEST FOR | Pre-demolition Asbestos Removal |
| SERVICES | Asbestos Bulk Analysis, Asbestos Building Audits / Pre-Demolition, Building Audits, Asbestos Air Monitoring, and Air Clearance Testing, Asbestos Training, Asbestos Abatement and Removal |
| WEBSITE | www.winnipegasbestosremovalpros.com |
| ADDRESS | 508 Victor St, Winnipeg, MB R3G 1R2, Canada |
| CONTACT DETAILS | Phone: 431-400-4559 |
| OPERATING HOURS | Monday to Friday, 8:00 AM – 5:00 PM |
One of the most important times to test your home for asbestos is when you plan to tear it down. In such cases, Winnipeg Asbestos Removal Pros offers to help you prep for a safe demolition.
To prevent hazardous airborne fibres from plaguing your construction site, they offer bulk testing and building audits. This way, you'll know exactly which materials should be left undisturbed.
At the same time, they can remove the asbestos themselves so you can immediately proceed with your clearance project. Here's how they're qualified to do that.
For one, they've been doing this for more than two decades. Within that time, they've accumulated praise for timely lab results and a thorough removal process.
Additionally, they use tech and trade techniques that are up to date. People call on them for their modern and efficient approach, as it saves time and gets results.
And with Winnipeg Asbestos Removal Pros, just asking for a free quote is already a step to a safer home. That's because filling out their contact form will automatically get you a free e-copy of their home care guide, The Smart Homeowner.
These little tidbits of information, along with their tried and trusted service, make Winnipeg Asbestos Removal Pros a knowledgeable partner in asbestos removal.
Quick turnover of lab results
Up-to-date technology
Free quote comes with an e-copy of The Smart Homeowner
Contact details needed to see pricing
Closed on weekends
Customer Reviews
Here's are some testimonials that commend Winnipeg Asbestos Removal for a job well done:
"Best asbestos removal company in Winnipeg. Winnipeg Asbestos Removal Pros and his team looked after our job perfectly, and they were on time and on budget. Give Winnipeg Asbestos Removal Pros a call, you will not be disappointed."―Sandra Tammy
"Excellent service from Winnipeg Asbestos Removal and quick turnover on the lab results. I would absolutely use it again."―Michael Nash
"Very helpful and polite service. I was able to get my air quality tested the next day and all the staff was very knowledgeable at answering my questions. Would definitely recommend this company."―Thomas Leo
2. Advanced Environmental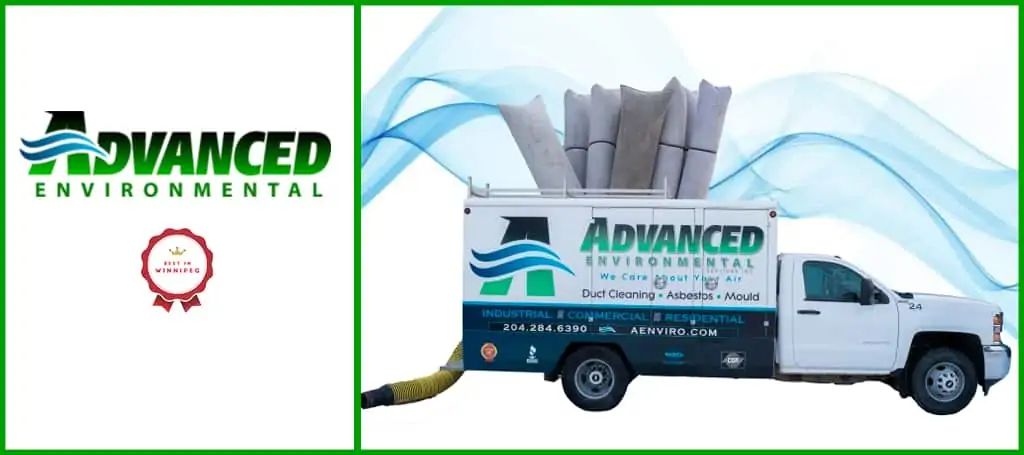 BEST FOR
High-tech Asbestos Removal
SERVICES
Asbestos Testing and Removal for Residential and Commercial Spaces
WEBSITE
www.aenviro.com
ADDRESS
341 Stanley St, Winnipeg, MB R3A 1S7, Canada
CONTACT DETAILS
Phone: 204-284-6390
Fax: 204-284-0475
Email:

[email protected]

OPERATING HOURS
Monday to Friday, 8:00 AM – 4:30 PM
Advanced Environmental set their mark in 1993 as the only air duct cleaner in Winnipeg that uses custom-made European robotics. Soon after, they branched out into mould and asbestos remediation with the same affinity to modern tech.
With more than a quarter century of trade experience, they know how to deploy resources to fit your project scale. They do this by pairing a team of trained specialists with machines that make asbestos removal safe and easy to carry out.
For efficient de-flooring jobs, you're going to want their ride-behind floor scraping machine. If you're schedule-conscious but own a large space, this can get rid of hazardous tile without taking up copious amounts of time.
On a more serious note, they're also equipped for severe cases of asbestos disturbance. For this, they seal everything off and use a negative air machine to manage the spread of asbestos while they work on removing the source.
Another advantage is that they're a local company that's familiar with building trends in Winnipeg. It's a huge plus in our opinion because knowing where to look can save people time, money, and medical bills.
Speaking of saving money, they also give out discount coupons to help out with the costs. With something as pricey as air quality control, it's always a nice thing to have.
All in all, Advance Environmental does a good job merging experience with modern technology to suit the demands of varying project scales.
Innovative machines
Reliable for severe cases of asbestos disturbance
Occasional discount coupons
Closed on weekends
Further enquiry needed for prices
Customer Reviews
Here are some things that their clients have to say about Advance Environmental:
"Professional crew, showed up on time, clean operation and no mess was left behind. Would highly recommend and will be using them again in the future."―Dillon Gretchen
"Very quick appointment scheduled, paid what I was quoted initially. Both gentlemen came right on time. Wore masks all the time and shoe covers. Very professional and took pictures before and after. This was my 6 t booking appointment and always never fails to deliver professional service! Thank you"―Marta Bhopalsingh
3. EnviroDoctors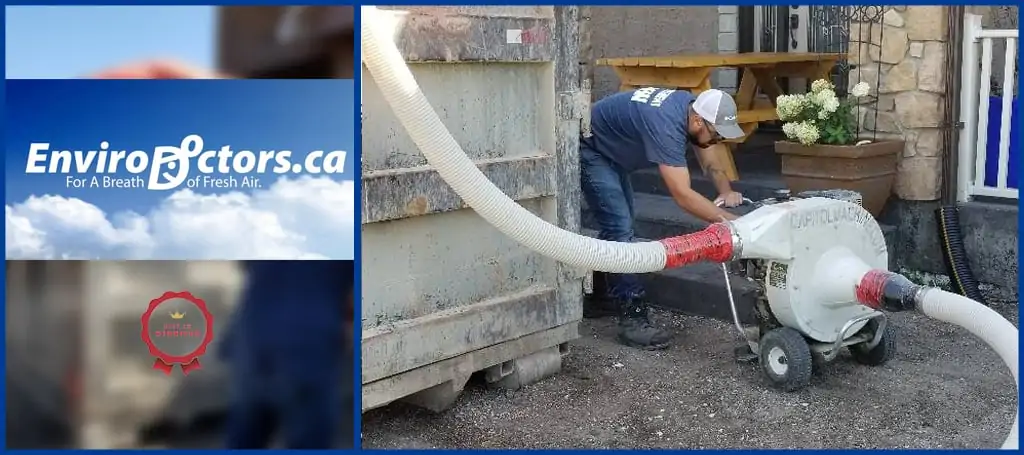 BEST FOR
Compound Breathing Hazards
SERVICES
Asbestos Removal, Mould Remediation, and Demolition
WEBSITE
www.envirodoctors.ca
ADDRESS
262 Gwendoline Street, Winnipeg MB, R3A 1L8
CONTACT DETAILS
Phone: 204-890-4567
Toll-free: 1-877-890-4567
Email:

[email protected]

OPERATING HOURS
Monday to Friday, 8:00 AM – 5:00 AM Saturdays, 9:00 AM – 4:00 PM
EnviroDoctors was founded by biochemist David Ganetsky in 2016. They deal with different types of breathing hazards like mould, water damage, bacterial growths, and of course, degrading asbestos.
If your space is ridden with a combination of these issues, their team is certified on all fronts. It's a tough time for sure, but one made easier by having all the help you need in one place.
They also make it easy for you to prepare for their visit. On their website, they give a bunch of tips and precautions to minimise the release of microfibres before they arrive.
When they do arrive, what happens next is predictable. That's because they detail their process, from how they isolate appliances and furniture to the actual removal stage and disposal.
90 days after the service, added value comes in the form of a free air test worth $300. It's an assuring gesture for their customers and keeps them accountable at the same time.
While a lot of their features are appealing, there have been a few complaints of test results lagging behind. With the competition turning over results as early as 24 hours, it's a gap that's a little hard for us to ignore.
Informative website
Free air check up worth $300 after 90 days
Senior discount
Closed on Sundays
Some complaints of test delays and poor communication
Customer Reviews
Here's a review left by a satisfied customer of EnviroDoctors:
"Job well done with the house. The tenants are happy that the house smells great and that it is a much safer environment for them and their kids. It was also important to remove the asbestos from the attic space where the kids play and your guys did a wonderful job, everything was clean when the job was done and it was all done in a very timely fashion. I really appreciate your guys working on the weekend and getting the clearance done the same day, that was a big help in getting them back in the house so quickly. Thanks again for the great work." Josh M.
4. Prairie Environmental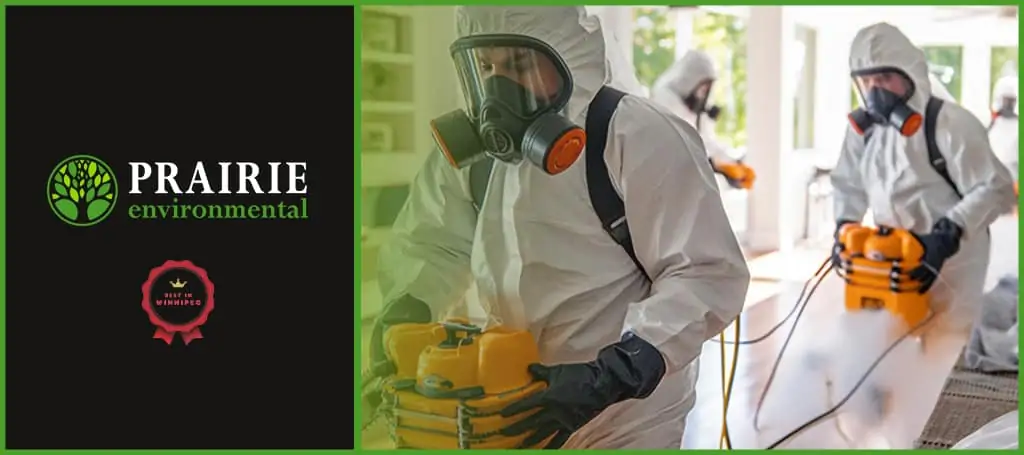 BEST FOR
Large Commercial and Industrial Spaces
SERVICES
Asbestos Inventory, Asbestos Control Plan, Air Monitoring and Inspections, Hazardous Building Material Assessment, Mould Assessment, Phase I Environmental Site Assessments
WEBSITE
www.prairieenvironmental.ca
ADDRESS
Unit 2, 196 Osborne St.
Winnipeg, Manitoba R3B 0N8
Canada
CONTACT DETAILS
Phone: 204-250-6659
Email:

[email protected]

OPERATING HOURS
Monday to Friday, 8:00 AM – 5:00 PM
On the other end of the spectrum are large forms of real estate that need to be screened for asbestos. Prairie Environmental specialises in this field and provides consultancy and action plans to protect the air quality of highly populated locations.
If you're a property manager, keeping track of everything can be a mind-numbing ordeal. With regard to air maintenance, Prairie Environmental can handle a tonne of tasks for you.
If you want to map out an entire inventory of ACMs in your building, you can hire them to test samples in bulk. What's nice is that specialists at Prairie are trained to collect the minimum amount of samples that will render the full picture.
Testing asbestos this way is less likely to be invasive or redundant. It's also a good way to minimise costs, which clients appreciate.
All this information about asbestos in your building is collated in a professional report along with their recommendations. They churn out all the options so you don't have to.
Removals with them follow a comprehensive asbestos control plan. In fact, all their procedures are textbook, and are drafted from national guidelines and standards.
Overall, working with them is like having everything distilled into actionable steps. And for a busy property manager, we think that's a valuable asset.
30 years of industry experience
Minimum supervision required
Quickly prepared reports
Closed on weekends
Not suitable for small home renovation projects
Customer Reviews
Here are some clients of Prairie Environmental who were impressed by their services:
"I was very pleased with the service that I received. Jeff took the time to answer all of my questions. He is very knowledgeable and professional. They were able to book me in quickly to have an air quality test done and I received the report the same evening."―Renee Robidoux
"I have worked with Jeff and his team at Prairie twice now and will continue to use them for their professionalism, quick response, accurate information and help with understanding asbestos containing materials and the process on the testing procedures including for the abatement type work. Jeff is very knowledgeable on his work and very helpful in this unknown field to most people."―B Bella
5. Paul Davis Winnipeg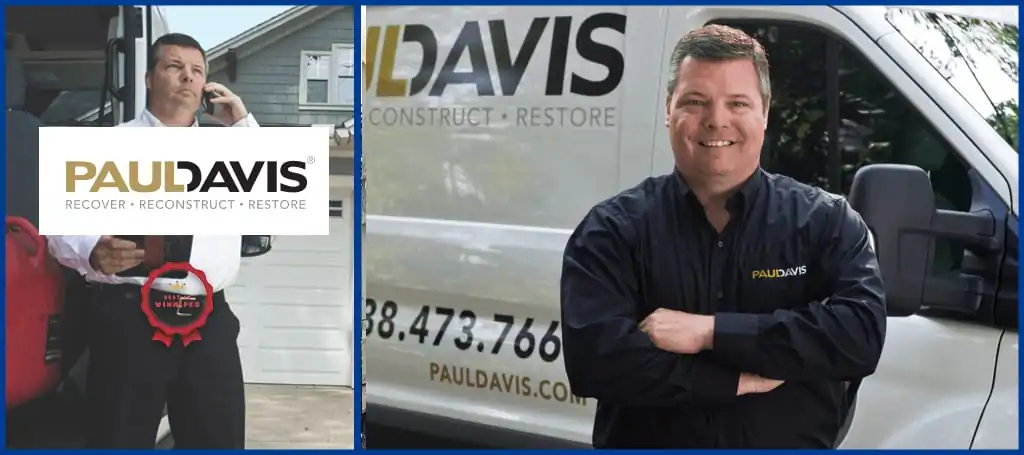 | | |
| --- | --- |
| BEST FOR | Residential Prelisting and Post-disaster Asbestos Removal |
| SERVICES | Home Restoration from Elemental Damage, Mould and Asbestos Remediation |
| WEBSITE | www.pauldavis.ca |
| ADDRESS | 701 Henry Ave, Winnipeg, MB R3E 1T9, Canada |
| CONTACT DETAILS | Phone: 204-953-2185 |
| OPERATING HOURS | 24/7 |
Whether you're restoring your home for yourself or potential buyers, Paul Davis can help you put things back together. This includes removing asbestos to keep the house hazard-free before moving back in or listing it on the market.
One of the most important things that sets Paul Davis apart is its 24/7 service. This definitely applies to service calls for emergencies―like when asbestos is accidentally disturbed in your home.
Clients appreciate their quick response times and empathetic approach to dealing with sensitive situations. After all, people call them to fix their homes after fires and floods, so they're really trained to be reassuring.
They're also trained to facilitate homeowner insurance claims, though unfortunately, these rarely cover asbestos removal. Instead it's useful for when a natural calamity disturbs your asbestos and you need coverage for the repairs.
Additionally, their rates for disposing of ACMs aren't too bad either, and clients like them for that. With Paul Davis, you'll get some of the most competitive prices for asbestos management in the city.
The only real downside is if your asbestos is embedded in a large commercial space, in which case you may want to look elsewhere. Paul Davis's commercial service scope only covers elemental damage repair.
24 hour service
Experience with insurance agencies
Competitive prices
Further enquiry needed for pricing
No asbestos removal for commercial spaces
Customer Reviews
Here's some positive feedback from clients on how Paul Davis handles their restoration projects:
"Excellent company to deal with – professionalism through and through. Each and every time I have worked with Paul Davis has been a positive experience with Ken and Fernando here in Winnipeg making sure the job was done right and not only my expectations but most importantly my clients expectations were met. Definitely a place I would call again."―Ryan Paradis
"Everything about everyone who came into our house from Paul Davis to fix our home were professional, respectful, and understanding of the situation. The end result was exactly what we expected and Allan worked so hard to be sure we were 100 percent satisfied and this is very important. We pay huge amounts of insurance and we are so happy with Paul Davis. Anyone who ends up dealing with Paul Davis can rest assured the end product will be exactly as they ordered and more. Thank you Allan and gang."―Dave and Sharon Richardson
FAQs About Asbestos Removal
---
And that's about it. We hope this guide has been useful in your pursuit of better living conditions.
On the subject of remediation, we've written more reviews on services that combat potential health hazards. This includes our picks for the best pest control in Winnipeg, so feel free to check that out.