5 Best Boutique Fashion Stores in Winnipeg
Boutiques are revolutionizing and shaping the future of the retail industry. Today, more and more people are opting to go to their local shops, and for good reasons!
People love boutiques not just because they offer more unique options in clothing and accessories, but because they provide personalized customer care and attention you won't find in big box stores.
So if your question is not "why" a boutique, but "where", you're in luck! This article is written for you.
But before we get into the main stuff, here's something you might want to know about the cost of common fashion items in a boutique store.
How much does common boutique store apparel cost?
Several factors affect the prices of apparel in each store. This includes the brand, material, prints, design, and sometimes, even country of origin.
Hence, the tables below only show you the average cost of common clothing items and accessories in boutique stores.
Apparel
| ITEM | COST |
| --- | --- |
| Dress | $60 - $310 |
| Tops | $25 - $220 |
| Bottoms | $35 - $300 |
| Denims | $25 - $450 |
| Footwear | $15 - $300 |
| Outerwear | $60 - $440 |
Accessories
| ITEM | COST |
| --- | --- |
| Belt | $25 - $95 |
| Scarf | $20 - $100 |
| Hat | $35 - $190 |
| Bag | $40 - $430 |
| Gloves | $40 - $110 |
| Hair accessories | $10 - $25 |
| Jewelry | $35 - $200 |
Best Boutiques in Winnipeg
Now that you know how much boutique items generally cost, here are the criteria we used to rate the clothing stores we put on this list.
And now that that's out of the way, it's time to dig deeper into our top choices for the best boutique fashion stores in Winnipeg!
1. Style Bar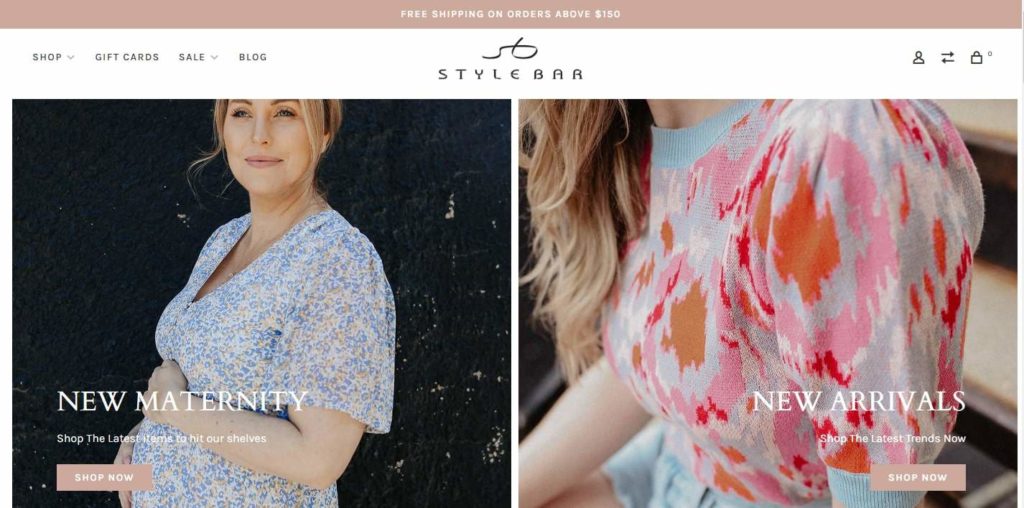 SERVICES
In-store shopping

Online Shopping

Curbside pickup

Delivery

Newsletter

PRODUCTS
Clothing

Accessories

Maternity Items

Apothecary

Baby

Lifestyle

WEBSITE
https://www.shopstylebar.com/
ADDRESS
470 River Ave, Winnipeg, MB R3L 0C8, Canada
CONTACT DETAILS
Phone: 204-505-351

E-mail: [email protected]

OPERATING HOURS
Monday - Wednesday, Saturday: 11 AM- 5 PM

Thursday - Friday: 11 AM - 6 PM

Sunday: Closed
| | |
| --- | --- |
| Selection | ★★★★☆ (4/5) |
| Location | ★★★★★ (5/5) |
| Service scope | ★★★☆☆ (3/5) |
| Price | ★★★★☆ (4/5) |
| Customer feedback | ★★★★☆ (4/5) |
The Style Bar is a cute boutique fashion store conveniently located at River Avenue, which is very close at the heart of the city. The boutique became one of Winnipeg's shopping destinations when it opened its doors in 2013.
One of the things we like about the shop is that you are greeted with a clean, modern, yet very homey look upon entering. It is also very organized that you would immediately know where to find what you're looking for.
The boutique features a variety of clothes for both men and women. That being said, Style Bar's products are more targeted at its feminine customers than at men.
The boutique features a plethora of clothing items from tops, dresses, bottoms, rompers, jumpsuits, and a variety of outerwear. We also like how it carries different sizes of clothing from XS-4XL, which is perfect for women with either petite or curvy frames.
It offers a selection of maternity and baby items as well. So if you're a mom-to-be looking for clothes and other items for you and your future baby, Style Bar is worth the visit.
Other than clothing, the boutique also sells several accessories from jewelry, hats, bags, belts, scarves, and more. It also features various lifestyle items, as well as local products.
On the other hand, the boutique has a short 2-week window for returns. So if you're buying a gift for someone and are not sure whether they'll like it or not, better keep this in mind.
Style Bar is open 6 days a week, which is great. But we feel like its 11 – 5 opening hours is a little too short for customers who have just gotten off their day jobs.
Still, if you can't find the time for in-store shopping, definitely check out Style Bar's online store. It's fast, open 24/7, and has free shipping when you order over $150!
Large selection of items
Competitive pricing
Supports local products
Short return window
Opens late and closes early
Customer Reviews
High-quality selection
One of my favorite go-to boutiques for everything from day-to-day clothing to more formal, dressy pieces. Collections are always current, unique, and high quality. I often get compliments on my clothing.
The staff in-store are always so pleasant and accommodating. Using the shop's website for online shopping with easy pick-up or delivery makes shopping here almost too easy! – Jenna McMahon, Google Reviews
Great prices
Ordered a couple pieces online, got them local delivery 3 days later and haven't stopped wearing them since! Amazing quality, good selection for sizing, good pricing, and so many beautiful pieces! Not to mention getting to support local! – Rowan Sparling, Google Reviews
2. Out of the Blue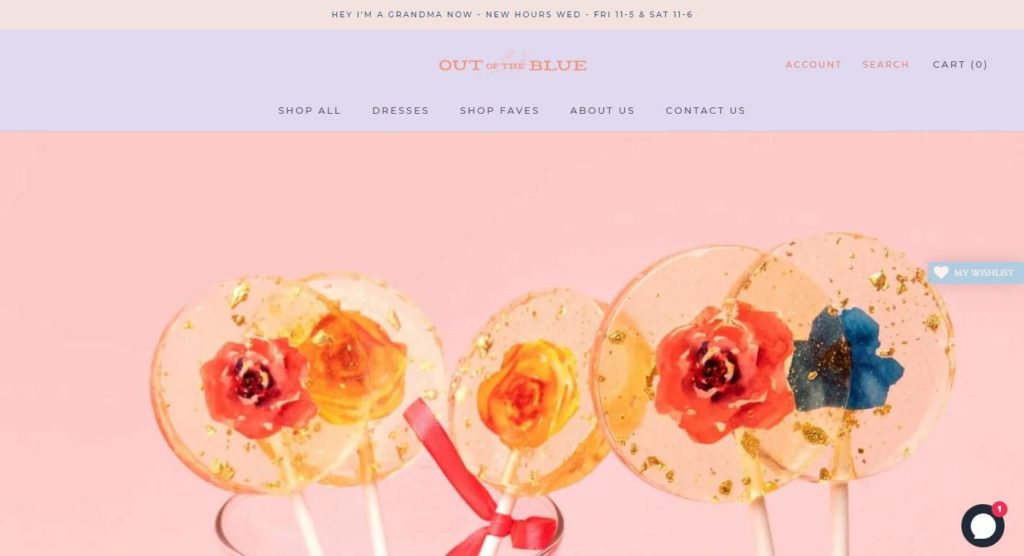 SERVICES
In-store Shopping

Online Shopping

In-store Pickup

Delivery

PRODUCTS
Clothing, Jewelry, Accessories, Home, Giftware
WEBSITE
https://outoftheblue.ca/
ADDRESS
102 Osborne Street, Winnipeg, Manitoba, R3L 1Y5
CONTACT DETAILS
Phone: 204-477–6489

E-mail: [email protected]

OPERATING HOURS
Wednesday - Friday: 11 AM - 5 PM

Saturday: 11 AM - 6 PM

Sunday - Tuesday: Closed
| | |
| --- | --- |
| Selection | ★★★★☆ (4/5) |
| Location | ★★★★★ (5/5) |
| Service scope | ★★★★☆ (4/5) |
| Price | ★★★★☆ (4/5) |
| Customer feedback | ★★★★☆ (4/5) |
Just a few steps away from our first shop, you will find another beloved little boutique store in the city — Out of the Blue. It's a locally-owned boutique with over 30 years of industry experience.
Unlike the modern, sleek look of the Style Bar, Out of the Blue has a more vintage feel, which is not limited to its physical design, but also its products.
In fact, the store started as a vintage shop in 1991 and has continued its theme today by featuring various vintage dresses, accessories, and home items.
Out of the Blue carries a wide selection of size-inclusive tops, bottoms, rompers, jumpsuits, and outerwear. It also sells bracelets, rings, necklaces, and earrings at very competitive prices.
And if you're on the hunt for more than apparel, the boutique curated a few home items and giftware you can choose from.
However, one of the things we think could be better is if the store opens longer than it does. Out of the Blue is only open 4 days a week and 6 hours a day.
So unless you free some time from work, catching it open after working hours might prove to be challenging.
Another caveat for buyers is that the store only accepts returns for store credit only. So depending on how unique your purchased item is, getting the same might not be possible.
Out of the Blue has a great online shopping system in place, but if you want a better shopping experience, definitely shop in-store. If you're not hooked on its products, you will be with its wonderful staff!
Vintage and modern selection
Wide variety of items
Friendly and knowledgeable staff
Short opening hours
Limited return option
Customer Reviews
Unique selection
Best shop in Winnipeg! Wendy and her staff curate the loveliest, most unique selection. Mixing vintage & contemporary looks, size-inclusive, with something cool for everyone. I shop here with my teen daughter, for my work clothes, for special occasions, gifts for friends, and even with my mom. The nicest part of this shop is they get to know their customer's personal tastes, take care in suggesting pieces you will truly love, and make you remember why you love fashion! – Caitlin Turner, Google Reviews
Great experience
I managed to find not one but TWO pairs of cute and super comfy pants here, and their sizing system actually makes sense!! There aren't too many options that you have to go through a bunch of filler to find something you like, but enough choice so you can fit items to your style. Staff are all lovely and knowledgable, great atmosphere. Also if you're looking for cute wall decor this is the place!! – Finnen Volt, Google Reviews
3. Valencia Boutique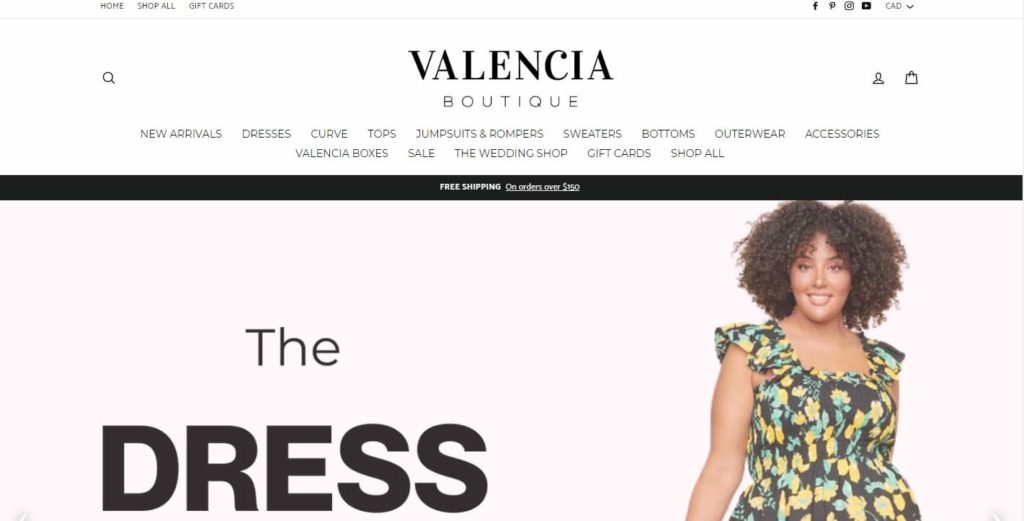 SERVICES
In-store Shopping

Online Shopping

CurbsidePickup

Delivery

PRODUCTS
Clothing

Accessories

Valencia Boxes

Wedding Clothes

WEBSITE
https://shopvalencia.ca/
ADDRESS
10-725 Corydon Avenue, Winnipeg, MB. R3M0W4
CONTACT DETAILS
Phone: 204-477-1278

E-mail: [email protected]

OPERATING HOURS
Monday - Friday: 11 Am - 6 PM

Saturday: 10 AM -5 PM

Sunday: 12 AM - 4 PM
| | |
| --- | --- |
| Selection | ★★★☆☆ (3/5) |
| Location | ★★★★★ (5/5) |
| Price | ★★★★☆ (4/5) |
| Service scope | ★★★★☆ (4/5) |
| Customer feedback | ★★★★★ (5/5) |
Starting out as a simple online boutique in 2018, Valencia has evolved into a full-pledge brick and mortar store located at Corydon Avenue.
The boutique specializes in women's apparel. And if you visit in person, Valencia's pink walls and interior design will immediately tell you that it does.
But what makes the shop stand out is that it specializes in plus-size clothes. In fact, half of Valencia's clothing items are dedicated to its plus-size collection.
We also love that the shop hand-picks its products from over 75 different brands across the country. So if you're looking for something unique to wear for any occasion, you'd be sure to find one at this boutique.
In the non-clothing department, Valencia also features a plethora of accessories such as scarves, jewelry, bags, hats, sunglasses, purses, and a few self-care items.
We also like that it is open 7 days a week. This is great for those who are crunching for time to buy clothes for an event but can't do it on the weekends.
On the other hand, the only downside to being too specialized is that the boutique lacks the diversity that other shops have on this list, such as home improvement, lifestyle items, and more.
Valencia also has a 14-day return policy, so be sure to keep that in mind if returning is still on the table.
All in all, Valencia Boutique's welcoming, friendly staff, and reasonably priced items have earned it a spot on this list.
Available 7 days a week
Large selection of plus size clothing
Great customer service
Limited diversity on products
Short window on return policy
Customer Reviews
Excellent service
I went in today with high anxiety. Someone who is plus size and dress shopping can sometimes this can be a very hard experience. Chantel put me at ease within seconds.
She was able to pick out a few dresses from the back before I did a lap around the front. I ended up picking a dress. Full experience 20 minutes. I walked out smiling and laughing. Highly recommend this store!!!!! Might I also add UNDER MY BUDGET!!! – Cristine Botelho, Google Reviews
Friendly staff
I am always looking for plus-sized stores when I travel. I was so excited to find this store. I bought a beautiful dress. The staff were so welcoming and friendly. I will return next time I am in Winnipeg. – Heidi Tonin, Google Reviews
4. Danali – Men's & Women's Clothing Winnipeg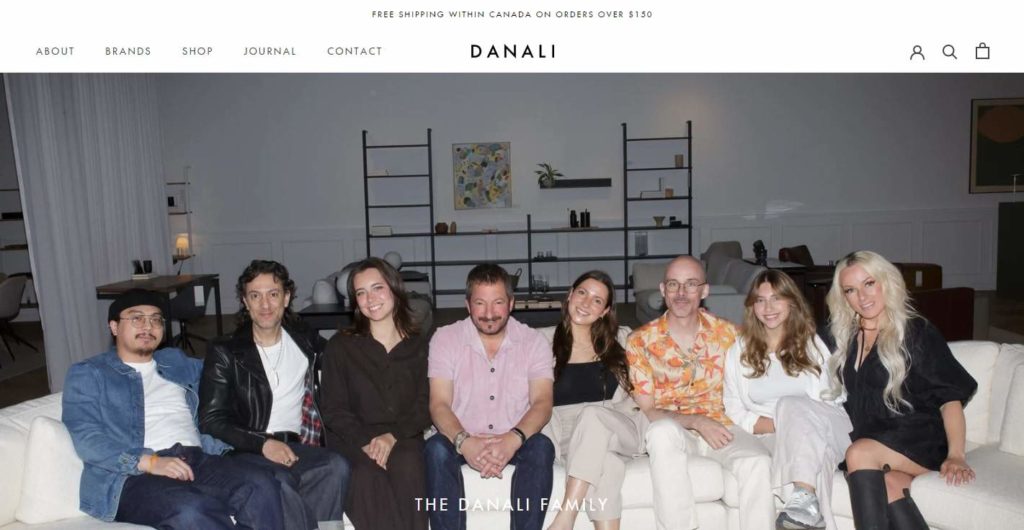 SERVICES
In-store shopping

Online Shopping

Curbside Pickup

Shipping

PRODUCTS
Men and Women Clothing

Accessories

Shoe

WEBSITE
https://danali.ca/
ADDRESS
100-530 Kenaston Blvd, Winnipeg, Manitoba R3N1Z4
CONTACT DETAILS
Phone: 204-489-0577

E-mail: [email protected]

OPERATING HOURS
Monday - Saturday: 10 AM - 6 PM

Sunday: 12 AM - 5 PM
| | |
| --- | --- |
| Selection | ★★★★☆ (4/5) |
| Location | ★★★★★ (5/5) |
| Service scope | ★★★★☆ (4/5) |
| Price | ★★★★★ (5/5) |
| Customer feedback | ★★★★☆ (4/5) |
Danali is a family-owned and operated boutique fashion store in Winnipeg with over 40+ years of history. And unlike our first few shops on this list, the boutique isn't just for women but for men as well.
Danali features a wide selection of clothing, including dresses, tops, pants, skirts, sweaters, knitwear, outerwear, suits, and shoes. It also carries various accessories, such as socks, belts, hats, scarves, ties, gloves, scarves, bags, purses, and many more.
That being said, the store prides itself on being a denim collector and lover. So if you're the same, you would definitely be right at home here.
One of the things we like about Danali is that it curates products from more than 40 different, top brands in the country. It really makes a statement as an upscale boutique.
Although it is about a 20-minute drive from the downtown area, the shop's clean and modern look and family-like customer service will definitely be worth the trip.
On the other hand, customers who like to be left alone while shopping probably wouldn't be very comfortable with the staff's avid attention. However, if you need help with your purchase, then they are more than willing to lend a hand.
In fact, the shop also offers to repair or alter your purchase should you need it — a service not common in most boutiques in the area.
Also, since Danali features top brands on its hangers and shelves, most of its products can be a little pricey. This is fine if you're looking for one or two items, but not for bulk buying.
Still, Danali's wide selection of men's and women's apparel, high-quality products, and very friendly staff make this boutique a top contender for your shopping needs.
Clothing from top brands
Available 7 days a week
Repair and alteration service
Can be a little expensive
Quite far from downtown area
Limited size-inclusive products
Customer Reviews
Personalized service
Even if I'm 2 provinces away from the boutique, I receive a personalized service from Jessie. I order Japanese jeans with my normal fit, Jessie texted me on a Saturday to tell me I should get a size bigger. She was absolutely right and the jeans fits me like a glove. Thank you so much for the great service! ❤️ – Antoine Sylvestre, Google Reviews
Positive experience
Nothing but positive experiences at Danali. Aubrey and Jessie make you feel like you're family as soon as you walk in the door. Anytime I'm asked where you can find high-quality womenswear or quality denim from the best Japanese mills, Danali is where I recommend going. – Kenny Ingram, Google Reviews
5: Anne Mulaire Boutique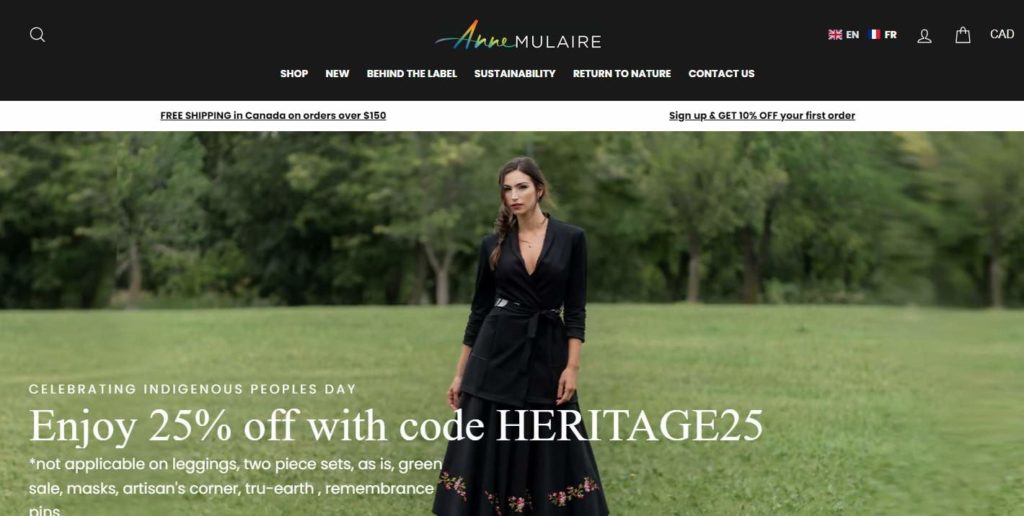 SERVICES
In-store shopping

Online Shopping

Curbside Pickup

Shipping

Alteration and Repair Services,

PRODUCTS
Clothing, Travel Essentials, Collections, Jewelry, Accessories, Cards
WEBSITE
https://annemulaire.ca/
ADDRESS
303-421 Mulvey Avenue Winnipeg, MB R3L 0R6
CONTACT DETAILS
Phone: 204-231-1433
OPERATING HOURS
Monday - Friday: 10 AM - 5 PM

Saturday - Sunday: Closed
| | |
| --- | --- |
| Selection | ★★★★☆ (4/5) |
| Location | ★★★★☆ (4/5) |
| Service scope | ★★★★★ (5/5) |
| Price | ★★★☆☆ (3/5) |
| Customer feedback | ★★★★★ (5/5) |
It wouldn't be a surprise if you have heard of Anne Mulaire Boutique. After all, it's been featured in several articles and podcast pieces by companies such as CBC, Ownr, Winnipeg Free Press, and APTN National News, just to name a few.
What makes Anne special is that it's not your ordinary fashion store. Andréanne Mulaire, founder and CEO, has turned her boutique into an environment-friendly store rich in heritage and culture.
In fact, one of the things we love about the store is that it doesn't just sell clothes, it makes them, while also incorporating the founder's Metis heritage into its designs.
But that's not all!
Because of the founder's love for nature, Anne Mulaire Boutique manufactures clothes that are eco-friendly and long-lasting, made from highly sustainable fabric materials in Canada.
The boutique features a wide selection of clothing, such as tops, jackets, vests, skirts, dresses, two-piece sets, pants, leggings, and even sleepwear. It also carries various accessories, artisan jewelry, and Tru Earth products.
However, since the boutique manufactures clothes that are made to order, it does not keep too many items in stock. This means that your options to browse and try out clothes are limited.
While that may be a little disadvantageous, you may be glad to know that you are taking part in the boutique's tenet to reduce wasteful overproduction, which is common in the fashion industry.
Also, since you are ordering from a well-known designer who uses eco-friendly fabrics, prices may be a little high compared to other stores. Still, we think that with the quality you're getting, the price is a reasonable trade-off.
However, the shop makes up for it by offering a 90-day repair guarantee if you damage your purchase in any way — something that is unheard of in any fashion boutique!
All told, Anne Mulaire Boutique is a highly rated shop with a great selection and a good cause. It is definitely worth the try!
Highly comfortable and durable clothing
Eco-friendly and highly sustainable materials
Repair and alteration services
Can be a little expensive
Clothes are made-to-order
Unavailable on the weekend:
Customer Reviews
Elegant clothing
This is the BEST clothes I have ever own. Over the years I have bought many pieces and have managed to fill my wardrobe with this comfy & sustainable brand. Bought my first Isabelle dress over 6 years ago and it still looks like new. I use it A LOT! Their pieces are elegant and casual at the same time, it is weird and I don't know how they manage to do this! I can use the same pair of pants to work, relax at home, or working out. LOVE Anne Mulaire Boutique and I can't wait to buy my next piece!- Mayra Morales, Google Reviews
Top quality products
I really love the quality of the clothing I've ordered from Anne Mulaire! I started shopping here at craft sales when the brand went by a different name but the quality has continued to be excellent with great colours, styles, and of course fit! I love how the garments last a very long time. I also love the unique bamboo cotton blend fabric that is used. Additionally, I'm really happy with the zero waste collection and have enjoyed the two face masks I purchased that fit great and look great as well! – Ali Grotkowski, Google Reviews
FAQs About Boutique Stores
---
Choosing the right boutique fashion store is not that simple. And just like finding the right clothes, it can be very personal and time-consuming.
But as it is with clothes, nothing beats the joy when you finally find the perfect fit. Have you found yours?