The 4 Best Embroidery Shops in Winnipeg
Are you on the hunt for a business doing embroidery work on shirts, jackets, caps, bags, and other merchandise? You've come to the right place.
We found the best embroidery shops in Winnipeg offering personalized embroidery and digitizing work and high-quality craftsmanship for your personal or business needs.
How much do embroidery services cost in Winnipeg?
There are a lot of factors that can affect the price of embroidery services in Winnipeg. These include the design, thread colours, number of stitches per garment, merchandise type, and quantity of items to be embroidered.
Some embroidery shops also charge a digitizing fee for the use of their computer software to design the logo or image that will be stitched onto the merchandise.
Here are price ranges for common embroidery services in Winnipeg:
| Embroidery Service | Price Range |
| --- | --- |
| Digitizing Fee | $20 - $30 |
| Two-Colour Graphics | $5 - $10 per merchandise |
| Per 1,000 Stitches Rate | $45 - $65 |
| Direct Embroidery/ Patch Embroidery | $10 - $30 per merchandise |
Best Embroidery Shops in Winnipeg
We rounded up the best embroidery shops in Winnipeg and assessed each of them according to the following criteria:
1. A Brick Shirt House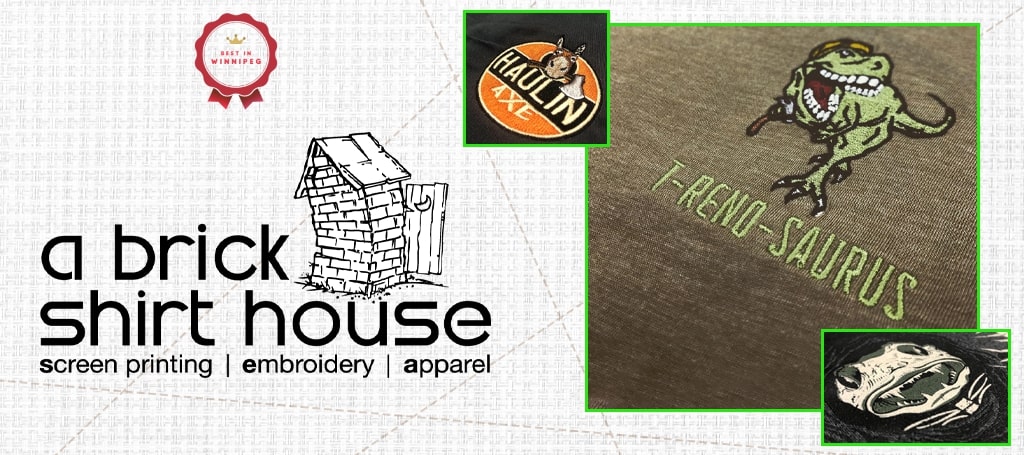 | | |
| --- | --- |
| Personalized service | ★★★★★ (5/5) |
| Embroidery quality | ★★★★★ (5/5) |
| Turnaround time | ★★★★☆ (4/5) |
| Pricing | ★★★★★ (5/5) |
A Brick Shirt House is one of the prime embroidery shops in Winnipeg, being a go-to place for large-scale screen printing and embroidery needs for over two decades.
It accommodates a diverse clientele, from individuals looking to embroider shirts to give as gifts to businesses creating merchandise for its staff or customers.
We appreciate how flexible the shop is when it comes to client needs. Its services are highly customizable depending on the specifications and preferences of your business.
We also like that the staff is highly knowledgeable in their trade and provides clear advice to clients on design, size, or logo placements. This was our experience with them.
In our opinion, A Brick Shirt House is fantastic when it comes to communication. From the get-go, the staff provides information about the expected date of completion and total price — and delivers right on target!
Before you pack your merchandise and head over to A Brick Shirt House, however, you should know that the shop only embroiders on garments that they supply. Normally, they don't work on items from other suppliers, but can give exceptions at an extra cost.
Currently, the shop has a turnaround time of 10 to 15 business days and longer during peak seasons. While we think that's a long time to wait, it's understandable considering that A Brick Shirt House is not a high-production establishment.
Caters to a diverse clientele 
Customizable embroidery services 
Excellent communication throughout the project timeline 
Does not accept garments from other suppliers 
Turnaround time can be shorter 
Customer Reviews
Passionate staff and excellent customer service
Rich is fantastic! He is passionate about his work and quality is ALWAYS number 1! We use A Brick Shirt House Inc. for all of our company swag and have never been let down. Hats, jackets, hoodies, shirts, toques, you name it he does it and does it really well!
FYI – Rich also does amazing design work as well. – T M
Helpful staff and high-quality embroidery work
We purchase all of our clothing for our business from Rich. Pricing is extremely reasonable, clean welcoming show room with lots of sample products on display to choose from. Rich is super helpful with design suggestions and I'm always pleased with the outcome. Best in the business in my opinion ! Check him out for sure. – Sara Smith
2. CSP Embroidery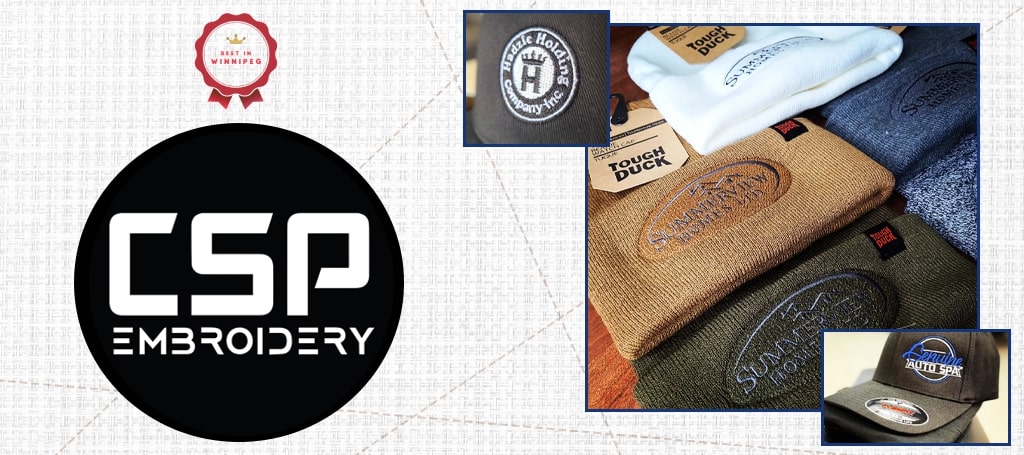 SERVICES
Embroidery
WEBSITE
https://cspcandoit.com/
ADDRESS
107-1505 Molson St. Winnipeg, MB R2G 4L3
CONTACT DETAILS
Phone: 204-880-6394
OPERATING HOURS
Monday - Thursday: 9:00 AM - 4:00 PM

Friday: 10:00 AM - 3:00 PM
| | |
| --- | --- |
| Personalized service | ★★★★☆ (4/5) |
| Embroidery quality | ★★★★★ (5/5) |
| Turnaround time | ★★★★★ (5/5) |
| Pricing | ★★★★★ (5/5) |
CSP Embroidery supplies Winnipeg with apparel and other merchandise embroidered with logos and graphics. It has a collection of garments from reputable companies, including Canada Sportswear and The Authentic T-Shirt Company.
We like its network of brands, which gives us the confidence that their garments are high-quality. The range of different merchandise is also vast enough to suit the needs of any business and purpose.
Despite that, however, we still think our options are quite limited, given that we only have a select number of brands to choose from. The shop doesn't seem to accommodate embroidery work on merchandise from other suppliers either.
There's no guarantee that you'll find the shirts, garments, or other items that suit your unique preferences. But if you're not too particular about things like cotton quality or fit, then CSP Embroidery's collection will suffice.
When it comes to craftsmanship, the embroidery work is good, with bright thread colours and clear text — save for some threadwork surpassing margins here and there.
Although the embroidery work is not as polished as we'd like, the shop's prices are among the most affordable in the market. Couple that with its quick turnaround time and great customer service, you'll still be getting your money's worth.
Partnered with reputable brands 
Wide range of merchandise options 
Affordable prices  
Limited selection of brands 
Craftsmanship not as polished 
Customer Reviews
Great customer service and fast turnaround time
Rick's customer service is fantastic! I had asked to have a few shirts done for me on short notice and he had them ready for me in no time! Great products and affordable, I will definitely go back! – Cesaria D'Achille
Good quality products and fair pricing
Quality work, easy to work with and extremely fair pricing. We trust them with all of our corporate promo gear and wear. – Martin Pacak
3. Boss Embroidery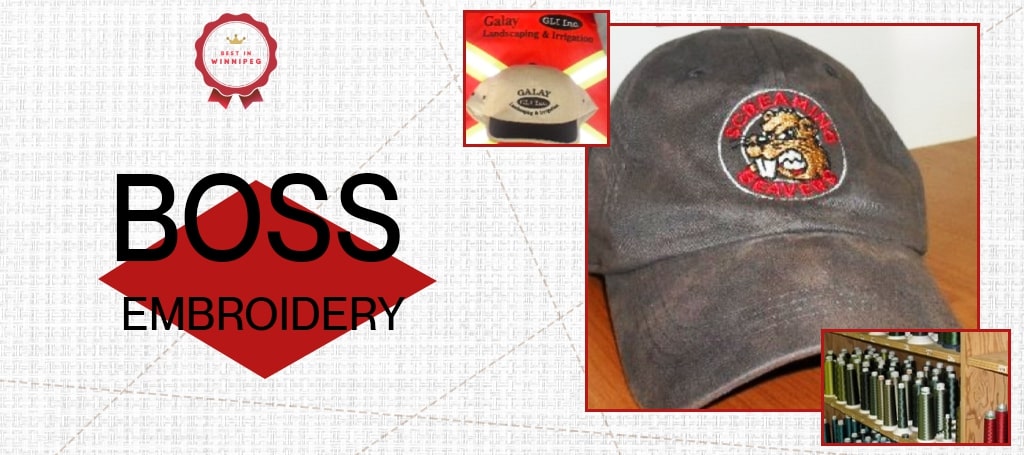 | | |
| --- | --- |
| Personalized service | ★★★★☆ (4/5) |
| Embroidery quality | ★★★★★ (5/5) |
| Turnaround time | ★★★★★ (5/5) |
| Pricing | ★★★★☆ (4/5) |
Boss Embroidery is a favourite among business owners in Winnipeg — and for good reason. They bring the elements of a good embroidery service to the table, from timeliness, quality, and affordability.
The shop, in fact, is known for producing work the fastest among others of its kind. We've seen them deliver in as fast as 24 hours in multiple instances!
The hallmark of an embroidery business is attention to detail, which is something the staff at Boss Embroidery exemplify. It can take on any embroidery project, big or small, and deliver a high level of quality throughout.
What we really like is the honesty of the staff. They don't sugarcoat the quality you can expect nor do they overpromise on delivery time.
What they present to you from the get-go is what you get, which is why a lot of companies trust Boss Embroidery.
Although we really like the overall service and outcome the shop is able to deliver, we'd be remiss not to mention how difficult it was to reach them.
Their website takes forever to load and we didn't get a straight answer from their phone representative. If you need to inquire, you'd have to allocate a portion of your day to actually visit the shop and talk to a staff member in person.
In this day and age, that's not going to cut it, especially for potential customers who are busy and don't have the luxury of time to head to the shop to get a simple answer to a simple question.
Can accommodate rush projects 
Knowledgeable staff 
Attention to detail 
Website takes long to load 
Difficult to reach them through phone 
Customer Reviews
Fast turnaround time and quality work
These guys are amazing. I Had a last minute Halloween/Wedding party in Minneapolis that I had no notice, I needed a custom security shoulder patch for my costume (paul blart mall cop). Not only did they get it done for me with 1 day notice, but it came out absolutely amazing. That's not all, when I told them I was having trouble finding the right shirt, they got on the phone and called one of there customers and found me the exact shirt I needed. These are the people you WANT to deal with. If I could give a rating higher than 5 stars I would. Thanks again guys!!! – Brad B
Excellent customer service
Wonderful customer service and attention to detail. Highly recommended, a pleasure to work with. – Mark Zachanowich
4. Action Apparel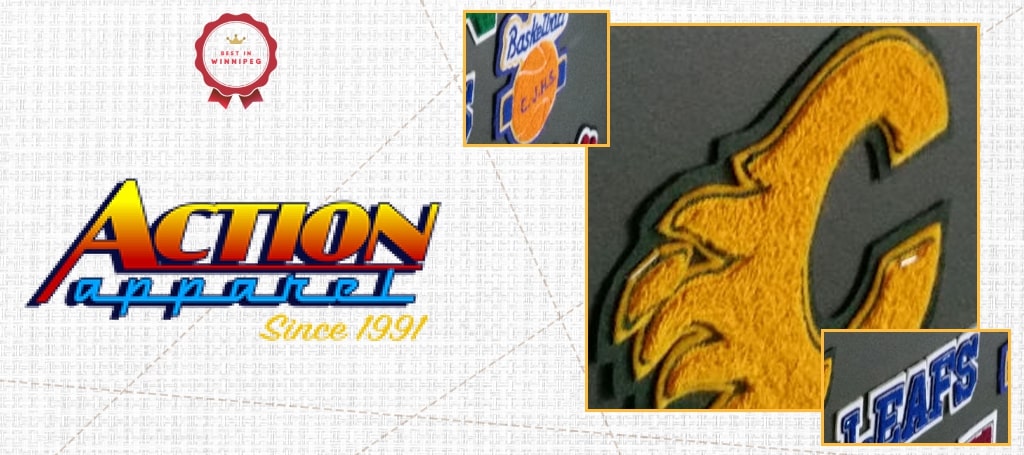 | | |
| --- | --- |
| Personalized service | ★★★★☆ (4/5) |
| Embroidery quality | ★★★★★ (5/5) |
| Turnaround time | ★★★★☆ (4/5) |
| Pricing | ★★★★☆ (4/5) |
Action Apparel creates some of the most beautiful embroidery pieces we've seen to date. The stitches are neat and polished — a testament to the shop's years of experience in the business.
The shop has a broad catalogue, able to embroider any merchandise, from company uniforms to bags and pants. Its selection of garments is not so bad either, offering everything from regular t-shirts to sports jerseys.
We think it's a long shot for you not to find what you need in Action Apparel's collection of merchandise. But if you have very unique and specific requirements or preferences, you may be better off finding your own supplier.
Because the shop is run by a father and daughter duo, we do have some concerns about turnaround time. A business like this can get busy, so this small shop may not be for you if you're expecting the project done in a short timeframe.
But if you don't mind waiting, Action Apparel is the place to go. Its turnaround time is forgivable considering the quality of embroidered merchandise you get — not to mention the excellent customer service they deliver too.
Price-wise, we think the costs of its services are right, especially if you look at the figures side-by-side the quality of the outcome the shop can yield.
High-quality embroidery 
Broad catalogue of merchandise 
Good customer service 
Long turnaround time 
Can be more responsive to emails 
Customer Reviews
Excellent customer service
Great customer service from first contact, to final delivery. Happy to support this hard working company. – Cleve Tune
Good quality embroidery
We recently got our clothing and hats done with our logo for our business with you. They look fabulous, thank you so much. The quality is great! Now our employees and owners will look great too! – Brito Yard Services
FAQs about Embroidery Services in Winnipeg
---
These embroidery shops in Winnipeg have the highest level of craftsmanship and can deliver custom embroidery work fast and for a good price.
If you are looking for more services for your business merchandise, check out our guide to the best printing services in Winnipeg.