The 5 Best Car Parts Vendors in Winnipeg
Picture this, you're out on your daily drive, and suddenly you hear a peculiar noise hissing from within your vehicle. Next thing you know, you're stuck on the side of the road, clueless and pondering what might be wrong with your car.
Vehicular breakdowns can happen anytime, and it's critical to know the ins and outs of your car as well as the best car parts and service centers near you to remedy your unfortunate circumstance.
This article will detail the most reliable car parts suppliers in Winnipeg. We will break down the things that will help you navigate the world of automotive repair as well as search for the right parts and experts that can help you out.
This guide isn't exclusive to automotive repair and car parts. This will also be a handy guide for car enthusiasts who are looking for the top stores for great tune-ups.
How much do car parts cost in Winnipeg?
Prices of cars have skyrocketed in Canada for various reasons. The pandemic left the globe in a state of economic instability, and several industries directly affecting the automotive industry also suffered a huge hit.
An increase in the cost to acquire products and services led to a general increase in the price of consumer goods in Canada. Add to that shortages in spare parts that have made it difficult to access proper auto care.
Fortunately, the province of Manitoba continues to be a haven for car owners due to low gas prices and cheap insurance policies. Unsurprisingly, many of its residents are happy to own cars due to these perks.
As economic conditions continue to remain unstable, car owners need to be wary of price fluctuations in the automobile and automotive repair industry. The list below details the average cost of some essential car parts.
Remember that these are not hard and fast figures and are therefore subject to change depending on the national and global economic climate.
| Product/Service | Average Estimated Cost |
| --- | --- |
| Spare Tire | $65 - $380 |
| Car Battery | $60 - $310 |
| Oil Filter | $10 - $40 |
| Air Filter | $20 - $40 |
| Spark Plugs | $10 - $20 |
| AC Compressor | $300 - $800 |
| AC Condenser | $150 - $400 |
| Brake Pads | $50 - $110 |
| Timing Belt | $50 - $300 |
| Starters | $180 - $270 |
| Alternators | $80 - $350 |
These prices will, of course, also vary depending on many factors including your vehicle's make, brand, and age and, of course, the part's availability.
The Best Places to Buy Car Parts in Winnipeg
There are a ton of car parts vendors in Winnipeg, but we've narrowed our list down using the criteria below to determine the top automotive stores in Winnipeg:
1. PartSource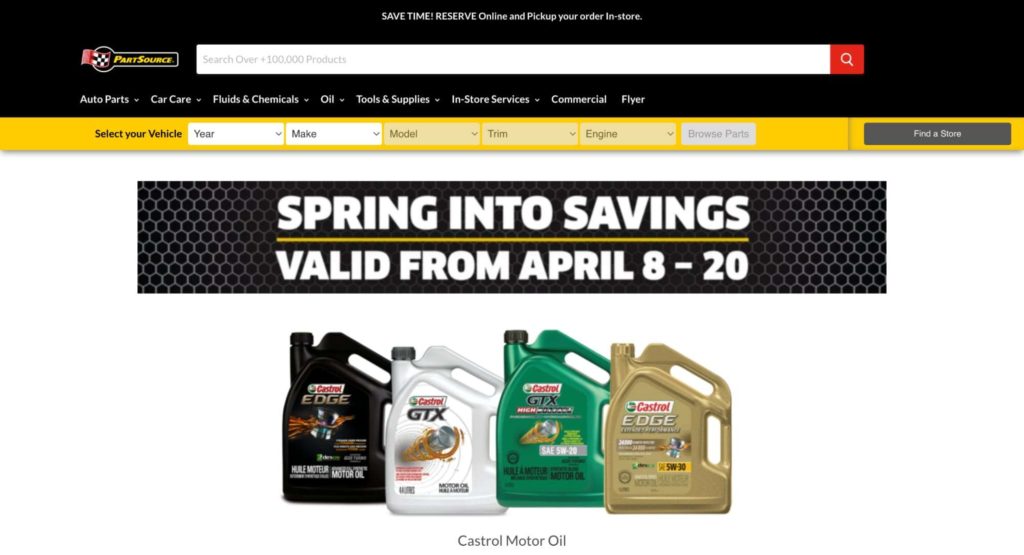 PRODUCTS
Brake Rotors, Brake Pads, Car Batteries, Engine Oil, Engine Filters, Wiper Blades, Headlight Bulbs, Cabin Air Filters, Oxygen Sensors, Exhaust and Muffler Assemblies, Alternators and Starters, Cleaning and Detailing Supplies, Custom Floor Mats, Cargo Liners, Car Care, Fluids and Chemicals, Oil, Tools and Supplies
WEBSITE
https://www.partsource.ca/
ADDRESS
2356 McPhillips St, Winnipeg, MB R2V 4J6, Canada 1550 Regent Ave W, Winnipeg, MB R2C 3B4, Canada 45 Isabel St, Winnipeg, MB R3A 1E7, Canada 2550 Portage Ave, Winnipeg, MB R3J 0N8, Canada 1969 Bishop Grandin Blvd., Winnipeg, MB R2M 5S1, Canada
CONTACT DETAILS
McPhillips Street: Phone: 204-334-2880

Regent Avenue: Phone: 204-667-9137

Isabel Street:Phone: 204-944-8642

Portage Avenue: Phone: 204-888-8370

Bishop Grandin Boulevard: Phone: 204-253-2361

Email: [email protected]

OPERATING HOURS
Monday to Friday: 9:00 AM - 7:00 PM

Saturday: 9:00 AM - 5:00 PM

Sunday: 10:00 AM - 5:00 PM
| | |
| --- | --- |
| Criteria | Rating |
| Accessibility | ★★★★★ (5/5) |
| Range of Products and Services | ★★★★☆ (4/5) |
| Variety of Products | ★★★★★ (5/5) |
| Service Center | ★★★☆☆ (3/5) |
| Customer Service and Support | ★★★★★ (5/5) |
| Responsiveness | ★★★★★ (5/5) |
| Online Support | ★★★★☆ (4/5) |
| Website Navigability | ★★★★★ (5/5) |
PartSource is not your everyday car parts store. It's part of a larger group of companies called the Canadian Tire Network of the Canadian Tire Corporation.
Access to this large network has given PartSource access to over 300,000 assorted car parts in its inventory. It has been in operation since 1999 and has since established over 90 specialty stores manned by automotive experts across Canada.
Today, PartSource is considered one of Canada's top sources of aftermarket car parts. They are most known for their very competitive pricing model that matches the prices of their products with the nearest competitors in the store's vicinity.
They also have a very efficient online platform that's a breeze to navigate. They have a very organized catalog of products, and you are also free to customize your search such that you get parts compatible with your vehicle.
A huge perk clients get with PartSource is the large number of branches spread across the country that are all open 24/7. This makes PartSource a very reliable and accessible partner for any and all vehicular needs.
It's noteworthy, however, that PartSource specializes in car parts distribution and installation. As such, they do not service cars for regular maintenance, though they offer some free in-house services such as free battery testing and wiper installations.
Offers some in-house car services
Huge online catalog
Multiple branches sprawled across Canada
User-friendly website
Open on weekends
Accepts in-store product trials
Allows tool loans for home mechanics
Only offers aftermarket parts
Lacks a service center
Customer Review
A professional staff that's on par with industry giants
Much better than BIG NAMES places. Professional staff knew exactly what I needed, had everything in stock, cheaper than in other places and they work on Sundays. Very happy customer. Strongly recommend this place. – Ilya Kolomeyets
They've got it all, from spare parts to speedy service
This particular store has everything you need in terms of parts (good stock} also they can obtain missing items same day (at least from my experience on several occasions). The staff was very helpful and knowledgeable. Quality parts and the best part is you can borrow the tools needed free of charge. I give them hands-on 5 stars. – India Vibes
2. CTR Auto Parts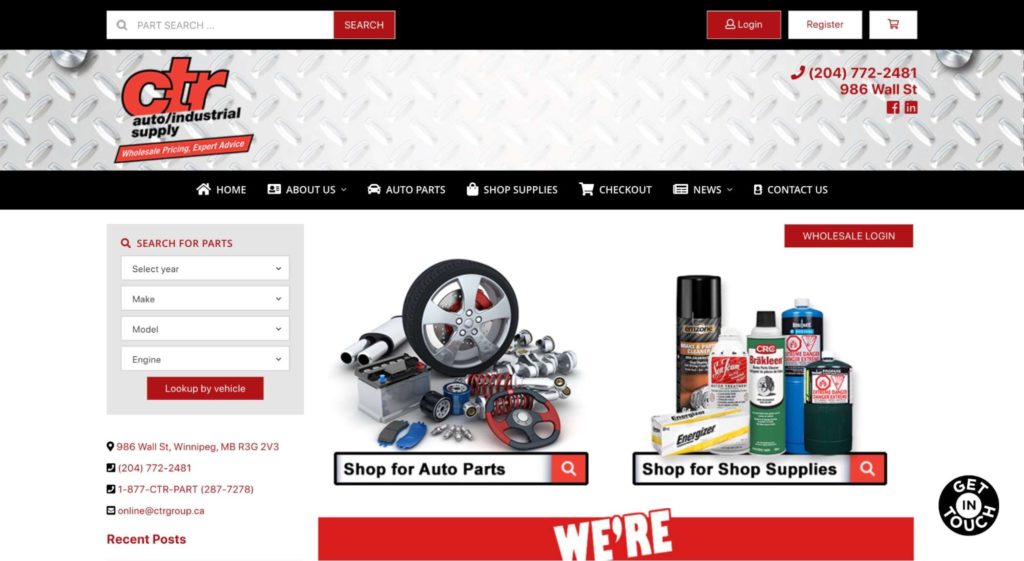 PRODUCTS
ATV Parts and Accessories, Abrasives, Auto Body Repair, Automotive Accessories, Bearings and Seals, Belts and Hose, Cargo Control Parts, Chemicals and Paint, Displays, Electrical Accessories, Exhaust and Accessories, Farm Hardware, Fasteners and Hardware, Truck and Trailer Parts, Hydraulics and Fittings, Sanitation, Lighting, Marine Parts and Accessories, Material Handling, Oil and Lubrication, Outdoor Power Equipment Parts, Pneumatics, RV Parts and Accessories, Safety Equipment, Tires and Wheels, Tools and Equipment, Tractor Parts, Welding Equipment, Windship Wipers
WEBSITE
https://ctrautoparts.ca/store/portal/
ADDRESS
986 Wall St, Winnipeg, MB R3G 2V3, Canada
CONTACT DETAILS
Phone: (204) 772-2481 1-877-CTR-PART (287-7278)

Email: [email protected]

OPERATING HOURS
Monday to Friday: 7:30 AM - 5:30 PM

Saturday: 8:30 AM - 1:00 PM

Sunday: Closed
| | |
| --- | --- |
| Criteria | Rating |
| Accessibility | ★★★☆☆ (3/5) |
| Range of Products and Services | ★★★☆☆ (3/5) |
| Variety of Products | ★★★★★ (5/5) |
| Service Center | ☆☆☆☆☆ (0/5) |
| Customer Service and Support | ★★★★★ (5/5) |
| Responsiveness | ★★★★★ (5/5) |
| Online Support | ★★★★☆ (4/5) |
| Website Navigability | ★★★★★ (5/5) |
CTR is another large supplier of automobile parts and supplies. The business has already served Winnipeg for over 50 years and has a team of over 85 automobile experts.
CTR Auto Parts is the only vendor on this list that supplies a collection of trucking and trailer parts as well as heavy industrial equipment. Their clientele is not limited to the average car owner but other businesses and trucking corporations as well.
Unfortunately, CTR Auto Parts only has a single branch. However, the business makes up for it by having a large fleet of trucks and delivery vehicles that allows them to ship out their products with ease.
Though they market themselves as having wholesale prices, products listed in their online catalog are priced at a premium and are above average in the parts market.
Their online catalog is very convenient to use. You are allowed to filter your search based on the make and model of your car.
This enormous catalog offers a wide range of brands and models to choose from and guarantees you a part that's suitable for your vehicle.
The store also prides itself on being able to supply and source hard-to-find car parts thanks to its experienced team of car experts and motor enthusiasts.
Products include a wide range of automobile and industrial equipment
Easy-to-navigate website
Single branch in Winnipeg
Above-average product prices
Customer Review
An expert and responsive crew that's eager to help
Always like dealing with CTR, always has the lower price than most places around. And they know their stuff. As someone who isn't mechanically inclined, it's nice and refreshing when you can call the parts place and get people who are in the know and have knowledge of it all. They are always happy to help you even with just a quote. I've never had a bad experience with them and I got there for all my car parts. – Gabriel Nadeau
Goes above and beyond the call of duty
This is one of the best places to deal with. All of their staff is very knowledgeable and go beyond their limits to help you out. We have purchased a few APU for trucks. Everything from purchasing to installation was phenomenal. Thank you to Trish, Merv & Ethan. We forward to a long and fruitful relationship between our business. – United Dhillon Truck Lines Inc.
3. Napa Auto Parts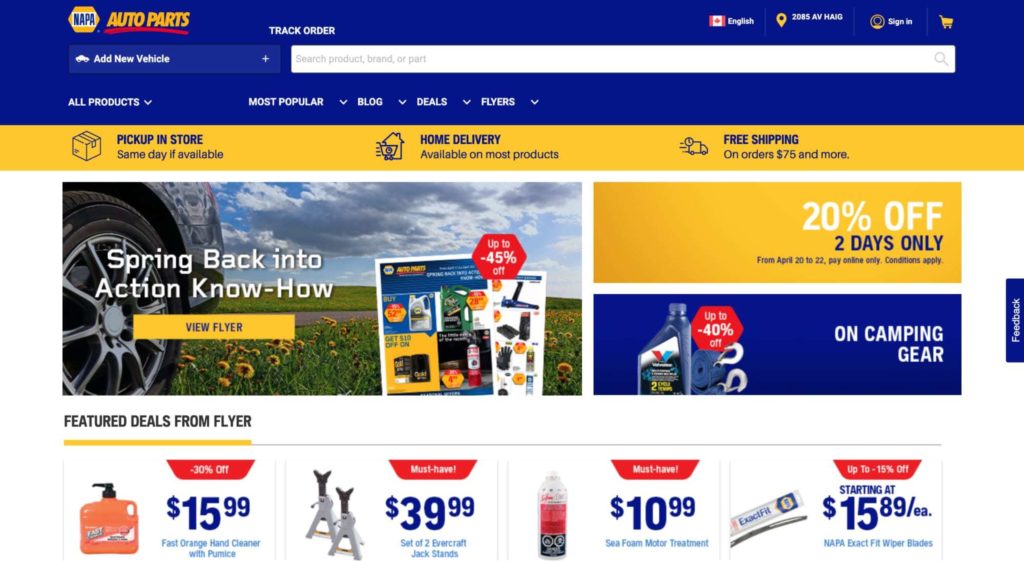 PRODUCTS
Air Brakes, Alternators and Starters, Batteries, Bearings and Seals, Belts, Hoses, Pulleys and Tensioners, Brakes, Climate Control, Drivetrain, Engine Heating and Cooling, Engine Parts and Gaskets, Exhaust, Exterior Accessories, Exterior Parts, Filters, Fuel and Emissions, Gaskets and Seals, Hybrid and EV, Ignition and Engine Management, Interior Accessories, Interior Parts, Lighting and Electrical, Performance Parts, Performance and Custom Accessories, Steering and Suspension, Tire Wheels and Accessories, Towing and Trailering, Transmission, Wipers and Windshield Products, Oils and Chemicals, Paint and Body Tools, Marine Power Sports and RV Parts, Farm and Fleet Parts
WEBSITE
https://www.napacanada.com/en/mb/winnipeg/store/1000410
ADDRESS
77 Panet Rd, Winnipeg, MB, R2J 0S1, Canada 1777 Ellice Ave, Winnipeg, MB, R3H 0B4, Canada 1717 Pembina Highway, Winnipeg, MB, R3T 2G6, Canada
CONTACT DETAILS
Phone: (204) 925-9885
OPERATING HOURS
Ellice Avenue:

Monday to Friday: 8:00 AM - 6:00 PM

Saturday: 8:00 AM - 5:00 PM

Sunday: 10:00 AM - 4:00 PM

Panet Road and Pembina Highway:

Monday to Friday: 8:00 AM - 5PM

Saturday and Sunday: Closed
| | |
| --- | --- |
| Criteria | Rating |
| Accessibility | ★★★★★ (5/5) |
| Range of Products and Services | ★★★★★ (5/5) |
| Variety of Products | ★★★★★ (5/5) |
| Service Center | ★★★★★ (5/5) |
| Customer Service and Support | ★★★★★ (5/5) |
| Responsiveness | ★★★★★ (5/5) |
| Online Support | ★★★★★ (5/5) |
| Website Navigability | ★★★★★ (5/5) |
Napa Auto Parts is an automotive repair industry veteran that has been in operations since 1926. Since the company's founding, it has become one of the largest auto parts suppliers in North America with over 6,000 branches operating across Canada and the United States.
Napa is the only vendor in this list to have created its private brand of car parts, namely NAPA, UltraPro, UltraCraft, and BodyPro—all of which have been recognized for their affordability and quality.
The number of branches they have operating as well as their huge catalog of products can guarantee its clients the parts they need. Napa is also home to several automobile experts and enthusiasts that can instruct and help clients with their vehicle needs.
Their services are not limited to automobile parts. Napa Auto Parts houses a service center where they manage and perform regular automobile maintenance, customizations, and tune-ups for its clients.
Similar to the other vendors on this list, Napa Auto Parts only offers aftermarket products. Although the store claims that its items comply with or even surpass OEM part standards.
Though they have a service center, their website also contains a lot of valuable resources that instruct car owners on how to do basic car repair and parts replacements. As a bonus, their website is not at all difficult to navigate, and these resources—as well as their products, services, and promos—are very easy to access.
Large assortment of car parts
Website contains helpful resources
Some branches open on weekends
Offers automotive repair and service
Multiple branches across Canada
Offers aftermarket products only
Some branches closed on weekends
Customer Reviews
A store worth coming back to
I have purchased auto and truck parts and tools from this location several times. The other day I had to return some parts I had purchased to repair my wife's car. The parts had been purchased in the summer of 2018…..the Manager examined the parts and processed my return for a full refund. I told him I would be back to buy from this store again!!! I was very impressed and pleased with the customer service I received!!! – Mark Lubosch
A very accommodating and thoughtful staff
Not only did they have the proper parts on hand for our 1986 Ford CTV Motorhome, but they also allowed us to repair it in their parking lot. The kind and friendly service didn't stop behind the counter as they brought our dogs a bucket of cold water for them to enjoy as we worked in the hot heat!. Thank you so much Chris and the gang, our adventure is back up and going! – D. Davidson
4. Direct Automotive Inc.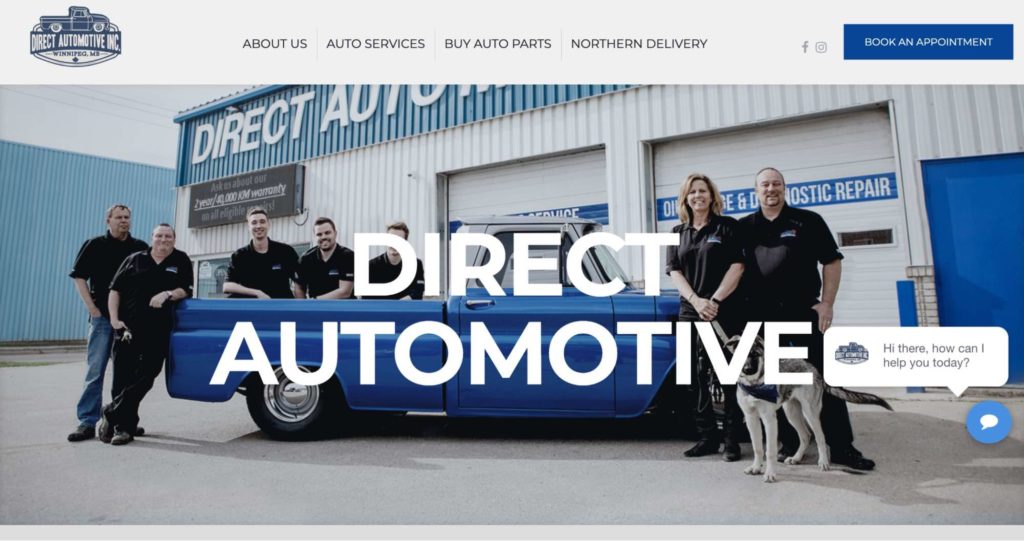 PRODUCTS
Auto Repair, Tune-Up and Maintenance Services, Brakes Parts and Wheel Bearings, Chassis and Steering Parts, Engine and Drivetrain Parts, Electric Parts and Filters, Exhaust, Clutch, Belts and Cooling Parts, Climate Control Parts
WEBSITE
https://directautomotiveinc.ca/
ADDRESS
673 Wall St, Winnipeg, MB R3G 2T6, Canada
CONTACT DETAILS
Phone: 204-786-2000
OPERATING HOURS
Monday to Friday: 7:30 AM - 5:00 PM

Saturday, Sunday and Holidays: Closed
| | |
| --- | --- |
| Criteria | Rating |
| Accessibility | ★★★☆☆ (3/5) |
| Range of Products and Services | ★★★★★ (5/5) |
| Variety of Products | ★★★★★ (5/5) |
| Service Center | ★★★★★ (5/5) |
| Customer Service and Support | ★★★★★ (5/5) |
| Responsiveness | ★★★★★ (5/5) |
| Online Support | ★★★★★ (5/5) |
| Website Navigability | ★★★★☆ (4/5) |
Unlike the other entries on this list, Direct Automotive Inc. is a small family-run car parts center in Winnipeg. Its owners have been in the automotive industry since the 1950s, and the store is currently under the management of the family's second generation.
Since it's a small family store, it only operates a single branch in the town of Winnipeg—limiting its accessibility to its clients. The store makes up for this with services like curbside pick-ups and free delivery to certain areas in Northern Canada.
For a small store, Direct Automotive Inc. houses an impressive catalog of assorted car parts compatible with a wide range of vehicle makes and models.
Their website's catalog is a breeze to use and browse through. Each part is neatly categorized based on its compatibility with a car's make and model and subcategorized based on its use for the vehicle.
Direct Automotive also offers additional support for DIY car experts. They have their lines open to consult customers about their specific needs and how they can perform their own repairs quickly and efficiently, though it would have been helpful if they have an online resource clients can constantly refer to.
A stand-out offer that Direct Automotive gives that sets it apart is its wide range of automotive repair services. Their website lists a collection of essential car maintenance services such as oil changing, routine check-ups, tire, wheel, and brake services, and major mechanical repairs.
Offers a multitude of car parts, repair, and tune-up services
Houses a service center
No added charge for shipping to northern regions of Canada
Single branch in Winnipeg
Closed on weekends
Customer Reviews
An affordable place for high-quality parts and service
I've been buying parts from these guys for the past 10 years. When comparing to other suppliers in the city I have found Direct Auto to be significantly more affordable for the same quality parts.
Even when shopping online for parts I have found Direct to be very comparable. When I've had to get them to bring parts in from the warehouse they can get them in under 1 hour. Very knowledgeable staff as well. Highly recommend. – James Macey
Quick and reliable service
Absolutely incredible service!! I brought in my car because it had major issues. They fixed it all up and went above and beyond with everything!! Such a huge difference from another absolutely useless shop I went to before…the service with these guys was much faster, they kept me up to date, and my car runs BEAUTIFULLY now!!! I'm so happy I went with these guys at Direct Automotive. – Ofer Mogilnicky
5. Aime's Auto Parts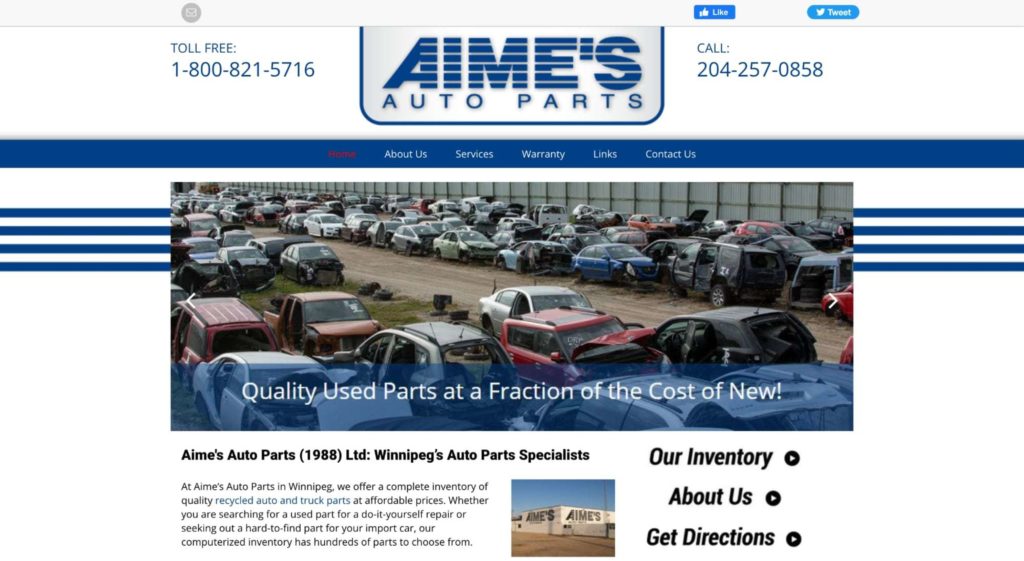 PRODUCTS
Airbags, Alternators, Auto Air Conditioning, Auto Glass, Auto Parts, Auto Tires, Body Panels, Bumpers, Car Parts, Control Modules, Doors, ECMs/BCMs, Gas Tanks, Fuel Pumps, Grilles, Motors and Engines, Parts Locating Service, Radios, Starters, Taillights and Headlights, Tires, Transmissions and Differentials, Truck Parts, Wheel Covers, Wheels and Various Other Car Parts
WEBSITE
https://www.aimesauto.ca/
ADDRESS
15 Aimes Rd, Winnipeg, MB, R3X 1V4
CONTACT DETAILS
Main 204-257-0858 Toll-Free 1-800-821-5716 Toll-Free 1-855-378-8401 Fax 204-253-8499 [email protected]
OPERATING HOURS
Monday to Friday: 8:00 AM - 5:30 PM

Saturday and Sunday: Closed
| | |
| --- | --- |
| Criteria | Rating |
| Accessibility | ★★★☆☆ (3/5) |
| Range of Products and Services | ★★★☆☆ (3/5) |
| Variety of Products | ★★★★★ (5/5) |
| Service Center | ☆☆☆☆☆ (0/5) |
| Customer Service and Support | ★★★☆☆ (3/5) |
| Responsiveness | ★★★☆☆ (3/5) |
| Online Support | ★★★☆☆ (3/5) |
| Website Navigability | ★★☆☆☆ (2/5) |
Aime's Auto Parts is certainly a stand-out among the vendors on this list. They are the only store that exclusively offers recycled car parts, salvaged from pre-owned vehicles.
Its initiative to use and distribute recycled products has earned Aime's Auto Parts a membership in the Automotive Recyclers of Manitoba, the Automotive Recyclers of Canada, and the Automotive Trades Association of Manitoba.
Their business model is, without a doubt, sustainable, though this comes with the cost of products being possibly defective. However, many of the items they carry are OEM products, so a good product from their shelves can guarantee you an efficient and fully compatible piece for your car.
Before purchase, Aime's Auto Parts also offers free testing to ensure that its clients receive a working product and offer an additional 90-day replacement warranty in case a product malfunctions.
However, their website design falls flat with a confusingly designed online inventory. Aime's Auto Parts did not include a list or catalog of their specific products nor do they explicitly state the price of their items.
For clients to access their products, they first need to submit an online request that can take hours or days to process. Though they have a good reputation for sustainability, they could further improve their online presence by making their products and services more visible and transparent.
Salvages recycled automotive and light truck parts
Offers a wide variety of specific makes and models
Offers 90-day warranty
Quality is not guaranteed
Difficult to navigate the website and online inventory
Online store is not user-friendly to inexperienced car owners
Customer Reviews
Customer service and deals that are worth going back to
Had exactly the part we were looking for, was fantastic to deal with on the phone and in person. Although this is over 2 hours from home, we will DEFINITELY use them again for our car part needs! Thank you so much!! – Alice Potter
Very responsive and accommodating staff
With very short notice, Emile was able to assist us greatly by having a tire (one that is very hard to come by)ready for curbside pick up within a half-hour of my initial phone call. Great, pleasant service! – Lori Jensen
FAQs about Car Parts in Winnipeg
---
That concludes our list of the five best car parts vendors in Winnipeg. Hopefully, this article helps you make more informed decisions come the unfortunate time that your car might need servicing or when you simply want to take your car out to its routine check-up.
If you'd like to read more about car repairs and vehicles in Winnipeg, you can check out these articles on windshield replacement and auto wreckers in Winnipeg.