Best Car Detailing Shops in Winnipeg
Experts recommend having your car detailed every six months, or twice a year. This is a good way to keep your vehicle in top condition.
However, this may seem like a luxury to many of us that we have to save up for. So when the time comes that we eventually have money for some car detailing in Winnipeg, we ought to know where to go.
In this guide, let's go over the basics on what you need to know about the service and the best places to contact for a quote. There are a good number of shops in the local area, but let's go for the most recommended ones.
How Much Does Car Detailing Cost in Winnipeg
Car detailing services are usually sold as part of a package, which may include cleaning and waxing. Still, many companies and shops opt to give varieties of these packages to accommodate the varying needs, budget constraints and preferences of their clients.
That said, car detailing does not come cheap, especially when you want your car to look like it just got out of a showroom. If you want something grand, you do have to drop the bag.

It also bears noting that the type of vehicle may also affect the pricing. For example, the cost of basic detailing for a Passenger Van may be twice the cost for that of a Sedan.
With that, here are some ballpark pricing on sample packages:
| Car Detailing Packages*/ Services | Inclusions | Average Rates |
| --- | --- | --- |
| Economy Package | Exterior Soft Wash, Interior Wipe Down & Vacuuming, Window Cleaning & Tire Shining | $50 - $100 |
| Basic Package | Exterior Soft Wash, Thorough Interior Wash, Dry & Vacuuming; Upholstery Scrubbing; Window Cleaning; Tires Scrubbing & Shining | $120 - $200 |
| Deep Clean Detailing | Exterior Soft Wash, Thorough Interior Scrubbing, Drying & Vacuuming; Upholstery Steam Cleaning, Stain Removal, Window Cleaning, Rims & Tires Cleaning | $170 - $250 |
| Extensive cleaning and odor removal | | $50 - $100 |
| Pet hair removal | | $40 - $60 |
| Ceramic Coating | | $350 - $1500 |
| Protective Coating | | $200 - $1000 |
| Tinting | | $25 - $150 per window |
| Waxing | | $75 - $150 |
The Best Car Detailing Services in Winnipeg
While we can't deny that car detailing is indeed costly, it is an investment that pays off in the long run – especially if you're planning to resell your car. That said, it is only right that you find trustworthy people to work with.
There are plenty of car shops here in Winnipeg, but not all of them specialize in car detailing. With that, let's narrow down our options by evaluating them using this concise 4 point criteria.
1. Ceramic Pro – Action Car Detailing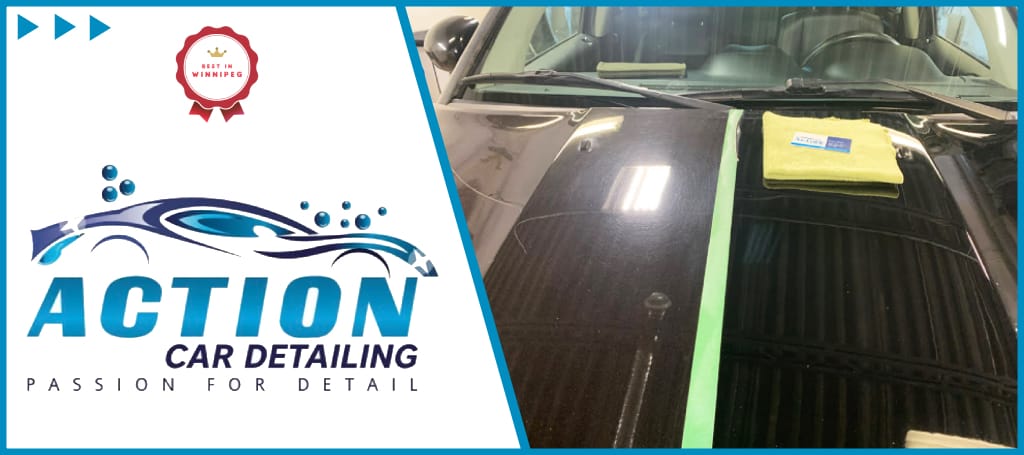 SERVICES
Permanent Ceramic Pro Coating, Paint Correction and Polishing, Auto Detailing and MPI Remediation Claims
WEBSITE
https://actioncardetailing.ca/
ADDRESS
1380 Sargent Ave, Winnipeg, MB R3E 0G5, Canada
CONTACT DETAILS
Phone: 204-775-0005
OPERATING HOURS
Weekdays: 8:00AM - 6:00PM

Saturdays: 8:00AM - 3:00PM

Sundays: CLOSED
| | |
| --- | --- |
| Criteria | ★★★★☆ (4.8/5) |
| Customer Satisfaction | ★★★★★ (5/5) |
| Expertise, License and Certification | ★★★★★ (5/5) |
| Installation and Workmanship | ★★★★★ (5/5) |
| Timeliness | ★★★★☆ (4.5/5) |
Action Car Detailing is one of the household names when it comes to car detailing in Winnipeg. With their professional work ethic, diverse services offered and consistently positive customer feedback, we can only expect the best from them.
Not only do they have their exemplary workmanship and performance to
take pride in. They also have a great online presence and a beautifully designed website to welcome customers both old and new.
Their services also cover a deep clean of your vehicle, including odor and pet hair removal. While this may entail additional costs, the staff ensures customer convenience and satisfaction from drop-off to pick-up.
They are among the few shops that utilize NanoShine LTD's Revolutionary Technology – Ceramic Pro. This advanced innovation creates a ceramic coating that is durable and repels dry particles, water, dirt and oil more efficiently.
This also shows that they don't compromise the quality of their detailing.
Moreover, they ensure that their detailing works not only increase your car's resale value, but it also reduces the cost of regular maintenance. This guarantee can be beneficial if you live in Winnipeg, especially during seasons when the weather can be harsh and unforgiving.
Their certifications include MPI for auto remediation claims and an A+ rating in BBB (Better Business Bureau). Even though they've only been in business for 10 years, Action Car Detailing was able to build a reputable name in their local area.
Licensed personnel with insured services
A+ rating under the BBB accreditation
Good website with ample information on services
Utilizes advanced technology for detailing and ceramic coating
Closed during Sundays
May have more expensive rates
Charges extra for pet hair removal or additional cleaning treatments
Customer Reviews
Will definitely use your services again! Thanks!
Holy Cow, what can I say about this place? They did an extremely amazing job on our Ford Escape. Our dog got into something while camping and puked all through the back seat and in the door cup holder and speaker grill. It was bad, plus just a full year of neglect on my part. I swear the job Bal and his team did made the car cleaner than we bought it. I seriously cannot recommend these guys enough. It was too clean to drive. Thanks again guys.
— Bill Vyse, Google Reviews
Summary
This was an excellent experience!!!!! Far beyond expectations! My vehicle is over 10 years old and the interior has been neglected quite a bit. They did a beautiful job and magically the car now feels like new.. completely flawless cleaning job. I had no idea my car could look this good! They even managed to fix some dents in the leather, which I was not expecting. The man I dealt with was kind, professional and easy-going, and the whole experience was a breeze. The pricing is very reasonable too! I've already recommended them to two other people.
— T Fuller, Google Reviews
2. Rebirth Automotive Detailing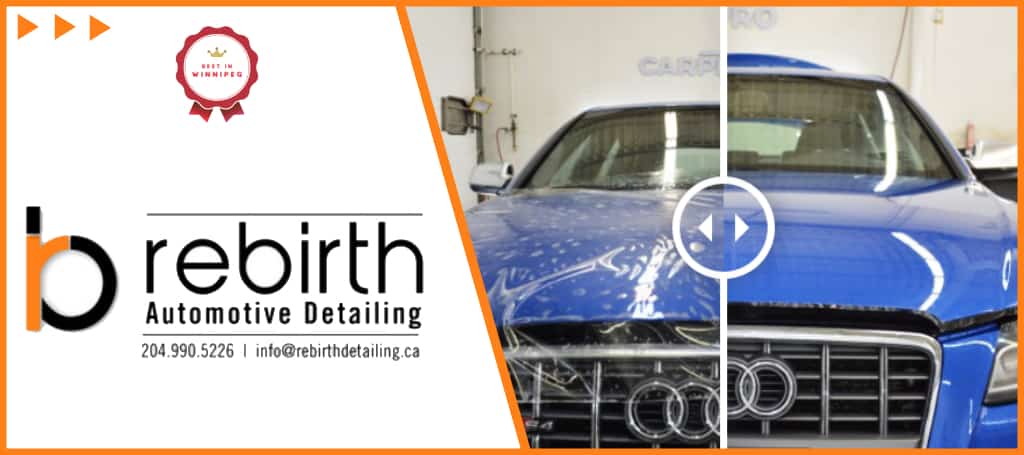 SERVICES
Automotive Detailing, Ceramic Paint Coatings, Paint Protection Films, Window Tinting and Vehicle Wash
WEBSITE
http://rebirthdetailing.ca/
ADDRESS
231 Oak Point Hwy, Winnipeg, MB R2R 1T7, Canada
CONTACT DETAILS
Phone: 204-990-5226
OPERATING HOURS
Weekdays: 8:00AM - 5:30PM

Saturdays: 8:00AM - 5:30PM

Sundays: CLOSED
| | |
| --- | --- |
| Criteria | ★★★★☆ (4.7/5) |
| Customer Satisfaction | ★★★★★ (5/5) |
| Expertise, License and Certification | ★★★★☆ (4.5/5) |
| Installation and Workmanship | ★★★★☆ (4.5/5) |
| Timeliness | ★★★★★ (5/5) |
For all things automobile detailing, from reconditioning to protection, you can rely on Rebirth Automotive Detailing. With years of experience and expertise under their belt, the quality of their workmanship, as well as their professionalism, is appreciated by their clientele.
What sets them apart is their unique detailing packages that can accommodate all preferences. So if you're just looking to upgrade your interiors at the moment, then they've got just the thing for you.
Their work on protective films, tinting and coatings are impeccable too. They do it so well that they even do detailing on boats to ensure rust-proofed, decontaminated and weather-proofed surfaces before heading back to sea.
Another thing that we love is the chemical resistance of their ceramic coating and the infrared protection offered by their factory matched metallic dyed tint. These are certainly something you don't get just anywhere.
They even have experience in handling classic and collector cars for detailing. With their advanced technology, tools and equipment, they guarantee safety, security and quality detailing work on these cars.
Also, they offer a 10 year warranty on their protective coatings. With that, we consider them the best option to consider for effective paint jobs, coatings, and tinting.
Offers seasonal programs and discounts
Provides detailing services to all vehicles, including boats
Top quality features and unique services
10 -year warranty on coatings
Works on classic and collector car models
Limited services
Slow website
Not the best choice for cleaning work
Closed on Sundays
Customer Reviews
Treat yourself to the best.
Chuffed to bits!! Second time bringing my car here to be expertly pampered by the Rebirth team. This time their top of the line window tint was applied along with removing a bird stain etched into the hood, plus filling in a bunch of stone chips. The attention to detail in their work is obvious and everything looks top notch. Really happy with the results- you exceeded my expectations, for sure.
The window tint looks fantastic. Looks and feels high-end from the outside and enhanced the overall appearance of the car. Good work is hard to find in this city, so if you're willing to book in advance then its worth any short wait. They do superb work here and the prices are fair.
— Dean Smith, Google Reviews
Exceptional customer service
I'd never take any of my vehicles to another detailer! Jon is an exceptional business owner, he treats his customers incredibly well — and it shows! Wouldn't hesitate to refer anyone I know to get work done by Jon and his team!
— Michael Cullum, Google Reviews
3. M.PIRE Auto Detailing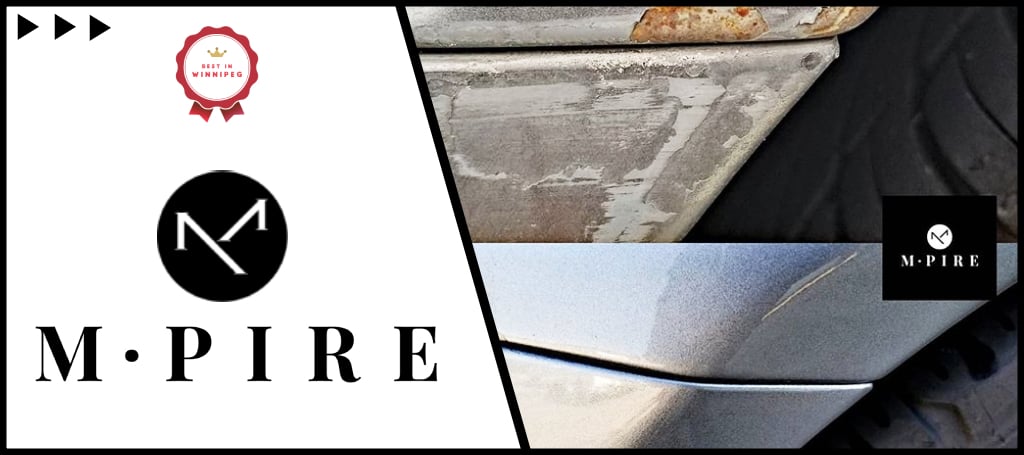 SERVICES
Packages including Washes, Interior Wipe Down, Vaccuuming, Odor Elimination, Waxing, and Polishing, Tinting, and Ceramic Coating
WEBSITE
https://www.m-pire.ca/
ADDRESS
607 Logan Ave, Winnipeg, MB R3A 0S6, Canada
CONTACT DETAILS
Phone: 204-869-0036
OPERATING HOURS
Weekdays: 8:00AM - 6:00PM

Saturdays: 8:00AM - 3:00PM

Sundays: CLOSED
| | |
| --- | --- |
| Criteria | ★★★★☆ (4.6/5) |
| Customer Satisfaction | ★★★★★ (5/5) |
| Expertise, License and Certification | ★★★★☆ (4.5/5) |
| Installation and Workmanship | ★★★★☆ (4.5/5) |
| Timeliness | ★★★★☆ (4/5) |
M.PIRE Auto Detailing takes pride in the loyalty of their customers and the community built within their network. With that, they tailor their services to accommodate the varying needs of a diverse clientele.
They offer home services anywhere within the city limits, as well as pick-ups and drop-offs of the vehicles for detailing. This way, clients don't have to fuss over anything, or even waste time while they do their job.
Their packages also take their customers' budget and preferences into account, thus giving them three options to choose from. However, the duration of their working time will still vary depending on the complexity of the job.
While their services are limited to detailing, coatings and tintings, we cannot deny how focused and precise they are with the details of the job. This was something that many customers were keen to point out and are grateful for.
They also happen to be an MPI accredited shop with a specialty on auto detailing. This is among the credentials that prove their dedication to keeping vehicles in top shape for user convenience.
That said, the quality of their work is impeccable. You can check out their website gallery to see the various projects they've worked on.
Plenty of positive reviews and feedback
Very accommodating to customers 
Quality services for a reasonable price
Ceramic coating finish comes with lengthy warranties
MPI accredited
Pet hair removal and extensive cleaning services cost extra
Limited services
Closed during Sundays
Customer Reviews
Top quality! Recommended
Great service. Had my car in quickly and had the servicing done on time. Very friendly staff both on intake and when picking up my vehicle. Excellent job servicing the vehicle. Even found my bike lock key under the seat I thought was gone forever. Everyone was adhering to covid safety protocols (masking, social distancing, wiping down vehicles/equipment). Well worth the experience. Will definitely be back and recommend it to friends and family.
— Adam Kowal, Google Reviews
Well worth the cost!
Simon was absolutely fantastic to do business with! My car had so many scratches all over from the years plus under the hood it was caked in mud and all components were the same color!
I got the platinum package and it's incredible value.
The car looks brand new now and the whole transaction was a pleasure.
Would recommend this to anyone who wants their car brought back to life!
— Max Well, Google Reviews
4. HSD3 Mobile Auto Detailing & Automotive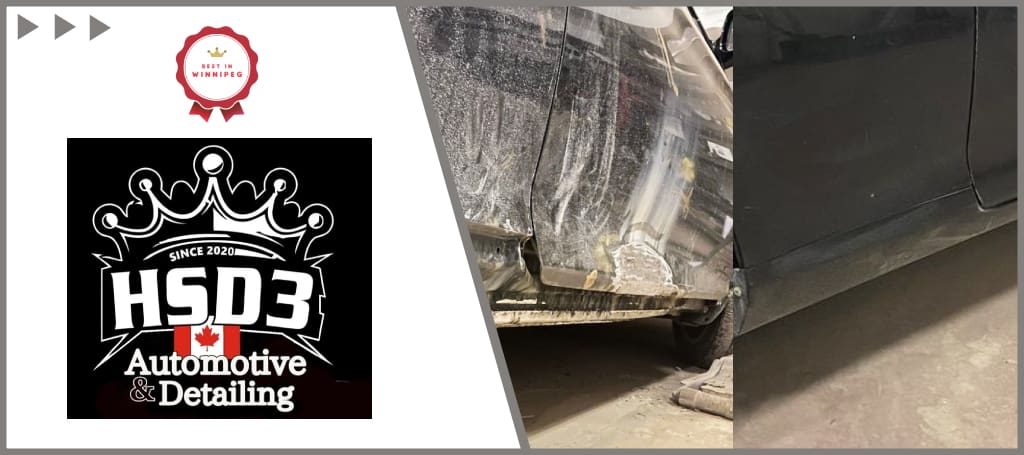 SERVICES
Car Detailing for Interior, Mobile Car Wash and Wax, Engine Cleaning and Detailing, Self Healing Paint Protection Film and Paint Restoration Repairs
WEBSITE
https://www.hsd3automotive-detailing.com/
ADDRESS
1119 Fife St, Winnipeg, MB R2X 2M9, Canada
CONTACT DETAILS
Phone: 204-583-7955
OPERATING HOURS
Weekdays: 9:00AM - 6:00PM

Saturdays: 9:00AM - 3:00PM

Sundays: CLOSED
| | |
| --- | --- |
| Criteria | ★★★★☆ (4.5/5) |
| Customer Satisfaction | ★★★★★ (5/5) |
| Expertise, License and Certification | ★★★★☆ (4/5) |
| Installation and Workmanship | ★★★★☆ (4.5/5) |
| Timeliness | ★★★★☆ (4.5/5) |
A one-stop-shop for anyone looking for car detailing in Winnipeg, HSD3 Mobile Auto Detailing & Automotive has a wide range of services to beautify your vehicle. So if you're thinking of going all out to boost your user comfort, driving convenience, and overall appearance, this is the place to go.
Since they also work as a car repair shop, they offer two types of packages for detailing – namely, the Premium Car Detailing Package, and the Full Extensive Interior Detailing. Customers, however, are free to include other services like rust proofing or ceramic coating into the mix.
While other services like pet hair removal come with extra charges, their staff informs customers accordingly about these cost additions. The same is true with intense cleaning sessions for extra dirty vehicles.
Even with that, we consider their rates fairly affordable and reasonable. They even offer their services at your own place so you don't have to travel to their facility.
Last but not the least, we appreciate how honest they are about their services, thus refraining from promising a quality they can't provide. Nevertheless, their mainly positive online reviews only show how dedicated they are to their work.
Transparent about their costing process
Wide range of automotive services
Accommodating and friendly staff
Rates are generally affordable
Offers cleaning and detailing services at your own home
Rates may come with extra charges
Closed during Sundays
Customer Reviews
We are impressed
I appreciate the ease and stress-free service that I got from Hendrix. I just texted him my winter tire requirements and he right away showed me the different options available to me including the costs. Hendrix under promise but over delivered when he estimated arrival of stèel rims to be still 2 to 3 weeks, but voila it arrived in 4 days. That was truly unexpected and a wow experience.
— Arnel Hidalgo, Google Reviews
A breeze to work with
Highly recommend! They were extremely professional, punctual and very detail oriented! Bought a used car with lots of stains, dust and dirt and the car looks brand new! They got every little nook and cranny and made the car look as if it came out of a dealer! Would recommend them to anyone and will definitely use again!
— Maria Q., Google Reviews
5. Project Detail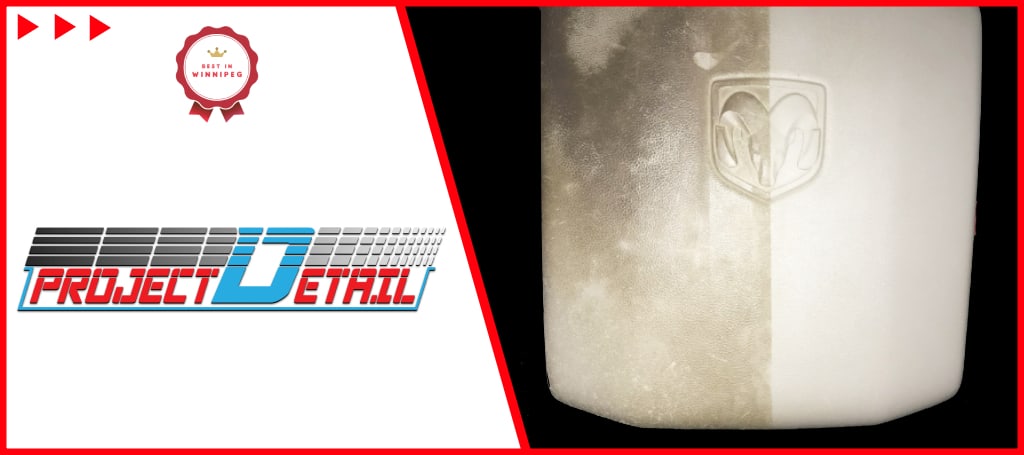 SERVICES
Detailing Packages, Paint Works and Corrections, Odor Elimination, Headlight Restoration, Engine Bay Detail and Deep Gloss Sealant Coating
WEBSITE
https://www.cleancarwinnipeg.ca/
ADDRESS
1677c St Mary's Rd, Winnipeg, MB R2N 3W1, Canada
CONTACT DETAILS
Phone: 204-230-2779
OPERATING HOURS
Weekdays: 9:00AM - 6:00PM

Saturdays: 9:00AM - 3:00PM

Sundays: CLOSED
| | |
| --- | --- |
| Criteria | ★★★★☆ (4.5/5) |
| Customer Satisfaction | ★★★★☆ (4.5/5) |
| Expertise, License and Certification | ★★★★☆ (4/5) |
| Installation and Workmanship | ★★★★☆ (4.5/5) |
| Timeliness | ★★★★★ (5/5) |
When it comes to good deals and economical detailing packages, we recommend Project Detail. That's because their rates keep their client's time and budget in mind, thus tailoring a set of services that still guarantees quality and efficiency.
If you're in a hurry or can't throw in more for a deep clean detail session, they offer several alternatives. These include basic detail and quick cleans to keep your car in good shape for the meantime.
However, don't hesitate to inquire about current rates on various types of vehicles and if these already include tax. It is also best to ask about services that may incur extra charges to avoid paying an expensive rate.
Services aside, something that Project Detail takes pride in is their dedication to quality workmanship and their eye for detail. In fact, their best-selling packages guarantee a new and improved experience for their clients the moment they step in their car.
This resounding satisfaction from their customers has led to people choosing Project Detail for their detailing needs. This was evident in the positive feedback given by past clients.
One thing we also love about them is how they offer large surprise discounts to anyone who visits their social media pages and websites. Their staff is also quite accommodating if you have clarifications or inquiries.
Offers seasonal discounts
Budget-friendly packages
Good rapport and relationship with past and current clients
Professional and punctual
Responsive to inquiries
Rates can get expensive because of extra charges
Limited services
Closed during Sundays
Customer Reviews
Highly recommended!
I'll be the first to admit it, my car was a hot mess. I was student and didn't have the money to get it cleaned for years. The fabric seats were extremely stained and the carpet had built up salt from the winter season. Kevin did an amazing job! The stains were so bad, but he got them out, which is impressive considering how severe the stains were (see photos)! The rest of the car, interior and exterior, looks awesome as well.
The cost was very reasonable and worth every penny- especially compared to other detailing shops.
I've already gotten comments on how great it looks.
— Gillian Kwan, Google Reviews
Accommodating, timely and professional
Project Detail was incredible! We took our 9 year old car that's never been detailed and they made it look brand new. I couldn't believe how amazing it looked! It was spotless, no dirt, dust, stains, everything was shiny and polished.
I would highly recommend their services, they were friendly, courteous, and on time.
Thank you much!!
— Cheridan W., Google Reviews
6. ModifyMe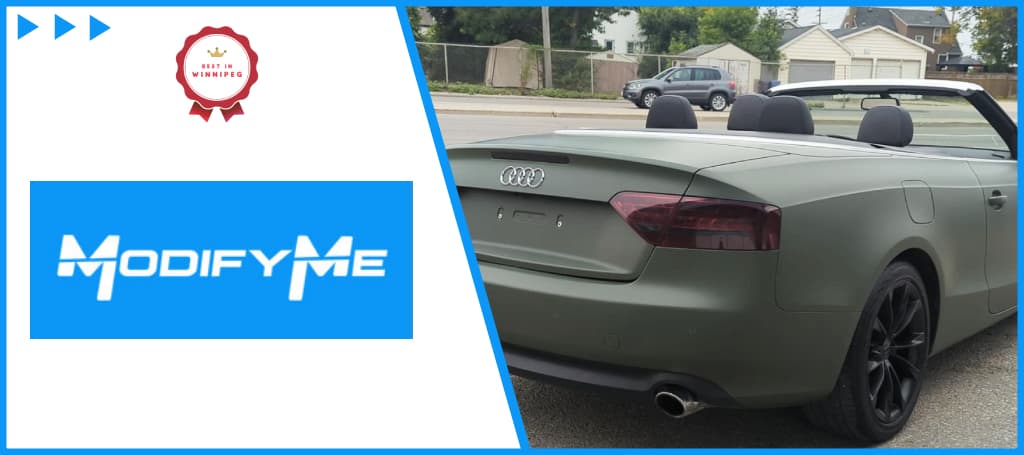 SERVICES

Design: Wall Graphics & Window Films, Colour Change & Vinyl Wrap

Protect: Paint Protection Film, Ceramic Coating

Detailing: Paint Correction, Interior / Exterior Detailing

WEBSITE
http://modifyme.co/
ADDRESS
477B CENTURY ST

WINNIPEG, MB

CONTACT DETAILS
204-979-4025
OPERATING HOURS
Monday – Friday, 9:00 AM – 6 PM
| | |
| --- | --- |
| Criteria | ★★★★☆ (4.5/5) |
| Customer Satisfaction | ★★★★★ (5/5) |
| Expertise, License and Certification | ★★★★☆ (4/5) |
| Installation and Workmanship | ★★★★☆ (4.5/5) |
| Timeliness | ★★★★☆ (4.5/5) |
If you're looking for a high-end custom vehicle shop in Winnipeg, then look no further away from ModifyMe. They are known for providing a variety of car decals and car detailing including vehicle wraps, window tinting, paint protection film, tail light tinting, bespoke graphics, decals, detailing, paint correction, and ceramic coatings
Founded in 2018, their work has been the talk of the town and is backed up by excellent customer service. They have regularly trained staff and they are eager to assist you in building your ideal car in every step of the way.
What we like about them is how they combined their passion for automobiles and automotive culture with their passion for creating moving works of art to build their business while also working to better their local neighborhood. They like supporting their clients by effectively bringing their creative ideas to life and putting them on their automobile or personal/workspace.
Their car detailing is particularly well-received, especially their ceramic coating where they utilize nano-ceramic technology to create the ultimate protective shield for your vehicle while also maximizing its gloss and shine.
Some of the benefits of installing a ceramic coating include its corrosive resistance, UV protection, chemical resistance, and scratch resistance. In fact, high quality professionally installed ceramic coating can last a lifetime while also keeping your vehicle looking newer for a longer period of time.
Experienced staff
Uses quality products
Affordable rates
Customer Reviews
I will definitely give him more business from wrapping my fleet of trucks to window tinting.
"Joe and his gang did an amazing job!! I couldn't be happier with the end result. I recommend Modifyme to anyone who wants a vehicle wrap. I will definitely give him more business from wrapping my fleet of trucks to window tinting. Thank you Modifyme!" – Eddy Oliveira
Definitely would recommend to friends and family
"Got my windows tinted about 6 months ago by Modify Me. They took a little longer than I had expected but I'd rather have to wait for a good job than have them rush and do a poor job. Cuts were super clean, especially considering I'm a detailer and I notice everything. Everything has held up in 6 months so I know they used quality products. Definitely would recommend to friends and family and believe me, I have. Great work guys, keep it up." – Nick Havixbeck
FAQs about Car Detailing in Winnipeg
---
It goes without saying that owning a car comes with a new set of responsibilities and bills to cover, even after you paid for it in full. Still, having your personal vehicle can be incredibly helpful, especially during times of emergency.
In conclusion, car detailing in Winnipeg proves to be a worthwhile investment to dedicated car owners. It also keeps the value of your asset reasonably high in the second-hand market.
We hope that with this short guide, you can find a shop that can help you with your detailing needs. Also, don't forget to ask for packages and discounts so you can snag yourself a good deal.
Businesses like car detailing and automotive repair require technical experience and expertise. But, it also warrants investments and risks to grow the venture.
So if you're trying to build upon your skills and passions, we recommend you check out the best providers of business insurance in Winnipeg before you start.