5 Best Car Stereo Shops in Winnipeg
Car stereos play a vital function in your overall audio system. Basically, it is its centerpiece — the brain that determines the functionality of sound customization.
That is why it is important to look for stores that offer great car audio products and services.
Luckily, we made a list of the best car stereo shops in Winnipeg to guide you!
How much do car stereos cost in Winnipeg?
There are a few products that you might need when building your car stereo.
Although the prices vary depending on the brand and type of the car stereo you'll purchase, here's a price table for the usual cost it'll take to buy yours and have it installed.
| Types of Products | Range of Cost |
| --- | --- |
| Car Stereo | $100 – $1300 |
| Dash Kit | $10 – $50 |
| Antenna Adapters | $10 – $35 |
| Wiring Harnesses | $5 – $30 |
Best Car Stereo Shops in Winnipeg
Choosing the best car stereo shops in Winnipeg does not only mean buying from the store with the best quality offered. But also looking at other criteria such as:
1. Visions Electronics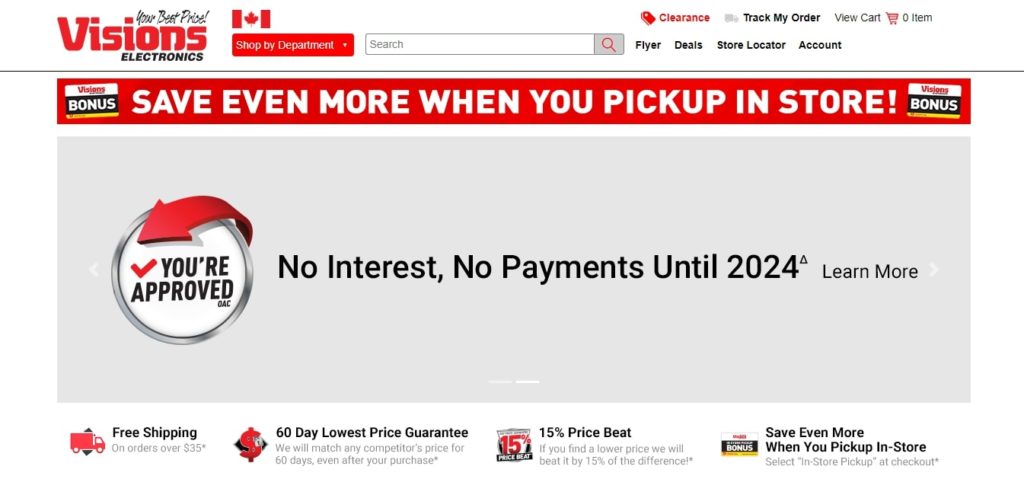 PRODUCTS & SERVICES

Car Decks

Car Video Players

Car Amplifiers

Car Audio Speakers

Car Subwoofers

Car Starters

Car Alarms

Replacement Alarm & Starter Remotes

Dashboard Cameras

Back-up Cameras

Radar Detectors

LED Lighting for Vehicles

Marine & Powersports Audio

Satellite Radio

Car Audio Accessories Installation

WEBSITE
https://www.visions.ca/
ADDRESS
1130 St James St, Winnipeg, MB R3H 0K7, Canada
CONTACT DETAILS
Phone: +1 (204) 775-7082
OPERATING HOURS

Monday to Friday: 11:00 AM – 7:00 PM

Saturday: 10:00 AM – 6:00 PM

Sunday: 11:00 AM – 6:00 PM
| | |
| --- | --- |
| Criteria | Ratings |
| Customer service | ★★★★★ (5/5) |
| Quality | ★★★★☆ (4/5) |
| Price | ★★★★★ (5/5) |
| Knowledge and expertise | ★★★★★ (5/5) |

If you're looking for the best car stereo shop in Winnipeg that has proven itself to the public, Visions Electronics might just be the one for you!
This shop has over 43 stores within Canada scattered around the provinces of Ontario, Manitoba, Saskatchewan, Alberta, and BC.
With its outstanding customer service, it has easily become a crowd favorite. The first thing we noticed in this shop is the staff's willingness to assist the customers to get exactly what they want for a very fair price.
The service from purchasing to installation is typically quick and informative. We like how the staff patiently lays out all the options available for their customers just to make sure that all concerns are taken into consideration.
They provide recommendations based on the client's budget and what could be done to make the car's stereo even better.
Plus, the products are pretty much affordable. There's no need to worry about ripping your budget off since you're free to choose whatever suits your price range.
Even more, this shop offers financing to help you manage your payment options. You may opt to pay separately by stages, so you won't have to pay in bulk.
That's a great option for those who want to make their car stereos better but not compromise with a tight budget on hand.
The only problems we encountered with this shop are the occasional issues with its soundbars. During our stay, there were a few customers complaining about their purchased sound bars as they had been faulty.
While this seems like a huge red flag, we noticed how the staff professionally handled the issue. There were no questions asked to the clients, but rather, the staff immediately offered replacements and repairs.
The negotiation ran smoothly from assisting the complainants down to tracking new pairs for the clients.
Indeed, instances of faulty products cannot be fully evaded. But what makes this shop stand out is how the staff professionally handles customer demands.
Excellent customer service 
Efficient service 
Affordable products
Offers financing guidance
Occasional issues with soundbars
Customer Reviews
Extremely pleasant experience
"Great experience right from moment walking in. Greeted by friendly staff and directed to appropriate person/people. Chris was very helpful getting me the right car audio system and Darci was wonderful to deal with for the installation. It was completed in timely manner (much faster than expected). Very happy with the system and must say it was an extremely pleasant experience all around!!! It would be nice if all companies had such fabulous customer service. Thank you." — Tess Peters
Professional, polite, and honest
Rahul recently installed a new car audio system for me. He was professional, polite and honest about pricing and duration of installation. He was fantastic in every aspect of a business person. I would highly recommend Visions and Rahul for all car audio needs." — Tyler Dudeck
2. Advance Electronics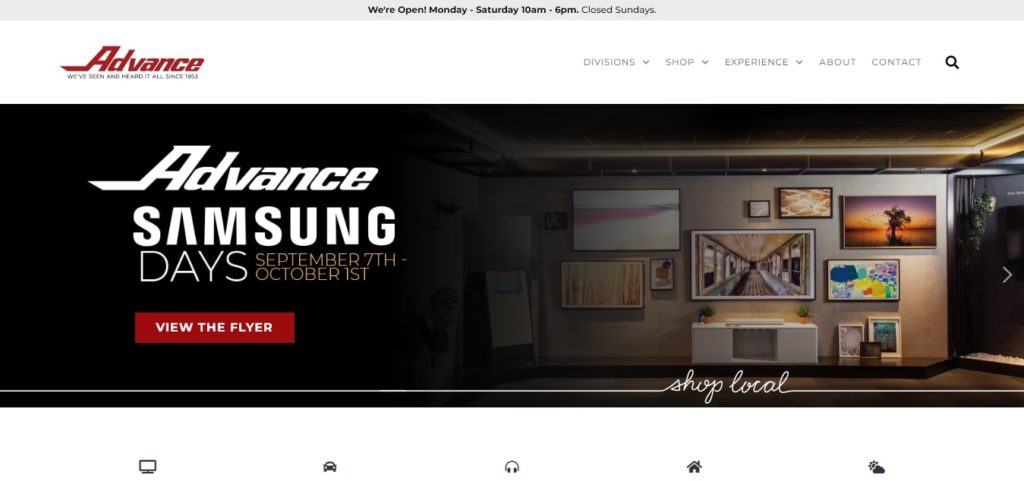 PRODUCTS & SERVICES

In-Dash Receivers & GPS

Automotive Speakers

Automotive Subwoofers

Marine Audio & Powersports

Remote Starters & Security

Cameras & Entertainment

Automotive Accessories

Installation

WEBSITE
https://www.advance.mb.ca/
ADDRESS
1300 Portage Ave, Winnipeg, MB R3G 0V1, Canada
CONTACT DETAILS
Phone: +1 (204) 786-6541
OPERATING HOURS

Monday to Saturday: 10:00 AM – 6:00 PM
| | |
| --- | --- |
| Criteria | Ratings |
| Customer service | ★★★★★ (5/5) |
| Quality | ★★★★★ (5/5) |
| Price | ★★★★☆ (4/5) |
| Knowledge and expertise | ★★★★★ (5/5) |
Advance Electronics is the largest independently owned retail electronics store in Western Canada. This shop has been standing in the car stereo industry for more than half a century.
Its competitive pricing is a really good touch to its offers too. It allows customers to be flexible with their budget as they are given the liberty to pick the products that suit them best.
What we admired so much about this shop is that the staff tends to keep its clients in the loop.
Typically, installations would be done without any explanation from the technicians. However, this store's crew makes sure that all clients are given detailed information as to what had been conducted during their service.
This effort makes it a lot easier for customers to trust this shop. What's more is that everyone here is familiar with their products and services.
They are also quite straightforward and honest in providing suggestions — a trait that is typically absent in stores that only aim for sales.
The staff is also not pushy, so you won't be cornered in an awkward situation. We also liked the efficiency of the crew here since the installation process is done neatly and on time.
The car stereos are definitely worth the wait and the money. They emphasize sound quality, which makes car singalongs more enjoyable.
Just be wary of the surprise repair fees that you might be charged. These are the fees that you'll have to pay that are typically unmentioned during the initial inquiry.
We suggest that you clarify first if you're supposed to pay for anything before agreeing to get your car stereo checked.
Competitive pricing 
Prompt service 
Provides updates 
Knowledgeable staff 
Great quality 
Customer Reviews
Great advice and pricing
"I would recommend Advance for car audio and installs. I went to Advance after speaking with other stores I was given great advice and pricing that beat the competitors. When picking up my wife's vehicle I was told what had been done and that if there was any problems to bring it back to them, the vehicle was kept safe in there facility. I'd like to thank Jeff for his friendly and professional service." — D. Gunson
Installation was so professional
"From the first phone call to Advance asking if they could repair my car stereo system, Tony and his team were awesome and gave me a number of options. In the end I got a great new system within my budget that I absolutely love. The installation was so professional and done in less than a day. I'm officially a regular customer. Thanks Advance!" — Caed Malowany
3. Krazy's Car Clinic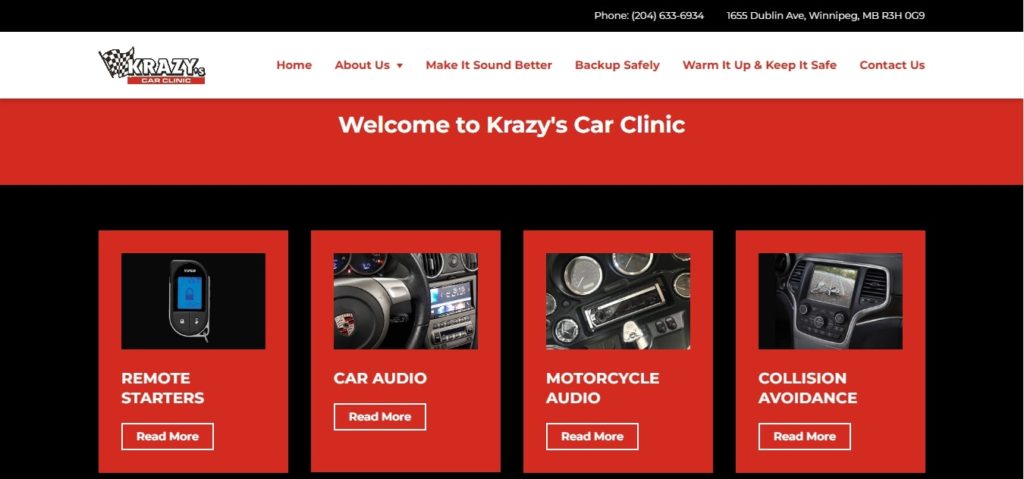 PRODUCTS & SERVICES

Remote Starters

Car Audio

Motorcycle Audio

Collision Avoidance

Diagnostic & Installation

WEBSITE
https://krazys.ca/
ADDRESS
1655 Dublin Ave, Winnipeg, MB R3H 0G9, Canada
CONTACT DETAILS
Phone: +1 (204) 633-6934
OPERATING HOURS

Monday to Friday: 9:00 AM – 5:00 PM
| | |
| --- | --- |
| Criteria | Ratings |
| Customer service | ★★★★★ (5/5) |
| Quality | ★★★★★ (5/5) |
| Price | ★★★★★ (5/5) |
| Knowledge and expertise | ★★★★★ (5/5) |
The confidence of the technicians and staff in Krazy's car clinic stems from its 60 years of combined experience.
This store has been known to offer the quickest and most reliable service. That is why it has successfully marked its name as one of the top car stereo shops in Winnipeg!
In fact, installations that take more than two hours are usually trimmed down to just a little over an hour.
There's no need to worry about the quality of the service you'll get! Just because it is swifter than others, doesn't mean the quality of work is compromised.
Since most technicians here have more than half a century of experience in the installation service, you are ensured that your vehicle's car stereo is appropriately cared for.
As for the cost, the price options are presented to the customers prior to any agreements. There's no need to worry about surprise fees during repairs as long as it is covered in the product warranty.
The car stereos that will be installed in your car are all high quality. You are ensured that they've got a defined and rich sound.
But the thing we loved the most about this shop is its customer aftercare services.
In other shops, you won't be asked for a follow-up. Typically, the staff will just attend to your needs — and that's it.
But here, the support team will continuously reach out to you just to make sure that the services and repairs are working properly.
Basically, there's nothing to hate about this shop. However, it is closed during the weekends, so you would have to make sure that your visit is on weekdays.
If you ever find yourself needing urgent assistance and Krazy's car clinic isn't available, feel free to scan through our other entries here.
Experienced staff 
Decent pricing 
Quick service 
Excellent quality 
Good after-service support 
Customer Reviews
Great customer service
"Went in to have a diagnostic done on my system. Fuse holder melted and the guys could've easily tricked me into buying a new amp. Honest, fast and great customer service! Highly recommend for any car audio needs. Thanks fellas!" — Rhys Morris
Beats all the big brand stores
"Got subs and an amp installed for a great price. Install was very clean! Both Cory and Ken were super nice and were a great help. Super friendly people and they know their stuff! I definitely will be coming back for future upgrades and recommend anyone to come here for any audio upgrades or installations. Beats all the big brand stores for price, installation and also service!" — Tyrell Morin
4. Brian Reimer Audio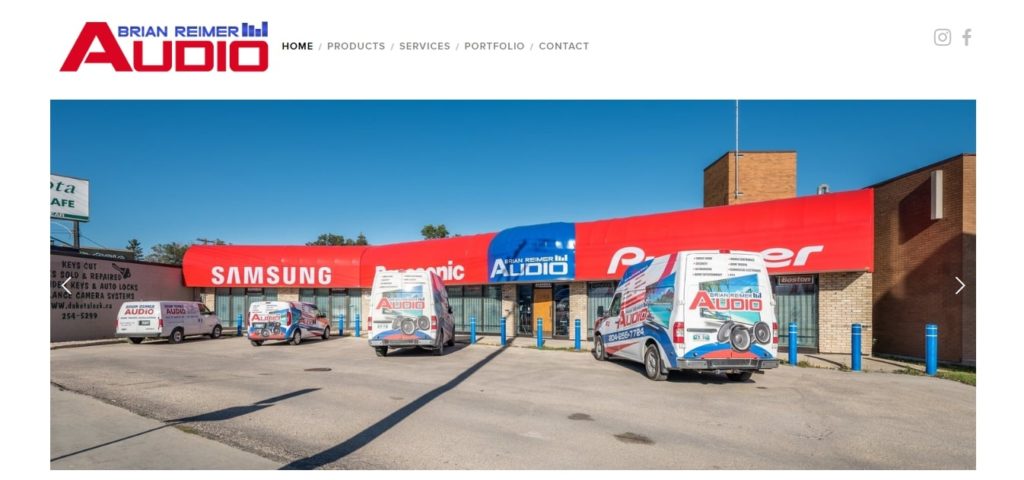 PRODUCTS & SERVICES

Car Audio/Video

Security System

Remote Starters

Pro Audio

Commercial Audio/Video

Sound System Upgrade

OEM Integration

GPS Installation

Dash Cameras & Back-up Cameras

Bluetooth Solutions

WEBSITE
https://www.brianreimeraudio.com/
ADDRESS
1053 St Mary's Rd, Winnipeg, MB R2M 3T1, Canada
CONTACT DETAILS
Phone: +1 (204) 256-7724

EMAIL: [email protected]

OPERATING HOURS

Monday to Friday: 9:00 AM – 5:30 PM

Saturday: 10:00 AM – 5:30 PM
| | |
| --- | --- |
| Criteria | Ratings |
| Customer service | ★★★★☆ (4/5) |
| Quality | ★★★★★ (5/5) |
| Price | ★★★★★ (5/5) |
| Knowledge and expertise | ★★★★★ (5/5) |
Are you in need of a full-service mobile, residential, commercial custom electronics design, and integration company? Then, you might want to try Brian Reimer Audio!
This shop is filled with talented and helpful staff that will work with you in choosing the best car stereo.
We have always been fond of staff that attentively listens to customer concerns and demands. It takes more than just being a professional to ensure the fullest satisfaction of the customers.
The staff needs to be highly considerate of the clients as well to make sure that all demands are fulfilled.
This shop's technicians can customize your car stereos to make them more fitting for you and your car's needs.
If you ever need any suggestions on the best car stereo brands and series', just feel free to ask as they have a lot to recommend.
We also like how the staff handles the installation process as smoothly as possible for the least cost. It's even possible to find cheaper options here that could help you save up to $200.
Despite being economical, the quality of the stereos offered is decent enough. No need to be wary of using them since the stereos do their job just fine.
Indeed, there are some assumptions that purchasing products on a more expensive scale means more durability. And even if you're someone who clings to this idea, you can still stop by this shop.
It has a great product selection for car audio, so you can choose from the cheapest to the most expensive ones.
Just be reminded that the car audio technicians might be out earlier at 5 PM so it would be better to schedule a visit first to know if they are still available.
Cheaper options 
Talented and helpful staff 
Professional staff 
Good quality 
Good product selection 
Customer Reviews
Knowledgeable staff
"The top remote start, Car Audio, and Home Audio Store in Winnipeg for sure. Lower price than big box stores. I have installed Compustar Remote Start and minor upgrade with speaker on my previous vehicle here with awesome result and encouraged me to come back on my current vehicle. Knowledgeable staff. Len, the sales consultant is helpful and friendly, willing to hear and bring his humble opinion on products.
COLIN, wow! he is an asset to Brian Reimer Audio. He is very talented guy, he can do customization on the audio, speaker, and twitter placement on your vehicle. In addition, he talks very softly. Thanks to him, I have gained a lot of tips in the audio world, knowledge of choosing which brands and series to suit my needs. Awesome jobs! Thanks Colin (Master installer), and Len (sales)." — Justin H
Customer experience was beyond great
"10/10 experience will definitely be back for anything I need. I had my 1964 Ford Thunderbird in for new speakers , head unit, and 1 12" sub. I also supplied the speakers and head unit and there was no issue. Was done in 2 days I think and was talked to through the process of it all. Also brought my Jetta there to get a new fuse and fuse holder. Len and I did it in the parking lot in like 10 minutes. Customer experience was beyond great. Will always recommend them" — Tyler
5. Master 12 Volt Car Electronics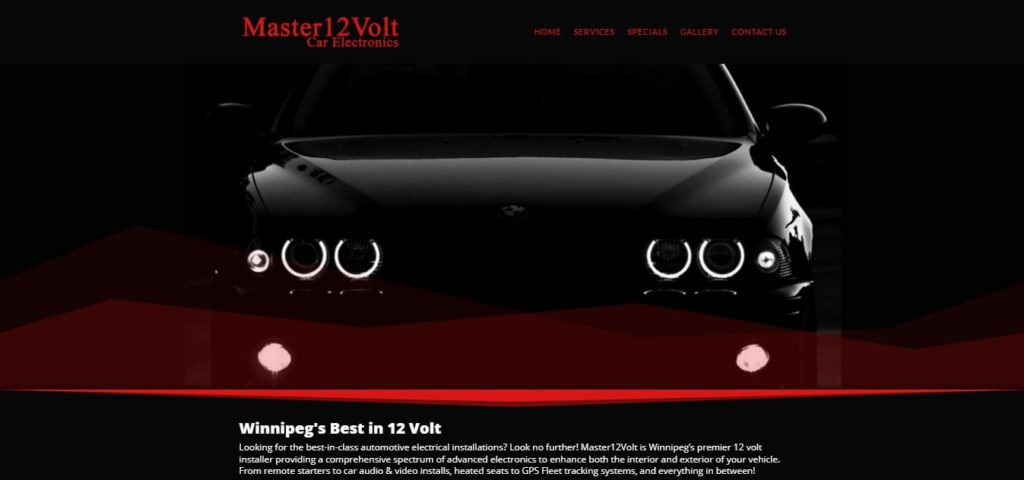 PRODUCTS & SERVICES

Car Audio/Video

Heated Seats

HID Lighting

Parking Sensors

Marine Audio

Remote Starters

Dash Cameras & Back-up Cameras

WEBSITE
https://www.master12volt.ca/
ADDRESS
1-1224 Chevrier Blvd, Winnipeg, MB R3T 1Y3, Canada
CONTACT DETAILS
Phone: +1 (204) 291-2295
OPERATING HOURS

Monday to Friday: 9:00 AM – 5:00 PM
| | |
| --- | --- |
| Criteria | Ratings |
| Customer service | ★★★★★ (5/5) |
| Quality | ★★★★★ (5/5) |
| Price | ★★★★☆ (4/5) |
| Knowledge and expertise | ★★★★★ (5/5) |
Skeptical about the expertise of the staff that will attend to your needs? No worries!
Master 12 Volt Car Electronics has a dedicated team of licensed automotive electricians that could attend to your needs with utmost professionalism and mastery.
This shop makes it to this list of the top car stereo shops in Winnipeg with its remarkable customer service. When we came over to screen it, we were treated as high-profile customers.
The staff did not just listen to our concerns and questions, but rather, provided carefully curated answers.
They shared meticulous details in the simplest ways so the clients could get a glimpse of what had to be done to our vehicles.
We also love that the quotes they give are exactly the amount that you would have to pay. There are no extra fees that are magically whipped out upon service.
Whatever they gave as an initial quote is exactly what it is.
All the processes that are to be conducted are executed with perfection. It won't leave your car any less neat than it was before.
Lastly, even if you call on short notice, the staff will still make sure to fit you in — except during the weekends since it's closed on those days.
Services are done with observed punctuality so you wouldn't have to wait for long before you can get your car stereo running.
The only thing we didn't like about this shop is its cost range. Even if the product and service that you'll get are undeniably high-grade, it certainly comes with a huge price.
This shop could be a great choice if you have some extra pennies to toss. But if you don't, we suggest you try elsewhere.
Exceptional customer service 
No surprise charges 
Informative staff
High-grade quality 
Accommodating service
Expensive 
Closed on weekends
Customer Reviews
Excellent customer service
"Mark does amazing work and provides excellent customer service. The job he did was perfect, pricing was great and he even squeezed me in right away. I recently had an issue and sent Mark a text, not even 5 mins later he replied and helped me resolve the issue. Highly recommend this place and will definitely be back for any of my automotive needs." — David Lo
Awesome place
"Master 12 Volt Car Electronics is an awesome place to do all kinds of additional work for a Car after you buy a car. I went there to install remote starter in my car. I talked to the guy about everything they can do for a vehicle. It became clear to me that he is way more skilled than I thought. He installed remote starter in my two cars two weeks ago. They are working very smart. I recommend everyone should visit this place when they think any additional work for their vehicle." — H Rahman
FAQs about Car Stereos
That's all for our list of the best car stereo shops in Winnipeg! If you ever need other car-related services and products, feel free to check out these articles: