5 Best Cremation Services in Winnipeg
Featured Image Source: Paolo Nicolello via Unsplash
Finding a good cremation service is key to a smooth and (relatively) painless disposition.
To help you face this difficult time, we've looked into cremation services around Winnipeg. We've selected the ones we think offer the most comfort and convenience, which we'll discuss in the following sections.
We'll also talk about the cost of cremation, along with more information about this process.
How Much Does Cremation Cost in Winnipeg?
The cremation process itself costs around $375, but that's just one aspect of it. There are other things to take care of like transport, permits, death certificates, and other auxiliary expenses.
Usually, cremation services arrange all of these in a neat package so you don't miss out on important steps.
Other expenses that you, the trusted loved one, must decide on are urns, tributes, memorials, and more. These are listed below, along with the average cost.
| | |
| --- | --- |
| SERVICE | ESTIMATED COST |
| Simple cremation package | $1300 |
| Tribute page | $100 |
| Free press obituary | $75 |
| Cremation urn | $250 – $1650 |
| Keepsake urn | $75 – $100 |
| Jewelry | $100 – $225 |
| Embalming services | $450 – $600 |
| Private viewing | $985 |
| Casket | $750 – $1700 |
| Delivery of ashes | $50 – $100 |
| Goods and Services Tax | %5 |
Best Cremation Services in Winnipeg
Now that we've settled the subject of cost, let's move on to the best cremation services in Winnipeg.
1.   Ethical Death Care
SERVICES
Simple Cremation, Life Celebration Planning, Traditional Burials, Funeral Services, Non-profit Caskets and Urns
WEBSITE
www.ethicaldeathcare.com
ADDRESS
530 St Mary Ave, Winnipeg, MB R3C 4C4, Canada
CONTACT DETAILS
Phone: 204-691-5408
Fax: 204-560-3173
OPERATING HOURS
24/7
It's understandable if you feel lost when a loved one passes on. That's why Ethical Death Care's services are centered on guidance and easy navigation.
Their goal is to make the disposition process as simple for you as possible. To do this, they've made everything manageable online.
Their website is easy to browse, with a clean interface. If you need the service done right away, they offer a simple cremation package that includes all essential services and paperwork.
Alternatively, if you'd like to take your time, you can head to a separate section to select burial urns, jewelry, caskets, and more. Their online shop is great as it uses an add-to-cart system, which a lot of people are familiar with.
Whether it's a package or an add-on, they disclose a concise description with the price. From there, it's clear to see what's included or not, and minimises the need for questions.
If you do have questions, it's likely the owners will pick up the phone directly, any time of day. We definitely appreciated how accommodating the team was to inquiries and special requests.
For instance, if a death occurs in your home, they offer expedited transport to their facility. Keep in mind that this does entail an additional cost of $295, and it applies to all locations without a temperature-controlled holding facility.
24/7 service
Central location
Upfront pricing and full disclosure
Online shopping format
Submission of CPP Death Benefit application included
Additional $295 for home death transportation
Slightly pricey private viewing
Customer Reviews
Here's what clients are grateful for about the services of Ethical Death Care:
"My wife and I were helping my brother deal with the loss of our sister-in-law. We searched online for a funeral home and came upon Simple Cremations. Their professionalism, response time, caring nature, follow through and price made the whole process much easier to deal with. Their online form that they require you to complete assists them in doing all the paperwork that is required when someone passes…not all companies provide that service according to our search. We would not hesitate to refer them to our friends or relatives."―Murray Otter
"Absolutely fantastic service provided by these people. The cost was very fair and they always made sure we were up to speed on the process. We completed all of the forms on the website, it was really simple. They had death certificates ready for us the same day and we had the ashes of my sister within 24 hours. Thank you so much for taking such good care of our family."―K. Pressler
2.   Alterna Cremation
SERVICES
Direct Cremation, Scattering Service, Tributes, Memorials, Urns
WEBSITE
www.alternacremation.ca
ADDRESS
2495C Henderson Hwy, East St. Paul, MB R2E 0C2, Canada
CONTACT DETAILS
Phone: 204-808-4490
Email:

[email protected]

OPERATING HOURS
24/7
Alterna Cremation aims to build a compassionate community around grief and cater to the wide-spread preference for cremation. Their service scope does seem to reflect this, and we'll walk you through it.
At the onset of a death, they cover transportation from any site within 50km of Winnipeg. They also don't charge extra fees for residential locations or nursing homes.
Despite being located in the north east edge of the city, they'll still offer to meet you where you are to discuss arrangements. Virtual meetings are also an option if you prefer it that way.
You can even make arrangements from home with their package builder that keeps track of the bill for you. Speaking with them can come after, once you've got all your thoughts in order.
During the process, they're attentive to what families need without pressuring them for a decision. Several testimonials speak highly of their respectful and kind gestures.
Speaking of kind gestures, they have a virtual flower service in collaboration with local florists. This makes it easy for someone special far away to send their heartfelt goodbyes with fresh flowers.
At the end of it all, scattering services are available at $249. This includes scattering ashes at a legal scenic location, photos of the service, a Certificate of Scattering, and geotagging.
24/7
Flexible meeting arrangements
Flower Service
Unlimited keepsake distribution of remains
Unlimited Proof of Death Certificates
Submission of CPP Death Benefit application included
Tricky to get to from South Winnipeg and Charleswood
Unembalmed private viewing is limited to 2 family members
Customer Reviews
Here are some families who took the time to thank Alterna Cremation through a review:
"I highly recommend Alterna! Their compassion and kindness in our time of sadness brought a much needed peace. They are very knowledgeable and respectful, and do what they can to make this process as easy as possible. Thank you so very much Alterna team for being there for us, you were very much a blessing!"―Kelly McDowell
"Patient, accommodating, and wholly understanding, our family's experience with Alterna was entirely professional and pressure-free. Sonia and Ashley are remarkable communicators who provided us great support in a difficult time, and we cannot recommend their services highly enough."―Geoff McRae
3.   E.J. Coutu & Co. Funeral Directors
SERVICES
Pre-planning, Funeral, Cremation, Memorial, and Scattering Services
WEBSITE
www.ejcoutu.ca
ADDRESS
680 Archibald Street, Winnipeg, MB R2J 0Y4, Canada
CONTACT DETAILS
Phone: 204-253-5086
Email:

[email protected]

OPERATING HOURS
24/7
E. J. Coutu & Co. has brought over 125 years of heritage into their memorial services. With that, they strive to offer quality cremation services backed up by decades of experience.
If you're the type who prefers to arrange things online, some of our other entries may suit you better. E.J. Coutu's services gravitate toward an in-person approach, so not a lot of specifics can be arranged from your computer.
What you get in exchange is a streamlined process with a personal touch. Hands-on care and guidance is a strength of theirs, and families definitely pick up on it.
Before the cremation process, they're thoughtful in accommodating tiny details that might mean a lot to you and your family. They ask about what clothes the deceased might want to wear and encourage handwritten notes and trinkets in the cremation.
They also help you take care of all the legal work. An estate kit with important forms, permits, and paperwork is provided to keep things in order.
One of the things we like most about E. J. Coutu & Co. is the aftercare. They recognise that grief doesn't fade in a day and extend their services past your appointment.
Their lines stay open for you if you need anything else―whether you need legal advice or a referral to a grief counselor or support group.
125 years in the industry
Legal documentation and guidance
Cremation process is open to special requests
Referrals to grief support
General price list is only shared over the phone or in person
Arrangements can't be made online
Customer Reviews
Here's how some families reviewed E. J. Coutu & Co. and their compassionate service:
"Excellent service. Staff treated me with care and compassion. Interior is really nice. Price more than fair. I would highly recommend Ed over the big corporate places."―Jeremy Clemens-Mierau
"From the moment we set foot in the door our expectations and needs were taken care of. Over the years we have had to say farewell to loved ones and have never been treated as well as this. Top drawer in all aspects. Many thanks from our family for an excellent job."―A J Taylor
4.   Direct Care Cremation
SERVICES
Direct cremation and funeral services
WEBSITE
www.directcarecremation.ca
ADDRESS
1085 Keewatin St, Winnipeg, MB R2X 1R3, Canada
CONTACT DETAILS
Phone: 204-803-4067
Email:

[email protected]

OPERATING HOURS
24/7 funeral service

For arrangements:
Monday to Friday, 9:00 AM – 4:00 PM
For a budget-friendly option, consider Direct Care. Compared to alternatives on this list, they offer the most affordable direct cremation package.
Packages start at only $975, and sort out most of the things you need. We'll talk about what's included and what's left to be desired.
Firstly, transportation from the place of death is covered by the package. This includes sealed-pouch transport and temporary holding at their facility.
Deaths that occur at home or in other locations that need urgent response are charged an additional $150. On the bright side, the fee is around half of what other companies charge for the same penalty.
When it comes to legal documentation, they make sure to arrange a complete list of forms for you. However, unlike other cremation services on this list, Direct Care doesn't apply for CPP Death Benefits for you.
Being affiliated with different chapels has its quirks, including more control over the location of the memorial service. The downside with Direct Care is that you'll be charged extra for using urns from outside suppliers or chapels.
What's nice is that financing options are available, but do remember to check with the funeral director first if you're eligible. All in all, paying less money for a service does have its drawbacks and with Direct Care, you can feel it.
Inexpensive starting price
Minimal added cost for home death transportation
Financing options available for families with limited means
Doesn't include submission of CPP Death Benefit application
Additional fee for bringing urns from external suppliers
Customer Reviews
Here's what one family member wrote about the service he received from Direct Care Cremation:
"Amy and Glen went above and beyond. I cannot recommend them enough. During a difficult time and being in another province, their assistance and knowledge was invaluable. When I finally got to Winnipeg, they had everything taken care of. Also given the fact that my sister was Ojibwa, I had other concerns but they treated my sister with dignity and respect that sometimes was not the experience that my sister or family received from others. Thank you so much!"―Paul Sidon
5.   Precious Pet Cremation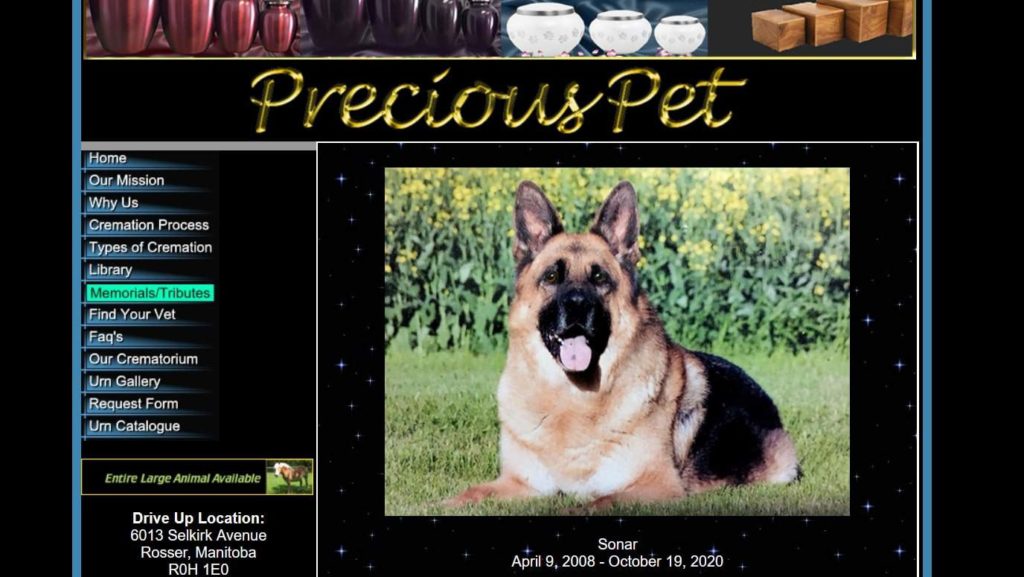 SERVICES
Pet Cremation
WEBSITE
www.preciouspetcremation.com
ADDRESS
Intersection of Perimeter hwy 101 North and Selkirk Rd, Winnipeg, MB R3K 2E7, Canada
CONTACT DETAILS
Phone:204-633-6088
Fax: 204-632-5446
Email:

[email protected]

OPERATING HOURS
Monday to Friday, 8:00 AM – 6:00 PM
Saturdays, 8:00 AM – 12:00 PM
Sundays, 12:00 PM – 6:00 PM
Pets are family too, and deserve a proper send off. Pet owners in Winnipeg who want to do it through cremation usually go to Precious Pet.
We'll tell you now that it's a bit of a drive if you don't live in the northwest side of the city. Luckily, the building stands out from the countryside―easy to locate if you're up for the trip.
When you arrive, you can pop right into the reception area. Before receiving your pet, they offer you a private room if you need time to express your final sentiments.
They're also open to include special items in the cremation such as a farewell note, flowers, and other trinkets. Arrangements for a witnessed cremation can also be made.
For this, just mind that they need a 24-hour notice before scheduling you first thing in the morning. Also note that they usually only do one witnessed cremation a day because the process needs to start with a cool furnace.
You may find the website fiddly at times, with the urn gallery directing you to their mission statement. There's definitely a lot of room for improvement there, but there's still a tonne of useful information.
What's not included in their site is pricing, for which you'll need to call them. The cost of this service depends on what you'll need done, but expect to pay between $150 to $300 (based on reviews).
Can accommodate large animal cremation
In-house urn selection
Witnessed cremation available
Location is far from the city center
No transport service to their facility
Further enquiry needed for pricing
Customer Reviews
Here are some pet owners who looked to Precious Pet in their time of grief:
"Thank you so much for the wonderful service and kind words. My family and I were absolutely heartbroken when our family dog passed away. Thankfully, we felt so at ease to know that Prince was in good hands at Precious Pet. Thanks again for the amazing work."―Sasha Zigic
"Only negative I have to say was I could not find any pricing on the website. If it's on the site it needs to be easier to find. That said, I called and was very pleased with the service and pricing. I ended up having my cat cremated here. They were respectful, knowledgeable and sensitive. No pushy sales at all and also follow pandemic restrictions. I would definitely recommend them."―A.K.
FAQs About Cremation
---
And that's the end of this chapter. We hope this guide has offered you some support in your bereavement.
If you're still undecided between cremation and a traditional burial, we have more options in our review of best funeral homes in Winnipeg that offer both. Check that other list out to see your other options.