Best Dog Grooming Services in Winnipeg
Featured Image Source: Freddie Marriage via Unsplash
Looking to treat your beloved pooch at the groomer's? Whether it's for some modest pampering or a full-on makeover, we've got you and your furry friend covered.
For this list, we'll be rounding up our picks for the best dog groomers in Winnipeg. We'll also talk about how much the service costs, along with other common questions about dog grooming in the city.
How Much Does Dog Grooming Cost in Winnipeg?
Dog grooming services usually come as a package. This typically includes nail maintenance, ear cleaning, shampoo and conditioning, brush-and-blow-dry, hair trimming, and more.
At its core, the price of having your dog groomed depends on the difficulty of the task at hand.
For example, smaller dogs with shorter hair are just mathematically easier to groom than large ones with a full coat.
Additionally, your dog's temperament can also factor in, as well as other special instructions you might have for your dog groomer.
The specifics can be discussed with them, but to give you a headstart, here are the average prices for dog grooming in the city:
| | | |
| --- | --- | --- |
| SERVICE | ESTIMATED COST | |
| Nail trimming and filing | $10 to $15 | |
| Full grooming package for short-haired dogs (no trim) | Small | $40 to $50 |
| | Medium | $55 to $65 |
| | Large + | $70 to $80+ |
| Full grooming package for medium-haired to long-haired dogs | Small | $50 to $60 |
| | Medium | $65 to $75 |
| | Large + | $80 to $90+ |
| Additional charge for custom haircut | $10 | |
| Additional charge for grooming Doodle breeds | $10 | |
| Dental cleaning | $5 | |
| Dematting | $5 to $10 per 5 minutes | |
| Flea and tick control | $15 | |
Best Dog Grooming in Winnipeg
Now that we shook paws with the price list, here are our picks for the best dog groomers in Winnipeg.
As an added note, we know just how much you pet lovers want to get this right―and we totally hear you. Every entry on this list has at least a 4.9 rating on Google Reviews with no known history of pet injury during grooming.
1. Central Bark
SERVICES
Ear cleaning and plucking, nail trim, massage bath, shampoo wash & blow dry, full body shave down,15-minute brush out, scissoring feet & pad shave, trim furnishings, sanitary trim, scented cologne spritz, teeth brush, face trim, dematting, flea & tick control
WEBSITE
https://www.centralbark.ca
ADDRESS
1333 Portage Ave, Winnipeg, MB R3G 0V7, Canada
CONTACT DETAILS
Phone: 204-777-2275
OPERATING HOURS
Monday to Friday – 7:00 AM to 6:30 PM
Saturday – 9:30 AM to 5:00 PM
Closed on Sundays
If the term "massage bath" is any indication, the groomers at Central Bark are big on the spa experience. In their quarters, your fur baby will be met with soothing music and aromatherapy that's specially designed to calm down anxious canines.
What's more, if you've gone organic yourself or just appreciate the movement, then you'll like Central Bark. They only use all-natural products on your pet, free of any harsh chemicals.
While their main services come in packages, you can avail of extra treatments for as low as $5. If you're all in, package rates depend on your pet's size, temperament, and special needs.
Size categories range from tiny to giant. So, whether you own a chihuahua or a St. Bernard, they can handle your four-legged pal.
Their services lean slightly on the pricier side of things, but you definitely get what you pay for. If you think your dog can benefit from the added care and calm ambiance, definitely consider booking Central bark.
Organic and eco-friendly dog grooming
Spa-level pampering
A la carte services and add-ons available
Customer Reviews
Here's what some satisfied customers have to say about the grooming service their pets received from Central Bark:
"I recently rescued a dog from northern Manitoba and she was in bad shape and needed to be trimmed badly to help remove ticks. Even though this place was booked for weeks they understood my situation and made time to schedule me an appointment without having to wait weeks. I highly respect this groomer and the staff. Much love"―Jelly's owners Shyann & Marilou
We took our 8 month old puppy Bennie here for a full groom. While he was a little bit nervous going in, he was so relaxed and happy when we picked him up, and they did an amazing job on the groom! They made him look so close to the style we asked for, and we couldn't be happier."―L Ikono
2. Golden Pet Home
SERVICES
Full-service dog and cat grooming, brushing and trimming, nail clipping, ear cleaning, bathing, drying, styling, dematting
WEBSITE
https://www.winnipegpetdaycare.com
ADDRESS
3560 Pembina, Winnipeg, MB R3V 1A7, Canada
CONTACT DETAILS
Phone: 204-221-8556
OPERATING HOURS
Monday to Friday – 7:00 AM to 7:00 PM
Weekends – 8:30 AM to 5:30 PM
Groomers at Golden Pet Home have built quite the reputation among their client base. A lot of it has to do with their kind and friendly staff.
Their facilities are also very clean and comfortable. It's a perfectly neutral space that can keep hyperactive dogs from getting overexcited.
If you also have a cat at home, Golden Pet Home is a convenient one-stop shop.You can have both your pups and kittens groomed at the same location without a fuss.
While they have a full price list for their boarding services on their site, you'll have to enquire about grooming rates. It's a bit of an extra step, but it helps that they accept walk-ins.
Customers also love that the groomers at Golden Pet Home are really good listeners. They pay very close attention to customer requests, especially when it concerns a dog's special needs or physical limitations.
Good listeners to specific requests
Kind and caring staff
Further enquiry needed for grooming rates
Customer Reviews
People praise Golden Pet Home for their friendly staff and professionalism.
"We brought our shih tzu for grooming as they did a great job. They listened to everything I said and were careful with his sensitive paws. He was super happy when I picked him up and they gave him a super cute bow! We will definitely be back."―Christine Albert
"Had a grooming appointment at Golden Pet Home. First, the facility is new and clean. I'm really happy with the cuts and how Luna (my husky) seemed very calm and happy when I picked her up. Staff is extremely nice and caring, they listen to my request (I like her butt a little round) and the groomer did a fantastic job on her!"―Zhang Wendy
"My dog has anxiety, especially when it comes to grooming, as a result of a bad experience. This place was amazing. She was happy when I picked her up and had no hesitancy to go in. She let them trim her nails and do her teeth which is HUGE for her. The price was pretty awesome for a large breed as well. They were incredibly kind to use both over the phone and in person, and they finished her grooming in under two hours, when other places usually take four-six, and it was done well. I like that my dog was not sitting in a kennel by herself for several hours waiting to be groomed. We will definitely be going back!"―Samantha Reid
3. Diamond Dogs Mobile Grooming
SERVICES
Nail clipping, ear cleaning, teeth brushing, shampoo and conditioning, blow-fluff-dry, paw shaving, brush/comb out, styling
WEBSITE
https://diamonddogsgrooming.ca
ADDRESS
1115 Riverwood Ave, Winnipeg MB R3T 1L5, Canada
CONTACT DETAILS
Phone: 431-668-6500
Email:

[email protected]

OPERATING HOURS
Monday to Friday – 9:00 AM to 5:00 PM
Closed on Weekends
Ever wish that the groomer could just come to you? Well, that's exactly the service that Diamond Dogs Mobile Grooming offers.
Chelsey, who runs this service, is multi-certified in professional pet grooming and is proficient in pet first aid. You'll usually find her driving around town in a mobile dog salon, ready to visit you and your dog at the front gate.
This service is extremely useful if you own a large dog or just find it hard to transport your canine to the groomer's. The van is fully equipped with all the tools needed for a full quality groom―hot water tank included.
It even has a sling to support old dogs and ones that have a hard time standing. Chelsey finishes up the service with style too, giving your dog either a bow or bandana and an oven-baked Darford treat.
In short, if you need a convenient way to squeeze in a grooming sesh without skimping out on quality care, Diamond Dogs Mobile Grooming might just be the solution you've been looking for.
Convenient mobile salon
Multi-certified dog groomer
Service add-ons available
Doesn't prioritise non-package services
Customer Reviews
People who've called Diamond Dogs Mobile Grooming have had good things to say about their service. Here are just a few:
"Would very much hire them again! It was a great experience from nose to tail! So much more convenient that finding a groomer and taking my big old dog there!"―Issy D
"Chelsey was so warm, friendly and attentive, she made me and my dog feel like we were in good hands. Over the years I've tried many groomers and I can honestly say this was the best grooming my dog's ever had. Chelsey got everything just perfect and my dog had a great experience. This was my first time using a mobile service and it was SO much better than taking my dog in somewhere else. Highly recommend it!"―Melanie Wesley
4. Oliver Professional Dog and Cat Grooming Spa
Oliver Professional Dog and Cat Grooming Spa is an affordable quality grooming service located in the north end of the city. What people love about this service is their precision styling and exceptional pet handling.
If you like seeing your dog rock a new look every now and again, Oliver can manage just about any style request you throw his way. Customers always get the results they've envisioned when dealing with him.
He's also known to be a cat and dog whisperer of sorts. A lot of people love animals but Oliver is just one of those special people animals seem to love― even the grumpy ones!
He has great attention to detail and leaves your dog feeling good after every session. Just look at all those happy faces!
It's also nice that he has consistent hours throughout the week so you won't have to rack your brain over scheduling. He responds quickly (except when he's busy making art, of course) and accommodates his clients whenever possible.
Predictable hours
Groomer is exceptionally good with animals
Quick response times
Affordable
Requires further enquiry for pricing
Customer Reviews
Here are some reviews from people who love the way Oliver grooms their pets:
"Highly recommend Oliver to anyone who needs their fur babies groomed! Dusty no longer comes home worn out from stress like he has with other groomers. Which we appreciate very much as he is in his senior years now. He's also just a naturally anxious dog who doesn't like certain parts of his body groomed. However, Oliver manages to do excellent work every time. Thank you Oliver! We'll continue coming back for as long as we can."―Mary A.
"Oliver is the best groomer I've met. Pickup and drop off are very easy. Boo (pictured) comes home looking great, happy & on time. Highly recommended."―Richard Mayes
"Oliver is great! Quick response and he tries his best to squeeze in my dog for grooming in a timely manner. Always happy with his service. Highly recommended! He even kept my dog there when I was running late to pick him up."―Monette Garcia
5. Pawadise Pet Care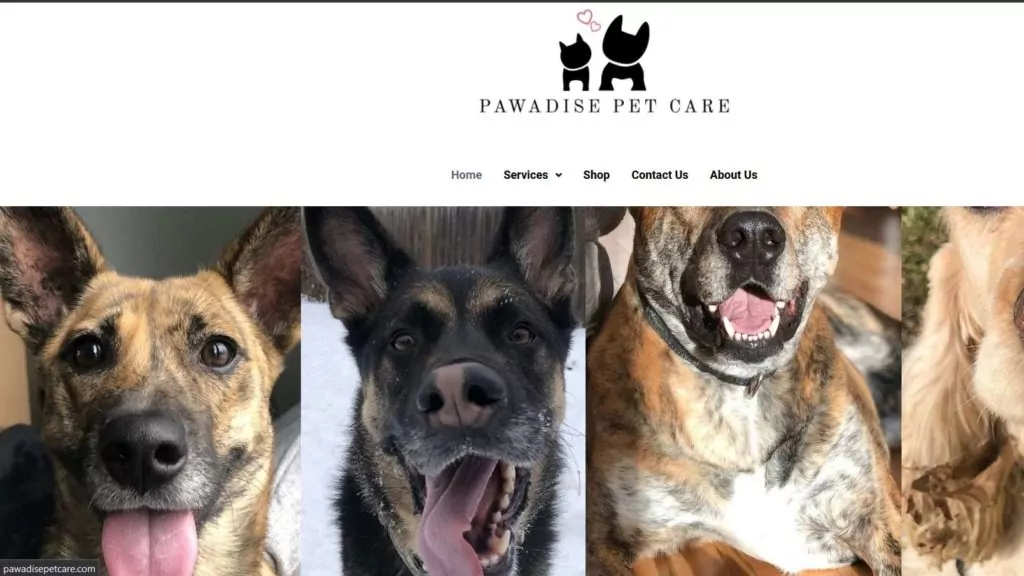 SERVICES
Nail trim and file, ear cleaning, pad shave, paw hair tidy, bath (with your choice of shampoo), deep coat conditioning, paw pad moisturizer, brush out/deshed,and finishing perfume
WEBSITE
https://pawadisepetcare.com/
ADDRESS
272 Poplarwood Ave, Winnipeg, MB R2M 1L6, Canada
CONTACT DETAILS
Phone: 204-391-2368
Email:

[email protected]

OPERATING HOURS
Monday to Friday – 6:00 AM to 8:00 PM
Saturday – 10:30 AM to 6:30 PM
Closed on Sundays
Pawadise Pet Care is both an in-shop and mobile pet care service that offers dog daycare, boarding, grooming, and walking. They're especially useful for people who don't want to leave their dogs alone during the workweek.
Pawadise Pet Care has a great team of animal lovers onboard who are all trained in Pet First Aid and Pet CPR. That means you'll have more peace of mind knowing that your pooch is in good hands.
You can call them to your home for nail trimming or visit their salon for a de-shed grooming session. Keep in mind that their de-shed service only applies for short haired furries who don't require full-body haircuts.
So if you don't need that stylish new doodle cut, Pawadise Pet Care's grooming service can clean and condition your dog with ease. They even let you choose which shampoo to use on your dog in case your pet has allergies or sensitive skin.
House calls available for some services
Consistent updates
Customer Reviews
Here is some positive feedback on the grooming services done by Pawadise Pet Care:
"Leo looked amazing. Destiny took her time with Leo to ensure a safe space for him. I got consistent updates on the grooming and his behaviour. Destiny is knowledgeable and I genuinely enjoyed the mini chat about things I can work on with Leo so that the next time we have a better experience. Thoroughly impressed."―Ali Bee
"After much anxiety in past attempts to cut Kenny Roger's nails we had Destiny Funk ( owner & operator) of @pawdisepetcare help us out. KennyR. did so well and was calmer with Destiny than anyone else who has handled him for grooming. Destiny was soft spoken, calm and gentle with KennyR which we believe helped him have a wonderful experience. Highly recommended for local small businesses."―Lea H
FAQs About Dog Grooming
---
Now that you know about the best dog groomers in town, consider giving your favourite one a call to either book in advance or learn more. If it's not just your dog that needs to freshen up, check out the best cleaning services in Winnipeg.