7 Best Laser Hair Removal Clinics in Winnipeg
Personal care can take up a lot of time, especially when it needs to be done on a routine basis. With all that we have going on in our lives today, permanent solutions for personal care are getting increasingly popular.
What we find interesting is that one of the most popular solutions for personal care, laser hair removal, was accidentally discovered in the 60s. The technology has been updated and improved to provide what is now one of the safest and most permanent hair removal solutions we have today.
We put together a list of the best laser hair removal clinics in Winnipeg. There are many places you can get laser hair removal in town but let's take you through our favorites and talk about how much this service can cost.
The Cost of Laser Hair Removal in Winnipeg
Rates may differ depending on the clinic of your choice but here is an estimate of what you can expect to spend on laser hair removal.
| | |
| --- | --- |
| SERVICE | ESTIMATED COST |
| Upper Lip & Chin | $50 to $200 |
| Full Face | $150 to $500 |
| Back & Chest | $200 to $800 |
| Arms | $200 to $600 |
| Legs | $250 to $900 |
| Underarms | $50 to $250 |
| Bikini | $99 to $400 |
The Best Laser Hair Removal in Winnipeg
Check out this list of the best hair removal clinics in Winnipeg.
1. Waterfront Laser & Wellness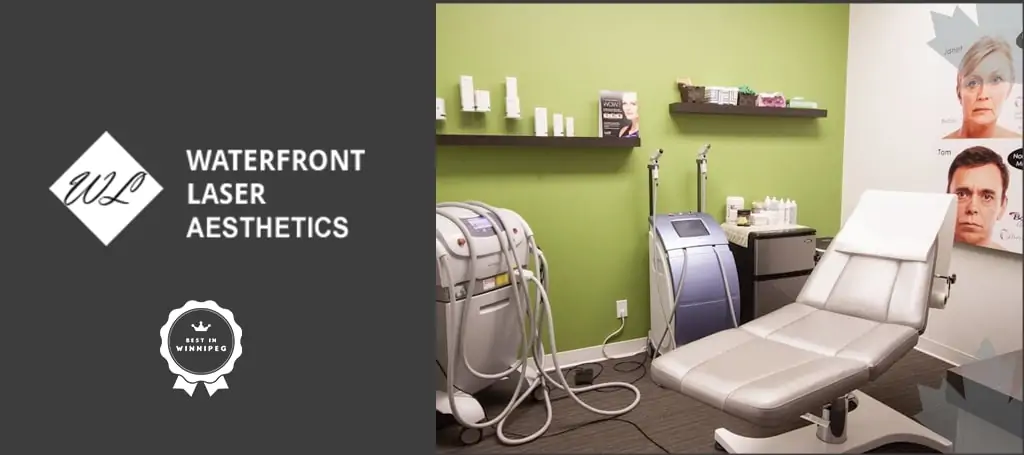 BEST FOR
Laser Hair Removal, Photofacial, Pixel Skin Resurfacing, Microdermabrasion, Skin Rejuvenation, Botox, Juvederm Injectable Gel, Body Reshaping and Skin Tightening, Facial Peels
WEBSITE
https://waterfrontlaser.ca/
ADDRESS
3-871 Waverley Street, Winnipeg, Manitoba R3T 5P4
CONTACT DETAILS
204 489 7546


[email protected]

OPERATING HOURS
Tuesday and Thursday 11:00am to 8:00pm
Wednesday and Friday 10:00am to 6:00pm
Monday and weekends closed
At Waterfront Laser Aesthetics, they are known for their wide variety of services like laser hair removal, photo facials, body contouring, microdermabrasion and more. They walk you through each step of the procedure, making sure to answer any questions you may have.
One thing that stands out is that they can adjust to evening and weekend appointments upon request. This is great if you have a busy schedule and can only reserve a couple of hours for your treatment.
Clients note that the overall experience at Waterfront is relaxing and therapeutic as the environment they have created seems almost like a spa.
They offer services for both men and women and have been able to work with many different skin types. This makes Waterfront a solid choice for laser hair removal.
FDA Approved technology
Free consultation
Free parking
Closed on Mondays and weekends
Technology not suitable for fair or light hair
Customer Reviews
Here are just some of the reviews that highlight the laser hair removal service of Waterfront.
I am writing this review after three sessions of laser hair removal (side-burns). I waited a bit to see the results to have a more accurate review. After the second session I felt that I lost most of my side-burns hair which is amazing cause I had lots of fine, black hair. Based on my past experiences, fine hairs were more difficult to be removed. But Linda and Marla are both amazing. I was checked several times during the session to make sure I feel the pinch (which shows that laser is actually affecting you hairs. All in all, great experience at waterfront. – Maryam S.
"I have to say I am very much satisfied with their service! Marla and Linda are extremely friendly and super professional at the same time! I have seen very visible results with my laser hair removal and I'm pleased with them." – Harjinder B.
"Marla and Linda are very professional. Overall my experience working with them has been positive. And their location is a relaxing oasis of calmness and positive vibes." – Chris M.
2. Genie Solutions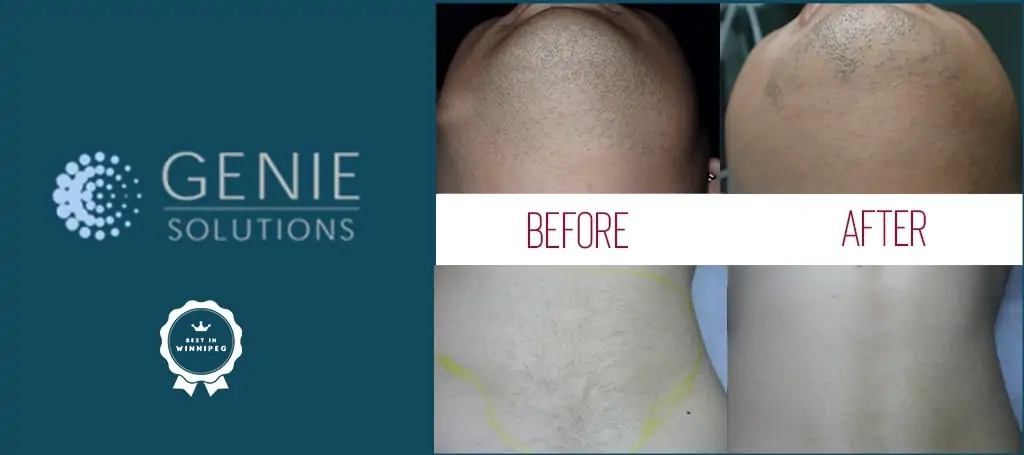 BEST FOR
Laser Hair Removal, Electrolysis, RF Sublative Skin Resurfacing, Skin Rejuvenation, Skin Tightening,
WEBSITE
https://geniesolutions.ca/
PRICING
For the full list of service prices, click here.
ADDRESS
3-1311 Portage Avenue, Winnipeg, Manitoba, R3G 0V3
CONTACT DETAILS
204 779 0909
OPERATING HOURS
Monday, Wednesday, Friday 10:30am to 6:30pm
Tuesday 11:00am to 6:30pm
Thursday 12:00nn to 6:30pm
Saturday 11:00am to 5:00pm
Genie Solutions of Winnipeg (formerly Genie Electrology) has been providing hair removal solutions for over 3 decades now.
What is impressive about Genie Solutions is that the ladies behind this clinic have combined the use of electrolysis and laser hair removal to create the most effective and practical approach to hair removal.

Electrolysis, though it may cause some swelling, works almost the same way as Laser does except it heats each hair follicle using electricity (a method that has been around for centuries!). Laser, on the other hand, uses high heat laser beams to get rid of your hair follicles using radiation.
Combining the two methods has allowed them to handle all types of skin—light, dark, smooth, aged, dry, oily, you name it!
In case you are planning to go as a group, it is worth noting that they have currently enforced strict Covid-19 safety protocols and are only accepting 2 clients at a time.
50% off if multiple areas are being treated in one session
Can offer services for darker skin
Free consultation
Only 1 hour free parking
Parking is walking distance
No separate treatment rooms
Customer Reviews
Genie Solutions is a popular choice among Winnipegers! Read these reviews to find out why.
"Cindy was awesome. She made me feel more at ease throughout my laser sessions . I've gotten excellent results and I often recommend this place if anyone wants effective laser hair removal- go see Cindy!" – Stephanie W.

"I've had 5 laser treatments with Jeannie. I wasn't sure how my hair would take as I have brown (not black) hair – the results have been amazing! I wish I would have done this years ago. Jeannie is punctual, professional, and super knowledgeable!
I would highly recommend Genie Solutions." – Stephanie W.
"I've been going to Genie Solutions to see Marcia for the past 3 years, and I've had amazing results! She's professional, thorough and respectful" – Maru G.
3. Dr. Earl Minuk's Cosmetic Skin Clinic & Laser Centre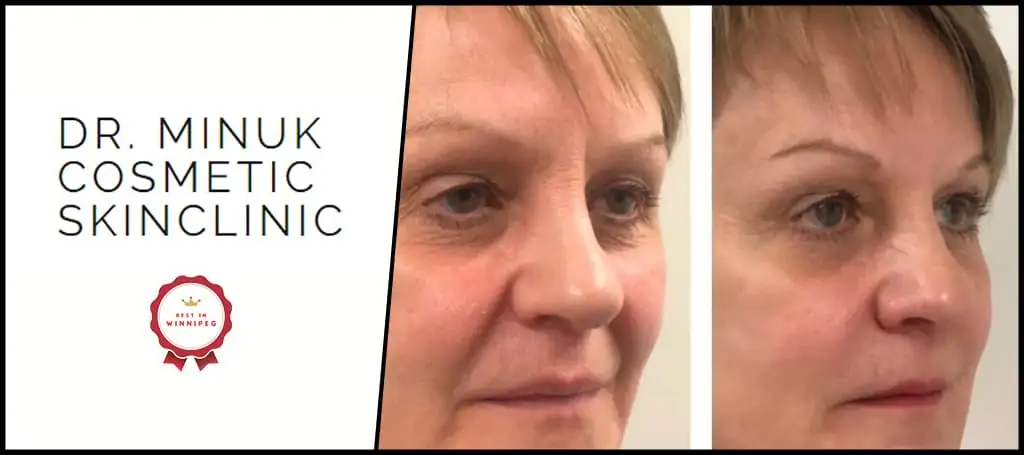 BEST FOR
Laser Hair Removal, Laser Tattoo Removal, Botox, Lip Fillers, Skin Rejuvenation Treatments
WEBSITE
https://drminuk.ca/
PRICING
For the full list of service prices, click here.
ADDRESS
3250 Portage Ave. Winnipeg
CONTACT DETAILS
Phone: 204-998-0393
Text: 204-813-0956
OPERATING HOURS
Monday – Friday: 8:30 AM–4:30 PM
Dr. Minuk is a highly accredited Dermatologist in Canada and USA. He and his team of specialists have been at the forefront of non surgical skin rejuvenation for decades.They offer services like laser hair removal, tattoo removal, botox, lip fillers, skin treatments, and more.
We found Dr. Minuk's to be a top choice because of their highly qualified team. Dr. Jennifer Giuffre, a Board Certified Surgeon in Winnipeg, is on their team and specializes in services like breast surgery, abdominoplasties, body, arm and thigh lifts, and facial cosmetics.
She sits on several boards including the Young Canadian Plastic Surgery Committee, the Surgical Standards Committee, and the Surgical Undergraduate Education Committee. She is also an associate professor of Plastic Surgery, Department of Surgery.
It is worth noting that some people have found the team at Dr. Minuk's to be quite direct and straight to the point so you can expect to walk in for exactly what you need and walk out with just that! They only recommend services that you are interested in and offer you advice on the best way to care for your skin, if you ask.
For more information on their services, their complete price list and services are available on their website. You can even schedule a free consultation or book an appointment using the form on the website.
Online booking and payment portal
Wide variety of services
Gift cards available
0% interest payment option available
Customer Reviews
Take a look at what people have to say about Dr. Minuk.
"Dr. Minuk and staff are excellent and accommodating! They are extremely meticulous on cleanliness and sanitization. They explain everything and make sure you're 100% comfortable and satisfied with their treatments! I couldn't be more impressed with a treatment center!" – A. Daniels
"Awesome service. Dr Minuk and his Staff where very professional and knowledgeable. I recommend Dr Minuk's SkinClinic & Laser Centre if you have any issues or questions. You won't be disappointed." – Doris D.

"Friendly reception staff, excellent quality services, and COVID protocols are top notch!" – Alana F.
4. Advanced Aesthetics by Maria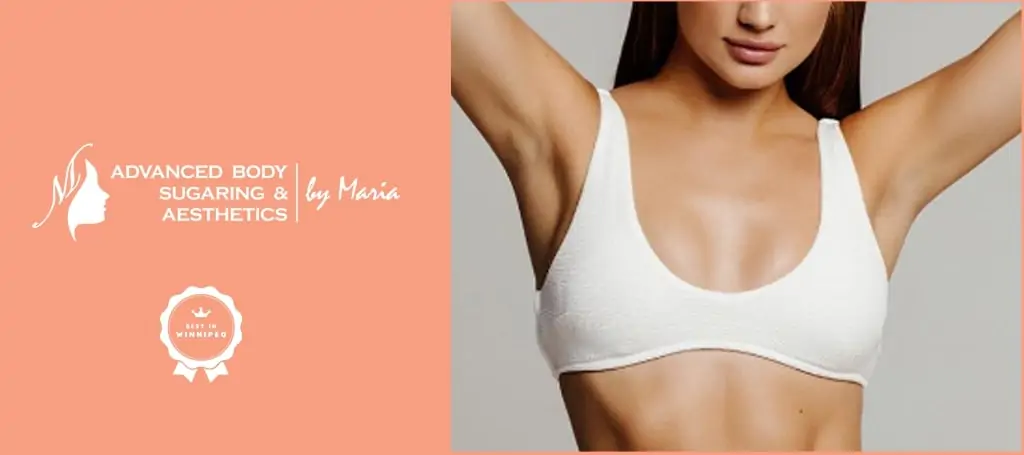 BEST FOR
Laser Hair Removal, Skin Tightening, Cellulite Reduction, Body Contouring, Microblading, IPL Photofacial, Sugaring, Lash Lift and Tinting, Massage, Facials, Diamond Peel, Skin Resurfacing
WEBSITE
https://aestheticsbymaria.com/
ADDRESS
837 Corydon Ave, Winnipeg, MB R3M 0W6
CONTACT DETAILS
204 475 5096
OPERATING HOURS
Monday to Friday 9:00am to 6:00pm
Saturday 9:00am to 5:00pm
Aesthetics by Maria seems to be a crowd favorite because of the quality of the service provided. They provide a wide range of services like skin tightening, microblading, sugaring, facials but they are a go-to for laser hair removal.
Maria has had almost 2 decades of experience and handpicked each of her team members and personally trained them to ensure the quality of service. This is quite the personal touch by Maria and could be what sets them apart.
They use the Venus Velocity, which is known to be safe for all skin types, including tanned skin. How it works is that the device's real-time cooling system maintains the skin's temperature. There are two modes, pulse mode and slide mode, giving the technician greater control over the device.
Clients note that the team is knowledgeable on many different skin types which is what makes them feel safe in this clinic.
They also provide free consultation which is great especially for those of you who have sensitive skin and would like to ask questions regarding what type of procedure would be best for your skin and if there are any other side effects to expect.
Free consultation
0% Interest financing
Uses Venus Velocity advanced technology
Closed on Sundays
Premium rates
Customer Reviews
Check out what these customers have to say about Maria and her team.
"I've been a customer for 4 + years now and I am BEYOND SATISFIED! I've had an outstanding experience, every time, I've received services, from the time I book my appointment to the time I leave. I honestly can't say enough good things about Maria, the quality and professionalism of the staff and the services. When you see the word "advanced" in the business, I can vouch that the techniques, the products and the staff are like no other in Winnipeg, and the results I get are incredible.
Aline is my Aesthetician and she is AMAZING! I've also seen Maria, who is classy, elegant and skilled and Giovana, another incredible professional. I will not go anywhere else in the city. I highly recommend them." – Kathy
"I started going there around 4 months ago and I fell in love with the space, the girls and the services. The girls are super nice, the owner is a sweetheart, they always have a smile in their faces. I go there to get facial done, a lymphatic massage from heaven, laser hair removal (so practical and painless) and much more. I recommend this place to everyone that I know. It really doesn't matter which service you're thinking of getting, you are not going to leave unhappy. Way to go girls!!" – Amanda A
"I've been here a handful of times and each visit has been positive. I've seen Hayley to get my nails done and she did an amazing job. I've seen Hayley and Caressa for sugaring. They are both super thorough and it's always a comfortable experience!" – Arielle
5. Self Aesthetics Laser and Skin Centre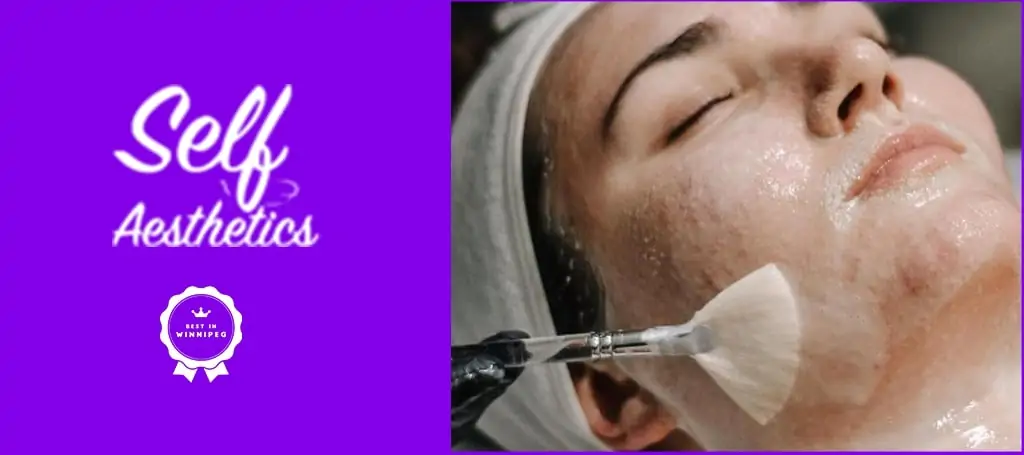 BEST FOR
Laser Hair Removal, Spider Vein Treatment, Skin Tighterning, Photofacial, Skin Pigment, Dermal Filler, Botox, Dysport, Velashape, Spa Treatments
WEBSITE
https://selfaesthetics.com/
ADDRESS
455 Sterline Lyon Pkwy Unit 2, Winnipeg, MB R3P W28
CONTACT DETAILS
204 237 1388
OPERATING HOURS
Tuesday, Thursday, Friday 9:00am to 3:00pm
Wednesday 11:00am to 8:00pm
Saturday 9:00am to 2:00pm
Self Aesthetic uses only the latest technology for treatments such as laser hair removal, facials, and more. It is supposed to be almost painless and leave your skin looking flawless.
They use the GentleMax Pro, a laser hair removal machine that gets the job done in half the time. It uses a dual-wavelength laser which makes the entire process so quick that you can be in and out in under 30 minutes… pretty convenient!
Although the process is supposed to be painless, some reviews state that they felt a slight tingling, almost like an ant bite, during the process. This may be the case to expect for sensitive skin or dark skin.
The laser does not only remove hair but also gets rid of sunspots, tightens your skin, and lightens any discoloration you may have on your skin. It sounds like the best value for money.
You can book an appointment right on their website for your convenience.
GentleMax Pro advanced technology
Wide range of products
Offers AirMiles Reward Miles
Premium rates
Closed on Sundays and Mondays
Customer Reviews
Let's take a look at these customer reviews of Self Aesthetics.
"I am so happy with the results of my Laser Genesis sessions with Tanya at Self Aesthetics! After a few sessions (that were both quick & painless), I noticed my acne scars were smoothed out, my skin looked tighter & my skin tone had improved! I highly recommend Tanya who not only is professional but down-to-earth & so friendly! Thanks again Tanya!!" – Chantal S.
"Had a great experience there! Amazing staff and great customer service! They do their best to accommodate your requests in terms of appointments! Very clean and neat place! Love it and reccommending it to everyone!" – OA K.
6. Peach Lasers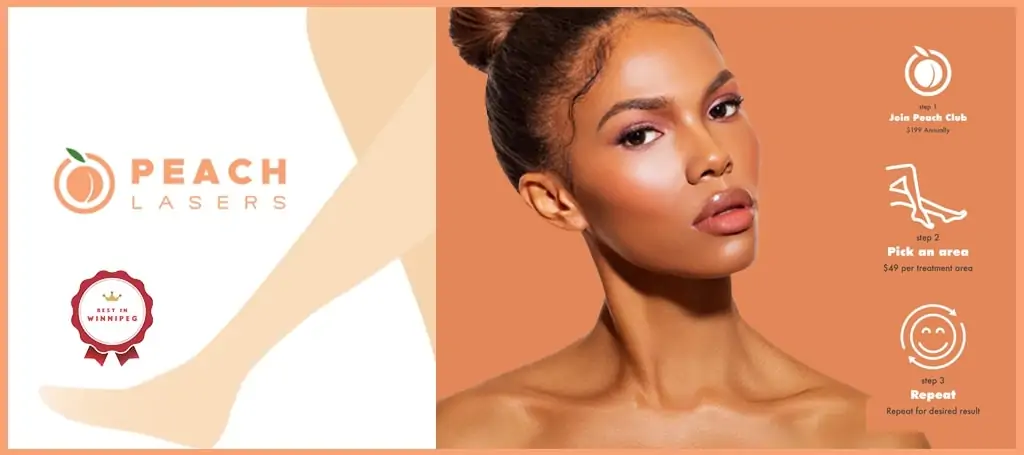 SERVICES
Laser Hair Removal
WEBSITE
https://www.peachlasers.com/
ADDRESS
1-1190 Taylor Ave, Winnipeg, MB R3M 3Z4
2188 McPhillips St Unit 12B, Winnipeg, MB R2V 3P4
CONTACT DETAILS
(204) 318-6817
OPERATING HOURS
By appointment
Peach Lasers is an award-winning laser hair removal boutique. It uses only the latest techniques and equipment to deliver permanent results with its laser hair removal.
With new equipment, Peach Lasers also offers virtually painless laser hair procedures with minimal downtime. Aside from these procedural conveniences, Peach Lasers is also well-known for having accommodating and friendly aestheticians to keep customers company during the laser treatment.
Peach Lasers also offer relatively affordable services, with each treatment area worth $49 per session. This price is also applicable for all areas, no matter how wide it can be.
However, we noticed that procedures in smaller areas tend to be more expensive than average. But on the bright side, Peach Lasers also offers other perks through the Peach Club Membership and its very own referral program.
Peach Lasers even goes to greater lengths in making its services accessible by having two locations in Winnipeg—one in McPhillips Street and Taylor Avenue.
Among these two locations, only the location in Taylor Avenue is open for 7 days. Nonetheless, the boutique at McPhillips Street still is open from Tuesdays to Saturdays.
Referral program discounts
Relatively affordable treatment
2 locations in Winnipeg
Affordable rates
Closed on Sundays and Monday

s
Procedures in

smaller areas may be more expensive
Customer Reviews
Very professional and is always there to answer any questions or concerns
"I have very sensitive skin and I've gone for 3 sessions so far for 3 area treatments and saw results after my first session. I used to have a lot of thick facial hair and stomach hair, and I would have to wax every week or shave everyday. The time and money to shave or wax is not worth it at all. It's an investment but it's something you will not regret. Honestly, if you have been contemplating on getting laser hair removal done, I 100% recommend peach lasers. The staff are very friendly and polite. The place is very clean. Aihlene is super friendly very professional and is always there to answer any questions or concerns." – Nezvalik
Professional and great at what she does
"Amazing Service & Super friendly staff. I got my laser done from Aihlene and does such a great job! She is very professional and great at what she does. I saw amazing results on my skin and laser has worked out as magic for me! – Meghan Gandhi
7. Total Wrapture Medi Spa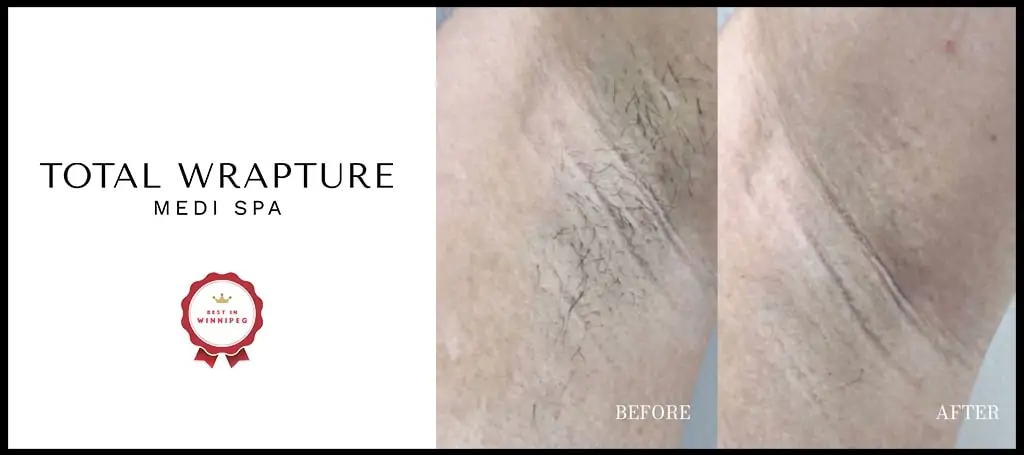 SERVICES
Laser Hair Removal, Face & Body Treatments, Lashes & Micropigmentation, Nails, Tattoo Removal, Skin Analysis, Sugaring & Waxing, Teeth Whitening
WEBSITE
https://totalwrapture.ca/
ADDRESS
2255 Ness Ave #3, Winnipeg, MB R3J 0Z8
CONTACT DETAILS
(204) 8379727
OPERATING HOURS
Tuesday – Friday, 9AM-7PM
Saturday, 9AM-6PM
While laser removal is one of the many services this skin clinic offers, it is actually one of Total Wrapture's fortes. An award-winning medical spa, Total Wrapture is known for its use of cutting-edge technology, strict sanitation protocols, and highly-skilled team, which is an impressive feat.
Every laser removal service booking comes with a complimentary consultation with an expert laser technician, which we like. This shows us how Total Wrapture is serious about educating its clients on healthy solutions based on their unique skin issues.
We've heard nothing but praises for their laser technicians and estheticians, who are all described as friendly, knowledgeable, and supportive. We think that these are essential qualities in this line of work, given that many clients have low pain tolerance and may come in anxious.
Clients also find it reassuring that it is easy to book an appointment with them online. We think that making their website a booking portal is a smart, seamless, and convenient way to invite customers who value efficiency and digital access.
Finally, we love how beautiful and spotless the facilities are – two important qualities of a medical spa one would come back to. Most medical spas look functional and clean at best, but Total Wrapture clearly had aesthetics in mind when they designed the space.
Complimentary consultation with an expert laser technician
Easy online appointment booking system
Clean, beautiful, and relaxing space
Some reports of inconsistent

service quality
Pricier than other clinics
FAQs about Laser Hair Removal in Winnipeg
---
And that's it for our list! If you have any questions about laser hair removal or your skin, schedule a consultation with one of these top clinics.
Know any other clinics within Winnipeg that weren't included on this list? Let us know by reaching out to us.
If you are still having doubts about what is best for your skin, check out this list of the best dermatologists in Winnipeg and schedule a free consultation!