The 7 Best Driving Schools in Winnipeg
Are you on the lookout for driving lessons? Well, you're in luck, as we've put together a list of the best driving schools in Winnipeg for you.
Here you'll learn about their rates, their strengths and weaknesses, and more. We'll basically show you how to pick the best driving school here for your needs!
The Cost of Driving Schools in Winnipeg
Before we talk about the best driving schools in Winnipeg, let's talk about how much driving lessons can cost.
Driving lessons are generally not very expensive here, fortunately. Take a look at the table below to find out the estimated cost.
| | |
| --- | --- |
| SERVICE | ESTIMATED COST |
| 1 Hour Lesson | $50 to $60 |
| 1.5 Hours Lesson | $65 to $80 |
| Road Test Lesson | $85 to $110 |
The Best Driving Schools in Winnipeg
Now that you have an idea of how much driving lessons cost in Winnipeg, let's talk about the best driving schools in Winnipeg.
1. Amar Driving School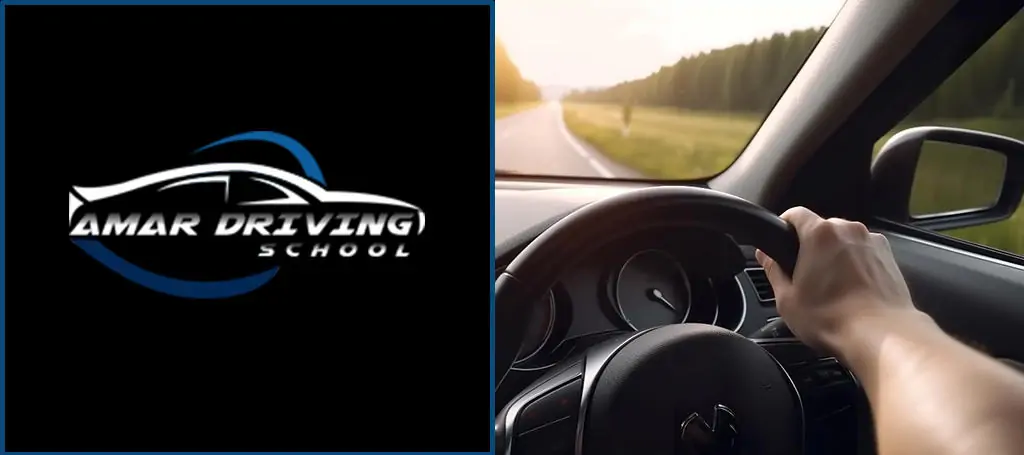 SERVICES
Driving Lesson, Brush-up Driving Lesson, Defensive Driving
WEBSITE
https://amardrivingschool.ca/
ADDRESS
83 Mosselle Drive, R2P 1M7, Winnipeg, Manitoba
CONTACT DETAILS
204 218 9079
OPERATING HOURS
Monday to Saturday 8:00 am to 8:00 pm
Sunday 11:00 am to 4:00 pm
Amar Driving school offers Class 5 Driving Lessons using the defensive driving technique. They offer beginners driving lessons as well as brush-up driving lessons for those who have not been on the road in a while and would like to get acquainted with driving again.
Their lessons include learning road safety, how to read and apply traffic signs and symbols, stopping techniques and stopping distance, entering and exiting busy roads, driving on highways and other busy areas of Winnipeg.
They have a team of permitted instructors who have years of experience and lots of patience, and can help you build your confidence.
They're accommodating too. If you are more comfortable with a female instructor, all you need to do is let them know and they will pair you up with a female instructor.
They are open 7 days a week and offer weekend lessons for those who are too busy to take driving lessons during the week. You can schedule an appointment with them through their website.
Open 7 days a week
Online appointment scheduling available
Female instructors available
Customer Reviews
Take a look at the great things that students have to say about Amar and his team.
"Great driving school. Thank you so much. I am very happy because I pass my road test it has been possible as you gave me good quality lessons and boosts my confidence that I can do it. You are very good teacher.I really recommend Amar Driving School. I took lessons from Kamal and Amar both are really nice and knowledgeable. They have lots of patience along with experience. Thank you so much for your quality time and support." – K. Kaur
"Amar sir is very knowledgable about the theoretical and practical aspects of driving. He has very good deal of information related to signs, symbols, road marks and speed limits of the vehicle on different types of roads. He understands that every learner driver is different and adopts a unique approach for them and keeps them motivated all the time. He focuses on making the learner driver understand the driving culture required to be a safe driver. I will highly recommend Amar sir as a driving instructor for new comers and experienced individuals too. His punctuality, patience, reliability and willingness to repeat the lessons in a comprehensive way boosts the confidence of the learner, especially for first timers who are afraid when getting behind the wheel. Thank you Amar sir for helping me in clearing the road test and making me understand the driving culture required to be a safe driver." – Verun S.
"Amar is very knowledgeable, decent and honest.
He told me you are going to pass, though I didn't have any confidence as i failed 9 times before and took classes with different schools but then I decided I want to find another driving school. I chose Amar driving school. And this time ( the tenth time ) I was able to do it with his help. He was able to identify the problems and boost my confidence. And I did it today! Thanks Amar! Forever thankful 😊" – Marina I.
2. Akash Driving School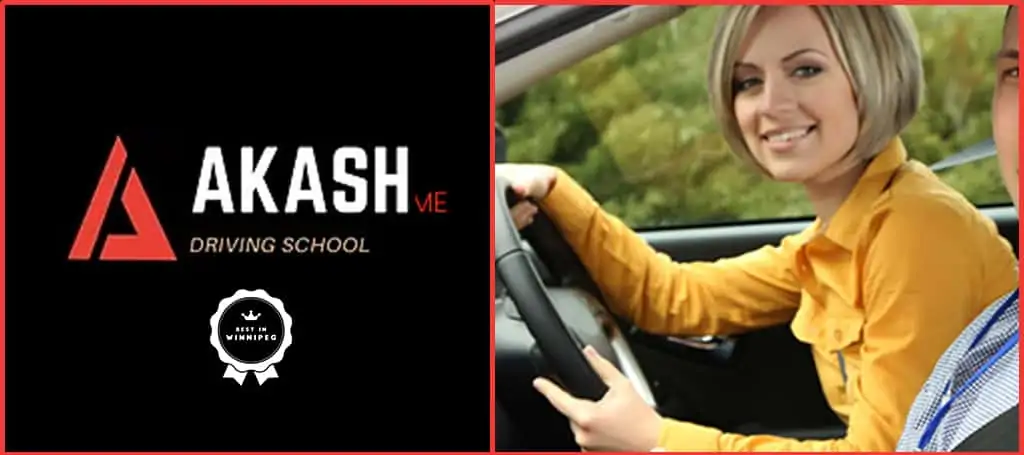 SERVICES
Novice Driving, Refresher Lessons, Defensive Driving, Car Rental for Road Test
WEBSITE
https://www.akashdrivingschool.ca/
PRICING
Package 1 (1 hour) – $50
Package 2 (1.5 hours) – $75
Package 3 (1 hr before road test) – $100
Road Test Only – $60
ADDRESS
23 Allan Blye Dr., Winnipeg, MB
CONTACT DETAILS
204 979 7360


[email protected]

OPERATING HOURS
Monday to sunday 8:00 am to 8:00 pm
Akash Driving School offers complete driving lessons to beginners and advanced drivers. They also offer refresher lessons that help you correct bad habits, and learn about any changes to the road rules.
Each of the drivers at Akash has been certified and has years of experience driving on the roads of Winnipeg. They will teach you how to read road signs correctly, how to parallel park efficiently, and how to follow road rules safely.
If you are not interested in taking lessons but you are in need of a vehicle for your upcoming road test, you can rent a vehicle from Akash for only $60. This is affordable considering that you will be renting an insured vehicle.
They open early everyday and close at 8:00 pm even on Sundays, so if you prefer to have your driving lessons in the evenings to avoid rush hour traffic, you might want to schedule a lesson with them through their website.
All driving instructors and vehicles are approved and have been insured by Manitoba Public insurance.
Open 7 days a week
Budget-friendly
Customer Reviews
Take a look at what these happy students have to say about Akash and his services.
"Akash is a great instructor with many tips and procedures on how to pass your road test. During my driving lessons he identified what I was doing wrong and gave proper suggestions on how to fix it. He can build confidence while giving tips, out of the three instructors who've taught me I would go back to Akash." – Keegan H.
"Definitely recommend you do business with them, the driving instructions are top notch, and you'll definitely be on the path to your license with help from their driving instructors." – Ariel W.

"I am newcomer in Manitoba and I had a phobia to drive. I joined Akash driving School and the way they teach to drive is awesome. first day they built confidence in me to drive car on roads and I passed my test in very less classes with Akash. I love their way to teach the new learner drivers. Thank you Akash driving School for getting my Class 5F drivers License." – Gurjeet G.
3. Bikram's Winnipeg Driving School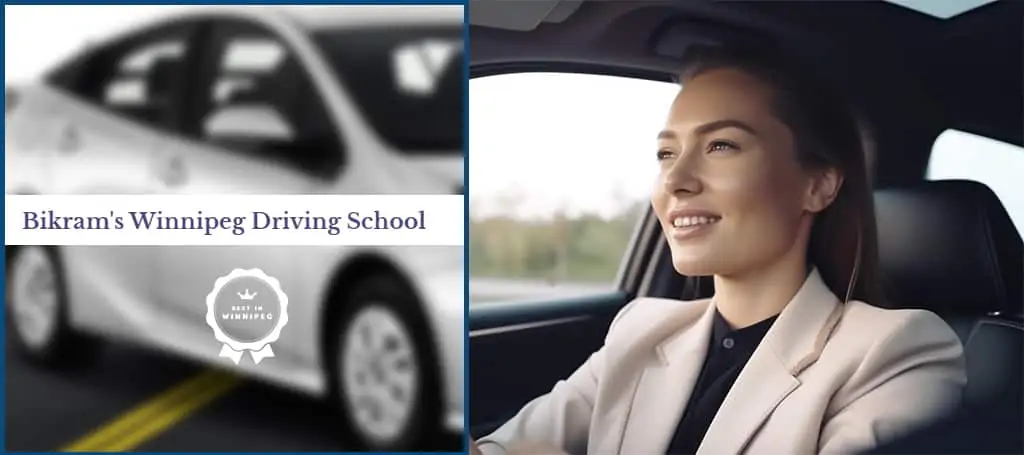 SERVICES
Driving Lessons
WEBSITE
http://class5winnipeg.com/
ADDRESS
38 Woodcroft Bay, Winnipeg, MB R2R 1C7, Canada
CONTACT DETAILS
204 295 3877
204 290 7632
OPERATING HOURS
Monday to Sunday 6:00 am to 10:00 pm
Bikram and Kiran are the masterminds behind Bikram's Driving School. They have been part of the Winnipeg community for many years and have taught over 100 Winnipeggers how to drive.
What is great about Bikram's is that they offer extended hours, starting every day at 6:00 am and ending at 10:00 pm. This is convenient for busy Winnipegers who want to learn how to drive but have other commitments throughout the day.
Their students boast that they are able to learn how to drive efficiently with as little as 2 lessons, and are very pleased with the proper guidance they have been given in order to learn at this pace.

Bikram and Kiran are both known to have a calm teaching style, explaining everything to you before letting you take the wheel. They come highly recommended by their students who are now newly licensed drivers.
Longer operating hours than most
Very calm teaching style
Customer Reviews
Take a look at these reviews about Bikram and Kiran.
"Bikram's Winnipeg driving school and his co instructor have helped me and my wife to pass our driving test. they not only focus in making you pass but to teach you how to safely drive on the streets of Winnipeg. they are very reliable and I was amazed by how my wife got 1st take road test and pass with 1 general error only. very nice people to deal with. Best Instructor indeed" – Joseph R.
"Bikrams Winnipeg Driving School has the best training available and ensure you understand the rules of the road. Their way of teaching was amazing and because of them, I was able to pass my road test on my first try! I only had 2 lessons and they were worth it as I learnt more in those two days than I did in 10 months. Overall, I had a wonderful experience with Bikram's Winnipeg Driving School!" – Gorin R.
"I highly recommend Bikram Driving School. Great Instructors . My instructor went the extra miles to encourage and support me. She prepared me for everything that was on my test. She has lot of patience, knowledgeable and full of encouragement. Overall, the training I received at Bikram driving school gave me the ability to successfully pass my road test ." – Virpal T.
4. Jimmy's Driving School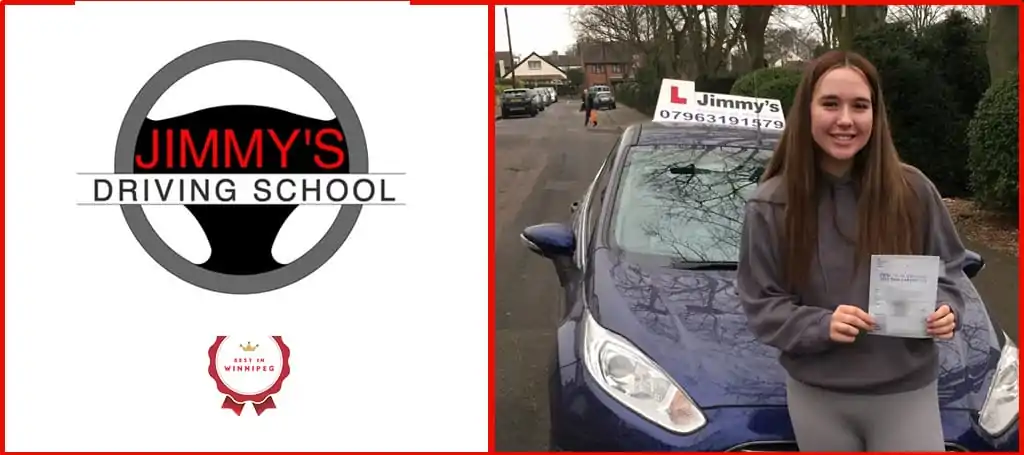 SERVICES
Beginners Driving Lessons, Road Test Lessons, Road Safety
WEBSITE
https://www.jimmysdrivingschool.ca/home222222.html
PRICING
1 Hour – $50
1.5 Hours – $70
4 Lesson Package (1.5 hrs / lesson) – $270
Road Test Package – $295
ADDRESS
1023 Royse Ave., Winnipeg, MB R3T 1V4, Canada
CONTACT DETAILS
204 228 3486


[email protected]

OPERATING HOURS
Monday to Saturday 8:00 am to 10:00 pm
Jimmy's Driving School offers Class 5 Driving Lessons at affordable prices. You can expect Jimmy to help you become a more focused driver.

He will teach you how to establish yourself at intersections, execute left and right turns properly, merge into traffic and use a roundabout.
He will also teach you techniques like fool-proof parallel parking and defensive driving.
Jimmy uses a 2015 Honda Civic with a dual braking system and a professional rear view mirror. The vehicle also has a working air conditioner, heated seats, and all-weather tires so that the weather outside will not disrupt your lesson.
He also offers many useful resources on his website so that you can better prepare yourself before you get on the road. Some of the resources you will find are test quizzes for the 5L written test, a driver's handbook and some road safety brochures.
What is great is that he offers city-wide pick-up and drop-off for all his services. Jimmy's is also among the most affordable driving schools in Winnipeg, so that's another plus!
Open until 10pm on weekdays
Fairly low rates
Closed on Sundays
No online booking system
Customer Reviews
Here are some reviews from some of the students of Jimmy's Driving School.

"Outstanding results after working with Jimmy's driving school. Passed my road test first try and I'm giving all of the credit to Jimmy. Outstanding personality, really easy to work with and always has useful information to give on every appointment. 10/10 would recommend" – Damon B.
"I highly recommend Jimmy's Driving School. It was my fourth attempt and I took three classes from Instructor Al and he cleared all my doubts and helped me improve my faults. He was really calm and motivating which helped me to be confident on the test. It was the first time I drove in snow on the day of my test, he even taught how to handle the brakes and gas in such situation before the test. I am thankful to Al for helping me clear the Road test." – Ishpreet N.
"I absolutely recommend Jimmy. He's very knowledgeable, patient and friendly; an excellent instructor overall. I passed the road test with no problems after taking lessons with him, and I had never driven before. 5 out of 5 rating for sure!" – Carlos C.
5. Alan's Driving School
Next on the list would be Alan's Driving School. It's owned and handled by Alan, a trainer with over 5 decades of driving experience. He's more than qualified to teach driving lessons to both pro and non-pro students.
What makes Alan an easy recommendation is that he's a comfortable guy to be with, as he is an expert in what he does. He's known to provide constructive criticism when needed, but also ensures that he's able to give positive feedbacks to encourage his students.
Alan regularly offers car, class 1, and class 3 sessions. Class 1 is for regular trucks while and class 3 is for tractors. But aside from these three, he also has a MELT Course available for pro students to take up. It consists of 121.5 hours of training to drive trucks, and costs $6750, which is a very reasonable price.
The car training costs $55 per hour, while both class 1 and class 3 costs $100 an hour, with a minimum of 2 hours needed each session.
Minimal documents are needed when you decide to enrol at Alan's Driving School. Registration forms are available on the website to reserve a spot. You can choose one that's available at a time you're mostly okay with.
Professional driving instructor
Over 50 years of experience
Offers truck driving lessons
6. Barnala Driver Training Academy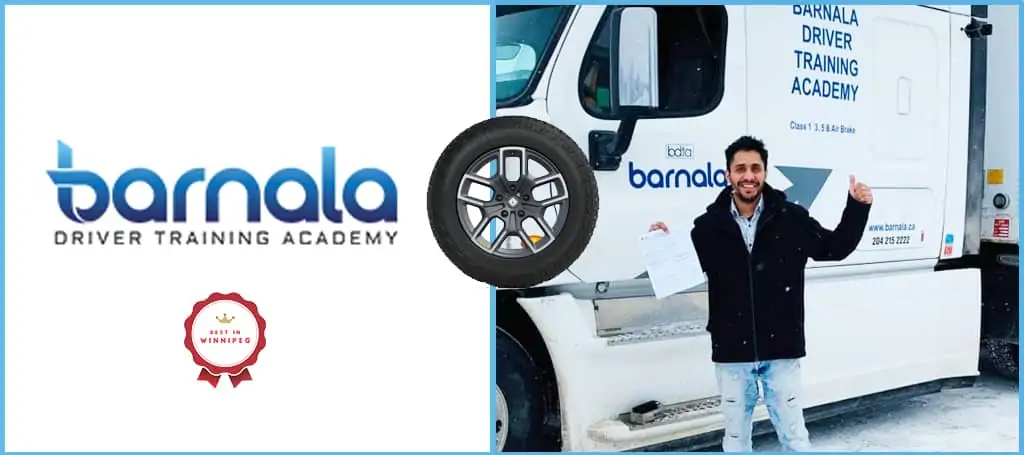 SERVICES
Entry Level Training
Class 1 Driver's Training
Class 3 Driver's Training
Class 5 Driver's Training
WEBSITE
https://barnala.ca
PRICING
Contact for more information
ADDRESS
10 Industrial Rd., St. Andrews
Winnipeg, MB – R1A 3N7
CONTACT DETAILS
+1 (204)-215-2222


[email protected]

OPERATING HOURS
A driving school can definitely help shape how a student driver views the road. Luckily, Barnala is readily available to take in new enrollees in their Academy.
Barnala is one of the leading driving schools not only in Winnipeg, but in Canada as a whole.
It's run by professional drivers who are great in what they do: driving and teaching. Their one-on-one training guarantees that their students are guided accordingly, while each of their instructors' expertise prove to be sufficient in ensuring that their students learn everything they need to know about driving before being let off in the streets.
Receive the quality you pay for, allow Barnala to impart practical knowledge and skills when it comes to driving. They have four courses to offer and for you to choose from: Entry Level Training, Class 1, Class 3, and Class 5.
You can know more about their programs by clicking on their website, or letting one of their staff explain to you via call. You don't need to worry as
Barnala prides itself on having amazing customer service. Leave them a message too, and they'll be sure to get back to you within 24 hours.
Registered M.E.L.T. Provider
One-on-one training on the road
Advanced Instructions
Experienced instructors
Emphasis on practical hands-on training
7. By Law Driving School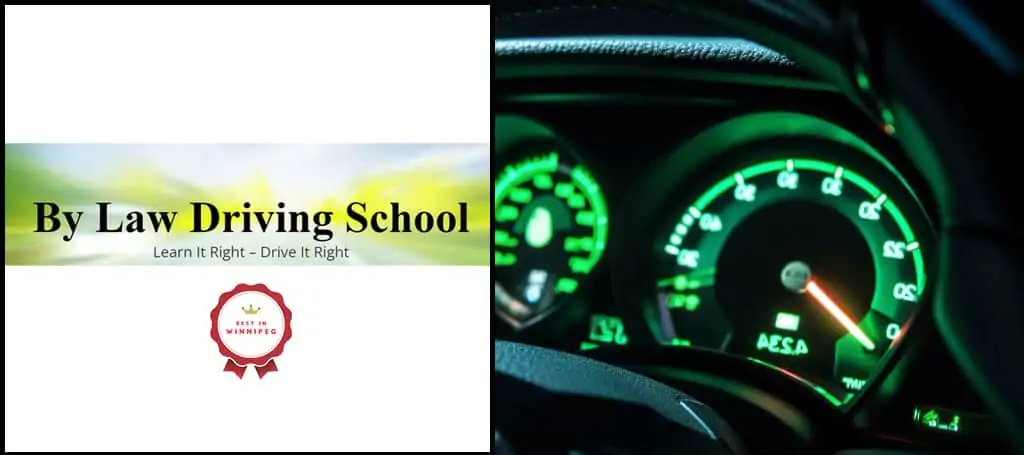 SERVICES
Road Test Package
Ultimate Road Test
Standard Road Test
Supreme Road Test
Road Test Prep
WEBSITE
https://bylawdrivingschool.com/
ADDRESS
Winnipeg, Canada
CONTACT DETAILS
204-880-8844


[email protected]

OPERATING HOURS
Monday – Friday: 8am–6pm
Saturday – Saturday: 8am–12am
By Law is one of the best schools to enrol in for driving classes.
What makes them great is that they offer their lessons to everyone, may it be a newbie who's never been behind the wheel, to a professional driver that already has years of driving experience.
Their instructors ensure that they always have something knowledgeable to impart to their students, ones that would prove useful to them in daily adventures and even in the long run.
The two instructors of By Law are Hayley Krips and the owner herself, Patricia Law. These two are both experienced professional drivers, and are very much passionate when it comes to teaching.
Safety would always be their number one priority, so you need not be afraid to learn from them.
By Law makes every session exciting and fun, just as it is well-informing. They always take the extra mile and guarantees that their clients get what they pay for, if not more.
If you're interested in taking them up with the classes, the available packages are on their website. Four bundles are available, each having its own unique aspect. Inquiries can also be sent there.
Open daily
Expert driving instructors
Comprehensive packages
Customer Reviews
Here are some reviews from some of the students of By Law Driving School:
"Pat is a wonderful driving instructor! She is thorough in her lessons and ensures you feel comfortable behind the wheel. Pat teaches you to be confident while making responsible driving decisions. I went from gripping the wheel so tight in a parking lot to feeling comfortable and passing my road test on the first attempt. It's clear she loves what she does and gets so much out of seeing her students pass! I enjoyed getting to know Pat over the summer and she made my experience of getting my licence enjoyable. Highly recommend By Law Driving School whether you are just starting, had driving anxiety like I did, or just need some practice. Thank you for everything Pat!"
"Pat is a wonderful teacher. Her lessons, and the confidence she had in me was everything I needed. She is more interested in seeing her students pass, than making money, she won't tell you to sign up for more lessons than you need. She is on top of changes in driving tests, procedures to help her students. Her website also works great, has a very simple scheduling system, and makes the whole process a breeze. If you are on the fence about a certain driving school in Winnipeg, I hope my review helps you out."
FAQs about Driving Schools in Winnipeg
---
We hope this list of the best driving schools in Winnipeg has helped you make your decision. For more information, you can contact any of the schools and schedule a consultation.
Did we miss any of your favorite driving schools? Tell us all about them and we will check them out as soon as possible.
And getting yourself ready to get on the road is one thing but getting your car ready is a whole other thing. If you need help there too after you get your license, check out this list of the best auto wreckers in Winnipeg.