6 Efficient Maid Service Agencies in Winnipeg
Whether we admit it or not, some of us just don't have enough time to include cleaning into our daily schedules. We don't even have the energy to even want to deal with ourselves on our own.
This is where hiring efficient maid service agencies in Winnipeg comes in. This way, we don't have less to worry about, and we can focus on things that matter more.
Given that there are plenty of cleaning agencies in our area, we handpicked the best ones for you. We based our choice on overall customer satisfaction, good work ethic, and effective practices.
Let's discuss more about why we recommend these maid service agencies as we proceed. With that said, let's begin.
How Much Do Maid Services Cost in Winnipeg
Some people no longer hire help for things they can do by themselves, like cleaning. However, time is valuable in all industries, so we ought to invest in services that help us finish the job faster.
Maid and cleaning services aren't limited to residential locations. In fact, it is also needed in commercial, institutional and industrial establishments.
In that case, the rates will vary according to how complex the job is, how many products will be used, what equipment will be needed, and how many people it will require. So feel free to contact multiple agencies for a quotation.
Also, take advantage of initial inquiries to ask if they offer discounts for multiple cleaning sessions or long-term contracts. Their regular rates usually apply to one time services.
| Maid Services | Average Rates |
| --- | --- |
| Basic Cleaning Services for typical houses or apartment units | $150 to $304 |
| Basic Cleaning Services by the hour | $64 to $116 |
| Basic Cleaning Services per individual cleaner | $32 to $116 |
| Basic Cleaning Services for areas less than 1000 sq.m. | $115 |
| Basic Cleaning Services for areas approximately 3000 sq.m. | $323 |
If you are hiring from a freelance cleaner or an independent operator, you may get yourself a cheaper rate. On the other hand, what agencies offer is the guarantee of professionalism and quality work for the price they set.
| Contractors | Average Rates |
| --- | --- |
| Independent Operators | $11 to $30 per hour |
| Agencies and Companies | $30 to $52 |
The Best Maid Services in Winnipeg
There are a number of maid service agencies in the area, so it may be a challenge zeroing in on one choice. While you can always try another one if the first choice doesn't work out, we all want to find the best agency to work with.
That said, we prepared a simple criteria to help you assess if you found the best maid services agency in Winnipeg for you. Let's dive right into it.
1. Signature Cleaning Services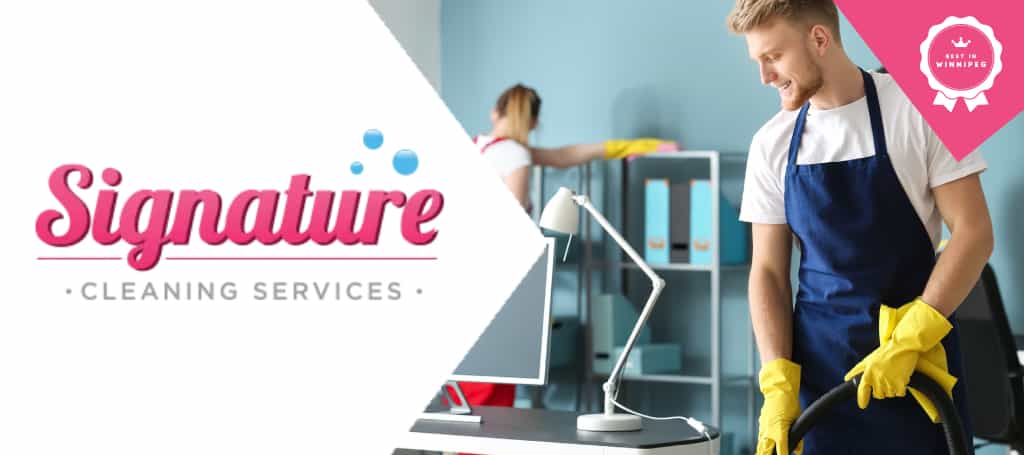 SERVICES
House Cleaning Services, Move-in and Move-out assistance, Post Construction Cleaning, and Commercial Office Cleaning
WEBSITE
https://signaturecleaning.ca/
ADDRESS
215 Oakland Ave, Winnipeg, Manitoba R2G 0A7, Canada
CONTACT DETAILS
Phone: +1 204-779-3600
OPERATING HOURS
Weekdays: 8:15AM - 5:30PM

Weekends: CLOSED
| | |
| --- | --- |
| Criteria | ★★★★☆ (4.7/5) |
| Overall Customer Satisfaction | ★★★★★ (5/5) |
| Effective Cleaning Methods | ★★★★☆ (4/5) |
| Variety of Cleaning Service | ★★★☆☆ (3.5/5) |
| Reasonable Pricing | ★★★★★ (5/5) |
| Professional Turnaround | ★★★★★ (5/5) |
True to its name, Signature Cleaning Services is indeed one of the leading agencies in Manitoba for their excellent customer service. Their systems are also designed for online bookings and cash-free payments, which is quite convenient.
Started with a vacuum and a vision, this company developed their very own Signature Wash Dry Shine Method that customers love. The owner, Joanne Saucier sees to it that they hire people who share the same values and goals as the company.
They also boast their 99% reliability rate, and consistency of positive reviews online. This is because they are keen to accommodate feedback and guarantee their clients' satisfaction.
If you decide at the last minute to have any additional hours added or work done, the office must be informed at least a day before. Failure to do so may require clients to set up another appointment.
Another way they ensure quality is by having their commercial and construction projects bonded and professional. They also keep their own people safe with programs that are WCB (Workers' Compensation Board) compliant.
If you're aiming to avail of their services on a recurring weekly or monthly basis, they offer a reasonable flat rate pricing. Lastly, payment is only due on the actual day of service, so clients' can freely assess the work for themselves.
Allows clients to book appointments online
Offers instant pricing and quotations
Construction cleaning services are WCB Compliant
Pet-friendly cleaning systems and staff
Flat rate pricing for regular services
Additional request work can only be accommodated when the office is informed in advance
Fewer service options
Closed during weekends
Customer Reviews
The positive reviews are real! The service is great!
Absolutely thrilled with my experience and service. I chose Signature based on the website and Google reviews. The booking process leveraged effective and sincere communication. The actual cleaning was superb and had me thrilled returning to an immaculate space. The team left a thoughtful note and was immediately apparent they cared. I'll definitely look to book subsequent services.
— Aaron Cram, Google Reviews
Can't go wrong with Signature Cleaning
Signature Cleaning is a great company. I've been using them for almost two years now, they saw me through a move, and handled all the uncertainty around COVID with communication and patience.
Love the new self-serve website features, including being able to leave a tip after my service, and they're still super responsive via email, phone and text.
—Ashleigh Lodge, Google Reviews
2. Molly Maid Winnipeg South and North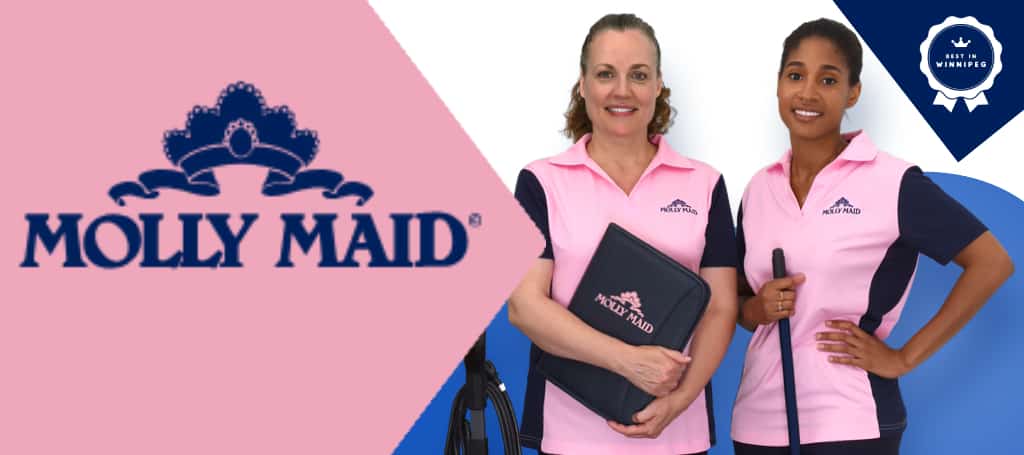 SERVICES
Ongoing or One-time Cleaning, Seasonal Cleaning, Move-in and Move-out Cleaning, Apartment and Condo Cleaning, Cleaning for Seniors, Green Housekeeping Cleaning Services, and Healthy Home Cleaning Systems
WEBSITE
https://mollymaid.ca/
ADDRESS
North: 805 Sargent Ave, Winnipeg, Manitoba R3E 0B9. Canada South: 421 Mulvey Ave, Winnipeg, Manitoba R3L 1Z8, Canada
CONTACT DETAILS
North Area

Phone: +1 204-809-4527

South Area

Phone: +1 204-809-4519

OPERATING HOURS
Weekdays: 9:00AM - 5:00PM

Weekends: CLOSED
| | |
| --- | --- |
| Criteria | ★★★★☆ (4.6/5) |
| Overall Customer Satisfaction | ★★★★★ (5/5) |
| Effective Cleaning Methods | ★★★★★ (5/5) |
| Variety of Cleaning Service | ★★★★★ (5/5) |
| Reasonable Pricing | ★★★★☆ (4/5) |
| Professional Turnaround | ★★★★☆ (4/5) |
When it comes to both general and specialized cleaning services, Molly Maid Winnipeg is a name many remember. Not only are they known to be trustworthy and professional, but they are also accessible from both the North and South areas of Winnipeg.
Molly Maid Winnipeg has two availables branches to accommodate the growing demand for their services. Since they are the largest residential cleaning company in Canada, clients can also partner with them to own a Molly Maid franchise.
Operating in the belief that every cleaning project is unique, this agency doesn't set fixed prices. Instead, they offer to inspect the area and give a timely no-obligation estimate for free.
Another great feature of their company is their Healthy Home Cleaning System, a protocol which promotes health and safety for customers. This is part of their assurance to provide top quality cleaning services to all.
Moreover, they are among the few that offer green housekeeping services using eco-friendly and biodegradable cleaning supplies as a way to reduce their carbon footprint. They also offer cleaning services for seniors who can no longer deep clean their homes on their own.
With that, it's safe to say that their services are empathetic to the needs of any modern working person. So they remain as one of the best residential maid service agencies in Winnipeg.
Good variety of general and specialized cleaning services
Increased accessibility from both North and South Winnipeg
Inspects area in real-time and offers a no-obligation estimate
Follow established protocol for health and safety
Offers green cleaning programs and a service geared for seniors
Rates can be quite expensive to some
Closed during weekends
Customer Reviews
Consistently top quality!
I have been using Molly Maid since 2019 and they have been consistent, reliable and very thorough. The office staff has always looked after our scheduling needs and does a wonderful job at coordinating cleaning appointments.
— Saud Gamar, Google Reviews
On-time and efficient work. Thank you, ladies!
Kelsey and Linda are, by far, the best cleaners we've ever had! They are always polite, happy and in a good mood. Their cleaning skills and attention to detail are commendable. Mike, the manager, has always been accomodating with us for timings, extra time needed for heavy cleaning and scheduling adjustments. We certainly appreciate it. Mike and the cleaners have taken proper precautions during the pandemic, and, being retired and have medical issues, we are happy that these items are being handled properly. We've have been with Molly Maid since 2014 and we couldn't be happier! Keep up the great work!
— Alana Flint, Google Reviews
3. Polished Cleaning Services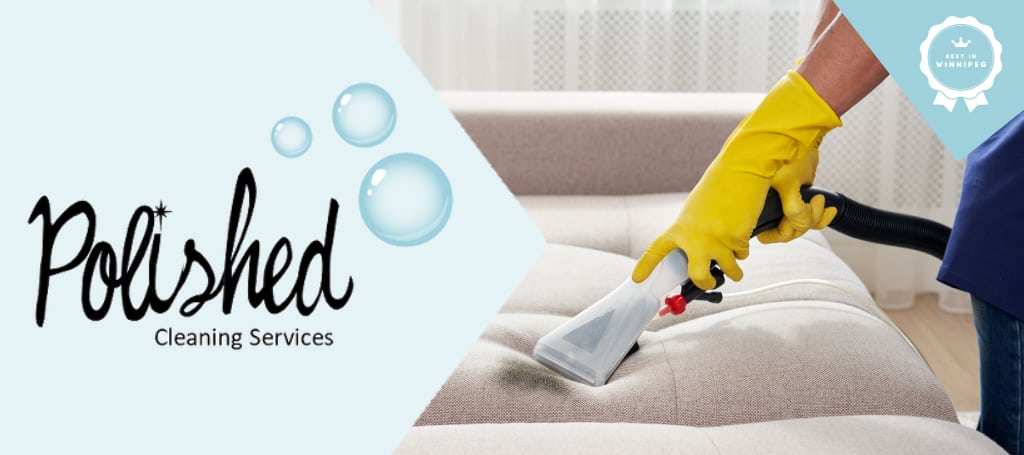 | | |
| --- | --- |
| SERVICES | Residential Cleaning, Commercial Cleaning, Specialty Cleaning, Hoarding and Remediation Services, and Construction Cleaning Services |
| WEBSITE | https://www.polishedclean.com/ |
| ADDRESS | 538 Edison Ave, Winnipeg, Manitoba R2G 0M4, Canada |
| CONTACT DETAILS | Phone: +1 204-480-9779 |
| OPERATING HOURS | Everyday: 9:00AM - 5:00PM |
When it comes to residential, remediation and specialty cleaning, Polished Cleaning Services is among the top recommendations. They also offer generous deals via coupon codes and gift cards to customers who subscribe to their newsletter and hang around their website.
One downside at the moment is that they can only be contacted via email, because they are currently upgrading their phone systems. In a way, this shows that there is an increase in their customer base, and the initiative to improve their facilities.
What sets them apart from other maid service agencies in Winnipeg is that they also offer hoarding clean-up and pest remediation. This is a whole other challenge than cleaning, but they still managed to rack a good deal of positive feedback for their work.
They are as well adept at yard maintenance, pre and post-party cleanup, and general deep cleaning. This makes them a good choice for residential cleaning projects.
They also cover moving in and moving out services, including real estate preparation. This also makes them a good option for business people in the real estate industry.
With all that said, they also offer post renovation cleaning and final cleaning for construction projects of all sizes and types. Given the health protocols mandated, they also put their disinfectant fogging on the table when needed.
| | |
| --- | --- |
| Criteria | ★★★★☆ (4.6/5) |
| Overall Customer Satisfaction | ★★★★☆ (4.5/5) |
| Effective Cleaning Methods | ★★★★☆ (4.5/5) |
| Variety of Cleaning Service | ★★★★★ (5/5) |
| Reasonable Pricing | ★★★★☆ (4.5/5) |
| Professional Turnaround | ★★★★☆ (4.5/5) |
Offers seasonal discounts and coupons to attentive and loyal customers
Effective remediation and hoarding clean-up services
Covers yard maintenance and real estate preparation
Extensive service options for residential projects
Open everyday
Does not offer online estimates
Not the best option for industrial cleaning projects
Customer Reviews
Fantastic job. Will definitely hire them again.
I hired Polished to clean up our house following a renovation on our bathroom. I booked them on rather short notice and they were able to accommodate our timing so we could move back in to our home on the weekend. They did a fantastic job. I was surprised how much they accomplished in the time they had. I would definitely hire again for future cleaning.
— Tim Fennell, Google Reviews
Excellent deep cleaning work
Excellent service provided by Hannah and Mia from Polished Cleaning Services. Very thorough and respectful, completed exactly as promised. Very impressed by their deep clean of the kitchen and bathrooms. Have already booked another cleaning after the New Year!
— Sandy Owsianski, Google Reviews
4. K&E Cleaning Inc.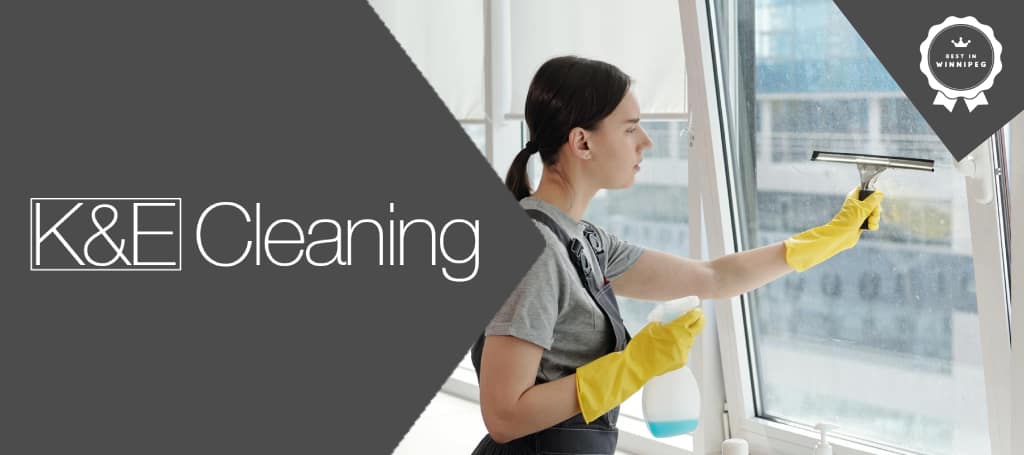 SERVICES
Residential Cleaning, Move-in and Move-out Cleaning, Commercial and Industrial Cleaning, Post-construction Cleaning, Laundry Service and Special Occasions
WEBSITE
https://kandecleaningwinnipeg.ca/
ADDRESS
258 Chadwick Crescent, Winnipeg, Manitoba R2C 3S1, Canada
CONTACT DETAILS
Phone: +1 204-999-0665
OPERATING HOURS
Weekdays: 8:30AM - 6:30PM

Weekends: CLOSED
| | |
| --- | --- |
| Criteria | ★★★★☆ (4.8/5) |
| Overall Customer Satisfaction | ★★★★★ (5/5) |
| Effective Cleaning Methods | ★★★★☆ (4.5/5) |
| Variety of Cleaning Service | ★★★★★ (5/5) |
| Reasonable Pricing | ★★★★☆ (4.5/5) |
| Professional Turnaround | ★★★★★ (5/5) |
If you're thinking professional, established and experienced in dealing with various industries, then K&E Cleaning Inc. is a name to consider. While this entails that their services are more expensive, the company guarantees quality to match the value of your money.
From their sleek website design to their impressive personalized cleaning performance, customers mention many more things that they love about K&E Cleaning Inc. But it must still be known that this is an agency that started, and specializes, with home cleaning service.
Still, they were able to build a reputation when it comes to commercial and industrial cleaning due to their attention to detail. They are also experienced in diverse types of cleaning for construction projects.
Other services that caught our eye include special occasion prep and laundry service. This definitely suits busy people, and can easily be incorporated into the personalized package.
The best part about all the services they offer is that it comes with bonds and insurance to ensure both parties get what they deserve. This is also one way to establish terms to avoid property loss or damage.
A neat addition to all that is their cleaners are knowledgeable in handling delicate furniture and surfaces. With that, they employ measures so customers don't have to worry about a thing while they're at work.
Personalized services instead of set packages
Free inspection and no-obligation estimates
Impressive list of commercial and industrial clients for cleaning
Attention to detail and good customer assistance
Bonded and insured services
May be expensive for some
Closed during weekends
Customer Reviews
Best moving in service and assistance
I would highly recommend K&E cleaning if you need to do a move-out clean! I used them for a move-out clean of my apartment and was very satisfied. There was a small issue with my building manager and K&E cleaning went above and beyond to have it all sorted out for me. Very professional from start to finish and I have nothing but great things to say about this company!
— Jamie Card, Google Reviews
100% satisfied!
I've been using K&E for the past 8 years for my home cleaning. They do a fantastic job at cleaning, accommodation, and communication. I have always taken for granted the great job that they do. I have many friends that complain about their cleaning service!
—Chad Morrison, Google Reviews
5. Clean and Green Team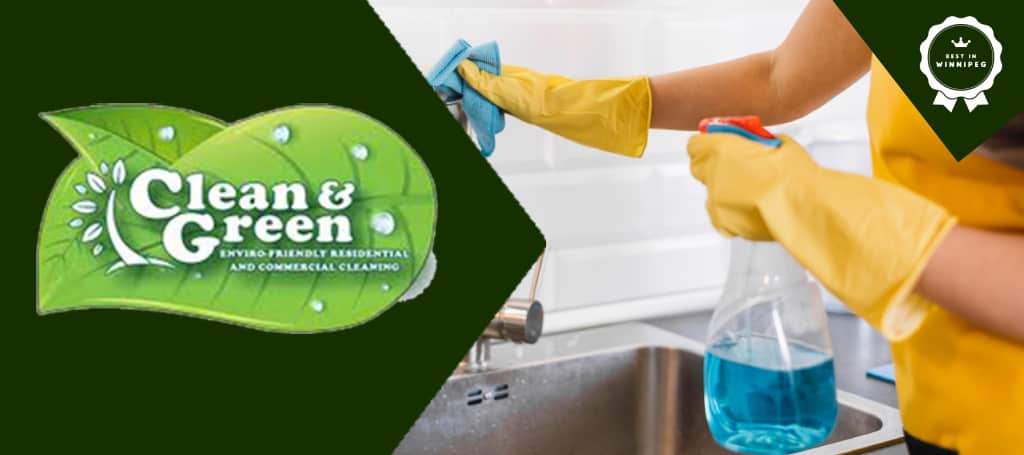 SERVICES
Residential Cleaning and Commercial Cleaning
WEBSITE
http://www.cleanandgreenteam.com/
ADDRESS
540 Archibald St, Winnipeg, Manitoba R2J 0X4, Canada
CONTACT DETAILS
Phone: +1 204-231-0134
OPERATING HOURS
Weekdays: 7:30AM - 4:30PM

Weekends: CLOSED
| | |
| --- | --- |
| Criteria | ★★★★☆ (4.2/5) |
| Overall Customer Satisfaction | ★★★★☆ (4.5/5) |
| Effective Cleaning Methods | ★★★★★ (5/5) |
| Variety of Cleaning Service | ★★★☆☆ (3.5/5) |
| Reasonable Pricing | ★★★★★ (5/5) |
| Professional Turnaround | ★★★★★ (5/5) |
Clean and Green Team markets themselves for reliability, consistency and thoroughness. While they are a relatively smaller agency, client feedback attest that they do offer good service for a reasonable price.
What sets them apart is their conscious decision to be environmentally responsible with their operations. That initiative includes effective disposal, planned routes, and eco-friendly cleaning products and equipment
This agency, however, specializes in the general cleaning of residential and commercial projects. They also have a limited number of cleaning staff on their teams, which has been an issue with the high demand during the holidays.
That said, they may not be the best choice for larger or more complex undertakings.
Still, they are keen on working around their clients' schedules. They also give discounts and deals to cleaning or maintenance sessions on the regular.
Clients are generous with their compliments on their services and values. They have even garnered the favor of environmentally conscious individuals for their non-use of harmful chemicals and disposables.
Another thing that customers mention is the punctuality and professionalism of the staff assigned to their homes. Given that this agency prices their services reasonably, and even economical for some, many of their customers keep contact and recommend them to others.
Focuses on green cleaning practiced
Friendly and well-trained staff
Uses eco-friendly products exclusively during operations
Reasonable pricing
Accommodating to varying schedules
Services limited to general residential and commercial cleaning
Fewer cleaning staff
Closed during weekends
Customer Reviews
A breeze to work with
A friend recommended Clean and Green to me a few years ago and I have used them ever since. I have even recommended them to other friends. It is so lovely to come home to a clean house and the ladies who work so hard are equally lovely people. Janet is always helpful and accommodating and is a pleasure to deal with.
— Susan Rennie, Google Reviews
Service that offers you the value of your money
Had the clean and green team come and do a move out clean, I was very impressed with their level of service. Fair price, honest, hard working team! Keep up the great work!!
— Ryan Choptuik, Google Reviews
6. Elyse Sidon Cleaning Services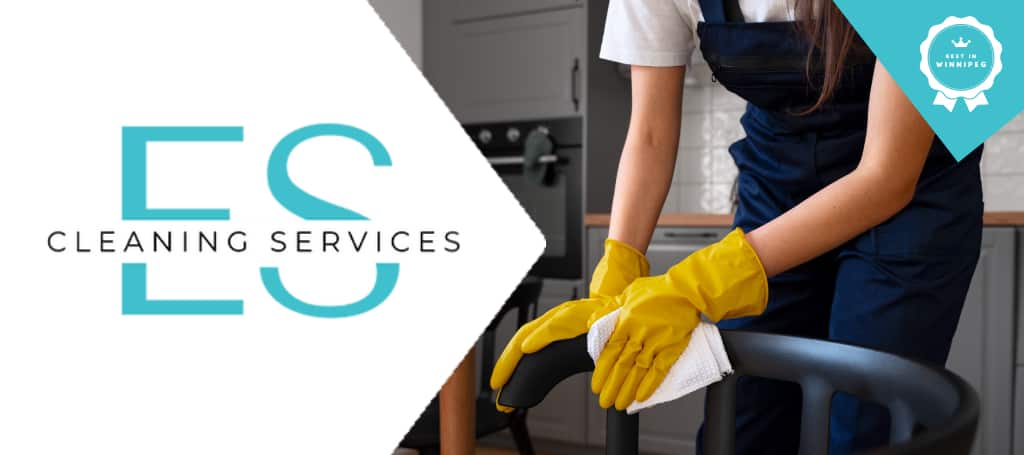 SERVICES
Residential and commercial cleaning, laundry, post construction cleaning, and move in / move out cleaning.
WEBSITE
http://elysesidoncleaning.com
ADDRESS
Winnipeg Manitoba
CONTACT DETAILS

[email protected]

Phone: 1-204-471-3242

OPERATING HOURS
Monday – Sunday, 9:00 AM – 5 PM
| | |
| --- | --- |
| Criteria | ★★★★☆ (4.8/5) |
| Overall Customer Satisfaction | ★★★★★ (5/5) |
| Effective Cleaning Methods | ★★★★☆ (4.5/5) |
| Variety of Cleaning Service | ★★★★★ (5/5) |
| Reasonable Pricing | ★★★★☆ (4.5/5) |
| Professional Turnaround | ★★★★★ (5/5) |
ES Cleaning Services is one of the best cleaning companies to contact if you're looking for one of the best residential services in Winnipeg. Founded by Elyse Sidon, she was born and raised in Winnipeg and started to make cleaning her career in 2014.
ES Cleaning Services takes pleasure in providing high-quality service, and as a result, its clientele has grown year after year. They have a lot of great clientele and specialize in residential services. Their cleaning crew is not only nice and trustworthy, but each person has been well trained in their cleaning procedures.
They go above and above, which we appreciate. The smallest details are important to them, and they take satisfaction in noticing them so you don't have to. When you choose ES Cleaning services, you can be confident that your property is in good hands. They are a family-oriented company, so they understand how essential a clean house is to you and your family.
Strict cleaning process
Uses quality cleaning products
Experienced cleaners
Open seven days a week
Customer Reviews
I could not recommend them more.
"We have had Elyse and/or her team in three times so far and each one has been absolutely amazing! Working from home with three kids out of school/daycare, and contractors working in the house, I have been pleased with how accommodating they have been to stop work in one room and move to another, when something comes up. Elyse is great to deal with on the scheduling front and the quality of work is incredible. My bathtub has never been cleaner!! I also love that we are supporting a small, woman-owned business. I could not recommend them more. " – BrentandJacquie Dueck
Elyse and her team have been cleaning my home for a few years now, and I highly recommend this company!
"Elyse and her team have been cleaning my home for a few years now, and I highly recommend this company! The work exceeds my expectations, Elyse is accommodating and professional. The team is trustworthy, thorough and friendly! I have felt thoroughly supported and at ease through the Covid 19 pandemic as well. Every team member has been professional and consistent with safety protocol in place. Thank you Elyse & Team! I am infinitely grateful for your services 🙂 " – Meghan Duffield
FAQs about Maid Service Agencies in Winnipeg
---
Getting help that is efficient and trustworthy is a challenge in and of itself, but it certainly is achievable. With that, many clients can attest to how good the customer service is in the aforementioned agencies.
Still, we urge you to conduct your own research on these companies. You also shouldn't hold back from asking important questions concerning their services and methods.
Clients such as yourself are entitled to understanding their processes, especially when the projects are large and entail a big budget. That said, we hope this recommendation list of efficient maid service agencies in Winnipeg proves helpful.
While we're at it, are you looking for companies to help you bring your dream buildings and projects to life? Contact the best construction companies in Winnipeg for your inquiries.