11 Free Things to Do in Winnipeg at Night
Winnipeg, the capital city of Manitoba, Canada, is a vibrant and culturally diverse destination that comes alive even after the sun sets.
While exploring a city at night can sometimes be expensive, Winnipeg offers a variety of exciting activities that won't cost you a dime.
In this article, we will highlight nine free things to do in Winnipeg at night, allowing you to make the most of your evenings while immersing yourself in the city's vibrant atmosphere.
Visit The Forks.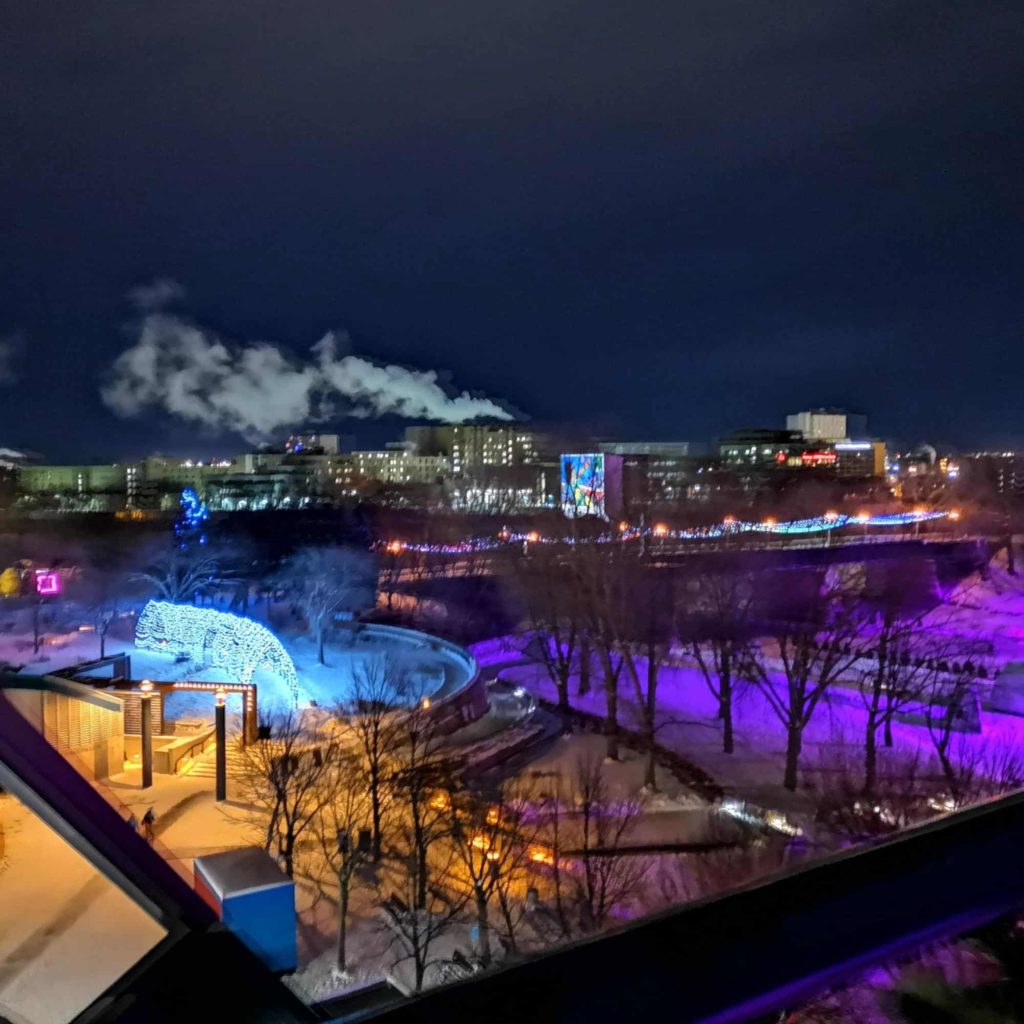 Location
201 – 1 Forks Market Rd, Winnipeg, MB R3C 0T3, Canada
Contact Number
204-983-6000
Website
https://www.theforks.com/
Operating Hours
• Market: 10 am to 9 pm daily

• Restaurants: vary by location

• Shops: 10 am to 6 pm daily

• Canadian Museum for Human Rights: 9:30 am to 5 pm daily
The Forks is a true gem nestled at the meeting point of the Red and Assiniboine Rivers. It's the perfect blend of entertainment and relaxation that we locals absolutely adore.
Picture this: as the sun sets, the entire riverwalk comes to life, with captivating lights illuminating the surroundings, creating an enchanting ambiance that's simply magical.
One of my favorite things to do is take a leisurely stroll along the riverwalk, soaking in the lively atmosphere and enjoying the delightful street performances that often grace the area.
And if you're in the mood for some tranquility, finding a cozy spot by the water's edge is just the ticket.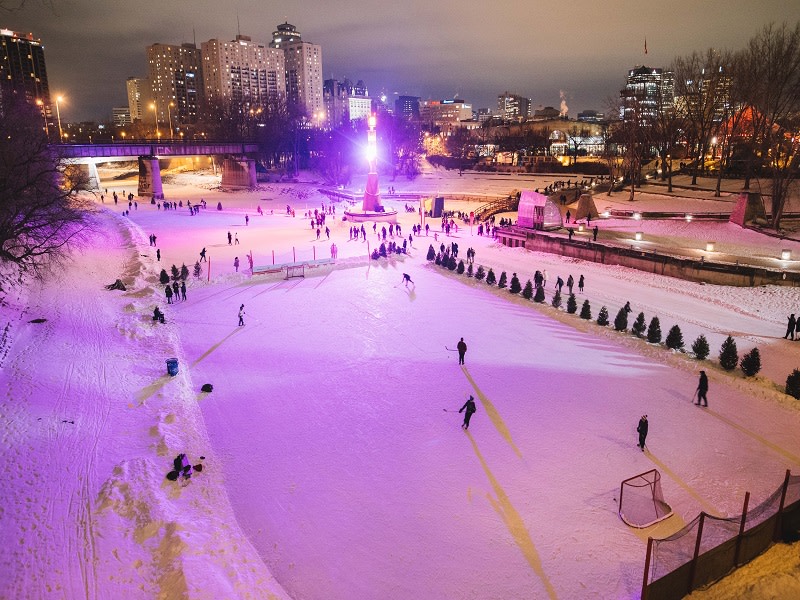 This place truly knows how to keep us entertained all year. With a vibrant lineup of events and activities, from summer concerts to exciting festivals, there's always something happening that caters to all interests and ages.
And during the winter months, you can try lacing up your skates and gliding across the frozen river. It's an experience like no other.
Let's not forget about the food!
The Forks is a haven for culinary enthusiasts. Countless food stalls dot the area, offering a diverse range of local and global cuisines.
It's a paradise for late-night food adventurers, always ready to embark on a delicious journey of flavors and tastes.
But The Forks is more than just entertainment and food. It's a place where the city's rich history and vibrant art scene come to life.
You can explore the unique shops and galleries in the Forks Market, where you can find one-of-a-kind treasures and support local artisans.
And if you're in the mood for something thought-provoking, the Canadian Museum for Human Rights is a must-visit. Its captivating displays truly showcase the essence of our city.
Explore the Winnipeg Art Gallery.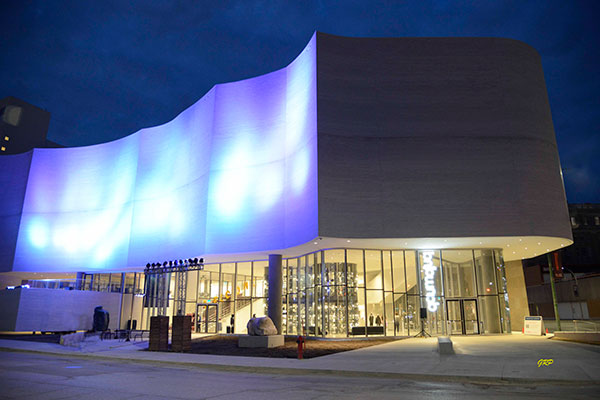 Location
300 Memorial Blvd, Winnipeg, MB R3C 0T3, Canada
Contact Number
204 786 6630
Website
https://www.wag.ca/
Operating Hours
• Monday: closed

• Tuesday: 10 am to 5 pm

• Wednesday: 10 am to 9 pm

• Thursday: 10 am to 5 pm

• Friday: 10 am to 9 pm

• Saturday: 10 am to 5 pm

• Sunday: 11 am to 5 pm
The Winnipeg Art Gallery is a captivating cultural hub that offers an array of free activities to enjoy during the evenings. As you step into this place, you'll find yourself completely immersed in a world of artistic wonders.
Let me tell you, this gallery is a true gem for both locals and visitors alike. With its extensive collection of contemporary and historical artworks, it beautifully showcases the creativity and diversity of our local talents and artists from around the globe.
From striking paintings and sculptures that catch your eye to thought-provoking installations that make you pause and reflect, each piece tells a unique story, offering a chance to explore different perspectives and immerse yourself in the rich tapestry of art.
But it doesn't stop there. The Winnipeg Art Gallery goes above and beyond by hosting engaging exhibitions, thought-provoking lectures, and interactive events that cater to visitors of all ages.
Trust me, these experiences are truly enriching and can bring the community closer together.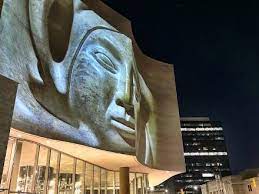 You'll feel the vibrant atmosphere as soon as you walk through those doors, and you'll be able to appreciate the mastery of the artists showcased here.
The gallery becomes a retreat where you can escape the hustle and bustle of daily life, surrounded by beauty and creativity that ignite your imagination and kindle meaningful conversations.
Take a stroll through the Exchange District.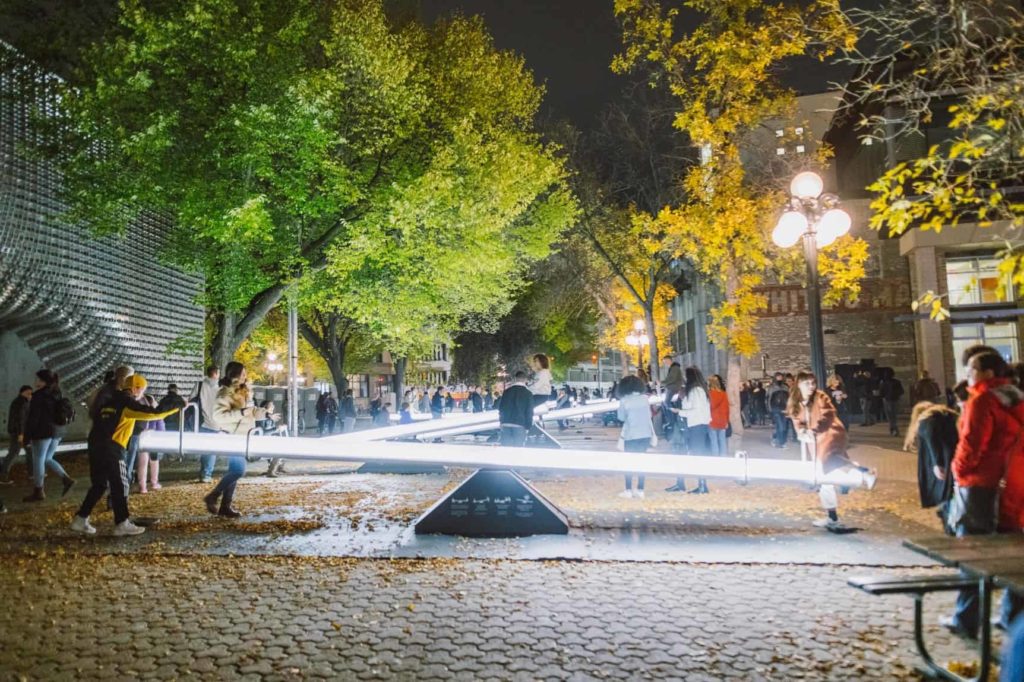 The Exchange District is a captivating neighborhood that truly comes alive at night, offering a plethora of free and exciting experiences. It's a treasure trove for culture enthusiasts, history buffs, and those of us who crave a vibrant atmosphere.
When you stroll through the streets, you can't help but be immersed in the district's rich architectural heritage. The beautifully preserved buildings, some dating back to the late 19th century, are a testament to a proud history.
Just picture those distinctive red brick buildings, ornate facades, and charming cobblestone streets; they create a unique ambiance that can't be replicated.
Now, let's talk about the arts and cultural scene. We've got an impressive array of art galleries, independent boutiques, and local shops, all showcasing the work of incredibly talented artisans and designers.
You really should take the time to explore these galleries. You'll find a diverse range of contemporary art that will leave you in awe.
And if you're lucky, you might even strike up some stimulating conversations with the artists themselves. It's a real treat!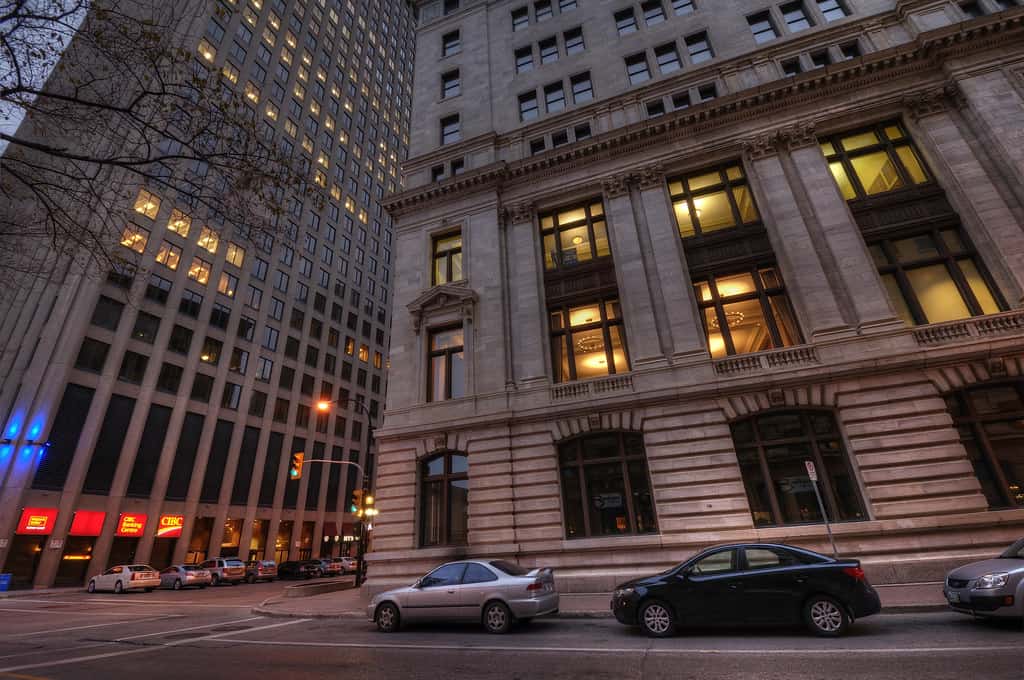 And the food — as a self-proclaimed food lover, I can assure you that the Exchange District won't disappoint your taste buds. We've got a thriving culinary scene that'll make your mouth water.
From the street food delights served up by our beloved food trucks to the charming eateries that dot the area, there's something to satiate every craving. And the variety — international cuisine, innovative fusion dishes — you name it, this place has it.
But the real magic happens when the sun sets. That's when the Exchange District truly comes alive. Throughout the year, it hosts various events and festivals that bring this neighborhood to life.
One of the highlights is the renowned Winnipeg Fringe Theatre Festival, where you can catch exceptional performances by both local and international artists.
And on certain evenings, you might stumble upon live music performances, outdoor movie screenings, or pop-up markets. It all adds to the vibrant and dynamic atmosphere that makes this district so special.
Stargaze at the Manitoba Planetarium.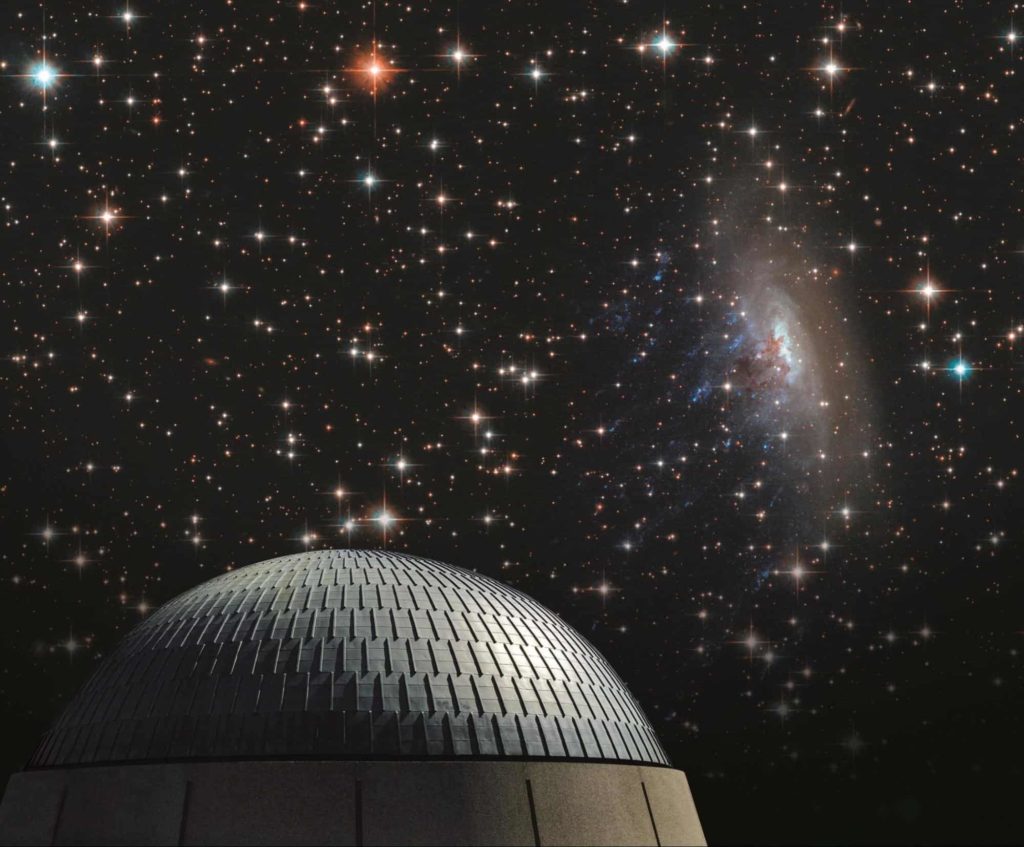 The Manitoba Planetarium is truly a gem for stargazing enthusiasts and anyone seeking a mesmerizing nighttime experience. I can't help but feel a sense of wonder whenever I step into this celestial haven.
It's a place where you can immerse yourself in the captivating wonders of the universe, all within the comfort of your seat.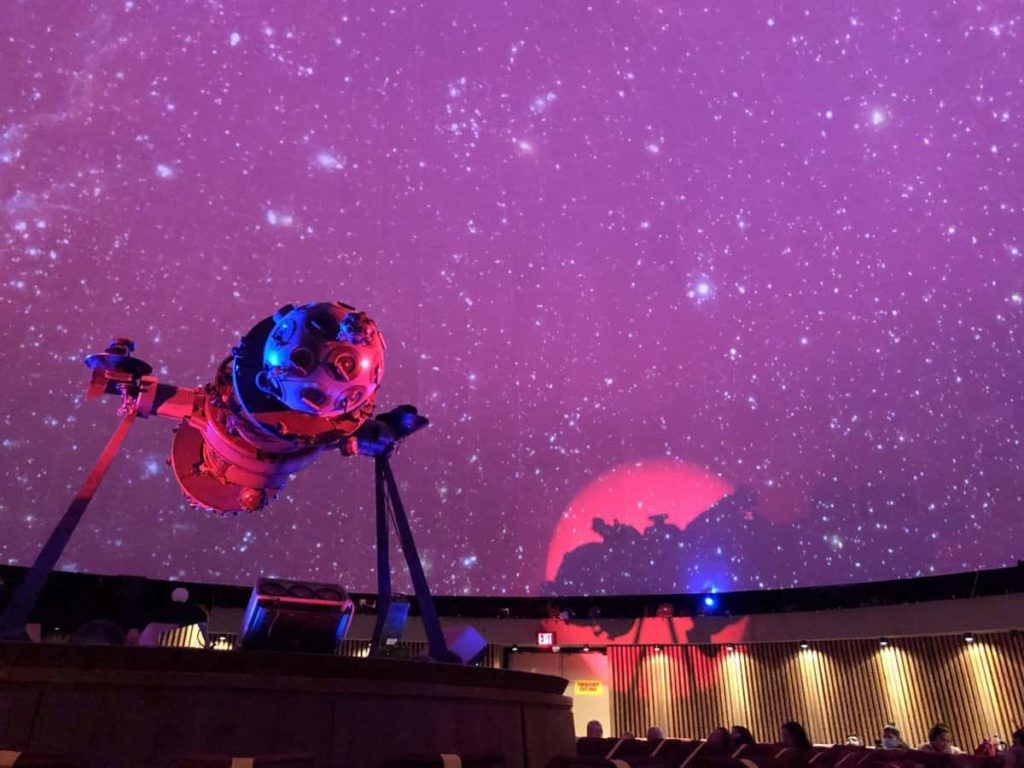 Inside the planetarium, you'll find a dome-shaped theater that's like a portal to another world. As you take your seat, get ready to be transported on a captivating journey through space and time.
The state-of-the-art equipment and expert astronomers ensure that you'll have an unparalleled opportunity to explore the cosmos right here in our city.
The immersive shows at the planetarium are simply breathtaking. You'll witness distant galaxies, trace the patterns of constellations, and marvel at celestial phenomena that will leave you in awe.
It's an experience that not only entertains but also deepens your understanding of the vast universe that surrounds us.
Spend time at Osborne Village.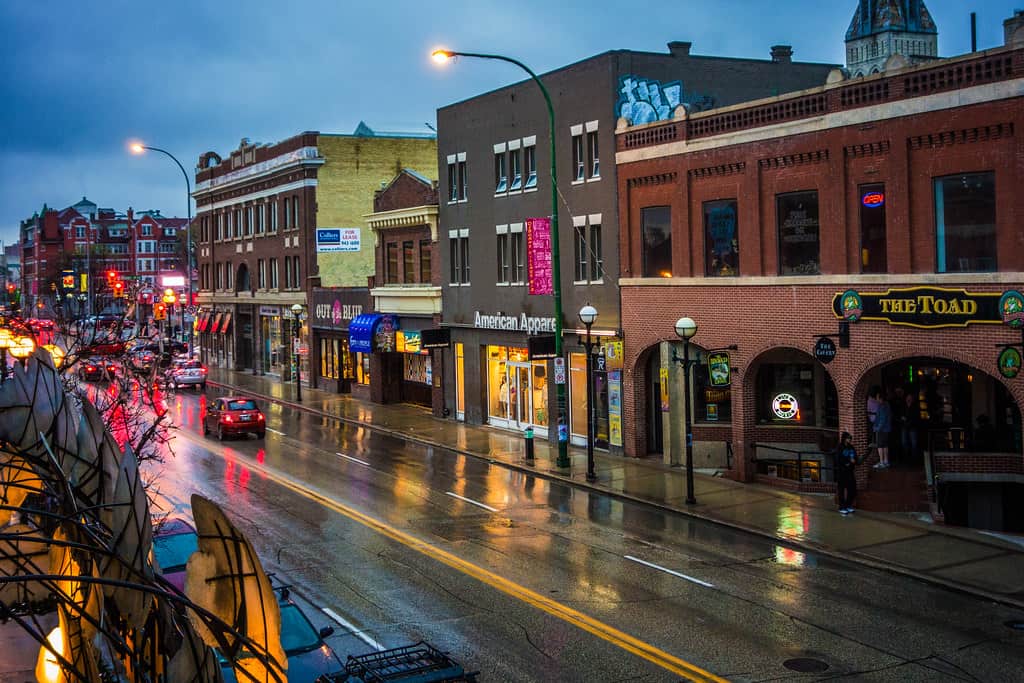 Location
Osborne Village, Winnipeg, Manitoba
Contact Number
(204) 475-7111
Website
https://www.osbornevillagebiz.com/
Operating Hours
• Monday to Saturday: 10 am to 10 pm

• Sunday: 11 am to 7 pm
If you're up for an exhilarating and lively night in Winnipeg, Osborne Village is the place you won't want to miss. This neighborhood has a special charm that locals, like myself, absolutely adore.
You'll find a myriad of free activities here that will keep you captivated and immersed in the vibrant atmosphere.
As you wander through the area, you'll stumble upon an eclectic mix of trendy shops, quaint boutiques, and captivating art galleries. The streets come alive with stunning murals that add a splash of color to our beloved neighborhood.
Take a leisurely stroll down Osborne Street, and you'll discover an array of delightful eateries and cozy cafes. From mouthwatering global cuisines to beloved local favorites, there's a taste to satisfy every palate.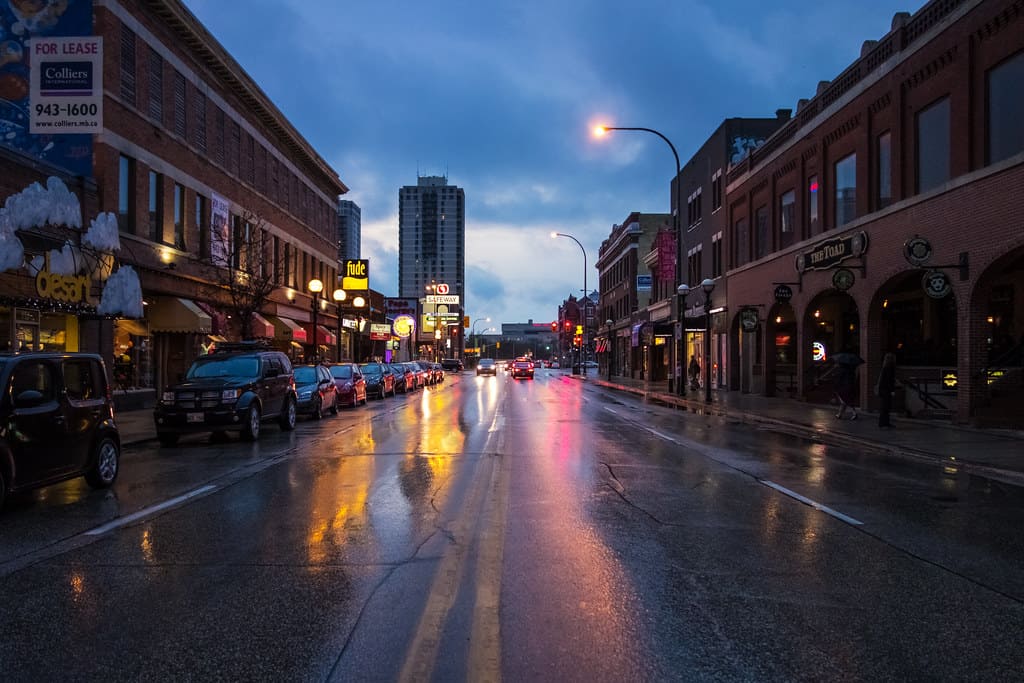 Osborne Village is also fortunate to be home to several serene parks and green spaces. Places like Cornish Library Park and Vimy Ridge Memorial Park provide perfect spots to unwind and enjoy the tranquility amidst the bustling surroundings.
And the excitement doesn't end there; throughout the year, Osborne Village hosts an array of captivating events, from lively festivals to electrifying live music performances and thought-provoking art exhibitions.
Don't miss out on the Festival du Voyageur.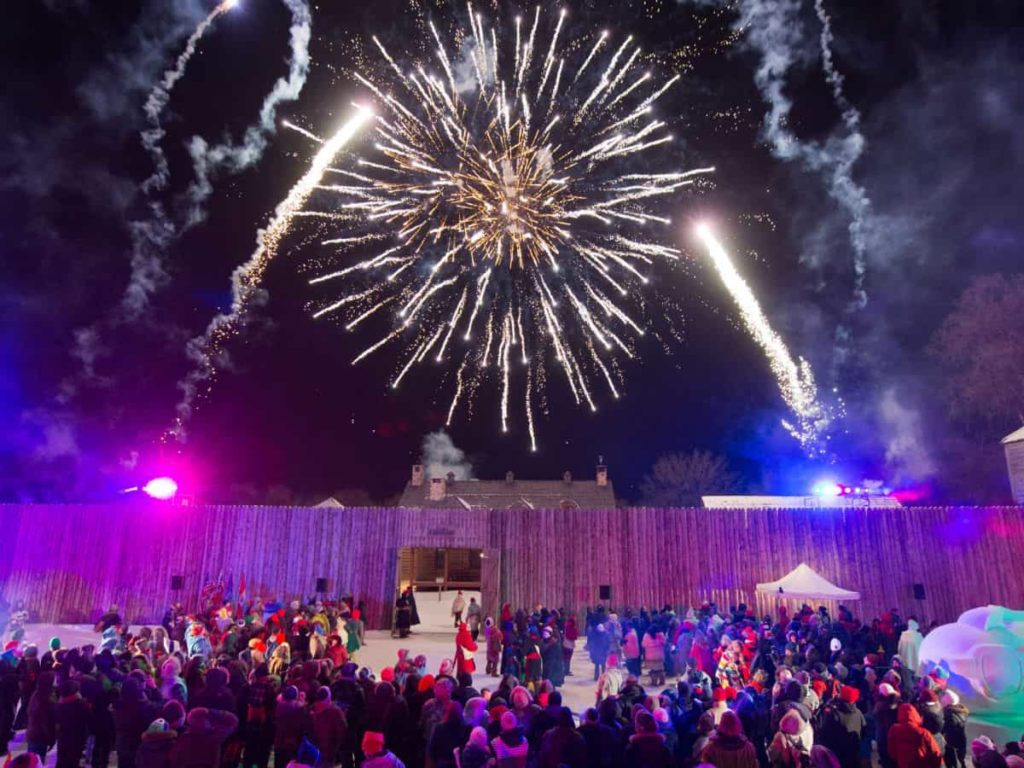 | | |
| --- | --- |
| Location | Voyageur Park, Winnipeg, Manitoba, Canada |
| Contact Number | 204-943-3780 |
| Website | https://heho.ca/en/ |
| Operating Hours | February 17-26, 11 am to 11 pm |
Picture yourself strolling through the beautifully adorned Fort Gibraltar, steeped in festive decorations.
As you wander, the air comes alive with the mesmerizing melodies of talented local musicians, playing fiddles and accordions and serenading us with lively folk songs. It's like being transported straight into the heart of our French-Canadian traditions.
And the storytelling sessions are something else. You can gather around and listen to captivating tales of our brave voyageurs and pioneering spirits, immersing yourself in the rich history of our region.
It's a truly enchanting experience.
And the illuminated snow sculptures? They're simply breathtaking.
You'll be awestruck by the intricate craftsmanship and boundless creativity on display throughout the festival grounds. It's a feast for the eyes, truly.
Of course, the chilly winter nights call for warmth. Luckily, there are cozy bonfires scattered about the site.
Take a moment to bask in their inviting glow while roasting marshmallows or savoring a steaming cup of hot cocoa. It's the perfect way to find respite from the cold while soaking in the delightful ambiance.
Take a nighttime walk in Assiniboine Park.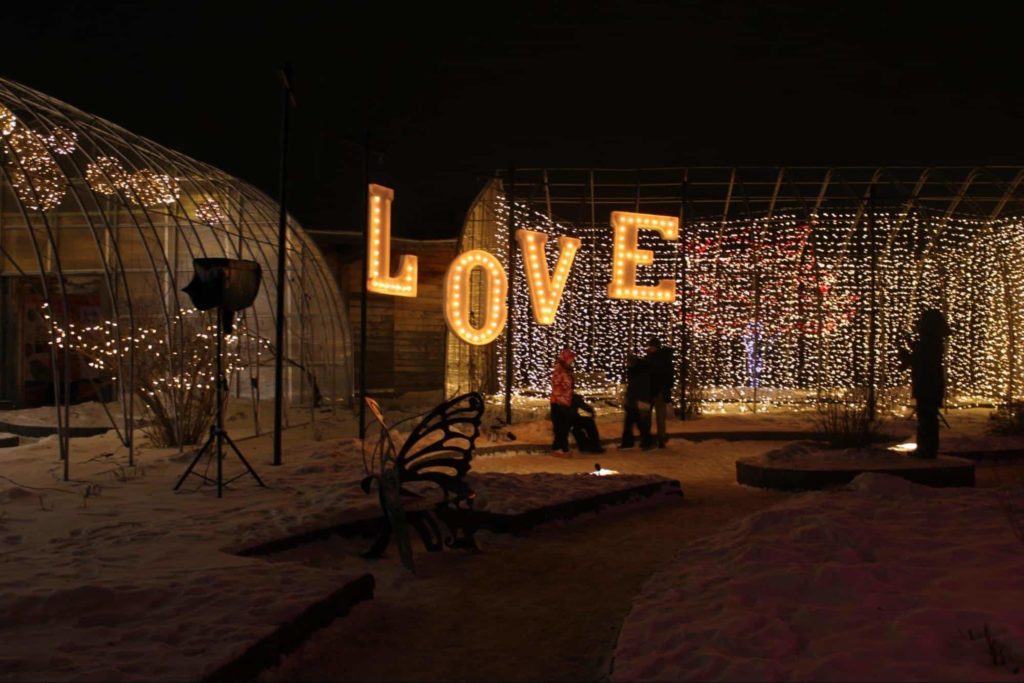 Location
2595 Roblin Boulevard, Winnipeg, MB R3T 2N2, Canada
Contact Number
204-927-6000
Website
https://www.assiniboinepark.ca/
Operating Hours
• Zoo: 9 am to 5 pm

• Park: Open 24 hours

• The Leaf: 9 am to 9 pm
As you take a leisurely stroll through Assiniboine Park after sunset, you'll stumble upon a truly special experience that locals in Winnipeg treasure.
The park takes on a whole new charm with its lush greenery elegantly lit up, casting a spell of tranquility and enchantment.
The way the lights twinkle and dance on the surface of the duck pond and illuminate the English garden is nothing short of breathtaking. It's as if nature itself has conspired to create a haven of peace and reflection.
And let me tell you about the Leo Mol Sculpture Garden. It's a hidden gem that holds a mesmerizing collection of bronze sculptures.
When the moonlight bathes these sculptures, their beauty reaches new heights, captivating the soul of anyone fortunate enough to witness it.
As you continue your walk, don't be surprised if you come across some of the park's nocturnal wildlife.
From curious creatures scurrying about to the melodious symphony of nocturnal birds, these encounters add a touch of excitement and wonder to your adventure.
Experience the magic at The Cube in Old Market Square.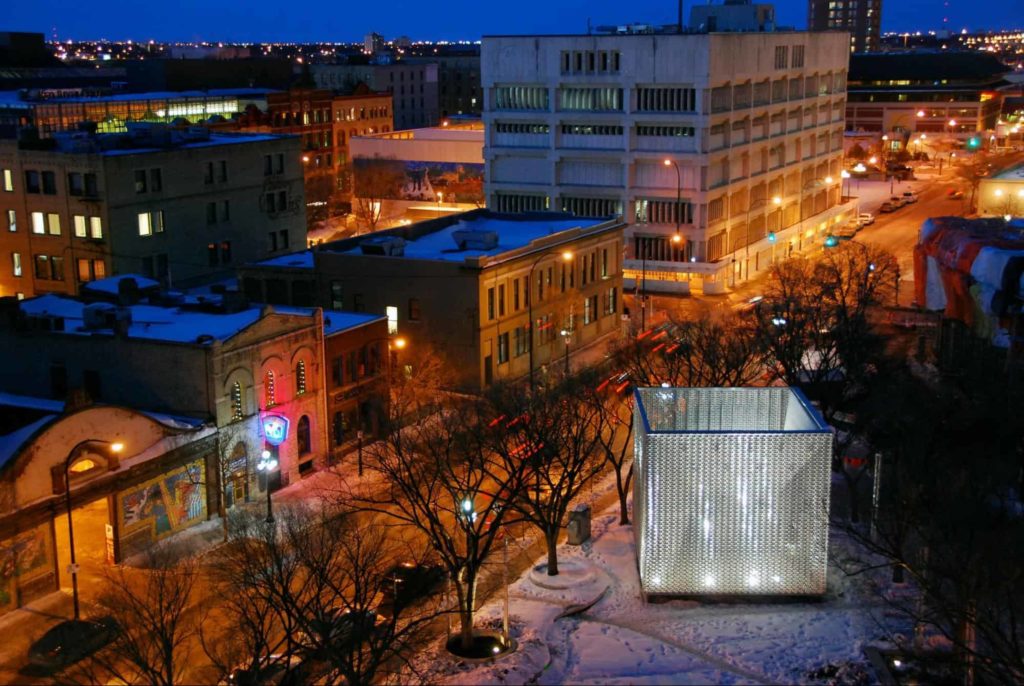 Envision this: a towering, illuminated cube that stands four stories tall. It's not just a structure; it's an open-air venue that comes alive with concerts, performances, and cultural events.
When the cube lights up and the music starts playing, it's like a magnet for people, drawing in a vibrant and lively crowd.
But The Cube isn't the only reason to visit. The surrounding area bursts with energy as night markets, food trucks, and artisan vendors set up shop.
It's an experience that truly immerses you in the spirit of our city. As you wander through the stalls, you'll discover the local craftsmanship, unique artworks, and mouthwatering culinary delights that make Winnipeg's creative scene so remarkable.
Throughout the summer months, The Cube hosts an array of events that cater to diverse tastes. Whether you're into live music, dance showcases, theatrical productions, or even movie screenings, you'll find something that sparks your interest.
The lineup is carefully curated, ensuring there's always a captivating performance or show to enjoy.
But let me tell you, the real magic happens when the sun sets. As dusk settles in, The Cube illuminates the entire Old Market Square with its mesmerizing lights.
The atmosphere becomes enchanting and dreamlike. It's the perfect setting to bask in the night sky, surrounded by art, music, and the lively spirit of our wonderful Winnipeg community.
Indulge in a peaceful evening at Oak Hammock Marsh.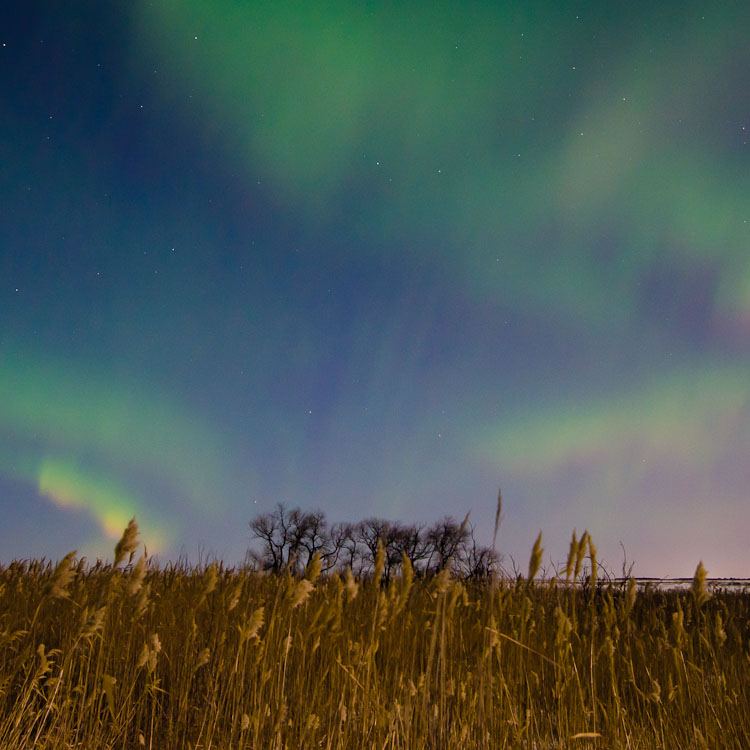 | | |
| --- | --- |
| Location | 20 minutes north of Winnipeg at Hwys. 67 and 220 |
| Contact Number | 204-487-6206 |
| Website | https://www.oakhammockmarsh.ca/ |
| Operating Hours | 9 am to 5 pm daily |
As the sun starts to dip below the horizon, Oak Hammock Marsh, the peaceful wetland oasis, awakens with a remarkable display of wildlife and stunning natural allure.
You can take a leisurely stroll along the meandering trails and boardwalks, immersing yourself in the beauty of this place.
Keep an eye out for the graceful herons, playful otters, and a variety of waterfowl that call this marsh their home.
There's something truly captivating about Oak Hammock Marsh at sunset. The sky transforms into a vibrant canvas, painting the marshland with enchanting colors that cast a magical glow.
It's a sight that will leave you breathless, and it's right in our backyard.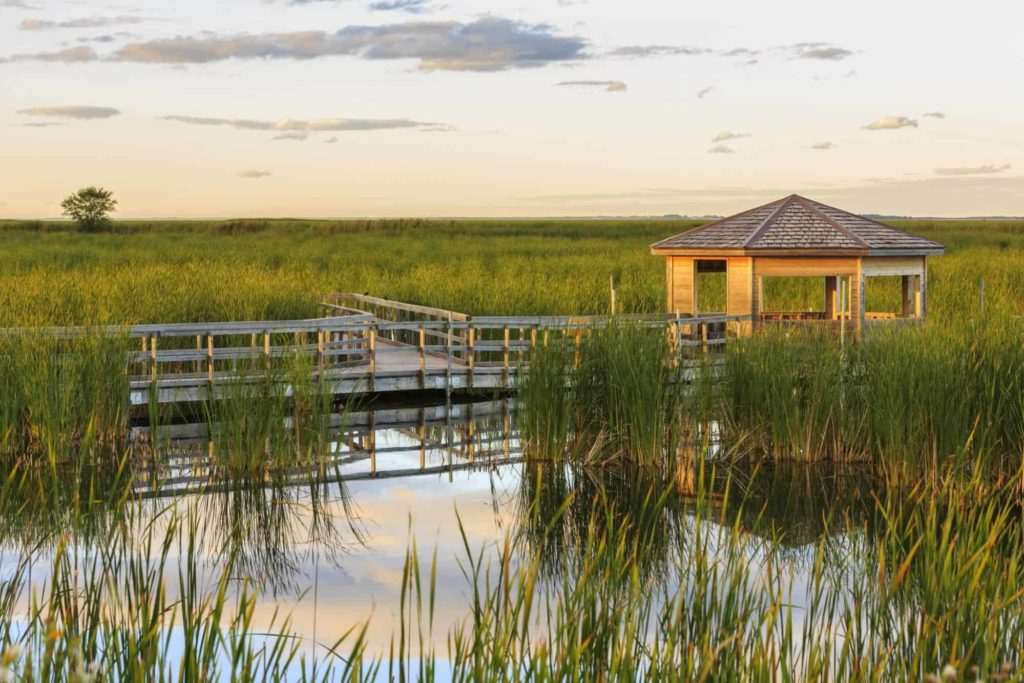 If you're a photography enthusiast, you'll find this place to be a haven for capturing breathtaking shots. The scenic landscapes and wildlife in their natural habitat offer endless opportunities to showcase your skills.
What's more, Oak Hammock Marsh hosts a range of educational events and workshops. They provide valuable insights into the significance of wetland conservation and allow you to deepen your understanding of the local ecosystem.
It's a chance to connect with nature and learn about our shared responsibility for preserving this precious marshland.
Step into the world of wonder at Millennium Library.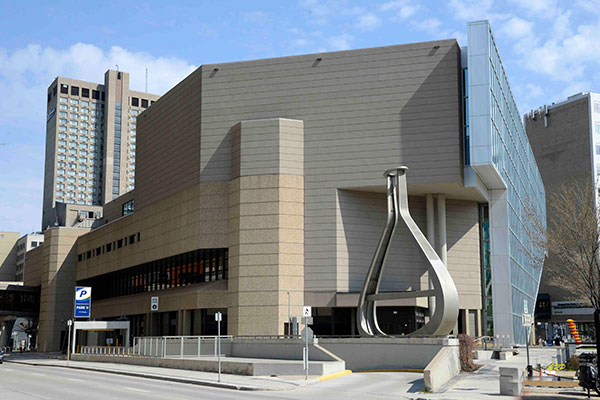 Location
251 Donald Street, Winnipeg, Manitoba, R3C 0P3
Contact Number
(204) 986-5100
Website
https://www.winnipeg.ca/library
Operating Hours
• Monday to Saturday: 9:30 am to 9 pm

• Sunday: 1 pm to 5 pm
The Millenium Library holds a treasure trove of books, magazines, newspapers, and multimedia resources that will delight any bookworm or curious mind. It's a place where we locals can indulge in our thirst for knowledge.
But the library offers much more than just reading material. It's a vibrant hub of activity that caters to our diverse interests and passions.
We're treated to captivating author readings, engaging book clubs, thought-provoking art exhibitions, and captivating film screenings.
There's always something happening that speaks to our unique tastes.
The library isn't just about traditional learning, either. It's keeping up with the times, embracing technology, and offering us free access to computers, Wi-Fi, and an array of digital resources.
It's a place where we can explore the digital world and expand our horizons.
For those who are seeking a peaceful escape or a quiet spot to unwind, the Millennium Library provides the perfect sanctuary.
As you step through its doors, you're greeted by an inviting atmosphere, complemented by the warm and cozy interior.
The library's thoughtful design incorporates ample windows that allow soft, subdued light to filter in, creating an atmosphere of tranquility and comfort.
And as you navigate its various floors, you'll stumble upon cozy reading nooks, study areas, and even rooftop terraces that offer breathtaking views of our beloved cityscape.
Stroll along the Riverwalk.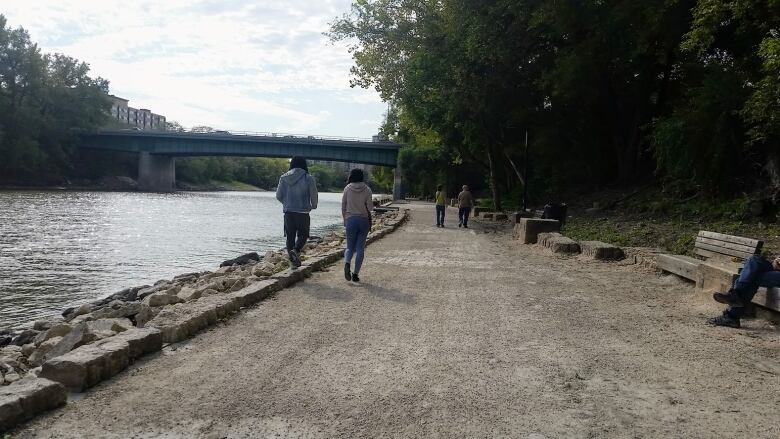 As you wander along the meandering path of Riverwalk, you'll be treated to awe-inspiring views of the mighty Red and Assiniboine Rivers, beautifully illuminated by the city lights.
The serene atmosphere of this place sets the stage for a romantic stroll with your sweetheart or a peaceful solo adventure.
The gentle breeze from the river, accompanied by the soothing sounds of the water, creates a calming vibe that helps you unwind after a long day.
This picturesque route also showcases the city's rich history and vibrant culture, with various art installations and sculptures sprinkled along the pathway.
You'll discover benches thoughtfully placed along the Riverwalk, inviting you to pause and immerse yourself in the panoramic vistas while reflecting on life or simply savoring the moment.