Top 3 Car Transport Services in Winnipeg
Moving from one home to another has been made convenient, thanks to movers and transporting services that help people haul heavy furniture and vehicles into their new addresses safely.
And while it may seem terrifying to have your car delivered, most car transport companies nowadays tailor their decks to secure any sort of cargo while in transit.
Just for you, we reviewed the following companies that provide reliable car transport services in Winnipeg.
How much does it cost to get car transport services?
In Winnipeg, the average price of having a car transported within 500 miles costs $350 up to $700. For shorter distances, the services may cost around $200 up to $350.
Besides these price ranges, factors such as additional insurance, shipping method, trailer rental fees, and the specs and modifications of your car will also entail added fees to your total expenses.
And while hiring a car transport service may seem impractical initially, it will be cost-efficient in the long run since you will be saving money on fuel and potential accidents and repairs that your insurance may not cover fully.
How did we select the top car transport services in Winnipeg?
We considered the following car transport services as the best in Winnipeg based on these factors:
1. Harris Transport, Ltd.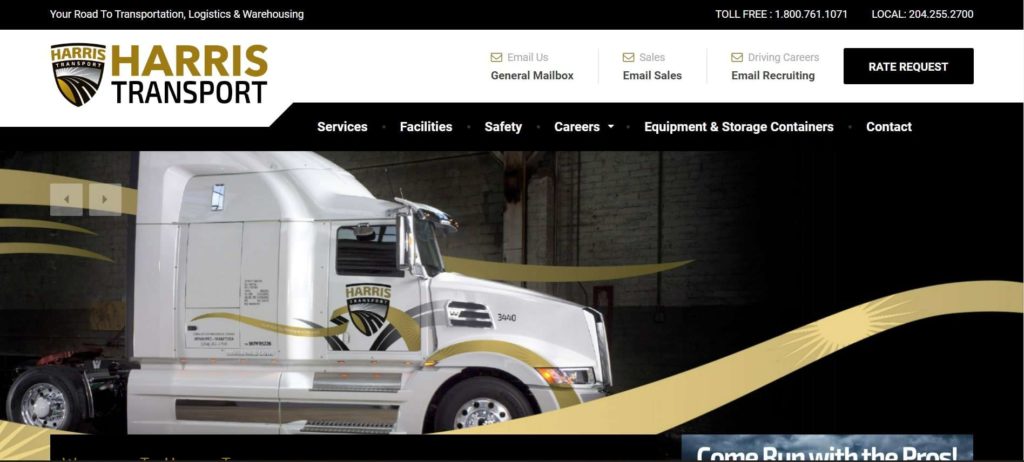 OTHER SERVICES
Warehousing Transportation Transloading Distribution Logistics management
WEBSITE
https://www.harristransport.ca/
CONTACT DETAILS
Phone: +1 (204) 255-2700

Email: [email protected]

ADDRESS
555 Hervo St. #15, Winnipeg, MB, R3T 3L6, Canada
OPERATING HOURS
Monday to Friday: 8:00 AM – 5:00 PM

Saturday and Sunday: Closed
| | |
| --- | --- |
| CRITERIA | RATING |
| ARRAY OF SERVICES | ★★★★★ 5/5 |
| ⮕Availability of other services | ★★★★★ 5/5 |
| ⮕Vehicles accommodated | ★★★★★ 5/5 |
| QUALITY OF SERVICES | ★★★★☆ 4/5 |
| ACCESSIBILITY | ★★★★★ 5/5 |
| ⮕Punctual | ★★★★★ 5/5 |
| ⮕Responsive | ★★★★★ 5/5 |
| CUSTOMER SATISFACTION | ★★★☆☆ 3.5/5 |
Harris Transport is a leading transportation services company that mainly deals with massive cargo shipped within Canada and North America.

It is a trusted partner of industries manufacturing steel components, cargo parts, and building machinery. It is also reliable when it comes to transporting vehicles from one point in Winnipeg to another.
What we love about Harris Transportation is that it also services other parts of Manitoba and Canada.
That said, hiring them will be convenient for hauling your car and belongings from your former Winnipeg home to nine provinces in Canada and over 40 continental states in North America.
In terms of vehicle transportation, we found that it accommodates private automobiles, tractors, trailers, pickup trucks, and cargo containers.
Upon checking, the company's specialty fleets include open decks, flat decks, step decks, tilt deck trailers, 10-tonne deck trucks, and extendable trombone trailers.
These options allow customers to ship larger-sized cars or multiple vehicles with one long carrier truck.
And while these decks may entail additional expenses, we think they're worth paying for since they ensure a perfect fit for vehicles to stay put and safe while being transported to different places.
Harris Transportation also offers custom-made sea-can storage containers ideal for carrying vehicles and other cargo via ship.
So, if you're looking for insulated, air-tight, and secure storage to keep your belongings safe while they're transferred into a ship, Harris has various container types you can choose from.
We're just a bit disappointed that despite many sea can varieties being featured on its page, only two types are available for rent.
While these container vans are large, renting two sizes might not be budget-friendlier than getting a single sea can with a larger capacity.
But perhaps a more significant downside is the reports of some drivers being negligent during pickup. From what we were told, some of the drivers don't check if the space where they're backing up is free from any obstacles.
Transports in various parts of Canada
Offers custom sea-can modifications
Limited sea-can container rental options
Feedback on some drivers being negligent
Customer Reviews
Great services and competent staff
"Been with Harris for about three weeks now everyone I have met is very nice and helpful. Should have come to work here as a driver sooner that's all I can say now that I am here hoping I will be here for a long time." – Joe Brooks
A reliable transport service for anywhere within Canada
"We had our life packed in a sea can. Harris Transport gave a great price to ship from Alberta to Nova Scotia compared to any other shipping company. The truck driver John and his wife were excellent and very experienced. They got into a really tight spot to drop this off to us. They were on time and kept me apprised of their ETA. I highly recommend them. Thank you Harris Transport and John!" – Christie Laronde


2. King's Transfer Van Lines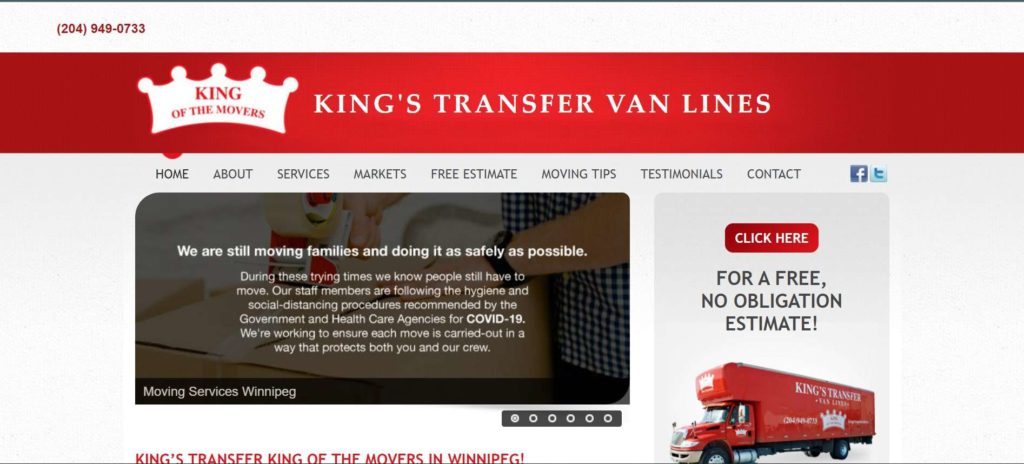 OTHER SERVICES
Short- and long-distance moves Residential and commercial moving Vehicle transport Packing and storage Customised crating
WEBSITE
https://www.pegcitycarcoop.ca/
CONTACT DETAILS
Phone: +1 (204) 949-0733

Email: [email protected]

ADDRESS
199 Omands Creek Blvd. #1, Winnipeg, MB, R2R 1V9, Canada
OPERATING HOURS
Monday to Friday: 8:00 AM – 5:00 PM

Saturday: 8:00 AM – 12:00 PM

Sunday: Closed
| | |
| --- | --- |
| CRITERIA | RATING |
| ARRAY OF SERVICES | ★★★★★ 5/5 |
| ⮕Availability of other services | ★★★★★ 5/5 |
| ⮕Vehicles accommodated | ★★★★★ 5/5 |
| QUALITY OF SERVICES | ★★★★☆ 4.5/5 |
| ACCESSIBILITY | ★★★★☆ 4/5 |
| ⮕Punctual | ★★★☆☆ 3.5/5 |
| ⮕Responsive | ★★★★★ 5/5 |
| CUSTOMER SATISFACTION | ★★★★☆ 4.5/5 |
King's Transfer Van Lines is a notable home mover, although we also found that it transports private vehicles like motorcycles, cars, and SUVs to people's new homes.
If you're interested in getting this company's car transport services, we recommend getting free estimates to get how much you'll likely spend on having your car moved.
We also like how the company's free estimate form allows you to mention where you'll move, which items you want to be transported, and whether you want your items packed and stored.
You may also use this to ask customer service representatives if they make custom crates for cars and motorcycles for safer transport to your new address.
And yes, requesting estimates and availing of services are free of charge and don't require you to input your credit card or payment details!
Another thing we love about this moving company is that it does moves within Manitoba and other parts of Canada. You may also avail of its services to move your car from your old Winnipeg home to select states in the USA.
But while King's Transfer Van Lines is great for bringing vehicles to other places, we were a bit iffy to hear that its staff have had instances of mishandling furniture.
We've received reports of furniture pieces, such as tables, chairs, and antiques, breaking after they've been loaded out of the mover's trucks.
We were also disappointed with feedback regarding some of the truck drivers and moving staff arriving later than their assigned pick-up schedule.
Staff should be more punctual in picking up vehicles and moving, given that some clients may have places to be and can't be delayed.
Offers packing and crating services
Free estimate request
A few reports of mishandling smaller items
Feedback on tardiness
Customer Reviews
Great crew at packing, loading & offloading at delivery
"It was a great experience moving with king's transfer van lines! From beginning to end! We had the full packing service also which is so much better & faster than packing yourself." – ILUMINATION
Highly recommend this moving company
"Just wanted to say how pleased we were with the 3 movers that we had in service Saturday. They were all personable and funny, and made our moving experience quite joyous. I would recommend your company to my friends and family." – Keri
3. Professional Car Carriers (PCC)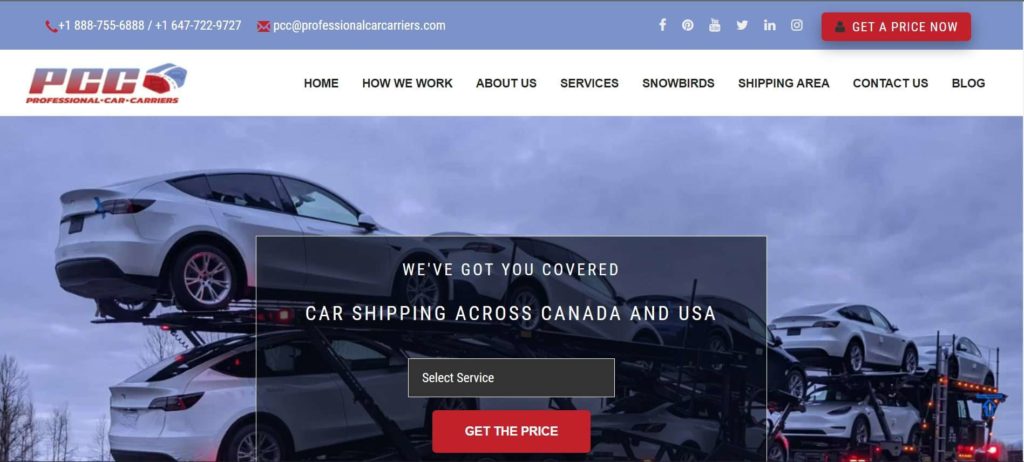 OTHER SERVICES
Manufacture transport Dealership transport Auction transport Luxury car transport Open car transport Non-running shipping transport Individual transport
WEBSITE
https://www.professionalcarcarriers.com/
CONTACT DETAILS
Phone: +1 (888) 755-6888

Email: [email protected]

ADDRESS
10 Datomar Rd, Headingley, MB, R4H 1B8, Canada
OPERATING HOURS
Monday to Friday: 8:00 AM – 5:00 PM

Saturday and Sunday: Closed
| | |
| --- | --- |
| CRITERIA | RATING |
| ARRAY OF SERVICES | ★★★★★ 5/5 |
| ⮕Availability of other services | ★★★★★ 5/5 |
| ⮕Vehicles accommodated | ★★★★★ 5/5 |
| QUALITY OF SERVICES | ★★★★★ 5/5 |
| ACCESSIBILITY | ★★★★★ 5/5 |
| ⮕Punctual | ★★★★★ 5/5 |
| ⮕Responsive | ★★★★★ 5/5 |
| CUSTOMER SATISFACTION | ★★★★★ 5/5 |
Albeit located in the municipality of Headingley, which is roughly 20 kilometres from Winnipeg, Professional Car Carriers (PCC) is known for providing an array of vehicle transport services for residential and commercial sectors.
Besides the array of car transport services, PCC also offers door-to-door shipping and cross-border transportation within Canada and select locations within the United States.
And in terms of vehicle types, this car transporting company accommodates sedans, SUVs, pick-up trucks, minivans, vans, hatchbacks, and luxury cars.
So, even if PCC is a little farther away from Winnipeg compared to other car transporting companies, it is still trusted by us and many Canadians when it comes to shipping vehicles to various parts of North America.
Now, for those interested in availing of this company's transportation services, requests for quotes are free of charge.
Various payment modes are also accepted in this company, such as credit cards, direct deposits (to RBC accounts), Interac payments, and wire transfers.
However, note that wire transfers will require you to contact the company first before pushing through with this payment mode as it may have limitations compared to the other transaction types.
That said, we think it's wise to pay via credit cards, direct bank deposits, or Interac transfers instead to avoid any hassle with your transactions with PCC.
Also, before booking PCC services, plan you schedule accordingly. Upon checking, the company does accept cancellation of reservations, but customers need to file them at least 48 hours before the scheduled pick-up date.
Cancelling less than 48 hours will entail penalty fees, depending on the time you've called off the services. These fees may cost around $75 or more in Canada, so be wary of any schedule conflicts to avoid fines.
Accommodates luxury cars
Serves various parts of Manitoba
Wire transfer payments have limitations
No-charge cancellations need to be made at least 48 hours before pick-up schedule 
Customer Reviews
Satisfied with their transport services
"First time shipping a car and very happy with their service. delivered in a reasonable time and very good with communication. I will be using their service again for another car. Thank you!" – J. R.
Punctual staff and great services
"Great customer service. These guys are one of the best carriers I've come to know. They deliver on time and are very friendly. I would recommend them any day and anytime." – Bishop Ayo
FAQs on Car Transport Services
---
And that ends our unbiased assessment of the top car transport services Winnipeg has to offer!
If you need shipping services to move your car to your new address, contact one of these companies to provide you with the most reliable and investment-worthy transportation experience.
In the meantime, you might also want to look at these other review articles on car-related services: