The Top 5 BBQ Restaurants in Winnipeg
If you're an avid BBQ fan regardless of its meat type, there's only one way to have a great dining experience — that is, by dining in the best place!
That is why we made a list of the top BBQ restaurants in Winnipeg where your BBQ cravings will surely be satisfied.
How much do BBQ restaurants cost in Winnipeg?
We don't want you stressing about the bill after having a great smokey meal at one of these amazing restaurants.
So, to give you an idea about the range of costs that you might face during your visit, we made a list that you can refer to.
Just keep in mind that BBQ restaurant rates vary depending on the type of meat and its quality.
| Types of Service | Range of Cost |
| --- | --- |
| St. Louis-Style Spareribs  | $21.95 – $33.95 |
| Baby Back Ribs  | $22.95 – $31.95 |
| Side Dishes | $2.95 – $6.75 |
| Salads | $10.95 – $15.95 |
| Dessert | $9 – $10 |
| Unlimited BBQ | |
| Adult | $28 – $57 |
| Children (7-12 years old) | $15.95 – $27 |
| Children (4-6 years old) | $5.95 – $12 |
| Vegetarian | $20 – $30 |
The Top BBQ Restaurants in Winnipeg
To give you the list of the best BBQ restaurants in Winnipeg, we screened these entries using these criteria:
1. Famous Dave's Bar-B-Que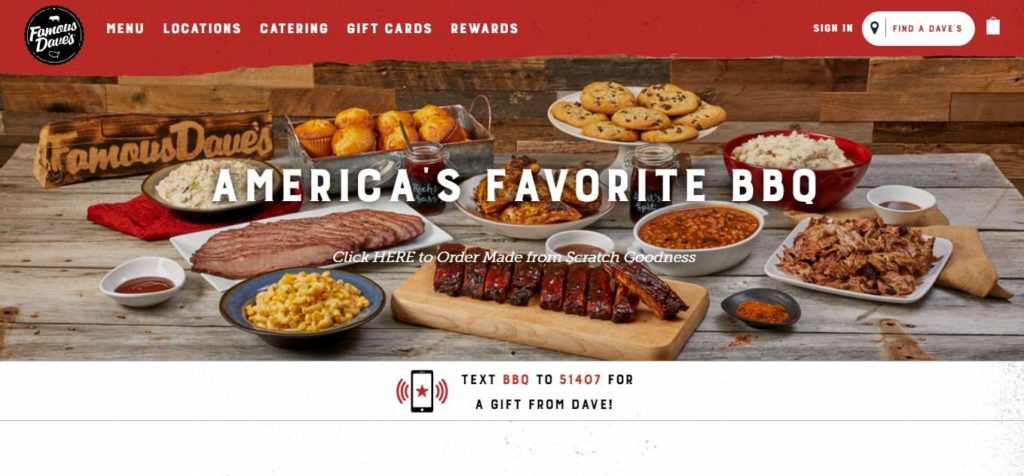 PRODUCTS
Appetizers

Salads & Sides

Ribs

Pork

Sausages

Chicken & Chips

Combo Meals

Burgers & Sandwiches

Handmade Desserts

WEBSITE
https://www.famousdaves.com/
ADDRESS
11 Reenders Dr Unit 70, Winnipeg, MB R2C 5K5, Canada
CONTACT DETAILS
+1 (204) 504-7200
OPERATING HOURS
Monday to Thursday: 11:30 AM – 8:00 PM

Friday to Saturday: 11:30 AM – 9:00 PM

Sunday: 11:30 AM – 8:00 PM
| | |
| --- | --- |
| Criteria | Ratings |
| Menu variety | ★★★★☆ (4/5) |
| Quality | ★★★★☆ (4/5) |
| Price | ★★★★☆ (4/5) |
| Service | ★★★★★ (5/5) |
Dave Anderson's 50 years of obsession to create the best BBQ made him a highly meticulous chef not just in terms of taste but also in presentation.
Plus, Famous Dave's Bar-B-Que has been in the industry for almost two decades, proving itself as a crowd favorite.
What we like the most about it is the efficient service. From finding you a seat to serving the food, we guarantee you that it'll be admirably quick.
The restaurant is also spacious enough that you can choose from its variety of seating options. Although, be warned that on Friday nights, it gets really crowded.
If you ever come over during these days, expect that you would have to wait a little longer than usual. Fortunately, the restaurant has ample parking space even on the busiest days.
The menu is fairly expansive. You can have your choice of BBQ paired up with your favorite appetizers and desserts. Our favorite is its popular Mac n' Cheese.
Its menu also includes burgers, sandwiches, and combo meals should you be interested in having more than a BBQ night out.
However, we have encountered some inconsistent quality with its beef brisket.
Although the pork and fish dishes are awesome, the beef brisket seemed rather bland in comparison.
However, despite that, we can still attest to the good experience that the place has to offer.
The aroma and presentation of the dishes are both enticing enough. It was made even more appealing by the spacious atmosphere and good lighting options.
Just a caveat though, this place is a little pricey considering its small portion size. The quality and service are great, but the portions are somehow underwhelming.
Expert cook 
Good dish quality 
Ample parking 
Decent dish options
Punctual service 
Excellent atmosphere 
Occasionally busy 
Inconsistent food quality 
Small serving
A bit pricey 
Customer Reviews
Grilled to perfection
"Had a pretty good meal at this restaurant. Lots of tables but pretty busy on a friday evening, that we almost didn't get a seat – we ended up on the lounge side of the restaurant. The portions were smaller than I expected – could have more mac 'n cheese as a side. The fish was good if you like spicy food, but was surprised that it didn't talk about the spice/heat in the batter in the description on the menu. The corn bread was very good. Loved the BBQ pineapple spears – grilled to perfection. The pulled pork was good." — Michelle
Good service
"My wife lived in Texas and said it was pretty authentic. Her chilli was not that great and her chicken was okay. My ribblets were great and we liked the fries. There were some menu items missing like the sausage but we were there on a Tuesday so it's understandable that not everything would be available. Nice sauces, we each had a favorite. We received good service and had a good experience overall." — Ryan Klassen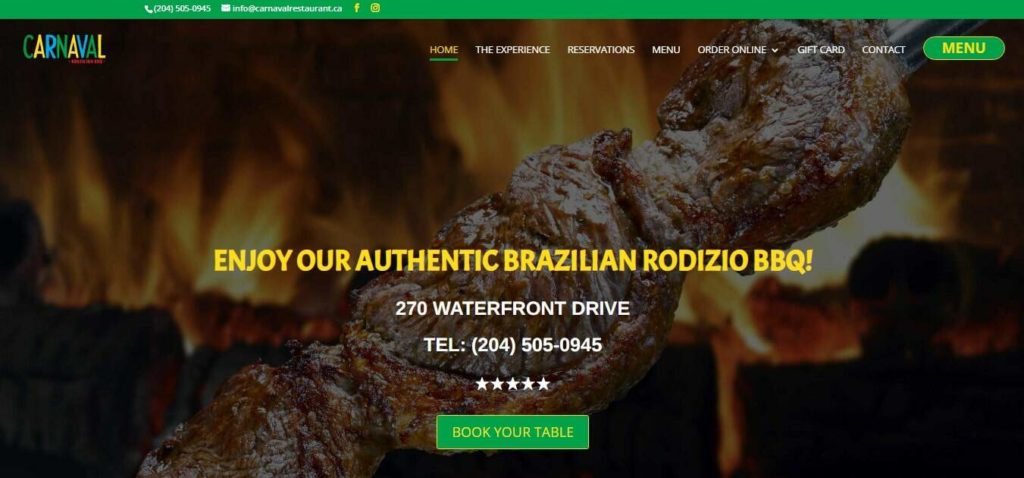 PRODUCTS
Appetizers

Salads & Sides

Ribs & Steaks

Pork

Chicken

Vegan Dishes

Desserts

WEBSITE
https://carnavalrestaurant.ca/
ADDRESS
100-270 Waterfront Dr, Winnipeg, MB R3B 0L4, Canada
CONTACT DETAILS
+1 (204) 505-0945
OPERATING HOURS

LOUNGE & PATIO HOURS

Monday & Thursday: 4:00 AM – 9:00 PM

Friday: 11:30 AM – 10:00 PM

Saturday: 1:00 PM – 11:00 PM

Sunday: 1:00 PM – 9:00 PM




RODIZIO BBQ

Monday, Thursday, & Sunday: 4:30 AM – 9:00 PM

Friday (Lunch): 11:30 AM – 2:30 PM

Friday (Dinner): 4:30 PM – 10:00 PM

Saturday: 4:30 PM – 11:00 PM
| | |
| --- | --- |
| Criteria | Ratings |
| Menu variety | ★★★★☆ (4/5) |
| Quality | ★★★★☆ (4/5) |
| Price | ★★★★☆ (4/5) |
| Service | ★★★★☆ (4/5) |
Despite being widely known for its unlimited offer of authentic Brazilian Rodizio barbecue, Carnaval Brazilian BBQ still has a lot to offer!
If you're looking around for the best BBQ restaurant in Winnipeg that has unlimited options of dishes, this might just be the place for you.
From vegetarian options to multiple choices with its meat sets, this restaurant is easily a gem.
Plus, with its vegetarian options, your friend or family can still surely go with you despite this place being mainly a BBQ restaurant.
What's more is that the service here would make you feel like royalty.
The staff is all welcoming, while the chefs are all experienced. They'll treat you as politely and personable as they can.
We also commend how flavorful all their servings are. The tenderness and juiciness of the meat deserve a double thumbs up.
We also love that you can request different cuts. You can simply choose from its 10 multiple-cut options.
The lounge also offers a good entertainment area where you can choose to watch some games of your favorite sports team.
The only issue we had during our visit here is that it was occasionally understaffed. Plus, the prices are a bit steep even if the offer is unlimited.
Sure, you can get the maximum value for your money here if you're a heavy meat eater. But if you're not, it's a rip to your pockets.
If you feel like you can't dive into an intense carnivorism mode, we suggest you try its separate menu for individual items. But be warned, it's a bit costly.
Multiple cut options 
Great service 
Flavourful serving 
Provides vegetarian options 
Separate menu 
Good ambiance 
Occasionally understaffed 
Steep pricing 
Customer Reviews
Exceptional establishment
"It's definitely a must-try experience! Especially for those who like their meats. First of all, the service makes you feel like royalty. Then something like 10 different cuts if pork, beef, and chicken are continuously being cooked and served, it's all you can eat but I'm unused to filling up on pretty much straight meet. I've never had such juicy and flavorful chicken! And the skirt steak was just sublime. The sides are also unlimited, you can ask for more whenever you'd like. It's good to plan to be there 2 hours but hard not to fill up before then. Food is absolutely worth the price tag. The staff are all great too. Super friendly and welcoming. It's an exceptional establishment, a true gem in Winnipeg and I will be back every time I'm here visiting. It was nothing but a pleasure" — Bryan Fehr
Tons of meat selections
"If you`re a hungry carnivore, then this is the dinner place for you! Tons of meat selections that are brought and carved at your table. Lots of sides to choose from. Did find the food quite salty, but the accompanying drinks were delightful! You need to try the one in the pineapple. The price for the dinner all you can eat is a little steep, but definitely an experience you should have if you`re going anyway. There is a separate menu for downstairs that includes individual items." — Caitlin Kitchur
3. IGI BBQ & Sushi Bistro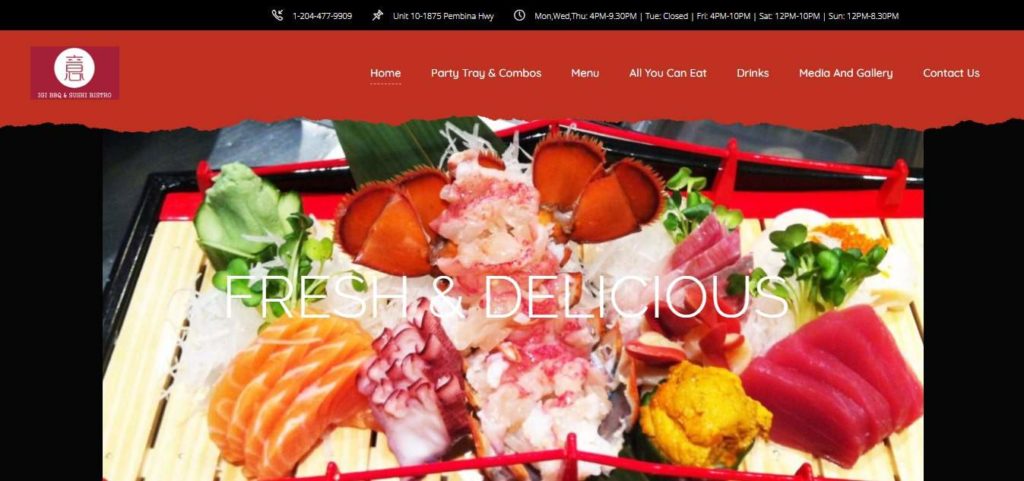 PRODUCTS
Appetizers

Japanese Cuisine

Vegan Dishes

Ribs

Beef

Chicken

Lamb

Party Trays

Alcoholic & Non-Alcoholic Drinks

WEBSITE
http://igi-sushi.com/
ADDRESS
1875 Pembina Hwy #10, Winnipeg, MB R3T 2G7, Canada
CONTACT DETAILS
+1 (204) 477-9909
OPERATING HOURS
Monday, Wednesday, & Thursday: 4:00 PM – 9:30 PM

Friday: 4:00 PM – 10:00 PM

Saturday: 12:00 PM – 10:00 PM

Sunday: 12:00 PM – 8:30 PM
| | |
| --- | --- |
| Criteria | Ratings |
| Menu variety | ★★★★★ (5/5) |
| Quality | ★★★★★ (5/5) |
| Price | ★★★★★ (5/5) |
| Service | ★★★★☆ (4/5) |
A comfortable dine-out is made possible by IGI BBQ & Sushi Bistro!
At this restaurant, you have the grill right at your table. So, you can have a more personal grilling experience.
There's an installed no-smoke ventilation system so you won't have to go out smelling like you're fresh from a BBQ place.
Ans it's safe to say that we are definitely in love with this restaurant because of its wide dish options.
Your choices are not only limited to meat. You can also choose from sushi to sashimi, delectable vegetables, and more!
There are also gluten-free options available if you're looking for some.
We also liked that no artificial flavoring is used in any of its marinades. So, you can taste the authenticity of the seasonings used in the meat.
What's more is that this restaurant only serves AAA meat and Angus Beef. The top-tier of all BBQ options.
If you're curious about what AAA meat is, it's a meat grade that belongs to a high-quality category. So basically, this type of meat provides heavenly juiciness and tenderness.
Fun fact: only 50% of graded beef ever reaches the AAA quality and status.
You might be wondering about its price range by now.
Luckily, the pricing here is reasonable. Although it might seem pricey at first, once you get a taste of its servings, you'll realize that it's worth every penny you have.
Just note that if you're interested in dining here, you'll have to book a reservation first.
Since it is typically fully booked, you would have to wait in a queue for a while before getting a spot.
Also, the service per dish takes quite a while. We suggest you try to order what you can, so you won't have to deal with another lengthy waiting time.
Comfortable dining 
Wide variety of dish options  
High-quality meat 
No artificial flavoring 
Gluten-free options available
Reasonable pricing 
Long service time  
Crowded 
Customer Reviews
Lots of different things to eat
"AYCE Sushi and BBQ was good. Lots of different things to eat and everything comes out pretty fast. Meal includes ice cream at the end. They said they only take reservations at this time so make sure you call in. If you go late, I recommend you go 2-2.5 hrs before closing. I made a reservation for 8pm when they closed at 9:30. However, we felt really rushed. The person on the phone verified a 9:30 closing time but didn't let us know the kitchen closes at 9:00." — Jennifer Y
BBQ is amazing
"Excellent All you can eat sushi and Korean BBQ buffet. They have quality sashimi, the BBQ is also amazing, try the BBQ short ribs. Try not too order to many rolls I found they put alot of rice as filler. Sashimi and tempura are excellent. Come hungry because you'll want to get your money's worth. $50-55 after tip and tax." — John
4. Montana's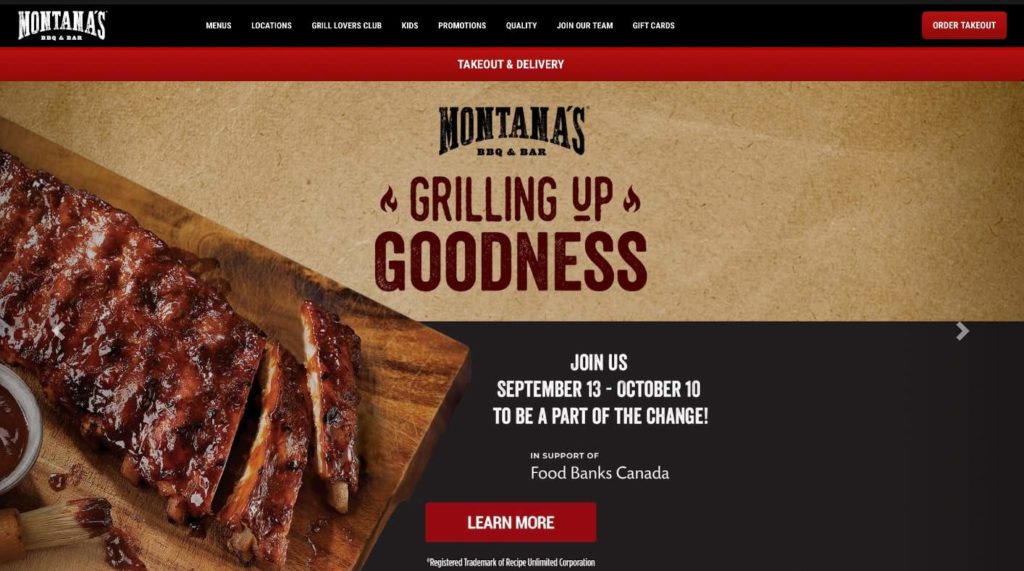 PRODUCTS
Appetizers

Salads & Sides

Soups

Ribs & Steaks

Chicken

Seafood

Burgers & Sandwiches

Desserts

Kids' Menu

WEBSITE
https://www.montanas.ca
ADDRESS
1574 Regent Ave W, Winnipeg, MB R2C 3B4, Canada
CONTACT DETAILS
+1 (204) 668-2723
OPERATING HOURS
Sunday to Thursday: 11:30 AM – 10:00 PM

Friday to Saturday: 11:30 AM – 11:00 PM
| | |
| --- | --- |
| Criteria | Ratings |
| Menu variety | ★★★★☆ (4/5) |
| Quality | ★★★★★ (5/5) |
| Price | ★★★★☆ (4/5) |
| Service | ★★★★★ (5/5) |
With over 25 years in the industry, you are ensured that your BBQ dining experience at Montana's is something you wouldn't regret.
Are you picky with your steak? No worries!
This restaurant is pretty popular with its mouth-watering dishes. So, we went and tried it out.
Luckily, it's not false news! The steaks here are done to perfection.
It's like a safe choice for a BBQ night out.
Over the years, the recipe remains to be authentic. But its menu options slightly changed.
Even so, the expansiveness of the options remains to be adequate. Aside from the BBQ options, there are available appetizers, desserts, and burgers.
We like the overall service that we received during our stay here. The staff is all polite and attentive to details.
If you're unsure about what to order, you can simply ask for the staff's recommendations, and they'll give their best to provide you with all the necessary information you need.
It's always a good experience when the servers are all knowledgeable about the menu!
Also, reservations are honored on time here despite a heavily busy schedule.
The service is typically fast during slow days. But this is not the case during the crowded ones.
The prices are affordable, so you won't have to shed so much. But just note that the serving portions are smaller than usual here.
If you're really hungry, you might need to add a few more orders just to be full.
Helpful staff
Quick serving
Delectable dishes
Decent price
Fair menu options
Small serving portion
Long waiting time 
Customer Reviews
Meal was delicious
"Saturday evening- reservations were honoured on time, service was great, meal was delicious and our servers were very pleasant and helpful. They made you feel welcome and showed that appreciated our business. We were thanked for coming in this evening. Sandy was our main server. We will be back!🌹🌹" — Diane Machnee
Friendly and attentive
"Haven't been here in 15 years. Everything was delicious and cooked to perfection. Drinks were great. The beer was great. The wings really amazed us. Kids loved it, Marcus our server was friendly and attentive. The corn bread is ok (homemade is superior) but it was the only swing and miss of the evening. We will be back soon." — Elizabeth Carty
5. Tony Roma's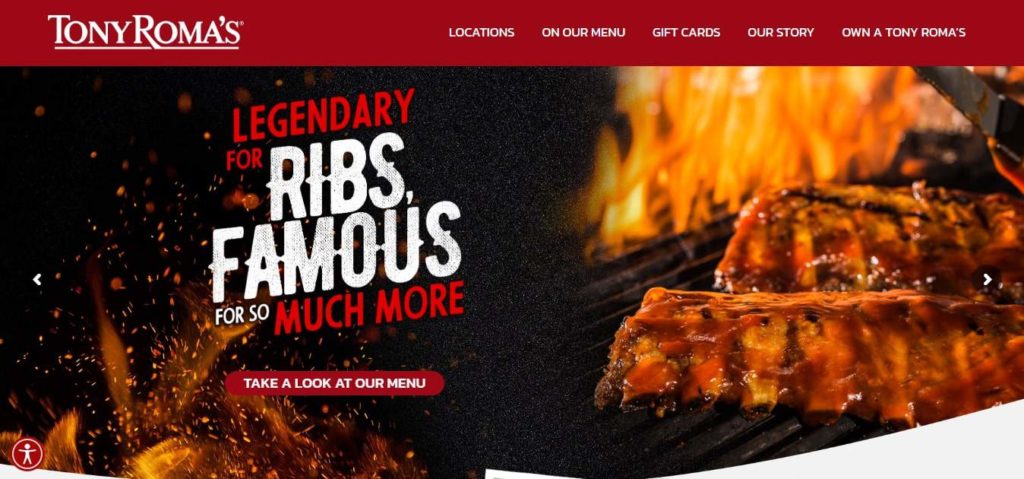 PRODUCTS
Starters

Soups & Salads

Ribs

Steaks

Chicken

Seafood

Burgers & Sandwiches

Desserts

Kids' Menu

WEBSITE
https://tonyromas.com/
ADDRESS
1500 Pembina Hwy, Winnipeg, MB R3T 2E3, Canada

656 St James St, Winnipeg, MB R3G 3Z5, Canada

CONTACT DETAILS
PEMBINA HWY: +1 (204) 477-5195

ST. JAMES: +1 (204) 949-9426

OPERATING HOURS

PEMBINA HWY

Monday: 4:30 PM – 10:00 PM

Tuesday to Thursday: 4:30 PM – 11:00 PM

Friday to Saturday: 4:00 PM – 11:00 PM




ST. JAMES

Monday to Thursday: 3:00 PM – 9:00 PM

Friday to Saturday: 3:00 PM – 10:00 PM
| | |
| --- | --- |
| Criteria | Ratings |
| Menu variety | ★★★★☆ (4/5) |
| Quality | ★★★★★ (5/5) |
| Price | ★★★★☆ (4/5) |
| Service | ★★★★☆ (4/5) |
If you're looking for a full-service, casual dining family restaurant that serves premier BBQ ribs and steaks, Tony Roma might be just around your corner!
For half a decade, this family restaurant continues to be one of the best BBQ restaurants in Winnipeg.
Its popularity paved the way for its expansion. Its branches now total more than 100 across the globe.
Despite the varied locations, its dish quality remains to be consistent.
So, if you already tried this one from another continent, you won't be disappointed if you'd also try the ones in Winnipeg.
Although the signature dish featured is its Baby Back Ribs, it also offers some seafood options, unique appetizers, desserts, and even a separate kids' menu.
Plus, we observed how punctual the service in this restaurant is. Although there are some issues about its customer service being occasionally unfriendly, the service is commendably punctual.
Some staff is personable and friendly. But we were disappointed with those that would make you feel as though you are bothering them.
If the management could tackle this issue the soonest, this place would be a lot better.
The portions are good. It could even be for sharing if you have a small appetite.
The pricing is reasonable given the taste quality and the servings you would receive.
However, if you're interested in visiting this place, do not be surprised if you'll experience high crowd traffic since it is frequently busy.
Consistent quality 
Decent menu variety 
Prompt service 
Good-sized portion
Reasonable prices
Frequently busy
Inconsistent customer service 
Customer Reviews
Consistent quality
"As always, love Tony Roma's for their best Baby Back Ribs, I choose with Carolina Honey BBQ glaze, accompany with Coleslaw and baked beans. Everywhere you go around the globe, they have a consistent quality and taste for their menu and product. 👍👍" — Chef Vindex Tengker
Great experience
"Always a great experience. The beef ribs are 10/10, but the steak can be hit or miss. The kickin' shrimp appetizer was surprisingly tasty, and not very spicy." — Autumn L
FAQs about BBQ Restaurants
---
That is all for our list of the best BBQ restaurants in Winnipeg. If you're looking for other restaurant ideas, you can check out some of our other articles and witness the greatest cuisines that Winnipeg has to offer!