The Top 5 Places for Lodging in Winnipeg
Looking for the best lodging place to settle is a definite make or break of any traveler's experience.
Whether it's a business-related event or a sweet leisure escape, you'll surely need some place to rest after a tiring day.
Fortunately, we made a list of the top places for lodging in Winnipeg that you can refer to for your next trip!
How much does lodging cost in Winnipeg?
Price ranges of different lodging options vary exponentially depending on the establishment you chose.
But as a reference, we made a list of the typical lodging costs in Winnipeg just for you!
| Types of Lodging Option | Range of Cost |
| --- | --- |
| 5-Star | $208 – $250 |
| 4-Star | $180 – $195 |
| 3-Star | $146 – $168 |
| 2-Star | $118 – $144 |
| 1-Star | $107 – $116 |
The Top Places for Lodging in Winnipeg
To optimize your lodging experience, we listed only the best entries that have satisfied the criteria below:
1. The Fort Garry Hotel, Spa and Conference Centre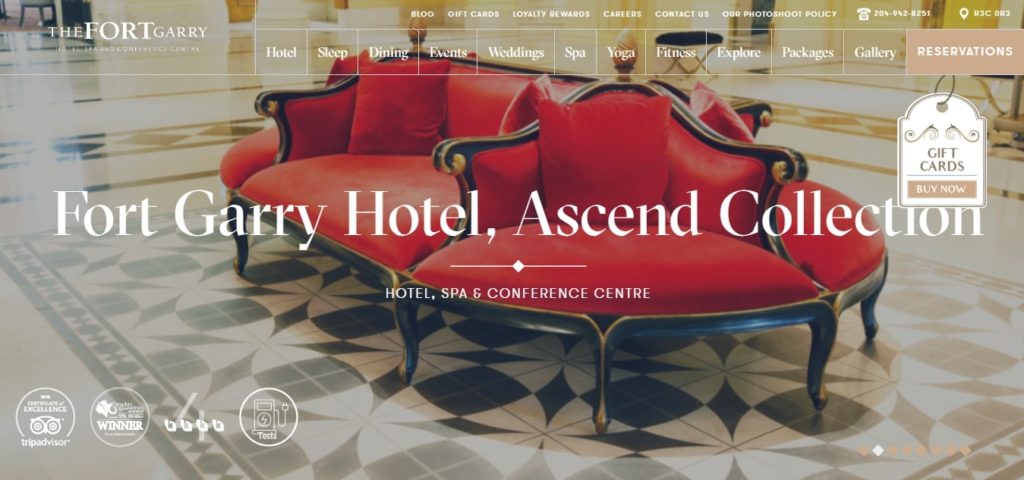 FACILITIES & AMENITIES
Rooms & Suites

Upscale Dining

Conference Spaces

Event Spaces

Spa

Yoga Space

Fitness Center

WEBSITE
https://www.fortgarryhotel.com/#3
ADDRESS
222 Broadway, Winnipeg, MB R3C 0R3, Canada
CONTACT DETAILS
+1 (204) 942-8251

+1 (888) 665-8088

OPERATING HOURS
Open 24/7
| | |
| --- | --- |
| Criteria | Ratings |
| Facilities and amenities | ★★★★☆ (4/5) |
| Location convenience | ★★★★★ (5/5) |
| Pricing | ★★★★☆ (4/5) |
| Accommodation | ★★★★☆ (4/5) |
A century-old popular landmark due to its building design is what The Fort Garry Hotel, Spa, and Conference Centre is known for.
This historic hotel with a stunning interior design is made possible with its chateau style of architecture — making it a perfect lodging place in Winnipeg.
This type of architecture was the first to be witnessed amongst the magnificent railway hotels built across Canada in the 1930s.
Upon entering the hotel, you would be welcomed with rich ceiling sculpture works and fancy carpeting. The soft neutrals and classic furnishing elevate the magnificent atmosphere, making every customer feel extra posh.
This hotel is also known to cater to corporate travelers since a lot of companies host their events here because of its massive event space with a total of 54,000 square feet.
Plus, it offers a great option for amenities where you can choose from a spa and fitness areas like a gym and yoga room.
However, if you're looking for a pool, you would need to have some extra cash since this hotel does not feature a pool of its own. What it does have is an independent pool option that is excluded from your hotel payment.
Another one of our concerns is the occasional delay with housekeeping, which is a bit of a hassle because you would have to constantly follow it up.
We also noticed that there seems to be an 'upon request policy' where bottled water, a microwave, and a fridge would only be provided once asked by the customer.
Lodging for convenience means that your needs are well-taken care of and are ready. Thus, having to ask for it negatively affects the customer experience.
If you have your car with you, be wary that this hotel does not offer a free parking option, so you would have to pay about $20 per night despite staying in as a guest.
Although it seems slightly expensive with all the extra fees to be paid, this hotel still makes it up to this list with its cozy rooms, friendly staff, and of course, accessible location.
Since it is only a walking distance to many indoor and outdoor attractions like The Forks, Museum, Keg, etc., your stay would be definitely worth it!
Luxurious interior design
Historic hotel 
Good for events 
Excellent set of amenities
Friendly staff
Accessible location 
Paid parking 
Independent pool accommodation 
Occasional housekeeping issues 
Slightly expensive 
Customer Reviews
Absolutely fantastic stay
"The hotel was absolutely lovely! The staff were all friendly, the location is great, the services they offered were amazing! The stay was amazing! I will definitely come back in the future! I've shared some decent photos I took for visual. It was absolutely fantastic stay!" — Sileema Angoyuak
Architecture is stunning
"The architecture is stunning and the location next to the Forks market and river trails is perfect. We stayed here on a recent cross country road trip. The room, while small, was beautifully appointed and the beds were to die for, so comfortable! The pool was adjacent to the hotel and accessible for a small additional fee ($5 per person), and parking cost extra (like most downtown hotels). The staff were lovely." — Kai Butterfly
2. Delta Hotels by Marriott Winnipeg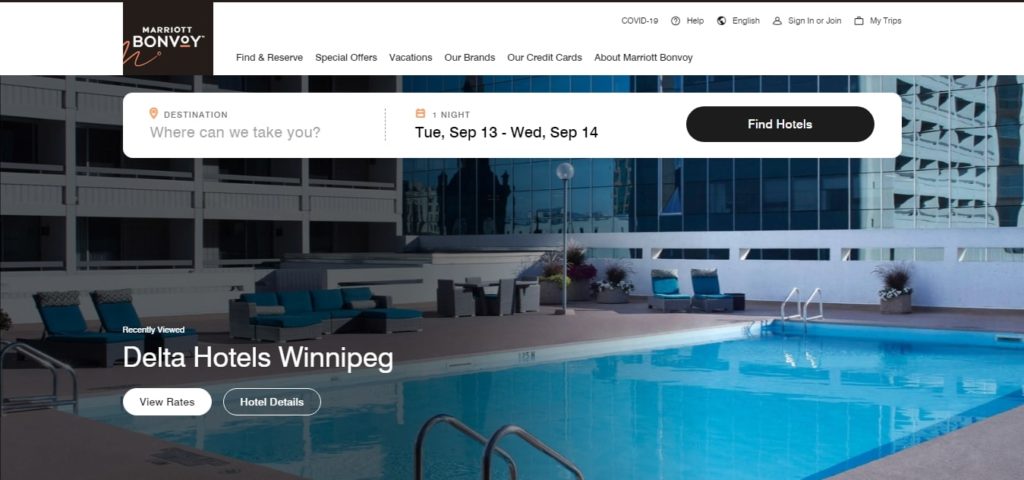 | | |
| --- | --- |
| Criteria | Ratings |
| Facilities and amenities | ★★★★☆ (4/5) |
| Location convenience | ★★★★★ (5/5) |
| Pricing | ★★★★☆ (4/5) |
| Accommodation | ★★★★☆ (4/5) |
If there's any entry where the "don't judge the book by its cover" quote applies, this is definitely it.
Delta Hotels by Marriott Winnipeg might seem plain and too simple on the outside with its common building architecture.
But, once you walk in, especially in the rooms, you would be granted a sleek and modern design.
From the lobby, the staff will treat you as friendly as possible, making you feel comfortable enough that you wouldn't have to worry about dealing with an awkward set.
This is extremely important because an easy crowd makes the exhaustion of traveling a lot more tolerable especially if you're alone.
We are very pleased with the way the staff treats their customers with utmost respect and value, making us feel as if we're the only ones being tended to.
We can attest that the concerns and inquiries raised are also usually solved promptly.
The rooms are highly comfortable. Not only is it spacious but the bathrooms are also kept well.
No need to worry about cleanliness since housekeeping is known for being meticulous.
This hotel also includes a restaurant, coffee shops, indoor and outdoor swimming pools, as well as a gym.
Since it is near the JAR International Airport, it is a good tourist lodging option.
If you are interested in going to The Forks, no need to worry since it's only a few walks away. Additionally, this hotel is near Polo Park, Royal Winnipeg Ballet, and is even attached to the RBC Convention Centre
Amongst all its features, our favorite is its excellent view. Since the rooms have decks, you can sit there and watch the sunrise or sunset while sipping your coffee or wine.
Just be wary that this hotel only has ground parking, which is notorious for receiving vehicle damage complaints.
Despite paying an extra $20 per night, the security of your car is not ensured as a lot of car break-ins happen within this parking area.
The management does not seem to bat much of an eye on this issue as they continue to uphold that they do not have any accountability for vehicular damages despite asking parking guests to pay.
This place is also a bit pricey, so you might need to ready your pockets before deciding to stay here.
Friendly lobby service
Comfortable rooms
Inclusive amenities
Easy to access location 
Excellent view 
Ground parking only
A bit pricey 
Customer Reviews
Great and kind
"The location is very good to access not only downtown but other areas in Winnipeg. The staff and services were great and kind. Many people mentioned ground parking so I was worried about it in advance. However, parking was easy and smooth if you drive just a small car or even SUV. Btw, the parking fee is an extra $20 per night. I also enjoyed the outdoor pool & hot tub." — Haelee Kim
Clean and comfortable
"While the building itself is getting outdated you'd never know it on the interior. Well appointed, maintained, clean and comfortable. We have stayed here about 3 times now and we bring our folding lawnchairs so we can sit on the deck (rooms have decks) and watch the sun go down and sip wine. Rooms are expensive but a great value in comparison with everything else out there, especially downtown. First class & friendly lobby service!" — Con Huberdeau
3. Hotel Fairmont Winnipeg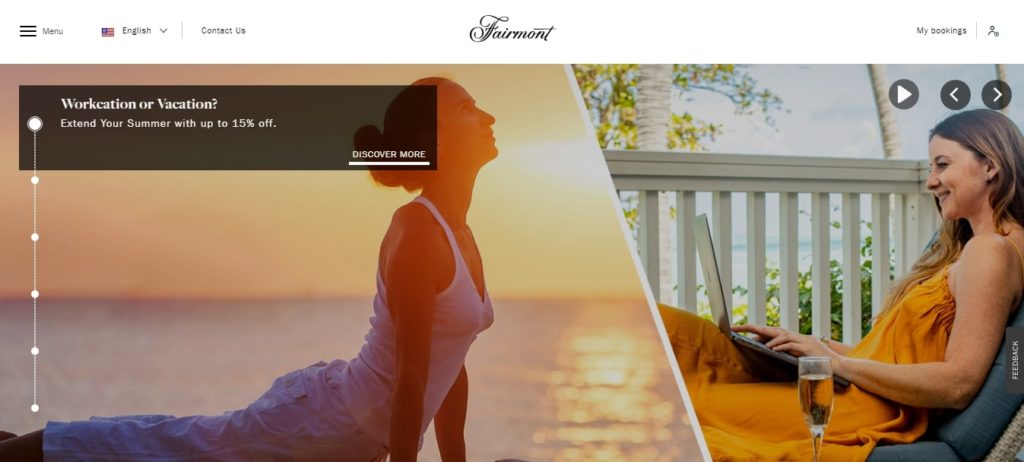 FACILITIES & AMENITIES
Rooms & Suites

Event Space

Restaurant

Bar

Bicycle Rental

Hot Tub

Fitness Center

WEBSITE
https://www.fairmont.com/
ADDRESS
2 Lombard Place, Winnipeg, MB R3B 0Y3, Canada
CONTACT DETAILS
+1 (204) 957-1350

+1 (866) 540-4466

OPERATING HOURS
Open 24/7
| | |
| --- | --- |
| Criteria | Ratings |
| Facilities and amenities | ★★★☆☆ (3/5) |
| Location convenience | ★★★★★ (5/5) |
| Pricing | ★★★★☆ (4/5) |
| Accommodation | ★★★★★ (5/5) |
Being a historical site, Hotel Fairmont Winnipeg has established itself as one of the longest-standing in the hotel and lodging industry.
Its history of being used as the city's iconic place for glittering balls, presidential visits, and political gatherings paved its branding as the 'place for occasions'.
The tens and hundreds of highly celebrated clients visiting this hotel made it a known place where you can experience the royal treatment.
Its background of offering excellent treatment is what piqued our interest in including it in our list of the top places for lodging in Winnipeg.
The staff is incredibly informative and capable of handling customer concerns from checking in to stay-in issues with observable professionalism.
It is also found in a great location with nice city views. Since it is located in the heart of downtown, expect easy access to local bars and downtown shops.
If you are up for a walk and looking for other places to visit, you can also check out the Red River and The Forks.
We love the experience that its facilities offer, such as the gym, pool, and restaurant that serves palatable dishes.
However, this place is considerably expensive. We have also observed that there are limited complimentary services offered.
So, there are a lot of things to pay for independently. This ranges from parking, breakfast, and Wi-Fi to even microwave use.
Plus, if you're availing of the rooms on the lower floors, you are exposed to slightly overbearing street noise.
Lastly, some rooms do require some remodeling because, during our visit, we experienced some clogged drains, dysfunctional faucets, and malfunctioning air conditioners.
Professional staff 
Great location 
Nice city views 
Good facilities
Expensive 
A bit too much street noise 
Some rooms need remediation
Customer Reviews
Great location
"I'll start by saying that the staff are terrific. Incredibly helpful, friendly etc. 5 star staff without question. The hotel itself is good, but getting a little shabby in places. Rooms are clean and tidy but need freshening up in places. Great location as well and central to many places in Winnipeg. Overall, I'd definitely stay there again." — Nick Kidd
Great service
"We were treated like royalty at the Fairmont Winnipeg! Although it is an older hotel, it is extremely clean and the staff are absolutely wonderful. Teddy at the valet, Aryanne at reception and all the staff in the lounge more than make up for the age of this beautiful, historical hotel. We will definitely be back, if only to visit our wonderful server Rod who gave us great service, yummy food suggestions and valuable tourist information. He was so lovely! We changed our breakfast plans on Sunday to eat with Rod again! Thank you Fairmont Winnipeg!" — Adriana Schemel
4. Inn at the Forks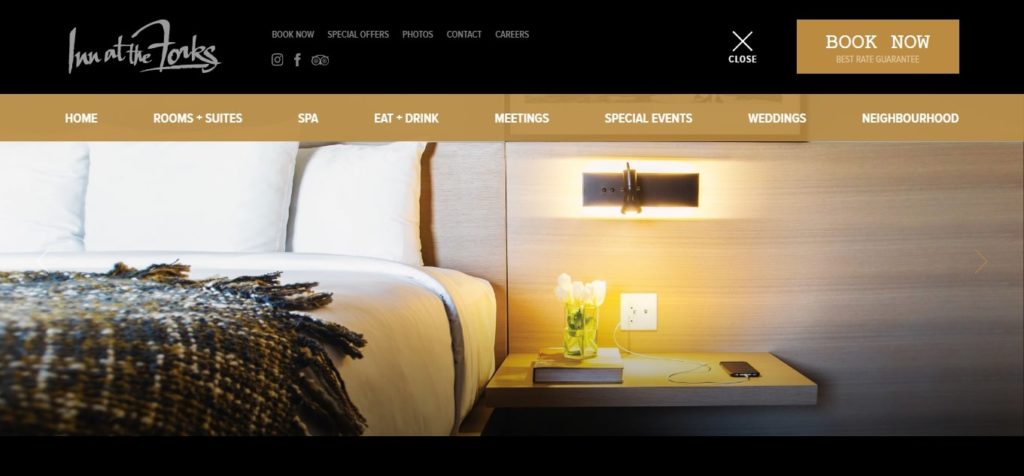 FACILITIES & AMENITIES
Rooms & Suites

Corporate Travel

Group Blocks

Spa

Smith Restaurant

Private Dining

The Forks Market

Meeting Rooms

Catering

Event Space

Wedding Venues

Wedding Package

WEBSITE
https://www.innforks.com/
ADDRESS
75 Forks Market Rd, Winnipeg, MB R3C 0A2, Canada
CONTACT DETAILS
+1 (204) 942-6555

+1 (204) 942-6979

OPERATING HOURS
Open 24/7
| | |
| --- | --- |
| Criteria | Ratings |
| Facilities and amenities | ★★★★☆ (4/5) |
| Location convenience | ★★★★★ (5/5) |
| Pricing | ★★★★☆ (4/5) |
| Accommodation | ★★★★☆ (4/5) |
Of course, this list of the top places for lodging in Winnipeg can't possibly go on without an entry that spoils its customers with fully equipped rooms.
No need to request access or pay for the microwave or fridge! Inn at the Forks ensures that these are readily made available in your room upon check-in.
From the lobby to your room, one word can be constantly used — neat.
We love the maintenance of the entire hotel, and it is no exaggeration when we say that its cleanliness is immaculate.
The location is also advantageous if you're planning on doing outdoor activities. You can go to Kendric's, Fork's Market, and Assiniboine Park Zoo.
But of course, you can also go shopping at the Johnston Terminal if that's more of your thing!
You can even learn the history of Winnipeg through the Fork's National Historic Site and the Human Rights Museum, which is just around the area.
The staff is all accommodating. We appreciate how they pay keen attention to the inquiries and issues of the customers.
The room size is pretty decent. It's not exactly spacious but not entirely cramped either.
However, the issue that we experienced during our stay is its inefficient soundproofing.
Conversations in the hallway can be heard loud and clear. This is the same case with the noise coming from the adjacent rooms.
This place is also known to be on a higher scale when it comes to prices. Aside from paying over $200 for a night, you'll have to pay another fee for the parking.
Lastly, this hotel could be a lot better if it doesn't have limited facilities.
It features the Riverstone Spa, which provides a luxurious spa experience, and the SMITH, where you can get the rustic Canadian experience.
However, it does not have a swimming pool or a gym area for those who are looking for complimentary indoor activities.
Excellent room accommodation 
Highly convenient location 
Accommodating personnel 
Decent room size area
Poor soundproofing
Pricey 
Limited facilities
Customer Reviews
So friendly and accommodating
"We had a wonderful stay in one of their luxury suites. The jacuzzi and dual/rain shower are heavenly and really must be experienced. Thanks to the staff for being so friendly and accommodating." — Jason Fetterly
Amazing experience
"Loved this hotel!! Our room was lovely. Our dog enjoyed it too. The king bed was amazingly comfortable. Our room was spacious and fully equipped with a microwave, fridge, makeup remover, and more. The area is so lovely. We enjoyed shopping nearby.
We enjoyed walking all around. the hotel is perfectly situated to enjoy so many sites. The river and trees are gorgeous. The city was full of life with many outside walking and enjoying a beverage. You can also book a half-hour boat tour along the river which we didn't have time for. Also nearby was the Human Rights Museum which we would have visited if we stayed longer. Amazing experience! Thank you so much!" — June Rivers
5. Victoria Inn Hotel & Convention Centre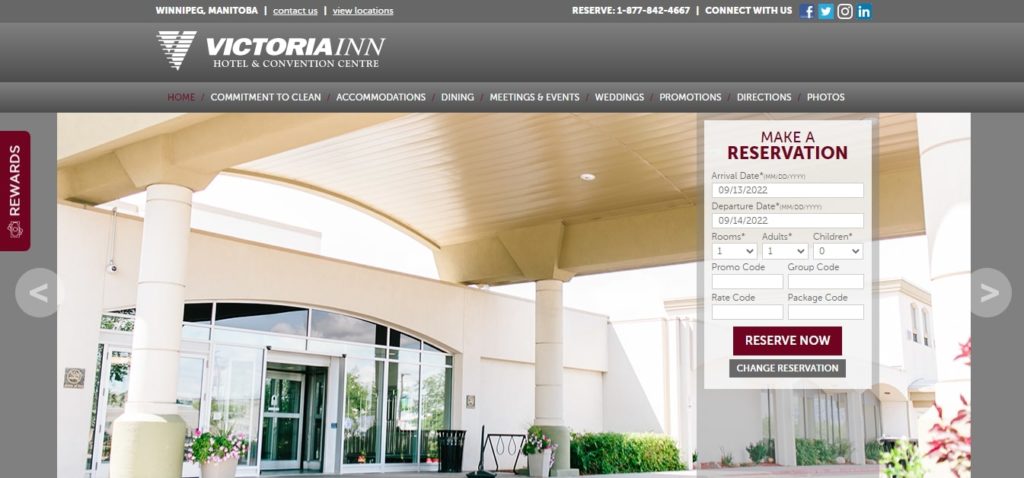 FACILITIES & AMENITIES
Rooms & Suites

Fitness Center

Restaurant

Meeting Rooms

Conference Space

Event Space

Wedding Venue

Wedding Package

Waterpark

WEBSITE
https://winnipeg.vicinn.com/
ADDRESS
1808 Wellington Ave, Winnipeg, MB R3H 0G3, Canada
CONTACT DETAILS
+1 (877) 842-4667  
OPERATING HOURS
Open 24/7
| | |
| --- | --- |
| Criteria | Ratings |
| Facilities and amenities | ★★★★☆ (4/5) |
| Location convenience | ★★★★★ (5/5) |
| Pricing | ★★★★☆ (4/5) |
| Accommodation | ★★★★☆ (4/5) |
If you are a traveler and have limited time to look for the best place to lodge in Winnipeg, Victoria Inn Hotel & Convention Centre might just be the one for you!
Since this hotel is adjacent to JAR International Airport, plane travelers can easily have their bookings and reservations here with less hassle and effort.
There's no need to worry about where you could go for a walk or a shop around once you're settled here. Winnipeg's largest shopping district, Polo Park, is only a few minutes away.
This hotel also made its mark on the heart of families and kids as a staycation target.
With its poolside rooms, kid's theme suites, Dino Beach Water Park complete with multiple waterslides, and on-site dining, families can fully enjoy themselves with their little ones.
We also commend the amenities offered here since there are a lot of complimentary services included in its deal.
From the Wi-Fi access to TV with full cable package, mini fridge, complimentary parking during guest stays, shuttle service to and from all area airports, and even a fitness center.
If you have to do your laundry during your stay, there are coin-operated washers and dryers available here.
Of all these, what we love the most is its transparent payment transaction even before availing of its services.
Most of the time, guests are left with no choice but just to pay fees that they have not been made aware of upon initial transaction. These surprise fees could fundamentally affect your lodging experience.
Although it is still slightly expensive, avoiding surprise miscellaneous fees is still a good help in reducing overall cost.
It's a plus that there is a spacious parking area available, considering that this hotel tends to get busy at times.
The staff is also helpful and efficient with crowd and noise management. So, you could still get your relaxing stay despite the place booming with guests.
The only issue that slightly dismayed us is its housekeeping guidelines.
Turns out, despite the management vowing to achieve profound cleanliness, they still implemented a limited housekeeping offer. Thus, making the rooms more vulnerable to negligence.
Also, the rooms might be a bit cramped compared to others, so that's definitely something to consider, especially if you're checking in with your family.
Easily located 
Perfect for family and kids' staycation
Excellent amenities 
Transparent payment transactions
Spacious parking area
Helpful staff 
Inconsistent cleanliness issues 
Slightly expensive 
Occasionally crowded
Customer Reviews
Staff was so courteous
"The staff was so courteous and check in was a breeze with multiple people at the front desk. After having 2 flights canceled I wanted a quiet room and they delivered. They gave me a room on the 4th floor away from the pool. The room was very clean and the beds were very comfortable. The water pressure is great so the shower was very refreshing after a long 24 hours at 2 different airports. There is also 24 hour airport shuttle so there was no wait to get to the airport less than 5 minutes away. I highly recommend this hotel." — Cindy Owen
Kids had a blast
"So much fun!!! Amazing staff. We had a pool side room which was great but it unavoidably smelled like chlorine. Maybe an extra air purifier in the pool side rooms would help? My kids had a blast! Would definitely recommend." — Donna Boucher
FAQs about Lodging in Winnipeg
---
That's a wrap for our recommended top places for lodging in Winnipeg. Should you be traveling around the area and looking for a place to rest your head for a night or more, you may refer to this list.
Looking for a cheaper lodging option? Check our list of the best motels in Winnipeg.