5 Best Chicken Restaurants in Winnipeg
It's half past ten and you're wondering where you could get the juiciest, crispiest, and most flavourful chicken dish you'll ever taste.
We've got you covered! Here's a bucket load of fresh entries for the best chicken restaurants in Winnipeg!
How much do chicken restaurants cost in Winnipeg?
You may refer to this table to give you an idea of what is the usual range of costs of the products in chicken restaurants.
Just note that these rates may still vary depending on the restaurant you'll visit. Also, there are some restaurants that include/exclude taxes on their price menu, so these are subject to changes. 
| Types of Products | Range of Cost |
| --- | --- |
| Fried chicken | $7.00 – $38.00 |
| Chicken strips | $8.00 – $17.00 |
| Fried chicken sandwiches | $4.99 – $16.50 |
| Chicken Wings (per pound) | |
| 1 pound | $4.99 – $10.29 |
| 2 pounds | $16.95 – $19.00 |
| 5 pounds | $40.88 – $43.99 |
| Sides | $1.75 – $8.00 |
Best Chicken Restaurants in Winnipeg
To make sure that you get only the best of the best entries, we screened multiple chicken restaurants around Winnipeg using these criteria:
1. Mary Brown's Chicken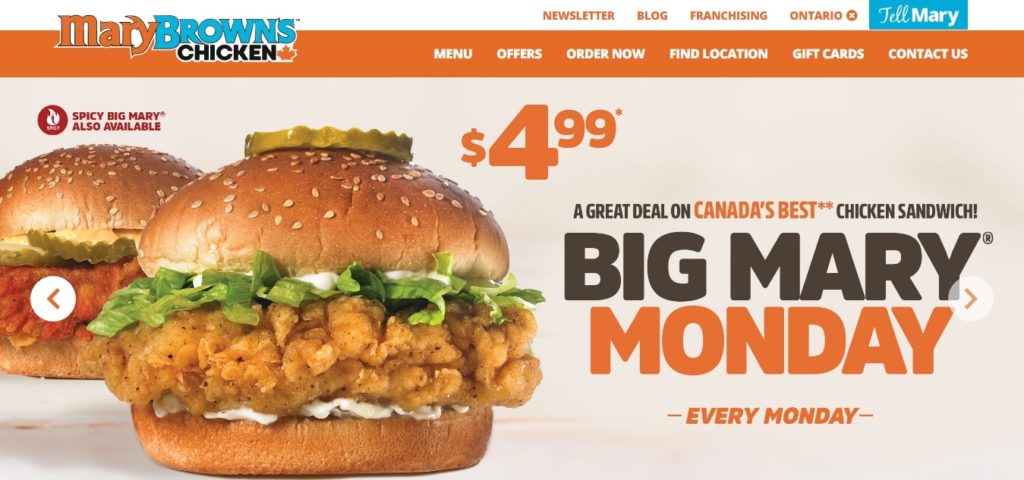 PRODUCTS

Signature Chicken

Combos

Snacks

Sides

Desserts

WEBSITE
https://marybrowns.com/
ADDRESS
2870 Pembina Hwy, Winnipeg, MB R3T 2J1, Canada
CONTACT DETAILS
Phone: +1 (204) 421-6099
OPERATING HOURS

Daily: 11:00 AM – 10:00 PM
| | |
| --- | --- |
| Criteria | Ratings |
| Maintenance and cleanliness | ★★★★★ (5/5) |
| Service | ★★★★☆ (4/5) |
| Affordability | ★★★★☆ (4/5) |
| Food quality | ★★★★★ (5/5) |
Of course, it's hard to miss Mary Brown's Chicken in our list of the best chicken restaurants in Winnipeg.
With over 200 locations across Canada expanding from coast-to-coast, small towns, and big cities, this restaurant is pretty much everywhere!
One of its most sought branches is found along the Pembina highway, so it's easy to find.
What we love so much about this place are its amazing chicken meals. Since the cookers don't use pressure frying, the chicken meat remains crispy over time — without being greasy!
It's also seasoned enough to retain the authentic meat taste and juiciness.
Aside from the chicken, there's also some tater poutine, fries, and wedges available here, which are also worth the try.
If you're planning to dine in, there's no need to worry about the store's maintenance since it is actively attended.
This place is also great for family dinners since there are a few baby chairs readily available.
The parking area is also spacious enough. There are many spots that can be filled in regardless of how busy the place is.
We also love that all the attendants are quick to assist every customer's needs. In fact, you rarely need to call for their attention since they are attentive enough in tending to their diners.
And if you're looking for a restaurant that serves halal meat, you'll definitely want to add this one to your list.
The only issue we have with this place is that it's occasionally understaffed. We noticed that the cashier attendant frequently goes to the kitchen since they also help out with preparing the food.
Although there's nothing wrong with the food quality, this kind of setup could cause longer waiting lines that might not be the best for people who are looking for a quick meal.
Also, the meals here cost a bit pricier than in other restaurants.
But hey, it does have Monday promos! So, if you ever feel like trying out its food, might as well visit during its discounted day.
Good dish quality 
Properly maintained 
Prompt service 
Decent parking area 
Kid-friendly 
Offers halal meat 
A bit pricey 
Occasionally understaffed 
Customer Reviews
Best place
"Pembina location is the Best place to have halal fried chicken. They have best burger in the world: Big Mary spicy. The poutines are great and are so much filling. Taters are very delicious and crunchy." — Rutzz
Great service
"Big fan of this location great service, the chicken is great, the taters are good the serving size is excellent, if you're looking for something a little bit different and a little bit cheaper than KFC, then go here! Sometimes you want something a little different!" — Nathan Simon
2. Chicken Chef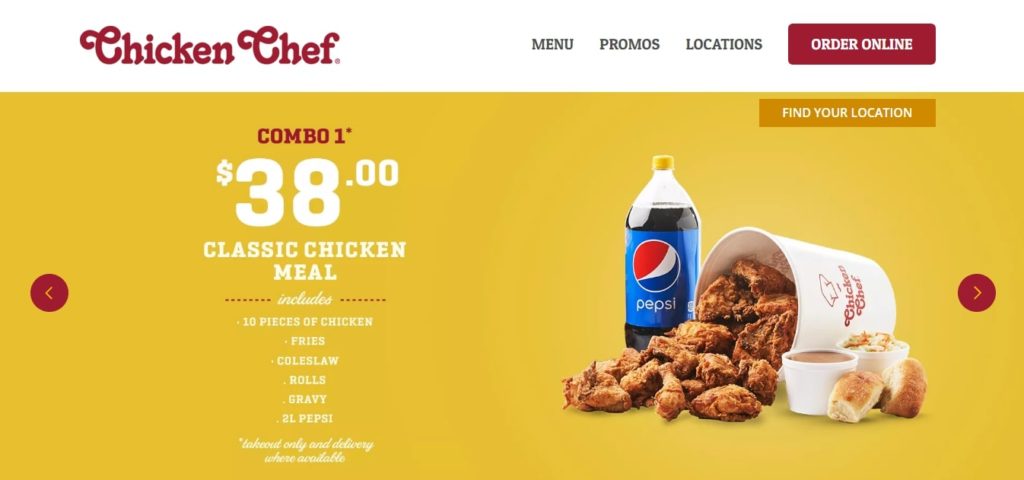 PRODUCTS

Chicken

Salads

Soups

Sandwiches

Kids' Meal

Pizzas

Burgers

WEBSITE
https://www.chickenchef.com/
ADDRESS
3770 Portage Ave, Winnipeg, MB R3K 1A1, Canada
CONTACT DETAILS
Phone: +1 (204) 832-3900
OPERATING HOURS

Daily: 11:00 AM – 8:00 PM
| | |
| --- | --- |
| Criteria | Ratings |
| Maintenance and cleanliness | ★★★★☆ (4/5) |
| Service | ★★★★★ (5/5) |
| Affordability | ★★★★☆ (4/5) |
| Food quality | ★★★★★ (5/5) |
With almost half a century of experience in chicken restaurant service, Chicken Chef remains to be one of the fastest-growing restaurants in western Canada.
And it makes it up to our list of the top chicken restaurants in Winnipeg because of its mouth-watering chicken and fresh-dough pizza.
This place was a constant favorite during our screening. Not only will you be served fresh and piping hot meals, but you'd also get to enjoy the company of its staff.
When we were looking for the best dish, the staff took their time to provide us with recommendations that would suit our preferences.
It's always comforting when the crew is knowledgeable of their selection as it shows just how aware they are of the products they are selling.
The chicken is not like reheated tenders. Rather, you'll literally hear every crunch inside your mouth with every bite because of its crispiness.
The portions are also generous enough that you'll be easily filled even with just one meal.
And lastly, the serving time average for dine-in is about 8 to 15 minutes, depending on the amount of your order.
Just note that this place is slightly pricey. So, you might want to check its price range first before dining, so you won't be surprised by how costly your bill is.
There are also times that the place is not properly cleaned. The chairs are disorderly and there are bits of leftovers on the floor.
We also do not suggest visiting during its busy schedule since the space is a bit limited.
Helpful staff 
Fresh serving 
Generous portions 
Decent serving time
Issues with shop cleanliness 
Slightly pricey 
Customer Reviews
Chicken is amazing
"Decided to stop in here with my grandmother while out on our shopping journey today and I gotta tell you wow! Food is delicious chicken is amazing but what caught my eye and taste buds was the bacon cheeseburger poutine this right here is super amazing highly recommend to anyone driving through Portage la Prairie to give this place a try you will not be disappointed 💯💖💎" — itcookiez hi
Everything is great
"Amazing, will never order from anywhere else ever again when my family wants a chicken dinner. Everything is great.. fries and gravy, chicken burger and bucket of chicken… so good." — Josh B
3. Popeyes Louisiana Kitchen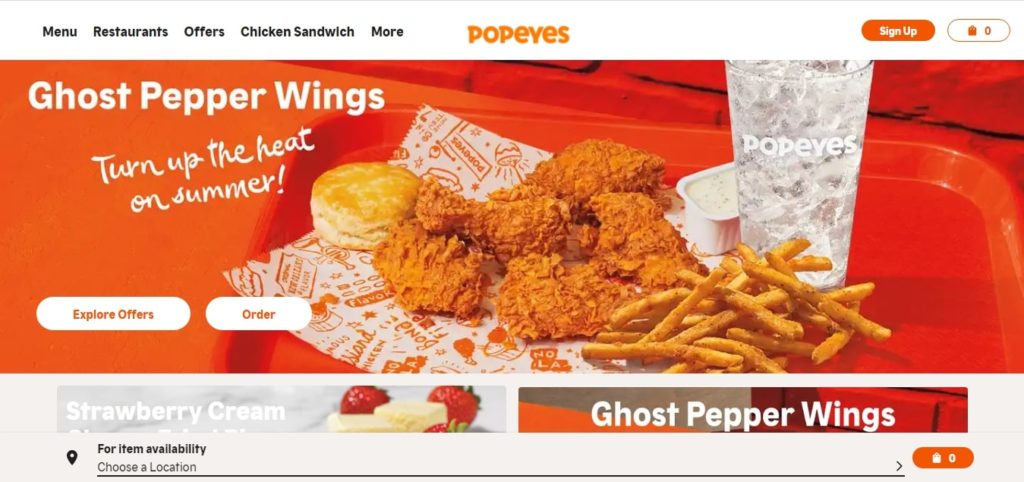 PRODUCTS

Family Meals

Chicken Nuggets

Chicken Sandwiches

Signature Chicken

Handcrafted Tenders

Seafood

Sides

Desserts

WEBSITE
https://www.popeyeschicken.ca/
ADDRESS
Seasons, 605 Sterling Lyon Pkwy Building 12, Winnipeg, MB R3G 0W9, Canada
CONTACT DETAILS
Phone: +1 (204) 219-1282
OPERATING HOURS

Daily: 11:00 AM – 11:00 PM
| | |
| --- | --- |
| Criteria | Ratings |
| Maintenance and cleanliness | ★★★★★ (5/5) |
| Service | ★★★★☆ (4/5) |
| Affordability | ★★★★☆ (4/5) |
| Food quality | ★★★★★ (5/5) |
Of course, who hasn't heard of Popeyes Louisiana Kitchen? A restaurant known across the globe is hard not to be familiar with.
But if you haven't tried a meal here yet, no worries! We're here to walk you through its different qualities.
The first thing that you'll be faced with when you visit this place is its lively atmosphere. And it's not just because of its vibrant lighting and interior design.
It's because of the energetic vibe of its crew! There's also the cheery music that plays in the background, helping to drown out some noises from conversations in your surroundings.
We enjoyed the combined accuracy of the staff in taking orders and their quick service. Still, there may be occasional errors in the customers' orders, but if they ever have one, they handle it professionally.
This restaurant also serves halal chicken flavored with multiple spices.
Aside from the meat, we also loved its Cajun fries for their amazing authentic taste!
It's a great place to eat even if you are a big group for there is ample parking space. So, you won't have to worry about where to settle your vehicle.
But of course, every good restaurant comes with a price. Although it is not entirely expensive, it surely is a bit more costly than other chicken restaurants.
Another caveat is it's usually busy, especially during dinner time. Hence, expect a longer waiting period if you ever come by at night.
Orderly and neat
Delicious servings 
Good customer service
Lively atmosphere 
Ample parking
Slightly steep pricing 
Typically busy
Customer Reviews
Great experience
"This is one of the best Popeyes I've been to so far in Winnipeg. The place is clean, staff members are friendly and efficient. They are following the Covid restrictions properly. And food was great and fresh. Overall it was a great experience." — Ahmed Elsamahy
Chicken was amazing
"Chicken was amazing!!! Food was well prepared and delicious, also piping hot. My only concern was the music was too loud and made it hard to have a conversation. Highly recommend this location!!!" — Attilla T Hun
4. Magic Bird Fried Chicken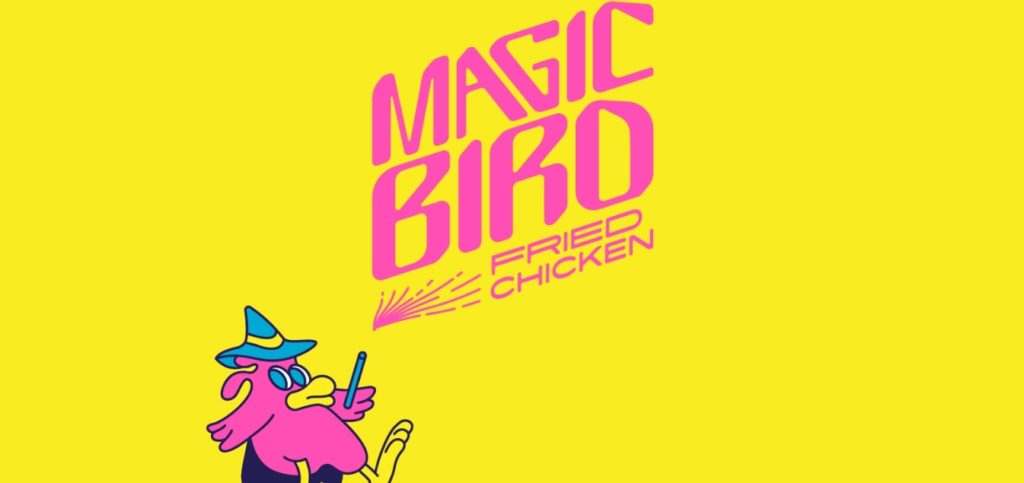 PRODUCTS

Fried Chicken

Chicken Strips

Chicken Sandwiches

Sides

WEBSITE
https://magicbirdfriedchicken.com/
ADDRESS
61 Sherbrook St, Winnipeg, MB R3C 2B3, Canada
CONTACT DETAILS
Phone: +1 (204) 615-2977

EMAIL: [email protected]

OPERATING HOURS

Tuesday to Saturday: 11:30 AM – 9:00 PM
| | |
| --- | --- |
| Criteria | Ratings |
| Maintenance and cleanliness | ★★★★☆ (4/5) |
| Service | ★★★★☆ (4/5) |
| Affordability | ★★★★★ (5/5) |
| Food quality | ★★★★★ (5/5) |
If you're looking for a chicken restaurant that offers innovative flavors, then this might just be the one for you!
Magic Bird Fried Chicken caught our attention with its unique set of sauces made possible by its homemade recipe twists.
We like how the chicken is made tasty from the coating down to the bone. The spices are also perfectly balanced, giving harmony to the meat's flavor.
What's more is that the serving sizes are huge. If you're not satisfied with its chicken meals, you can order two-pound chicken wings and eat to your heart's content!
It might seem a bit pricey at first, but once you've seen its portion size, you'll definitely be more than satisfied.
If you're looking for something to complement your meal, there's also a good selection of IPA and beers to choose from.
The only thing that you should be mindful of when you visit this place is its lengthy waiting period. While other stores serve their freshly cooked wings within the span of 23 minutes, this place doesn't.
We were somehow disappointed for waiting half an hour or more for the food to arrive. However, once we got to taste it, we knew that it should definitely be on this list because the quality of the food was worth the wait.
Also, the place is decent in cleanliness, but the total area is quite small.
Huge serving
Tasty food
Innovative flavors
Reasonably priced
Long waiting period 
Small restaurant
Customer Reviews
So tasty
"Big fan of their chicken it's not greasy, had the strips and a few different sandwiches. Wings as well are big and tasty couldn't finish 2lbs in one sitting. If you like spicy get the scorcher, it's not always consistent, sometimes its hot, sometimes its very spicy but its soooo tasty. I've been multiple times since they opened. Highly recommended." — Fab Fréchette
Unique and tasty chicken menu
"A friendly eating experience with a unique and tasty chicken menu. Good selection of IPA's and other beers to complement the meal. Will definitely be going back to try other chicken delights." — Dave Peters
5. Little Bones Wings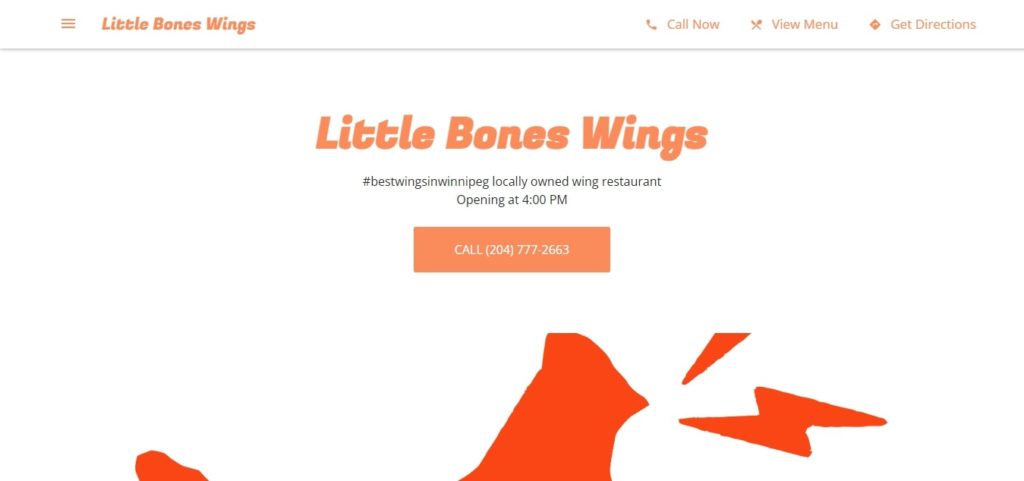 PRODUCTS

Signature Chicken

Chicken Wings

Chicken Tenders

Sides

Vegan Dishes

Salads

WEBSITE
https://littlebones.business.site/
ADDRESS
123 Regent Ave W, Winnipeg, MB R2C 1R1, Canada
CONTACT DETAILS
Phone: +1 (204) 777-2663
OPERATING HOURS

Tuesday to Thursday: 4:00 PM – 9:00 PM

Friday to Saturday: 4:00 PM – 10:00 PM

Sunday: 4:00 PM – 9:00 PM
| | |
| --- | --- |
| Criteria | Ratings |
| Maintenance and cleanliness | ★★★★☆ (4/5) |
| Service | ★★★★☆ (4/5) |
| Affordability | ★★★★☆ (4/5) |
| Food quality | ★★★★★ (5/5) |
A wings place that has gained the hearts of Winnipeggers — Little Bones Wings! If there's one thing that makes this chicken restaurant stand out among its other competitors, it's no other than its massive flavor options!
With over 75 wing choices, you can never run out of sauces to try for your meal.
The wings are served oozingly hot and fresh from the pan. You can expect a juicy and down-to-the-bone-tender type of chicken wings in this place!
The servings are large for a single order, so it would be great to share with family or friends.
During our visit, we noticed that the staff is precise with each order and didn't even miss a single request. This is commendable since it is common for most staff to get some orders wrong, particularly in high crowd traffic.
But this place's crew is just truly keen on their customer service.
Just be mindful of the restaurant's limited seating capacity if you're planning to take your dinner here. Since there are a lot of people craving its meals, the waiting time here is painfully long.
That is definitely not something you'd like to have when you're already starving.
Also, you might be surprised that the prices here are not on the cheap side, but it's totally understandable considering the food's taste and quality.
Expansive menu 
Delectable wings 
Large serving
Meticulous staff 
Limited seating 
Slightly expensive 
Customer Reviews
Very fun experience
"Food was super tasty and the massive variety of flavors made for a very fun experience of choosing with family, table was tacky(physically, sorry for being unclear I forgot you would describe things style wise) but it was by design and just not my preference. Very meaty peices too! Definitely will get wings here again!" — Coltyn Stone-Lamontagne
All top-quality
"Wings are some of the best I've had. They are all top quality and large pieces! Super filling. Usually I eat 2-3 dozen at other wings places, could only eat 1.5 dozen here due to the size. The breading is great and crispy. Cajun can use extra Cajun seasoning. The taco wasn't that good, least favorite of the bunch, it was just a soggy mess. Honey garlic, Bayou, Korean, and mustard were great." — John
FAQs about Chicken Restaurants
Now, you know where you can grab the tastiest, juiciest, and most flavorful chicken in Winnipeg!
But if you're still looking for restaurants to satiate your other cravings, just visit these articles to find the perfect one for you!