7 Service Shops for the Best Computer Repairs in Winnipeg
Problems with your laptop or desktop? If you're looking for the best computer repairs in Winnipeg, then you've come to the right place!
In today's article, we've listed our top picks for computer service shops. We've also written a guide on choosing a technician, a list of common computer issues, price ranges, and FAQs about the topic. Check them out below!
Common Computer Issues That Require Professional Help
First, it may help if you know when you need to actually seek a professional repair service. There are many common computer issues you can handle by yourself by rebooting your computer, testing your WiFi speed, and even running a virus scan or your task manager.
However, if the following problems happen to you, then it may be best to call up a computer technician to help you out, as they're not easy to fix:
The black screen of death can mean having a damaged drive and other hardware parts. You should also take note of the error code shown on the screen, as it may help your technician diagnose the issue.
An unresponsive computer is often a result of low storage, outdated operating systems, or malware. You can reboot your system to see if that solves it but if things don't improve, call a technician.
Messy graphics are due to software problems or damaged video/graphic cards, screens, and VGA cables. Definitely see a technician for these.
Unusual noises are signs of a malfunctioning drive or an overused fan. You'll need replacements to prevent data corruption and overheating.
Average Costs for Computer Repair Services
Before we share our top picks, you should learn about the usual prices for computer repairs. With this table, you'll know which quotations are unreasonable and which ones are of good value.
| | |
| --- | --- |
| Type of Service | Average Cost |
| Diagnostic testing | $40-$50 |
| Software upgrades | $90-$200 |
| Hardware replacements (screen, motherboard, hard drive) | $120-$380 |
| RAM/Memory Upgrades | $40-$250 |
| Malware removal and prevention | $90-$120 |
| Data recovery | $120-$1200 |
Where to Get the Best Computer Repair in Winnipeg
Now that you know when to contact a computer technician and how much it may cost, you can pick one for your computer troubles. Here are the best computer repair technicians in Winnipeg according to the range of expertise, quality of customer services, and accessibility.
1. Corey's Computing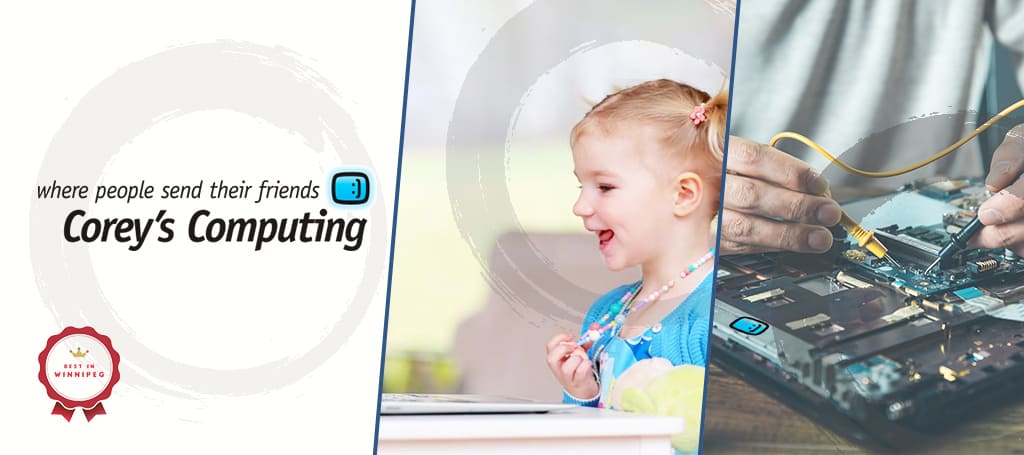 BEST FOR
Replacement parts and hardware repairs
SERVICES
Virus removal, tune ups and upgrades, tablet, phone, and gaming console repairs, computer parts sales, internet security and maintenance
WEBSITE
https://www.coreyscomputing.com/
ADDRESS
2188 McPhillips St #12a, Winnipeg, MB R2V 3C5
CONTACT DETAILS
(204) 586-7953


[email protected]

OPERATING HOURS
Monday – Friday: 9:00 AM – 6:00 PM
Corey's Computing is a family-run business, so it guarantees that its services are as friendly and reliable as possible. This service provider has a full-service technical centre and its very own mobile service team that's always ready for on-site calls.
It also prides itself on having many connections with computer parts manufacturers and distributors. With this advantage, its clients can have access to even the rarest replacement parts in the market.
Customers also rely on Corey's Computing for internet security and maintenance services. This service also includes scheduled cleaning, antivirus subscriptions, and even free services for select computer repairs.
Full-service tech centre
On-site and remote services
Internet security and PC maintenance subscription
Connections with distributors for rare replacement parts
Unavailable on weekends
Not the best customer service
Customer Reviews
From supplying computer products to repairing them, Corey's Computing is knowledgeable and professional. Here are some reviews from customers who received the best computer repairs in Winnipeg from Corey's Computing:
"The staff is not only knowledgeable, polite and obliging but extremely patient. I picked up my 10 year old PC that was in for a check up, it was slow with possible malware. Once home, I had a bit of difficulty setting it up and jumped to conclusions thinking they were to blame and I apologize. Once I got my issue straightened out, the PC is actually like brand new and fast. Thanks for the good advice and great work."
"I am a small business owner who required an on site visit to trouble shoot & repair network connectivity. I was super impressed with the speed of service, the thoroughness, professionalism and fair pricing. Highly recommended."
2. Nothing But Tech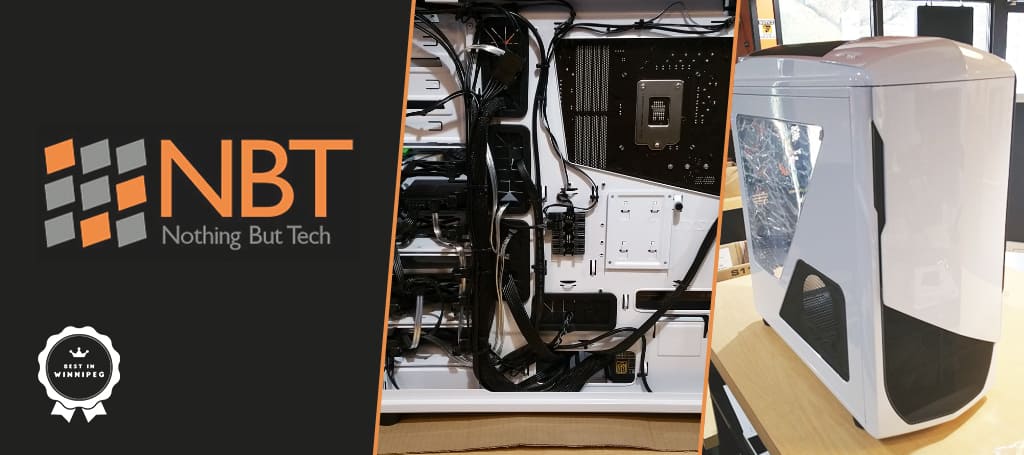 BEST FOR
Custom builds
SERVICES
Malware detection and removal, data recovery, hardware and software upgrades, parts sales, laptop custom-building, computer recycling
WEBSITE
https://www.nothingbuttech.ca/
ADDRESS
1960 Main St #1, Winnipeg, MB R2V 2B6
CONTACT DETAILS
(204) 802-6554


[email protected]

OPERATING HOURS
Monday – Friday: 10:00 AM – 6:00 PM
Nothing But Tech is a business built on a passion for dismantling and rebuilding computers. This business can help you with any type of hardware issue, from screen repairs to RAM upgrades.
Aside from hardware repairs, Nothing But Tech also has experts in software systems, so clients approach them for system updates, malware detection and removal, and data recovery. It also guarantees fast and affordable services.
And if you're still undergoing the best computer repairs but need your computer immediately, Nothing But Tech can also help. It offers new, used, and custom-built laptops at affordable prices.
Expertise in hardware issues
Custom-built laptops
Prompt on-site repair services
Affordable laptop sales
Customer Reviews
Nothing But Tech is just as its name promises because customers contact it for all techy, computer services. Here are the reviews that will tell you the same thing:
"This is a very good place for electronic repair friendly great service and very reasonably priced anything they've done for me so far has been very good price and I just didn't have to come back for this or that everything was taken care of one shot done love it"
"My mom's laptop had its WiFi drives missing, we were unsure if it was from a recent software update or from malware. We took it to Nothing But Tech and on the same day we had the WiFi drives restored, and over 1400 infections wiped from the laptop. She was very happy with the professional service and greatly appreciated how fast and efficient they were!"
3. TickTockTech – Computer Repair Winnipeg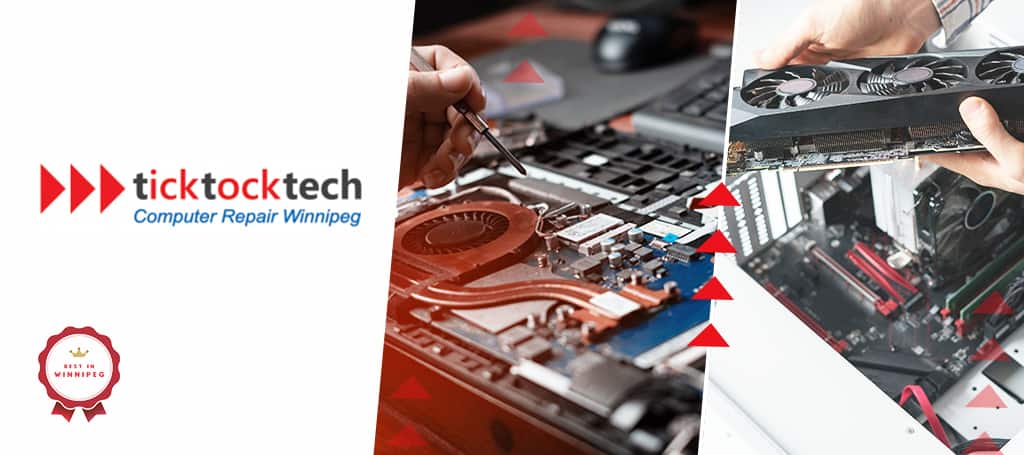 BEST FOR
In-home services
SERVICES
Malware and virus removal, data recovery, hardware and software upgrades, printer, wireless security, and smart home solutions, electronics disposal
WEBSITE
https://ticktocktech.com/winnipeg-computer-repair/
CONTACT DETAILS
(204) 285-9781


[email protected]

OPERATING HOURS
Monday – Saturday: 8:00 AM – 10:00 PM
TickTockTech is an expert in all computer systems, from standard laptops to complicated smart home security systems. This business is also well-known for handling malware issues and data recovery services.
The best thing about TickTockTech is that it offers free estimates and same-day services in the comfort of your home, office, or wherever your problematic computer is.
This company also tries to be the best computer technicians in Winnipeg with its quality and efficiency. TickTockTech bills per quarter of an hour, so you won't have to pay too much for a 15 or 30-minute repair service.
Expertise in malware removal and data recovery
Discount pricing and money-back guarantee
Free on-site estimate
Same-day services
No actual office you can visit
Customer Reviews
Customers find TickTockTech's in-home services convenient and efficient, just as these customers have found out:
"Had some computer challenges and found TickTockTech on my first search online. Received a call back within 10 minutes and worked on scheduling this friendly tech for in-home service. I had cancelled the service as I was able to resolve on my own. Received a call from management at head office ensuring if all was good now, or if needing to revisit tech support. I assured them things were good. Very responsive."
"Placed a call and with a half hour I was in touch with a computer technician. And that was on a Friday at 18:00; fast prompt service; no complaints. Definitely would use their service again!"
4. Realtime Networks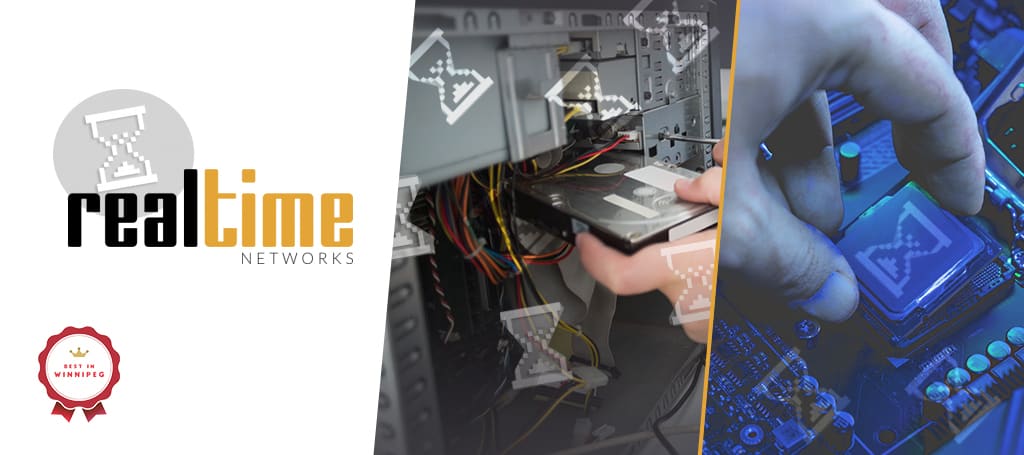 BEST FOR
Business computers
SERVICES
Hardware repairs and replacements, malware removal and prevention, network server maintenance, scheduled computer maintenance
WEBSITE
https://www.rtwn.ca/
ADDRESS
75 Colebrook Dr, Winnipeg, MB R3T 5Y8
CONTACT DETAILS
(204) 797-2548


[email protected]

OPERATING HOURS
Monday – Friday: 9:00 AM – 5:00 PM
Now, if you need help with more than just one computer, then Realtime Networks may be the one to call. This service provider specializes in diagnosing and repairing computers for businesses in any field.
Realtime Networks can handle hardware and software repairs and even supply hardware replacement parts. Additionally, this service shop also offers secure data backup for all your company's data, from daily documents to accounting profiles.
The best thing about Realtime Networks is that their services are available both physically and remotely. With this wide accessibility, it can cater to clients from anywhere in Winnipeg and surrounding areas.
For all types and sizes of businesses
Secure data backup services and scheduled computer maintenance services
Online and on-site repairs
Prompt same-business-day services
Unavailable during weekends
Customer Reviews
Realtime Networks is also known for providing timely services. Here's what customers have to say about Realtime Networks' technician, Geoff:
"Geoff saved remote learning! My laptop crashed during my children's online classes and he was able to fix my laptop in less than 24 hours. Geoff picked up and returned my fixed laptop in less than one day. I would recommend Realtime Networks, you can't ask for better service."
"My sons gaming computer was not working right, called Geoff, he was able to come over right away, added the right things that were needed for a fair price. Took the time to make sure everything was working to make my son smile from ear to ear! Geoff is very nice, knowledgeable, efficient and informative. And we could understand what he was talking about. Very, very happy!"
5. Mission Repair Centre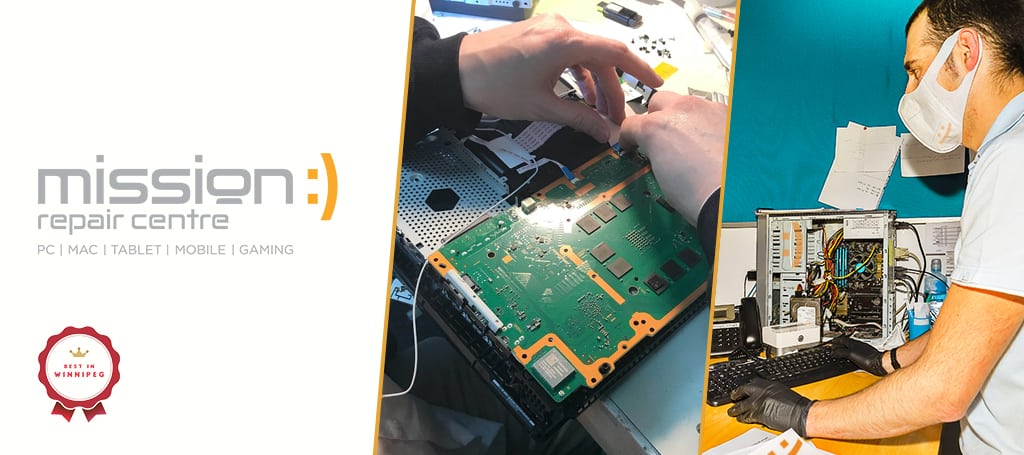 | | |
| --- | --- |
| BEST FOR | All types of gadgets |
| SERVICES | Diagnostics and cleaning, tune ups, virus and malware removal, screen repair, hardware and software installation, battery damages, WiFi connectivity |
| WEBSITE | https://www.missionrepaircentre.ca/ |
| ADDRESS | 2077 Pembina Hwy #3, Winnipeg, MB R3T 5J9 |
| CONTACT DETAILS | (204) 800-2460 |
| OPERATING HOURS | Monday – Saturday: 10:00 AM – 7:00 PM |
Mission Repair, on the other hand, guarantees repair and maintenance services for all types of gadgets. From exclusive Macbooks to Xbox consoles, Mission Repair can do diagnostics and repairs such as hardware upgrades and software installations.
And if you have two to four gadgets with problems, you can all bring them to Mission Repair for discounted repair services. It also offers student discounts on phone, computer, and tablet repairs for university and college students.
You can also hire this service shop to install CCTV surveillance that can monitor and secure your home and other properties.
Discounts on multiple repairs
10% off student discount
On-site and mail-in repair services
Open on weekends
Customer Reviews
Read these reviews to learn more about the quality of service you may get if you choose Mission Repair for your Winnipeg computer repairs:
"Excellent service by their staff. Recently got my MacBook repaired from this shop. It wasn't booting up but these guys fixed my mac in few days. Their techs are professional and have great knowledge about electronics. I like the way the explained what's going wrong with my mac and also gave me updates on what can be done to make its performance good."
"Great experience and help with fixing my computer and revising the email.. Fast and pleasant to work with! Installed windows 10 , the latest edition and replaced the charging port. Both were completed within 1 day. My computer is super fast now!"
6. Antech Computer Services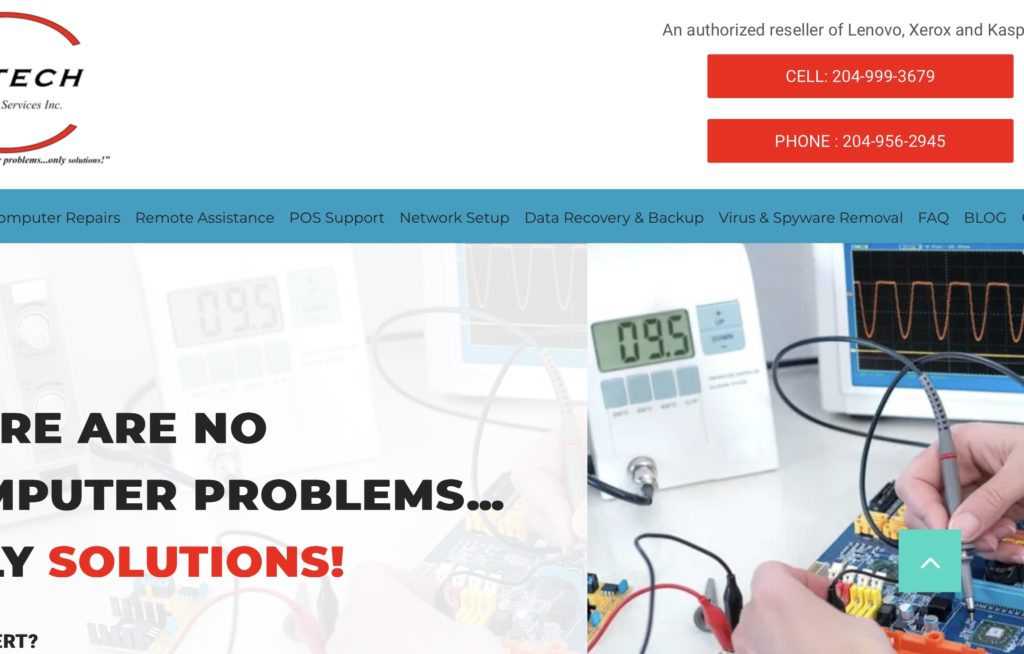 BEST FOR
Replacement parts and hardware repairs
SERVICES
Computer Repairs, Remote Assistance, Virus and Spyware Removal, and Data and Recovery Backup
WEBSITE
https://www.antechcomputers.ca/
ADDRESS
Winnipeg
CONTACT DETAILS
Phone: 204-956-2945
Cell: 204-999-3679
OPERATING HOURS
Monday – Friday: 8:00 AM – 7:00 PM
Saturday: 10:00 AM – 5:00 PM
Sunday and holidays closed.
At Antech Computer Services, we've experienced firsthand the epitome of computer repair excellence.
From services to convenience, reputation, and cost, Antech sets the gold standard in every aspect of their operation.
When it comes to services, Antech is a beacon of technical prowess.
Our malfunctioning laptop was a puzzle to most, but not to Antech's expert technicians. They swiftly diagnosed and resolved the issue, leaving us in awe of their technical wizardry.
Convenience, thy name is Antech! Their seamless online appointment booking system made scheduling a breeze.
Our device was collected, repaired, and returned to us in record time. No more tedious trips to a repair shop; Antech brings the shop to your doorstep.
Antech's reputation precedes them, and for good reason. The buzz in tech circles is well-founded.
They have an army of satisfied customers singing their praises, and we wholeheartedly join the chorus. Antech's track record for excellence is the stuff of legends.
Cost-wise, Antech offers a competitive edge. Their pricing is refreshingly transparent.
No hidden fees, no surprises. We appreciated their commitment to fair pricing, especially in an industry often plagued by ambiguity.
Sadly, they don't offer promos at the present. We suggest checking their website for other affordable package deals.
Expert technicians
Convenient service
Stellar reputation
Transparent pricing
Customer Reviews
"Antech Computer Services saved the day! Quick, professional, and hassle-free repairs. Highly recommended!"
"Impressed with Antech's efficiency. They fixed my computer without any fuss. A reliable tech partner!"
7. Speed Mobile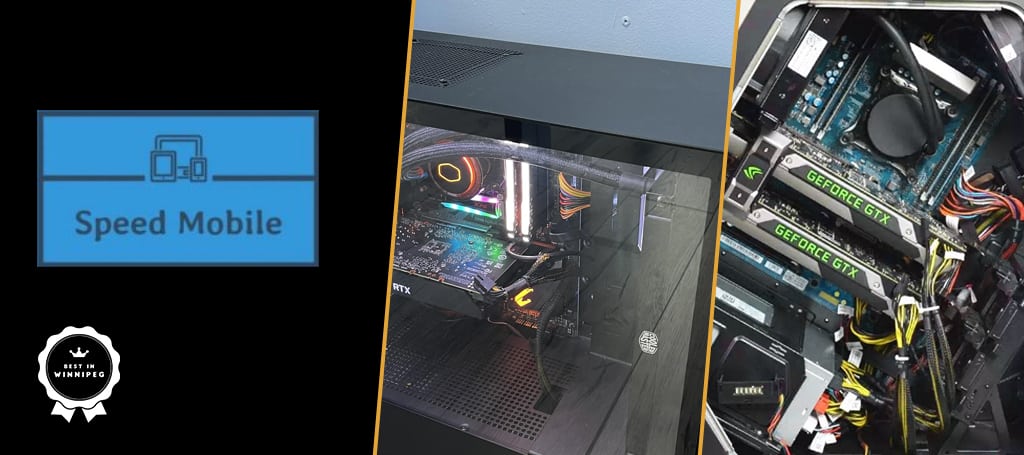 SERVICES
Repairs: Computer, Cellphone, Console, and Tablet
WEBSITE
speedmobile.ca
ADDRESS
Unit B 2987 Pembina hwy, Winnipeg
CONTACT DETAILS

[email protected]


(204)887-5555
OPERATING HOURS
Monday – Friday, 10:00 AM – 7 PM
Saturday, 10:00 AM – 6 PM
Speed Mobile is a locally-owned and community-focused professional electronic device repair shop in Winnipeg, Manitoba. Their computer repair services are top-notch, making them a reliable choice for anyone in need of expert assistance. One of the standout features of Speed Mobile is their commitment to customer satisfaction, evident through their lifetime warranty on most repairs.
What sets Speed Mobile apart from its competitors is their dedication to using only the highest quality parts available. This ensures that customers receive top-notch service and have peace of mind knowing that their devices are being repaired with durable components. Furthermore, the company's technicians are highly trained and certified, capable of fixing a wide range of technical issues, from cracked screens to battery problems, with a 1-year warranty on all their work.
Speed Mobile also understands the importance of convenience, offering express repairs and a user-friendly online tracking system, allowing customers to monitor the progress of their repairs at every stage. Additionally, they provide free shipping, 24/7 support, and fast delivery, further enhancing the overall customer experience.
Lifetime warranty on most repairs.
High-quality parts and certified technicians.
Express repairs and convenient online tracking system.
Closed on Sundays
Website needs to be updated
Customer Reviews
Excellent customer service.
"Excellent customer service. Fixed a broken S21 screen in less than a day after ordering the part needed. Beat the long weekend shutdown at a decent price." – Andrika Dutka
Absolutely amazing service
"Absolutely amazing service. I had called many phone repair shops around the city to see if they could help me regarding my OnePlus operating system, none of them were willing to help… Except Speed Mobile. Resolved my issue within the day! I highly recommend! Support this shop!" – Barak Al Dabous
How to Choose a Computer Technician
Even in the service centers we listed in this article, there are more than a few technicians. You may find it difficult at first to select one of them.
There are several rules to follow. First off, you should choose a computer technician who has sufficient experience and knowledge to help you. You may have a hard time describing or relating the computer issue, but a skilled technician can quickly and correctly diagnose and repair your computer.
Next, you should hire a technician who has all the proper equipment and licensed software programs. This way, you can be sure they can fix whatever your computer issues may be.
The third criterion is accessibility and availability. You can find the best technician in terms of skill, but if they aren't available at the instance you need them, you'd better find someone else.
Lastly, you should only approach someone with good reviews. Your technician will handle your computers, which have lots of personal and crucial data about you, so you should hire someone trustworthy, moral, and reliable.
Frequently Asked Questions
---
And that concludes our article on where you can get the best computer repairs in Winnipeg. Just make sure you've done the standard troubleshooting and computer solutions such as rebooting before contacting these service shops for assistance.
By the way, a whole day of computer usage can take a toll not only on your computer's software and hardware but also on your neck, upper arms, and back. If you're suffering from back pain due to overuse, you should find the best chiropractors in Winnipeg to improve your posture so you can continue to be productive and healthy.