The 7 Best Debt Consolidation Firms in Winnipeg
Featured Image Source: pikisuperstar
Having debt can really take a toll on your mental health. It's especially hard during this time when the global pandemic has made it harder for the world to function normally.

If you are currently in a tough situation and your monthly loan payments are out of reach, it might be time to consider debt consolidation. This is a long-term way to manage your debt.
People often use this method to restructure their finances, avail of lower interest rates on loan payments and finally make their way towards a life of financial freedom.
Debt consolidation is when you take out a new loan to pay off other debts and liabilities with more favourable payoff terms like a lower interest rate or a lower monthly payment.
In this list, we will talk about the top choices of Winnipegers for debt consolidation but before that, let's talk about how much it costs.
The Cost of Debt Consolidation in Winnipeg
The cost of debt consolidation is usually dependent on the amount of your initial debt. The average annual percentage rate on a debt consolidation loan is around 18.56%.
Interest rates are typically between 8% – 29%.
Here is an overview of what is a fair percentage to pay for debt consolidation.
| | |
| --- | --- |
| CREDIT SCORE | ESTIMATE ANNUAL PERCENTAGE RATE |
| 720 – 850 | 11.8% |
| 690 – 719 | 17.4% |
| 630 – 690 | 23.4% |
The Best Debt Consolidation Firms in Winnipeg
Now that you have an idea of how much it can cost to consolidate your debt, let's now go over our list of the best debt consolidation firms in Winnipeg.
1. Credit Counseling Society
SERVICES
Complimentary services, Debt consolidation, Financial advice, financial guidance, credit counselling, low-cost debt solutions, financial education
WEBSITE
https://nomoredebts.org/
ADDRESS
Power Building Suite 611, 428 Portage Ave., Winnipeg, MB R3C 0E2
CONTACT DETAILS
204 942 8789
1 888 948 8960
OPERATING HOURS
Monday to Friday 5:30 am to 8:00 pm
Saturday 7:30 am to 3:00 pm
The Credit Counseling Society is an accredited non-profit charity that has been helping Canadians solve their money problems since 1996. They offer a wide range of services like credit counselling, low-cost debt solutions, and financial education.

A lot of people prefer to work with the Credit Counseling Society because they offer their services for free. They are also accredited by the Better Business Bureau (BBB), Credit Counselling Canada (CCC), and the Council on Accreditation (COA).
They offer free workshops, webinars, and online courses right on their website. You can also download a budget calculator from their website which can help you to immediately start sorting out your finances.
Budgeting 101, Cautious Consumerism, and the Truth about Credit are just some of the courses that are absolutely free on their website. Their clients have said that taking these courses has taught them to manage their finances more efficiently.
23 offices across Canada
Free financial services
Accredited by BBB, CCC, COA
Online workshops, worksheets and courses available
Customer Reviews
Take a look at what these clients have to say about The Credit Counseling Society.
"Upfront and direct. Professional and friendly. I hung up the phone with a sigh of relief and satisfaction. I recommend this organization!" – Reynold R.
"We just finished our program, still waiting for all the paperwork to go through. More than 40k debt paid off!! Now living debt free here I come 🙂 Thank you CCS!" – Alan H.

"Very professional and non-judgmental. They are there to help you understand all the options and choose the one that fits your goals and situation the best. I left feeling empowered financially. It is reassuring to know there are places that are there to help and not to take advantage of you when you're down."- Tia N.
2. Fairstone
SERVICES
Debt consolidation, secured and unsecured personal loans, mortgages, car and auto loans, online loans, emergency loans, car repair loans, wedding loans, home renovation loans, travel loans, POS financing
WEBSITE
https://www.fairstone.ca/
PRICING
Unsecured Personal Loans $500 to $20,000
Secured Personal Loans $5,000 to $50,000
Debt Consolidation Loan $500 to $50,000
ADDRESS
2188 McPhillipes St. #18, Winnipeg, MB R2V 3C8, Canada
CONTACT DETAILS
204 694 2875
OPERATING HOURS
Monday and Tuesday 9:00 am to 5:30 pm
Wednesday 9:30 am to 5:30 pm
Thursday 9:00 am to 7:00 pm
Friday 9:00 am to 5:00 pm
Fairstone is Canada's leading non-bank lender with the highest customer satisfaction rate and over 3 million loans approved.

They have over 200 locations and provide affordable payment plans to Canadians. Some of their plans can even help you save hundreds of dollars and improve your credit score.

There are only three simple steps to apply for a loan, and the best part is that it is all online.
After receiving a personalized loan quotation, you will be connected with a lending specialist to finalize your loan requirements. Your loan amount will be deposited directly into your bank account once the loan application is complete.
Based on many customer reviews, Fairstone's no-judge attitude and convenient application process are just some of the reasons that make them one of the best in Winnipeg.
Over 200 locations
Online quote available
Affordable payment plans
Pricey late fees
Closed on weekends
Customer Reviews
Check out what some of Fairstone's clients have to say about them.
"I called Norma at Fairstone around 2pm with unexpected financial concerns, only a day away from Christmas. With her determination, sympathy and professionalism, we were approved minutes before Fairstone closed for the day. Norma went above & beyond for our family. Thank you, Norma!!" – Sydney, NS.

"Had a great and rapid service from a very kind woman named Marie she definitely gave me great service and I got the help I requested very easily. I did not believe till I got it, their service is worth a shot if you have several credit cards to be paid." – Amy
"Nice service friendly staff, always there to help love dealing with them." – Jerome
3. Creditaid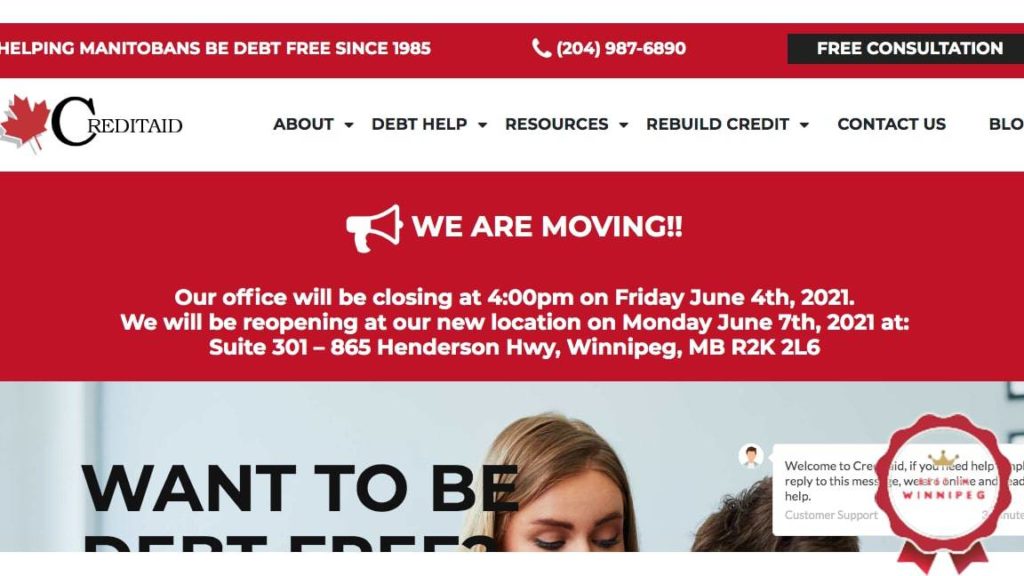 SERVICES
Credit counselling, Debt Consolidation, Financial Advice
WEBSITE
https://www.creditaid.ca/
ADDRESS
2200 McPhillips St., #301, Winnipeg, MB R2V 3P4
CONTACT DETAILS
204 987 6890
OPERATING HOURS
Monday to Wednesday & Friday 9:00 am to 5:00 pm
Thursday 9:00 am to 8:00 pm
Saturday 10:00 am to 3:00 pm
Creditaid is a member of The Canadian Association of Independent Credit Counselling Agencies (CAICCA). They offer a variety of services that include debt consolidation, budget coaching, debt management and credit counselling.
They offer a variety of resources on their website, including a budget calculator. This allows you to calculate how much interest you will be paying based on the payment terms and interest rates that you have input in the calculator.
They are partnered with Fairway Divorce Solutions, Keystone Financial Solutions, and Birchwood Credit Solutions. This is one of the ways that they ensure that each client is able to rebuild their credit effectively.
Your initial credit consultation with Creditaid is totally free and will not affect your credit score. They will assess your situation and recommend ways in which you can get a hold of your finances again.
Free consultation
Online live support
Budget-friendly rates
Shortened hours on Saturday
Closed on Sundays
Customer Reviews
Take a look at these reviews from some very relieved clients.
"Finally debt free thanks to Creditaid! It feels great to not have any bills/debts dragging me down anymore. A special thanks to Lorne for helping me achieve this. I would highly recommend Creditaid to anyone looking to accomplish the same." – Shawn M.
"I started with Creditaid in March of 2020. Lorne was so professional and I instantly felt at ease talking with him. He was sincere, understanding and by the time the initial meeting was done I was almost in tears – but tears of joy and a huge sense of relief that debt relief was the light at the end of the tunnel. And then Covid hit. I was laid off 2 days before I had to start my payments. But Lorne worked with me and we got things on track and manageable. Since then, they have been nothing but kind, sensitive and helpful. If you are having debt worries, I highly recommend making the call. It will be a positive life changing moment you will never forget! So a huge thank you to Lorne, Kathy, Shey and everyone else! You all are amazing!!" – Cindy H.
"I have been working with credit aid since 2016 and at the end of this month I will be making my last payment!!! They have treated me with respect throughout the whole process, and never made me feel bad about my circumstances, I really wish I had not been so scared to do this for so long 🙁 . They have made the whole process pain free and I want to recommend them and thank them for helping me get back on track after life through me some knockdowns!! So thank you Lorne and Kathy and all the other wonderful people there, know I will be doing my own happy dance Nov 30th, 2020 when I make my last payment :)" – Sandy D.
4. Debt Consolidation Winnipeg
SERVICES
Debt consolidation, debt counselling, debt settlement, bankruptcy, consumer proposals,
WEBSITE
https://www.debtconsolidationwinnipeg.ca/
ADDRESS
78 Marion St., Winnipeg, MB R3C 0T1
CONTACT DETAILS
204 975 4987
OPERATING HOURS
Monday to Saturday 8:00 am to 8:00 pm
Sunday 8:00 am to 5:00 pm
What's great about Debt Consolidation Winnipeg is that their only focus is debt consolidation. They provide custom solutions that can help you save at least 32% on your payment.
Since their focus is 100% on debt and how to easily pay it off, they provide you with a step-by-step plan that will help you get there.

First, they help you create a budget to determine how much you need per month and then they help you create a plan to start paying off your debt. Once your plan is in motion, they will take a look at your expenses to see where you can save money.
Another helpful service that they offer is debt counselling. They set you up with a debt counsellor who will assist you in managing your debts by negotiating with creditors, consolidating your debt, and making sure that your payments are on time.
You can schedule a free consultation with their team to find out more about what options are available for you.
Open 7 days of the week
Free consultation available
Low-cost rates
Customer Reviews
Check out these reviews from some of the clients of Debt Consolidation Winnipeg.
"I had a few silly loans I wish I didn't have, some with very bad rates that I got suckered into. A friend recommended debtconsolidationwinnipeg.ca so I checked them out. We sat down briefly and I found out my credit was actually pretty good. I ended up putting all my debt under one big loan at a very good rate. I can't explain how great it felt to not have to continue to pay very high payments. If you're unsure, just give them a call, it doesn't cost you anything and they can at least give free advice." – Cynthia R.
"Sandi is great to work with, so helpful & knowledgeble. We highly recommend her!!" – Kel P.
"I was in a bad place, I didn't think there was any way out. The interest kept piling up and the phone kept ringing. I had to stop answering the phone all together. I really didn't think there was a solution, but I didn't have a choice. I called Debt Consolidation Winnipeg just to feel them out. They helped me realize there was a way out and my debt wasn't as bad as I thought. I'm writing this review six months after they've helped and I've been making my payments every month. Finally." – Charles S.
5. 4 Pillars
| | |
| --- | --- |
| SERVICES | Debt settlement, debt restructuring, credit counselling |
| WEBSITE | https://www.4pillars.ca/mb/winnipeg |
| ADDRESS | 2211 McPhillips St # 204, Winnipeg, MB R2V 3M5 |
| CONTACT DETAILS | 204 220 4151 |
| OPERATING HOURS | Monday to Friday 9:00 am to 6:00 pm |
4 Pillars is Canada's largest debt restructuring firm. They have been around since 2002 and have helped over 50,000 families regain financial control by reducing their debt.
What sets them apart is that they created a community-based financial literacy program called EmpowerU, which offers financial literacy training to participants by covering topics such as budgeting, credit, debt reduction, investments, and more.
The goal is to help you pay back the least amount possible, to aid in fixing your cash flow and to rebuild your financial future. They offer customized solutions for your long-term financial recovery.
Free debt consultation
Online client portal
51 offices nationwide
Customer Reviews
Take a look at what these customers have to say about 4 Pillars.
"I recently went too far into my financial debts, to the point where I was living paycheck to paycheck and just couldn't pay it off anymore. This was due to my careless spending habits and so being in this rut has made me realize that it's time to get some help. I discovered 4 Pillars through a Facebook advertisement and decided to look them up. There were certainly some mixed reviews, but I decided to reach out to them anyway and experience them for myself. Mark was my advisor, along with the help of his colleague JP. They assured that I'll be in good hands. It was a bit of a lengthy process, but it was worth it in the end. I am on my way to becoming debt free, and have learned my lesson. Thank you, 4 Pillars, for lifting a huge load of stress off of my shoulders." – Raquel R.
"It's nice to know that there is a 4 Pillars that you can always rely on in times of stress, due to debts. I was able to deal with John and JP, and they are amazing and awesome people. They will lead you to the right track, to become a debt free individual. God bless you more and may you continue to help other people, the way you helped me." – Josephine T.
"Such an amazing company to work and partner with!! Friendly, approachable, trustworthy and knowledgeable staff. John and Jen are such humble people, I don't know why anyone wouldn't want to work with them. Best debt solution out there. Leave stress free and with a peace of mind after working with 4 Pillars !" – Chanelle T.
6. C. Buhler & Associates Ltd
C. Buhler & Associates Ltd is a company that offers services in areas such as Manitoba, Saskatchewan, and Alberta among many others. Led and operated by Crystal Buhler, they apply various methods to ensure that clients are fully informed about their financial options when dealing with debt.
With them, we think that clients can get unbiased and neutral decisions from them so that clients can be assured that their best interests will be put into priority.
They are also ideal for first-time clients since their consultations can prove to be very informative and educational so that they can be aware of the qualifications and requirements when it comes to financial options.
We also find their services to be highly customizable and tailored to the specific needs and circumstances of the client so that they can design the best payment plan at all times.
Overall, we recommend their services due to their accommodating customer service and reliable credit counseling that is along the strategies employed by the BIA.
Free consultation
Various offices available
Personalized and practical advice
Customer Reviews
Here are some reviews from their clients:
"This is a whole weight lifted off my back. Maybe now I will be pain free and able to sleep at night."
"You made a difficult process bearable, and along the way dispensed valuable insight and info. I would recommend you and your team wholeheartedly."
7. Caplan Debt Solutions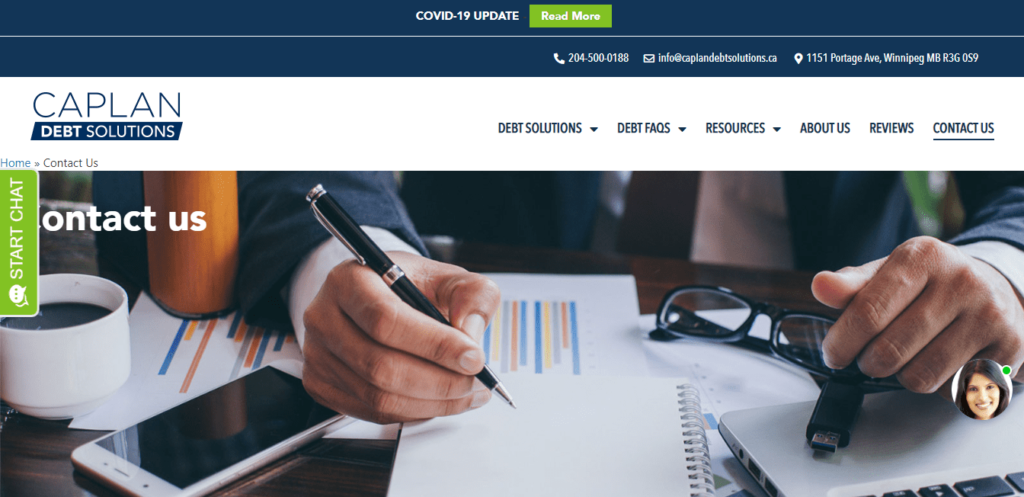 Heading Caplan Debt Solutions is CPA and Licensed Insolvency Trustee Bruce Caplan. Clients benefit from his over 25 years of experience as he lends his wisdom and expertise to a wide variety of debt problems.
We like that the firm can cater to clients from all parts of the spectrum, which is an impressive show of industry know-how. Beyond individual clients, Caplan Debt Solutions has been known to also service businesses, disputing shareholders, and financial institutions.
Clients appreciate them for being approachable and open to all questions. This tells us that there is a genuine effort to make the process as stress-free as possible, which takes a load off on already-burdened clients.
They are also quick to respond to inquiries, which is always a big plus. Many clients in need of debt consolidation services are usually in urgent situations that need speedy resolutions, so efficient communication is always appreciated in this type of service.
We think that the best thing about Caplan Debt Solutions is that they have managed to keep their fees affordable. This is a thoughtful offering, given that their clients come to them for financial resolutions.
Free in-person consultation
Extensive industry experience
Responsive to client inquiries
Affordable fees
Open everyday
Customer Reviews
Here's what some clients had to say about Caplan Debt Solutions:
"I was helping an elderly friend get his finances in order. We met with Bruce and he gave us a number of debt solutions including bankruptcy. He answered all questions with detail and put my friend's concerns at ease. Emails were answered promptly and he made sure every document was explained clearly. Bruce is very patient and gave my friend an affordable price to work with. Very professional, and I wouldn't hesitate to recommend his services to any one looking for financial solutions!" – Richard Lupu
"I appreciate the time that Bruce and Lynden took to make sure that my financial questions were answered clearly and quickly. I felt at ease when speaking with both of them because of the positive, professional way that they handled my numerous questions answered by phone and e-mail. Thank you so much! Appreciate it! Gelina." – Gelina Alton
FAQs about Debt Consolidation in Winnipeg
---
We hope we were able to provide you with the information you need about debt consolidation. Get in touch with any of the companies on our list for a consultation.
Did we miss out on any other debt consolidation firms? Reach out to us and let us know about them!
If you have other questions or financial requirements, check out this list of the best financial advisors in Winnipeg!